From advanced care planning to chronic care management to remote health monitoring, consumer health tech could make senior care more patient-centric, personalized, and accessible.
By 2030, 1 in 5 US citizens will be aged 65 or older. This rapidly growing age group disproportionately suffers from numerous costly chronic diseases.
Historically, the healthcare experience for seniors has often been complex and opaque, resulting in unnecessary care costs and poor patient outcomes. Consumer-centric digital health tools are beginning to change that.
Technology such as remote patient monitoring devices, telehealth platforms, and digital therapeutics are taking care out of the hospital or clinic and delivering it directly into seniors' homes. This is enabling seniors to age in place.
Providers and payers have become more flexible with offering access to care through these digital platforms as pandemic-related lockdown orders have restricted patient travel to doctors' offices. For example, in Q1'21, Humana inked a partnership with care provider DispatchHealth to expand hospital-at-home services to members.
Below, we highlight 5 areas of senior care impacted by consumer health tech.
Key takeaways
Consumer health tech could make senior care more preventative.

Technologies that streamline chronic disease management and encourage more frequent patient participation in the care journey could decrease emergency hospital admissions and expensive treatments.

Covid-19 has accelerated the shift to aging in place.

As quarantine orders and stay-at-home lockdowns have forced vulnerable populations to remain in place, a growing number of medical supplies and services are being delivered directly to seniors.

Digital tools are helping seniors stay connected with their communities and families.

Social isolation is one of the biggest challenges among older adults. Robot assistants and on-demand companionship services are keeping seniors socially engaged and combatting anxiety and depression.
Why senior care?
Nearly 80% of older adults (65+ years old) have at least one chronic condition, such as diabetes or heart disease. Unmanaged, these conditions can result in increased hospital admissions and costly treatments. 
Seniors are also disproportionately affected by social isolation and related mental health issues.
Considering the abundance of health issues and growing interest in the active-aging lifestyle among the elderly, the consumer technology for seniors market — projected to reach $30B by 2022 — is ripe with opportunity.
Startups are making elder care services more accessible and streamlining care coordination with technologies like VR-enabled wellness programs and fall detection wearables. These resources could reduce adverse events, keep patients out of the emergency room, and help manage costs.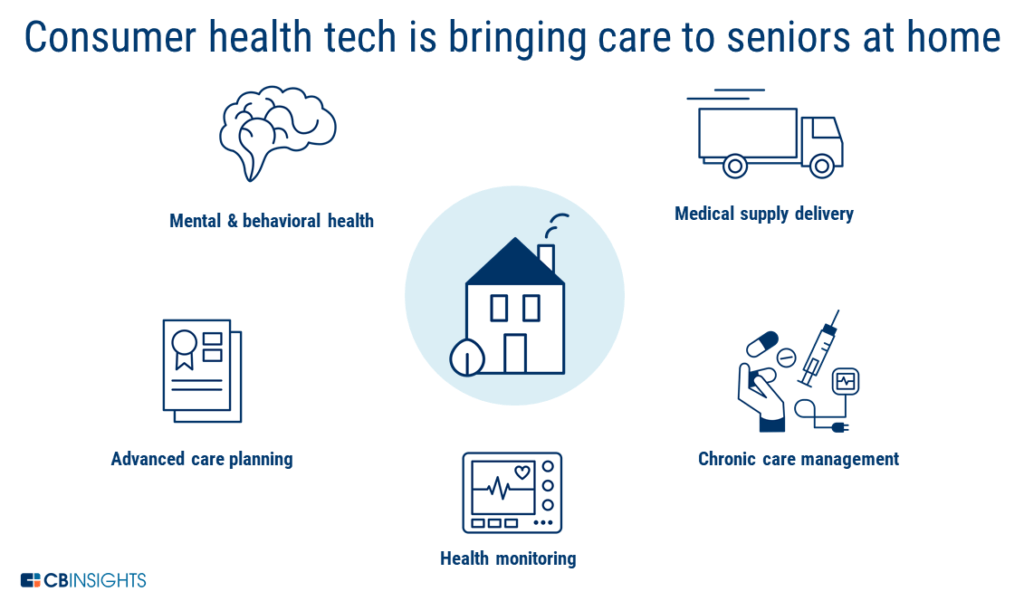 Mental & behavioral health
From depression and anxiety to dementia, mental health issues are widespread among the aging population and can significantly lower quality of life.
Cognitive digital biomarkers could detect dementia earlier
Dementia is one of the most common and debilitating health issues among older adults. Nearly 5M Americans aged 65+ are living with Alzheimer's disease as of 2020 — a number expected to triple by 2050, according to the Alzheimer's Association.