Equipment marketplace platforms and project management software are among the top emerging construction tech startups.
As the construction tech industry matures, the space has seen increasing efforts from early-stage companies to leverage new technologies across all areas of the sector—from connecting clients and contractors to buying and selling construction-related goods and services.
We used the CB Insights platform to surface 12 notable early-stage startups developing software platforms specifically aimed at disrupting the construction industry. We selected these companies based on a few factors, including recency and size of their disclosed funding, as well as Mosaic scores, CB Insights' algorithm that uses financial and non-financial signals to predict private company health.
Of the VC-backed companies on our list, 7 are Series A startups and 5 are seed or angel stage companies. All have raised funds since Q1'16. They are listed in descending order of disclosed funding.
Series A construction tech companies to watch
1. Architizer
Headquarters: New York, New York
Disclosed Funding: $14.9M
Select Investors: AlphaPrime Ventures, August Capital, Gaspar Global Ventures
Architizer is an architecture and design platform for connecting architects to a network of peers, fans, and potential clients.
2. IrisVR
Headquarters: New York, New York
Disclosed Funding: $10.5M
Select Investors: Azure Capital Partners, Emergence Capital Partners, Techstars
IrisVR offers a suite of virtual reality tools that construct 3D models in VR space.
3. AproPLAN
Headquarters: Brussels, Belgium
Disclosed Funding: $9.2M
Select Investors: Fortino, Inventures, Matexi
AproPLAN offers mobile-based construction management software that aims to simplify construction project management and connect contractors, engineers, architects, and clients.
4. Zlien
Headquarters: New Orleans, Louisiana
Disclosed Funding: $7.2M
Select Investors: Abstraction Ventures, Altos Ventures, Brick & Mortar Ventures
Zlien is a cloud-based platform that simplifies the lien rights management process for the construction ecosystem.
5. eSUB Construction Software
Headquarters: San Diego, California
Disclosed Funding: $5M
Select Investors: Mainsail Partners, Revolution
eSUB Construction Software provides cloud-based project management apps to help subcontractors track their work and compensation.
6. Machinio
Headquarters: Chicago, Illinois
Disclosed Funding: $4M
Select Investors: Elevation Partners, Maxfield Capital, Ritchie Bros.
Machinio is a marketplace for used industrial machinery, such as construction, farming, and metalworking equipment.
7. Propeller Aerobotics
Headquarters: Eveleigh, Australia
Disclosed Funding: $3.9M
Select Investors: Accel Partners, Blackbird Ventures, Cicada Innovations
Propeller Aerobotics is a drone technology company that provides a cloud platform for processing drone photos into mapping, modeling, and inspection data. They offer drone solutions for the construction industry by leveraging drone data for site monitoring, estimations, and reporting.
Track all the construction tech startups in this brief and many more on our platform
Startups working in construction tech have the potential to upend approaches to design, procurement, and operations. Look for Construction Tech Startups in the Collections tab.
Track Construction Tech startups
5 seed or angel-stage companies to watch
1. Raken
Headquarters: Cardiff-by-the-Sea, California
Disclosed Funding: $2M
Select Investors: Eniac Ventures, Rincon Venture Partners, Spider Capital Partners
Raken provides a construction management platform for handling workflow and compliance reporting at job sites.
2. Work Today
Headquarters: Santa Monica, California
Disclosed Funding: $1.4M
Select Investors: E-MERGE, GAN Ventures, Social Capital
Work Today is a construction marketplace that aims to connect construction industry workers with jobs via text.
3. BusyBusy
Headquarters: St. George, Utah
Disclosed Funding: $1.3M
Select Investors: Caterpillar Ventures
BusyBusy provides a labor and equipment time-tracking platform for construction companies.
4. Pillar Technologies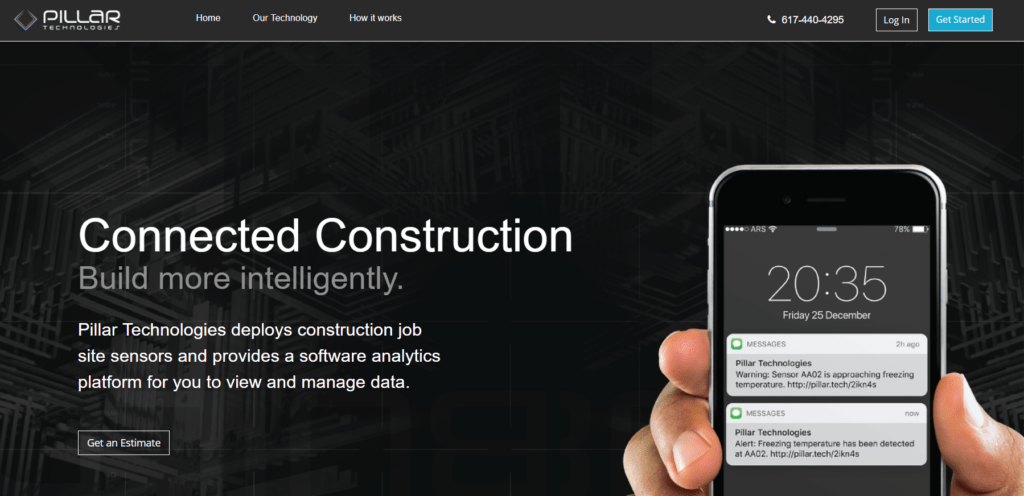 Headquarters: Somerville, Massachusetts
Disclosed Funding: $750K
Select Investors: Techstars, Rough Draft Ventures, Plug and Play Accelerator
Pillar Technologies leverages smart sensors and predictive analytics to help construction and insurance companies monitor on-site threats.
5. CBOT

Headquarters: Linköping, Sweden
Disclosed Funding: $650K
Select Investors: ALMI, Almi Invest, LiU Invest
CBOT is developing solutions for on-site construction automation. Their first product is a robotic solution for automatic tiling of floors. CBOT's robot can automatically lay the ground floor on flat large surfaces.
If you aren't already a client, sign up for a free trial to learn more about our platform.