Smart money VCs frequently coinvest to back top construction tech startups.
The construction tech industry, while still nascent, has garnered increasing investor interest as startups exploit opportunities to digitize the sector. This year has already seen 25 construction tech deals to date, totaling approximately $169M.
Using the CB Insights platform, we examined top VC firms' investments to construction tech companies, from Q1'13 to Q1'17. While smart money VCs are not making as many bets in construction tech as they are in more mature industries—top investors only participated in 40 unique financing rounds since 2013, totaling $893M across 19 companies—they have participated in 6 out of 10 of the sector's top financing rounds.
We define construction tech as startups working on construction design, team collaboration, and project site management, as well as those using drones and big data analytics to transform the traditional mapping and surveying of construction sites. For more on how we selected our 24 "smart money VCs," please see the explanation and full smart money list at the bottom of this brief.
Annual financing history
Smart money VCs have contributed to 3 deals totaling $184M in 2017 YTD. While smart money VCs did not participate in any construction tech funding rounds in Q1'17, activity picked back up in Q2'17 with this year's largest round to date, a $130M Series C round to California-based offsite construction company Katerra (backed by Khosla Ventures, among others).
Compared to 2015 highs for both deals and dollars, smart money VCs pulled back on construction tech investments in 2016, participating in 9 deals totaling $143M. The largest financings for 2016 both occurred in Q1'16, with drone solutions provider Airware and construction tech unicorn Procore Technologies each receiving $30M.
2015 was a record year for smart money VC investment in the construction industry, with 15 deals worth approximately $414M. This is consistent with overall 2015 construction tech funding, which holds the record with $425M across 59 deals. The funding increase was driven in part by an increase in average deal size to mid- and late-stage deals, as a result of rounds to CAD software provider Onshape ($80M Series D) and drone company 3D Robotics ($50M Series C), among others.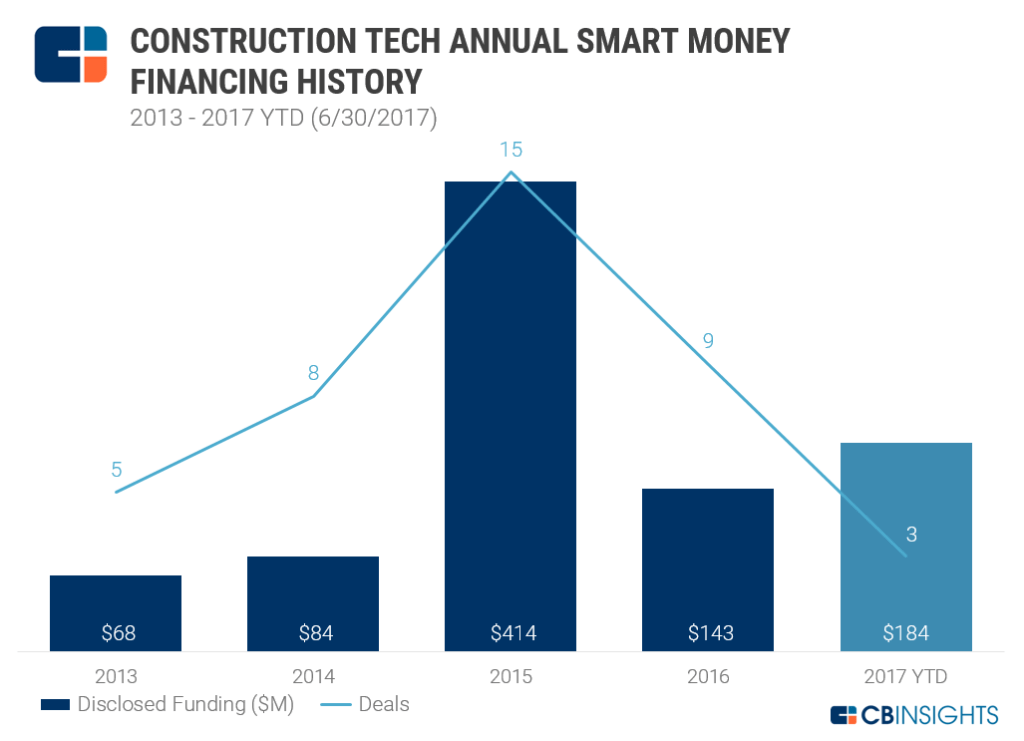 Track all the construction tech startups in this brief and many more on our platform
Startups working in construction tech have the potential to upend approaches to design, procurement, and operations. Look for Construction Tech Startups in the Collections tab.
Track Construction Tech startups
Visualizing smart money construction tech investments
We used CB Insights' Business Social Graph to visualize how smart money VCs and the construction tech companies they invest in interact, looking at investments 1/1/12 – 6/30/17.
Click to enlarge the graphic below. Each green line represents one investment round.

Smart money VCs have frequently invested in conjunction with each other, together funding some of the major players in the construction tech space.
Andreessen leads: In terms of total construction tech companies backed, Andreessen Horowitz is the most active smart money investor, participating in 10 rounds worth $207M across 5 companies. (This trend may be unsurprising, given that the firm is also one of the most active smart money VCs investing in real estate tech.)
Kleiner Perkins Caufield & Byers takes second place with investments to 3 construction tech companies, including overlapping financings with Andreessen Horowitz to drone company Airware and with Accel Partners to IronPlanet, which exited in 2016.
Smart VCs follow unicorns: All 3 construction tech unicorns have received smart money VC funding: Uptake Technologies from New Enterprise Associates, Katerra from Khosla Ventures, and Procore Technologies from Bessemer Venture Partners.
More follow-ons: 12 out of 15 smart money investors have participated in construction tech follow-on rounds (as opposed to purely first-time investments). Only Social Capital, Khosla Ventures, and Founders Fund have made solely single round contributions.
Frontier tech in focus: While smart money VCs have funded a variety of subcategories across construction tech, from collaboration software to marketplaces, frontier tech investments in particular have seen increasing interest from both smart money VCs and the overall construction tech investor ecosystem. Both of Emergence Capital's investments in construction tech have gone towards companies leveraging frontier tech, including drone management platform DroneDeploy and VR company IrisVR.
Note: To analyze smart money trends, we looked at the activity of 24 top VC firms, selected according to portfolio valuations and investment outcomes. Some of the investors are linked to relevant research briefs. Here's our full list of 24 smart money investors:
Andreessen Horowitz
New Enterprise Associates
Founders Fund
Foundry Group
Khosla Ventures
Social Capital
Emergence Capital Partners
True Ventures
Floodgate Fund
Battery Ventures
If you aren't already a client, sign up for a free trial to learn more about our platform.