Despite a contraction in 2019, corporate M&A in construction tech has grown over the past five years. We break down M&A strategies in the space and take a closer look at project management startups, which account for the highest share of acquisitions.
The construction industry is becoming increasingly digital.
Startups in the space are developing tools to streamline worksite documentation, collaboration between stakeholders, and the construction process itself.
GET the enterprise AI TRENDS report
Download the free report to learn about the biggest emerging trends in AI and strategies to watch for 2021.
Despite growth prospects being tempered by pandemic-induced project delays, shutdowns, and reduced starts in nonresidential construction, corporate acquisitions of construction tech startups have rebounded in 2020 after last year's lull.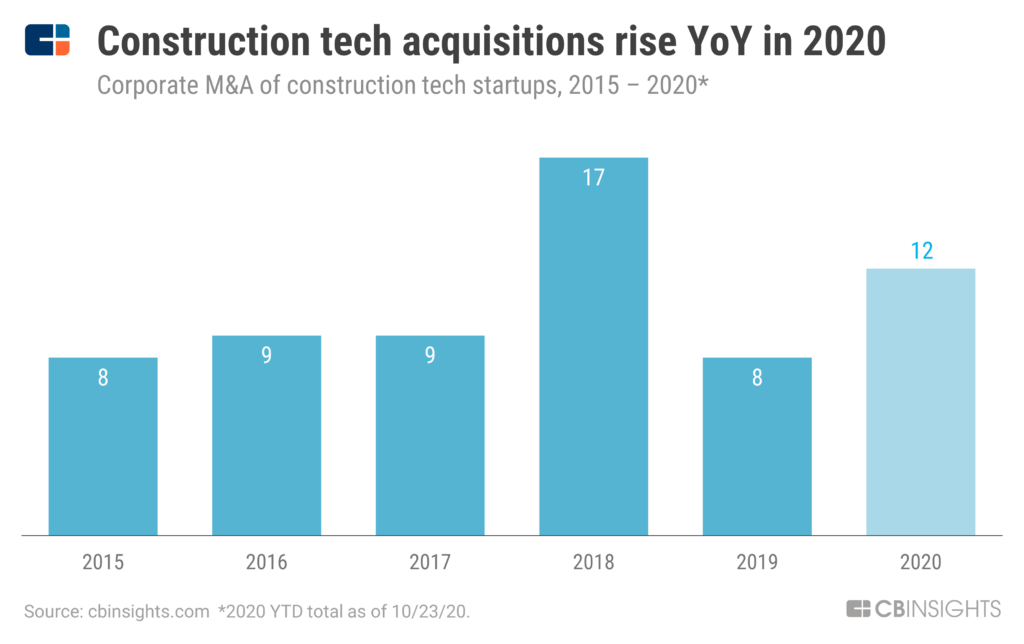 Though M&A activity has not reached the record level set in 2018, construction tech acquisitions have maintained an upward trajectory over the past 5 years as automation tools continue to mature and see adoption by incumbents.
Below, we used CB Insights data to analyze the strategies behind recent corporate M&A activity in construction tech and which categories could see an uptick in acquisitions.