The blockchain software development company forecasts a revenue of $60M in 2021. Here are the top-line bullets you need to know.
ConsenSys, which offers integrated Ethereum technology solutions, has raised $65M via a convertible note. The round was backed by JPMorgan, Mastercard, and UBS, as well as other investment firms and crypto companies.
How's the company performing?
New York City-based ConsenSys develops blockchain infrastructure and applications, offering a suite of products (Codefi, Diligence, Infura, MetaMask, Truffle, and Quorum) that enable enterprises and developers to "access and build on Ethereum."
MetaMask, ConsenSys' decentralized finance (DeFi) solution, caters to 3M monthly active users, while over 150,000 developers use Infura's APIs. The company says it expects its revenue to double to $60M in 2021.
ConsenSys has been helping Australia, France, Hong Kong and Thailand develop their own central bank digital currencies.
Last year, ConsenSys restructured its business operations to form two main arms – "ConsenSys," its blockchain technology business, and "ConsenSys Mesh," its investment arm and incubator.
ConsenSys recently acquired Quorum, an enterprise-centric Ethereum solution from JPMorgan, which is currently part of ConsenSys' in-house offerings.
The company's customers include Microsoft, Amazon Web Services, Ernst & Young, and Procter & Gamble, among others.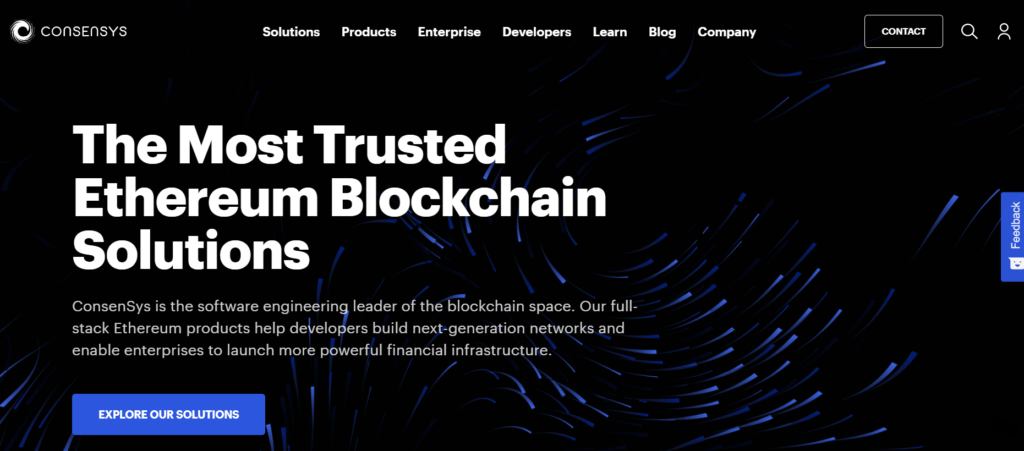 Source: ConsenSys
Why does the market matter?
Annual spending on blockchain solutions is projected to reach nearly $31B by 2024, according to CB Insights' Market Sizing Tool.
Ethereum has several advantages over other blockchain cryptocurrencies, like its smart contract technology, which make it a growth vector for the market.
Major financial services companies are partnering with Ethereum blockchain solution providers, since the technology enables cross-border payments that are less expensive and faster as compared to traditional systems, which is accelerating the demand for the market.