Buzzwords such as "mobile-first" or "big data" are giving way to a more integrated vision of technology as a force multiplier across a broader connected world focused on data and AI. Many industries will be upended, obliterated, or converge in the process. The new status quo play to China's tech strengths.
The following is a guest post by Paul Asel, managing partner of ngp capital.
The "connected world" can be considered the fourth era of the digital technology revolution. This new era follows the three previous waves of change: the advent of transistors and computers from 1947 to 1985, the information era spawned by the internet from 1985 to 2000, and the mobile and cloud era from 2000 to 2015.
As Alvin Toffler anticipated in 1970, each new combination of technology augments prior technologies, generating a systemic impact disproportionate to the innovation in isolation.
"Indeed, each new combination [of techniques and machines] may, itself, be regarded as a new super-machine." — Alvin Toffler, Future Shock, 1970
Similarly, in what I'm calling the connected world, the confluence of mobile, cloud, and sensors will connect people, things, and industries.
Technologies like AI will augment human intelligence, and always-on sensors will revolutionize areas like product design and healthcare. China is uniquely poised to take a leadership role in this new world.
While the number of connected devices is expected to double in five years, data generated from these devices will quadruple, and the economic impact may be even more profound. McKinsey notes that while the internet touched industries representing 15% of GDP, the Internet of Things (IoT) will enable much of the rest, reaching into previously untouched industries.
Rethinking the IoT
In many senses, we already live in a connected world. With the internet and mobile devices, connecting with friends and family has never been easier. Current events are communicated worldwide instantly. High-bandwidth networks have facilitated global outsourcing and supply chain integration.
Yet IoT connects us in fundamentally new ways. It offers the promise of a connected world that will yield higher living standards, increased efficiencies, more conveniences, and lower resource usage. Broadly distributed, low-cost sensors enable cost-efficient constellations of monitors to collect data. IoT networks offer access to these new data pools, augmenting existing sources to make intelligent systems smarter and more resilient.
Much has been written about potential IoT applications. Proposed use cases span smart cities, smart homes, industrial IoT, digital health, transportation, logistics, and retail, to name a few. Let's explore the emerging trends that will be amplified by further IoT adoption.
The new role of data
Data has played an increasing role with each new technology era. Recently, with the rise of big data, it has taken a front-and-center role. Yet big data hasn't been as game-changing as anticipated due to a lack of effective systems for processing the vast quantities of digital information.
Ultimately, data will be the connective tissue in a connected world. "Data-first" businesses are learning to apply data toward specific use cases, enabling them to decipher signal from noise. This transformation is evident across several sectors, none more so than in advertising. Admen used to say that half of all ad spending is wasted — we just don't know which half. But as Google and Facebook have shown, combining consumer insights from all internet and mobile digital activities improves ad performance in measurable and predictable ways.
In a connected world, data-first businesses are transforming and disrupting industries.
The financial industry is becoming a data-first sector as Affirm upends personal lending and Metromile disrupts auto insurance.
In the transportation sector, data-first technology is a catalyst for ride hailing, autonomous driving, usage-based insurance, car- and bike-sharing, and other smart commute apps.
In logistics, data-first companies are disrupting warehousing, food production & delivery, and fleet management.
In the health sector, wearables are improving health & fitness, preventative care, and elder care, while also enabling predictive medicine.
Augmented Intelligence
The promise of artificial intelligence has earned buzz and public attention. According to CB Insights, venture funding for AI companies reached $4.2B in 2016, up over 8x from just four years earlier. Yet as my colleague Anupam Rastogi has articulately posited, artificial intelligence is still years away while "augmented intelligence" — the use of information technology in augmenting human capabilities — applies today.
Augmented intelligence is also more appropriate for many sectors for the foreseeable future. As Bell Labs noted, augmented intelligence is more bandwidth efficient and, in many cases, more intelligent than artificial intelligence. Artificial intelligence is a black box approach requiring massive amounts of data to fine tune and maintain AI algorithms.
While AI currently functions best for specific applications, augmented intelligence applies over a broader set of use cases as it incorporates people where they function best. People still outperform computers in situations that involve empathy, intuition, common sense, versatility across functional disciplines, and learning how to learn. By leveraging the abilities of both machine learning and distinctive human capabilities, augmented intelligence offers a broader, more flexible approach.
Here is a snapshot of select companies applying augmented intelligence today.
Augmented Intelligence Companies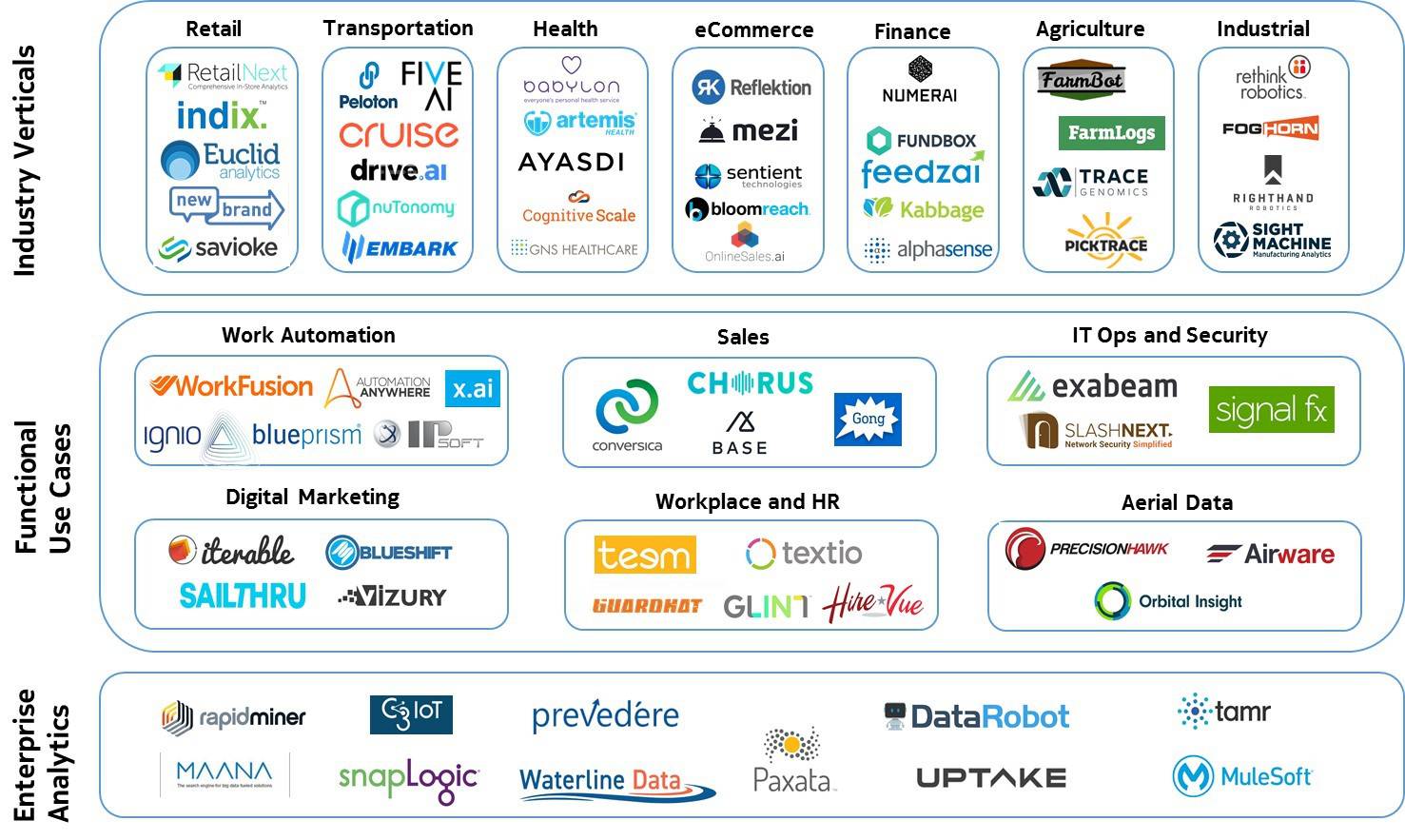 Innovation is Truly Global — the Emergence of China as a Technology Innovator
The future of technology innovation will look very different with China emerging as a global technology leader.
China has transitioned from imitative to indigenous innovation during the past decade. Ten years ago, China looked to the West for technology inspiration, but now China is surging to the forefront across many new tech sectors. The rise of augmented intelligence and IoT systems integrating hardware and software play to China's strengths and will accelerate its emergence as a global technology leader.
Augmented intelligence systems require large data sets to fine tune machine learning algorithms, and China generates some of the world's largest data repositories fueled by a large, active mobile consumer population. Chinese companies leveraging these large data pools are emerging as leaders in intelligent systems.
Alibaba is leveraging 175 million daily mobile transactions on its platform to build advanced financial services at Ant Financial.
WeChat has morphed from a mobile messenger to a "super app" offering numerous consumer services for its 930 million active users.
SenseTime, a face recognition startup, built its video analysis software using footage from the Guangzhou police department.
The city of Fuzhou shared 80 exabytes of heart ultrasound videos for companies to build an intelligent tool to help identify heart disease.
But China's leadership position goes far beyond its data potential. China also has proven it can effectively integrate hardware and software expertise for intelligent IoT systems. Leveraging the Shenzhen consumer electronics production ecosystem, Chinese companies have surged to global leadership in drones, solar equipment, wearables, smart bikes, and electric vehicles.
Select China-based Global Technology Leaders

The emergence of leading Chinese IoT and consumer electronics companies will accelerate with rising consumer demand. Urban household spending has tripled in the last decade, enabling Chinese companies to scale and reduce production costs serving their local markets before expanding globally. Leading Chinese players such as Alibaba, Tencent, and Xiaomi are collaborating with startups to build their ecosystems, while nurturing growth of their partner companies. Xiaomi, a leading smartphone maker in China, has spawned 89 IoT companies as of June 2017 by incubating, investing in, and marketing their products on its app store and through its retail outlets.
Industry Disruption
A connected world will disrupt vertical industries that have previously seemed immune to new technologies. For example, the acquisition of Whole Foods by Amazon was a wake-up call for the retail sector. While e-commerce has plundered Blockbuster, Crazy Eddy, Crown Books, Payless, Radio Shack, and Toys 'R Us, the grocery industry mostly remained unscathed. A low-margin, local industry selling perishable goods seemed immune to technology disruption — until now. No retail sector is safe if Amazon succeeds with its Whole Foods acquisition.
A connected world will also force a convergence of seemingly unrelated industries.
Consider how autonomous driving will impact other markets. At ngp, we think the fleet industry will require 3 million fewer truck drivers in the United States alone. Car ownership will plunge as transportation moves from an asset to a service. Public transportation will surge in smart cities rearchitecting city designs.
In fact, cities will have denser cores as auto infrastructure accounts for over 25% of cityscapes, but metropolitan areas will expand with more efficient commute options.
The auto insurance industry will either disappear or merge as the transportation sector consolidates. Smart home services such as energy management, security, and food preparation will be automated and synchronized with our daily commute. Entertainment options and intelligent local services will blossom to fill consumer time freed from driving.
We could go on listing industries that will be upended or threatened. In short, if Andy Grove's thesis that Only the Paranoid Survive were true in the transistor and computer era, how much more does it pertain to the connected world era?
Augmented Digital Lives
For consumers, the connected world era promises consumers "Augmented Digital Lives." Products will feature personal insight and customized services to enhance our daily activities.
Connected devices permit brands persistent engagement with customers, enabling companies to fine tune their products and services based on real-time feedback from end users.
Consider digital health, for example. It is said that an ounce of prevention is worth a pound of cure, yet our health industry is often too overwhelmed to supply effective preventive care. But that can change as real-time data and better feedback loops show the value of such care.
Companies are finding that investing in health coaching improves employee morale, productivity, and health, thus reducing long-term health costs. In addition, wearables enable us to passively monitor our health & fitness. The devices can automatically alert health practitioners of anomalies so they can advise on lifestyle or dietary changes, and make sure we're keeping to our health goals.
Digital health is only one aspect of the Quantified Self. As we learn more about ourselves, our appetite for new sources of personal data increase. The data will come from apps and sensors to measure many new aspects of our lives: our diet, sleep patterns, mood, activity level, language learning, performance in a sport or hobby of choice, and even the health and activity of our children and pets.
Select Data Sources From Our Digital Lives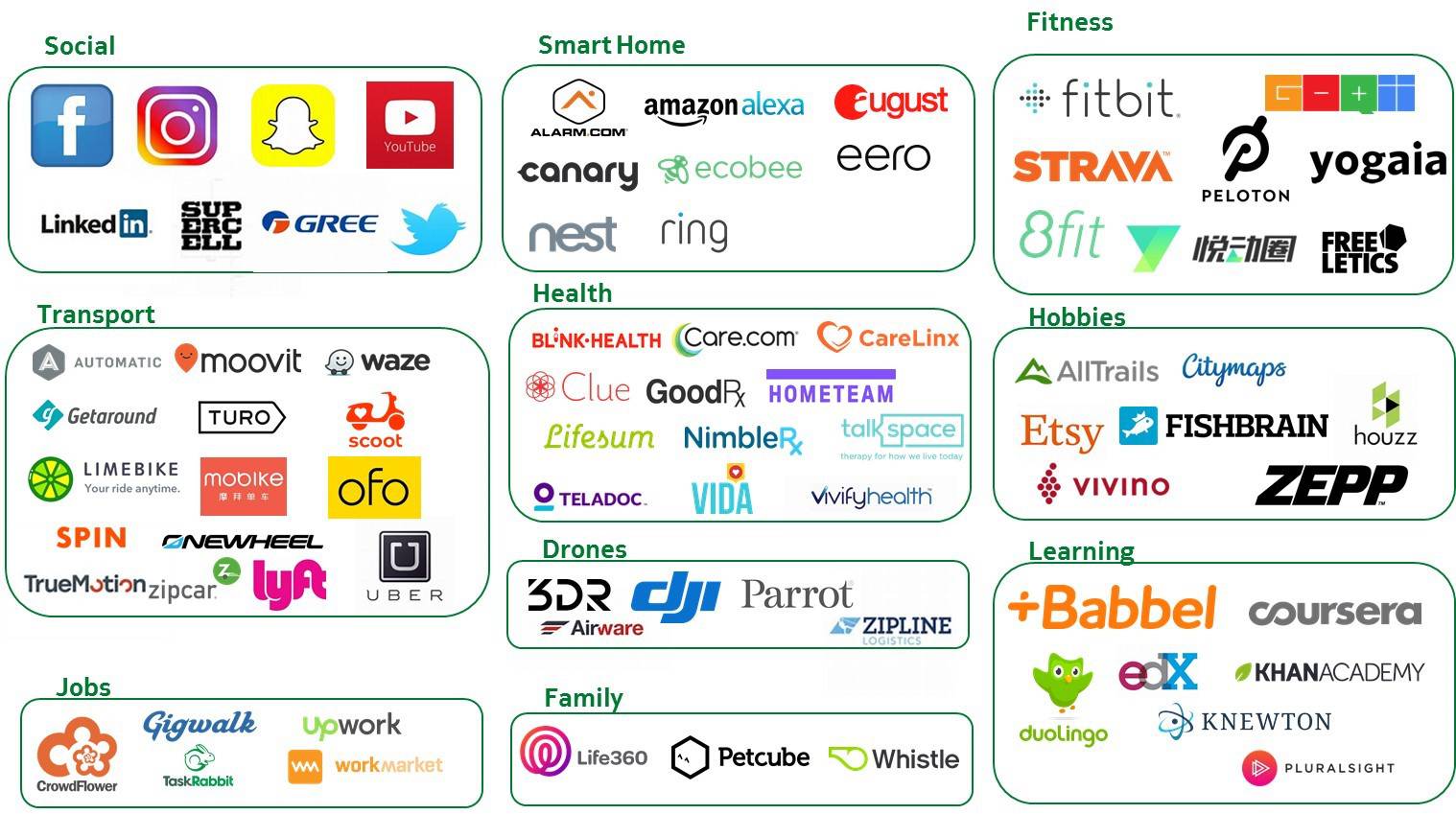 In his book How We Got to Now, Steven Johnson describes 6 innovations that made the modern world. Focusing on glass, cold, sound, sanitation, timekeeping, and light, Johnson examines initial breakthroughs and traces their ripple effect on other innovations that profoundly impacted our daily lives and helped shape our world today.
No innovation occurs in isolation and each substantive innovation is a catalyst for other discoveries. In our connected world, we have the potential to know more about ourselves and have a broader impact on others than ever before.
---
Paul Asel is managing partner of ngp capital and a global technology investor across the US, Europe, and Asia. He has been engaged in acquisitions and IPOs valued cumulatively at over $25 billion. He is currently focused on ngp's investments in the US and Asia in the mobile, IOT, auto sectors. Asel is on the Boards of Gigwalk, Workfusion and Zubie. Prior to ngp, Paul was responsible for technology investments in Asia at the International Finance Corporation. He received an MBA from Stanford and a BA from Dartmouth. Paul is co-author of Upward Bound: Lessons of How Nine Leaders Achieved their Summits.
If you aren't already a client, sign up for a free trial to learn more about our platform.