From "grab-and-go" stores to shelf scanning robots, computer vision is gaining popularity with in-store inventory tracking. But is it worth the infrastructure overhaul for all retailers? We look at the tech's current promises and limitations.
Retailers are testing artificial intelligence-based solutions to address bottlenecks in supply chain management.
For example, computer vision-based cameras and robots are being used more frequently to track and manage store inventory. Retailers are also testing robots that check for misplaced items or missing price labels — some of the more manual and time-consuming tasks for sales clerks.
We look at 3 emerging computer vision applications — shelf scanning, product loss & theft management, and checkout-free stores — to see what the technology can and cannot do for retailers.
Shelf-scanning robots
Walmart recently announced that it will be testing shelf-scanning robots developed by Bossa Nova Robotics in 50 of its stores.
The robots will find out-of-stock items, missed price changes on shelves, and missing labels, using computer vision to navigate the shop floor without bumping into people or carts.
Some of Bossa Nova's US patents for shelf-scanning robots are shown below.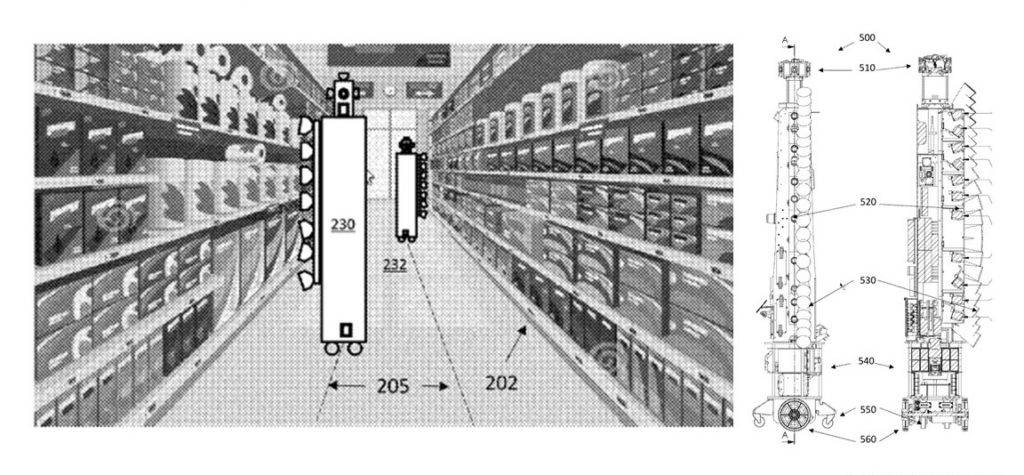 Walmart is not alone in testing the technology in the store. The Lowe's Innovation Lab partnered with startup Fellow Robots to build retail robots OSHBot and LoweBot. Target tested out Tally, a robot developed by Simbe Robotics, in San Francisco in 2016.