Traditional retailers are shifting more focus to direct-to-consumer channels, and Nike has been no exception. From demand planning to metaverses, here's how brands are unbundling the sportswear giant.
American sportswear retailer Nike has made strides to position itself to pioneer the next era of direct-to-consumer (DTC) selling.
In 2021 so far, the company has grown its direct-to-consumer sales to 39% of its Nike brand revenues — up from 16% a decade ago. By 2025, DTC sales are expected to account for more than half of revenues, based on the company's growth outlook.
25 Industries & Technologies That Will Shape The Post-Virus World
Get the free download to learn how industries are using tech to reimagine nearly every facet of their operations.
Aiming to deliver a more consistent experience and deeper connections with consumers, Nike has shifted away from wholesale partners, toward its own distribution. The company has constructed a technology ecosystem to support its shift to DTC, investing in technology and distribution and acquiring start-ups with expertise in content creation to data analysis.
DTC sales offer deeper insights into customer data that can be used to enhance the customer experience. In going direct, brands like Nike have greater access to its customers and by layering on customer analytics further allows them to effectively market, merchandise, promote and launch new products to satisfy customers' demands.
Below, we look at how companies are unbundling Nike, from customer data platforms to fulfillment and logistics.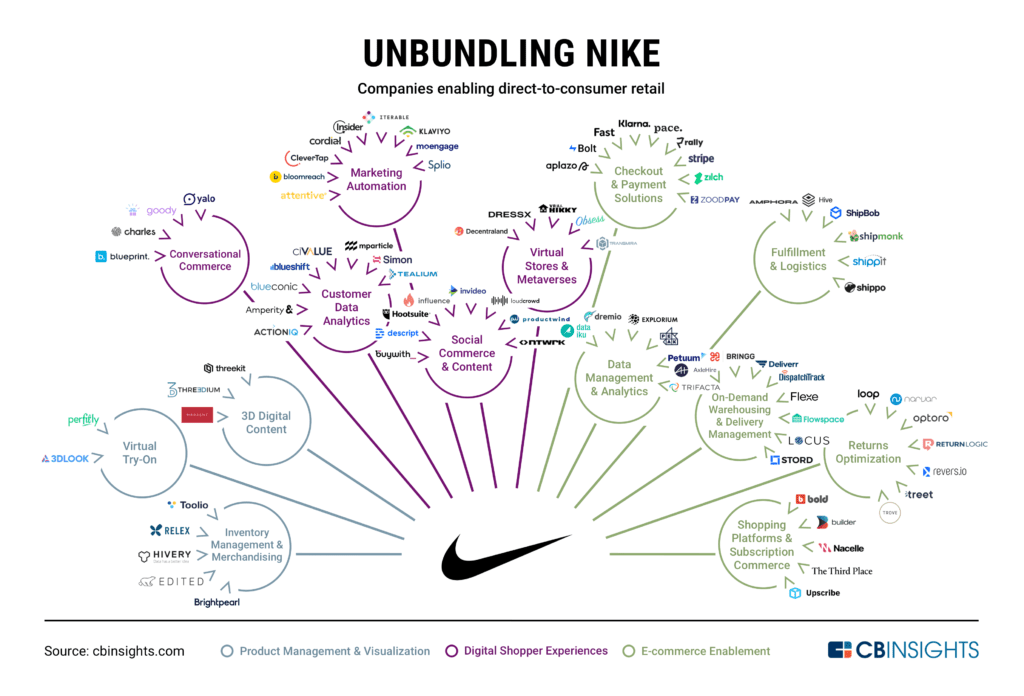 Note: This graphic is not exhaustive of the space. Categories are not mutually exclusive.
Category breakdown
We categorize technologies and products unbundling Nike across 3 segments:
Product management & visualization: This segment includes new ways to present traditional retail products, leveraging tools like inventory management and merchandising tech.
Digital shopper experiences: This segment features customer engagement tools to enable omnichannel and personalized customer experiences, to help brands better engage their audiences.
E-commerce enablement: This segment features companies that enable and streamline online retail sales.
Product management & visualization
INVENTORY MANAGEMENT & MERCHANDISING
As supply chain issues and unpredictable demand remain ongoing, retailers need a dynamic, tech-enabled approach to inventory planning. Companies in this category use predictive analytics and demand forecasting tools to help predict future consumer buying patterns, both online and in-store.
Notably, in August 2019, Nike acquired Celect, a retail predictive analytics and demand sensing company. 
Companies like Toolio and Brightpearl offer merchandising and inventory planning software.

Toolio,

co-founded by ex-Walmart employees

, provides its commerce enablement platform to retailers like

Chubbies

,

Mack Weldon

, and

Rothy's

.
For a more in-depth look at startups boosting retail store efficiency and productivity, check out our market map of brands boosting performance at the shelf.
VIRTUAL TRY-ON
The global virtual fitting room market is expected to grow from $3.4B in 2020 to a $19.3B industry by 2030, according to CB Insights' Industry Analyst Consensus. The technology has become especially popular during the pandemic as a way to boost online conversion rates and reduce returns.
3DLOOK and Perfitly use AI to convert 2D photos of people into 3D custom avatars that can be used to virtually try on clothes and provide size recommendations. 
3D DIGITAL CONTENT
Shoppers are searching for more effective ways to experience products online and buy with confidence. To improve the online experience, startups here are using visual technology to improve designing and prototyping.
ThreeKit uses product information and design files to inexpensively create unlimited interactive 3D, AR, and photorealistic 2D visuals. The company claims its customers see higher conversions, reduced returns, and reduced photography costs. Among its customers are Crate & Barrel, Herman Miller, and California Closets. 
Digital shopper experiences
CONVERSATIONAL COMMERCE
Conversational commerce makes the shopping experience more personal by leveraging messaging apps for convenience, personalization, and decision support to consumers. While the tech was once used exclusively for customer service, startups today are integrating existing e-commerce, chat apps, and bots into one interface. 
Germany-based

Charles

and UK-based

Blueprint

offer software and commerce integrations to

help brands sell via WhatsApp and other messenger apps. Blueprint's solution sends replenishment reminders with pre-loaded checkout links to speed up future purchases.

Yalo

uses AI to enable businesses to communicate and transact directly with customers. In May 2021 the company raised $50M in a Series C led by Sierra Ventures. Its customers include Coca-Cola, Unilever, and Nike. 
CUSTOMER DATA ANALYTICS
Consumer data platforms (CDP) and vendors offer solutions for ingesting different datasets to create unified shopper profiles, optimizing cross-channel messaging and improving customer segmentation. AI-powered CDPs can help retailers unify and deduplicate shopper profiles, cluster similar shoppers together, and generate advanced business and operational insights.
In February 2021, Nike acquired data integration platform Datalogue to pull data from multiple sources — including the company's app ecosystem and supply chain — to glean deeper customer insights.
mParticle

helps retailers simplify their customer data architecture by connecting and cleaning data from disparate sources. One of the most well-funded companies in the space, mParticle raised a $150M Series E in October 2021, receiving investment from Greylock Partners, Google Ventures, and Bowery Capital, among others. 

ActionIQ

stitches together first- and third-party data to personalize the customer experience. The company has received investment from Sequoia Capital and Andreesen Horowitz, and its clients include

Shopify, Neiman Marcus, and Michael Kors

.
MARKETING AUTOMATION
Marketing automation software automates repetitive tasks such as email marketing, social media posting, and ad campaigns. 
With e-commerce growing at a staggering rate, brands and retailers are grappling with reaching, engaging, and converting customers shopping across a variety of channels. Omnichannel customer engagement platforms can help marketers reach the right customer with the right message at the right time.
Attentive and Klaviyo automate personalized text messaging, sending notifications about sales, product recommendations, and cart abandonment.
Iterable's brand affinity tool analyzes cross-channel engagement to measure customer sentiment. The company counts Boxed, Care/of, and DoorDash among its customer base.
MoEngage uses analytics to understand customer behavior across digital touchpoints and send personalized campaigns on customers' preferred channels.
SOCIAL COMMERCE & CONTENT
Content creation is critical for building and engaging online communities. Brands are partnering with influencers across social apps to build trust and authenticity and better connect with new and existing audiences. According to CB Insights' Analyst Consensus, influencer marketing market is worth $14.8B today, compared to just $2B in 2016.
In addition to influencer marketing strategies, an increasing number of brands and retailers are turning to livestreaming as more platforms emerge to allow viewers to instantly buy featured products.
Product Wind and Influence.co offer brands tools for finding and working with influencers.
Buywith allows influencers to broadcast live online shopping sessions to their followers, who can buy directly during the session.
virtual stores & Metaverses
As brands aim to foster new forms of customer engagement, virtual spaces (metaverses) are opportunities for retailers to sell more products. This is especially true as virtual spaces like Roblox and Fortnite have gained significant traction during the pandemic, attracting millions of users and partnering with brands to create unique digital experiences. 
Nike has signaled its interest in the space, recently filing seven trademark applications outlining its intent to make and sell virtual branded sneakers and apparel, as well as making key hires to support its newly established metaverse studios. In November 2021, the company launched Nikeland on Roblox for fans to connect, create, and share experiences inside Roblox's immersive 3D space. In December 2021, the brand acquired virtual sneakers creator RTFKT Studios. 
New York-based

Obsess

raised a $10M Series A in June 2021 to expand its virtual stores and showrooms solution beyond beauty and fashion. The company offers an AR/VR platform for enabling online 3D shopping experiences.

DressX

is an online multi-brand retailer for virtual-only garments and accessories.
Clients can view our latest metaverse market map here.
E-commerce enablement
CHECKOUT & PAYMENT SOLUTIONS
Buy now, pay later (BNPL) is a popular payment method among millennial and Gen Z consumers, whose spending power reached more than $2.5T in 2020, according to YPulse. BNPL apps allow customers to make purchases online and pay them off over time in recurring installments.
As a generation of shoppers has come to expect the ease of Amazon's one-click checkout, companies are also increasingly allowing users to flow through checkout in one tap.
Fintechs like Zilch, Zoodpay, and Aplazo offer installment loans to consumers for point-of-sale purchase. These point-of-sale loans are easy for retailers to manage and popular in e-commerce categories like apparel & beauty.
For a more in-depth look at the BNPL landscape, check out our buy now, pay later market map.
DATA MANAGEMENT & ANALYTICS
An added benefit of offering products directly to consumers is enriched data access and reporting systems that synthesize deeper insights. Data visualization takes reporting to the next level. Pouring over spreadsheets is time-consuming and makes it easy to miss key insights. Companies in this category prepare, enhance, or transform raw data into actionable business intelligence and key insights.
Data preparation startup Trifacta specializes in cleaning and preparing data.
FULFILLMENT & LOGISTICS
Major retailers and brands have been experimenting with new fulfillment solutions to make the delivery journey more efficient. Companies hope to reduce costs by outsourcing to e-commerce fulfillment providers who achieve economies of scale by aggregating orders and integrating with a network of partners (e.g., third-party logistics providers, point-of-sale system providers, and retailers). 
Consumer brands that have their own retail network often use their stores as e-commerce fulfillment centers. Nike, for example, lets online shoppers pick up their purchases at brick-and-mortar Nike stores. 
ON-DEMAND WAREHOUSING & DELIVERY MANAGEMENT
The Covid-19 pandemic accelerated the growth of online retail in 2020, driving an increase in demand for consumer packaged goods, medical supplies, and other consumer goods. Companies in this category offer temporary warehousing space, delivery management software, and e-commerce fulfillment support services.
Flexe

,

Flowspace

, and

Stord

all offer on-demand warehousing solutions. Stord offers a cloud supply chain that allows users to view and manage their entire distribution network from a single platform. The company integrates physical logistic services such as warehousing, freight, and fulfillment into its digital platform to enhance fulfillment and delivery networks.

Bringg

is a cloud-based delivery and fulfillment platform for retailers and logistics providers. The company focuses on last-mile delivery, fleet management, third-party delivery management, and more. Bringg recently introduced a number of sustainability-oriented tools, including carbon emissions tracking and eco-friendly fleet selection for retailers that prioritize green vehicles. 
RETURNS OPTIMIZATION
As more consumers turn to e-commerce for their shopping needs, reverse logistics has become a priority for retailers and brands. A number of startups have taken on the task of optimizing the returns process, offering platforms that make it easier for consumers to return and exchange products.
Narvar

provides retailers with data and visibility during the returns process, helping to improve plan operations and manage inventory as well as to more quickly identify product issues.

Loop Returns

offers an exchange-first returns platform.

Trove

offers a white-label solution to help retailers resell their returned inventory, working with

brands like Lululemon and Patagonia

.
shopping platforms & subscription commerce
Shopping platforms integrate all essential commerce and business functionalities into a single platform. Building a well-designed and engaging shopping platform or digital storefront is one of the most important ways that retailers differentiate themselves.
With the rise of e-commerce businesses and online shopping platforms, DTC subscriptions have never been easier to set up. The subscription box model has become popular among direct-to-consumer brands because it allows brands to cultivate long-term customer relationships, improving customer retention and lifetime value. 
Nacelle

and Builder use headless architecture, allowing users to create e-commerce sites using visual tools and no coding.

Nacelle

raised $50M Series B from Tiger Global Management in August 2021,

 while

Builder has received funding from a number of well-known DTC founders and angel investors and consumer-focused venture capital funds.

E-commerce subscription management providers

Bold Commerce

,

Recharge

, and Upscribe help online stores create recurring orders and subscriptions. 
If you aren't already a client, sign up for a free trial to learn more about our platform.