From engineered polymers to advanced display materials, here's how the next wave of chemical companies are disrupting the production of materials that make up everyday items.
With 2020 revenues of $20.4B, DuPont — one of the world's largest and most powerful chemical conglomerates — has supplied the materials making up a variety of goods in consumers' everyday lives.
From providing materials used to make the semiconductors in electronics to the Styrofoam insulating homes, the chemical giant has long dominated the market.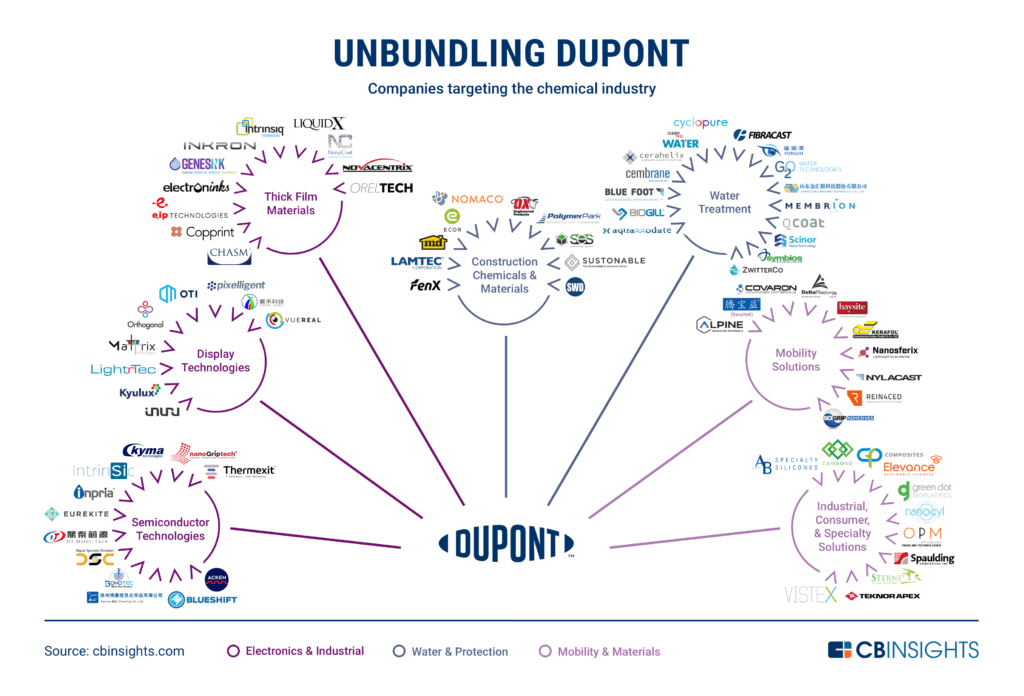 However, there are several factors coming into play that could disrupt DuPont and the rest of the chemical industry. 
To begin with, sustainability is coming into the spotlight. DuPont is no stranger to this challenge, as shown by its recent settlements around PFAS-related liabilities. However, with increasing sustainability requirements and goals from regulatory bodies and governments globally, the pull to transition to a cleaner business model is mounting. 
Another notable factor is the emergence of China-based players. Particularly motivated by policies and initiatives like Made in China 2025, materials manufacturers in China are looking to aggressively grow, especially in the electronics and semiconductor material sector. While these companies may lag behind DuPont and other major players in terms of size and technology, China-based companies are still gaining traction, bolstered by funding from local authorities and their geographic proximity to semiconductor foundries and other electronic assembly plants.  
Lastly, chemical R&D is an ever-present disruption factor to consider, particularly from researchers at academic institutions. For instance, semiconductor adhesive innovator nanoGriptech is a Carnegie Mellon spinout. 
Below, we look at how startups and companies are unbundling the chemical industry, from OLED display materials to water filtration membranes.
Category breakdown
We outline the technologies and services unbundling DuPont based on the company's business segment reporting, which is made of the following (excluding the spun-off Nutrition & Biosciences segment):
Electronics & Industrial: This category includes DuPont's business segments that make materials used in manufacturing electronics, representing 26.6% of revenues in 2020. Segments include semiconductor technologies, display technologies, and thick film materials.  
Water & Protection: This segment includes materials for construction and defense applications, making up 29.2% of DuPont's 2020 revenues. In this analysis, we look at construction and water solutions.  
Mobility & Materials: This category includes DuPont's polymers businesses that primarily serve the automotive, aerospace, manufacturing, and other industrial segments, though they also sell into consumer, medical, and other specialty areas. This segment made up 34.8% of the company's 2020 revenues.  
The breakdown within each business segment is based on the industries that utilize DuPont's chemicals.