The Covid-19 pandemic created countless supply gaps, including shortages of key medical equipment like ventilators, masks, face shields, and more. We look at how companies from a broad range of industries quickly adapted their operations in response.

Throughout the Covid-19 pandemic, hospitals have faced shortages of crucial equipment such as ventilators, face shields, hand sanitizer, and more.
To help address these challenges, companies across major industries like food, fashion, and auto rapidly transformed their businesses to offer products and services well-beyond their typical focus areas.
25 Industries & Technologies That Will Shape The Post-Virus World
Get the free download to learn how industries are using tech to reimagine nearly every facet of their operations.
From producing personal protective equipment (PPE) to 3D-printing nasal swabs to designing virus-zapping robots, here's how companies from 6 industries pivoted in response to the Covid-19 pandemic.
table of contents
Automotive & transportation
Food & beverage
Events
Furniture & home appliances
Retail & fashion
Tech
Automotive & transportation
Many automotive companies and transport startups around the world shifted their manufacturing capabilities to build life-saving devices like ventilators.

In Italy, Lamborghini's upholstery department began making 1,000 surgical masks a day in March, and it later used 3D printers to produce lung simulators to help test ventilator designs.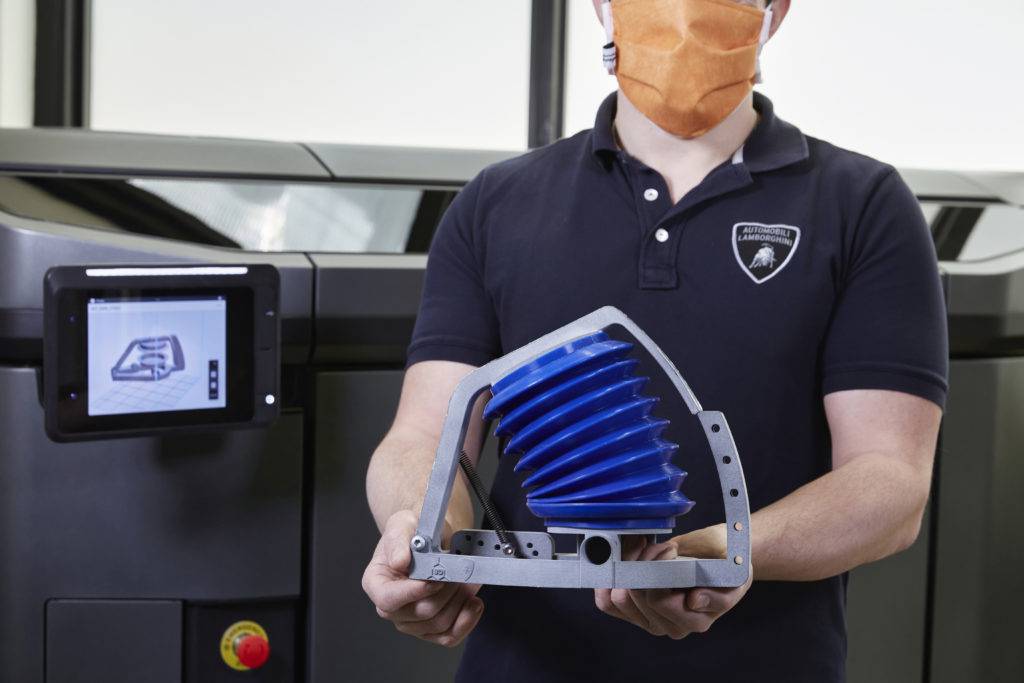 Source: Lamborghini
Across Europe, a number of auto companies looked to produce respiratory devices as fears of shortages rose. For instance, Spanish automaker SEAT used its assembly line to make ventilators, while the VentilatorChallengeUK consortium, which includes the likes of Rolls Royce, Ford, UK-based Formula 1 teams, and more, worked together to design and manufacture ventilators for the UK's National Health Service (NHS). Established in mid-March, the consortium received regulatory approval for a ventilator design just under a month later and says that it has the capacity to produce up to 200 ventilators a day.
Meanwhile, Engineers at Mercedes AMG High Performance Powertrains, which develops the engine for the Mercedes Formula 1 team, worked with the University College London Institute of Healthcare Engineering in March to quickly design a non-invasive breathing aid called a continuous positive airway pressure device — intended to be an alternative to ventilators for some patients.

In the US, General Motors was tapped by the government to produce 30,000 ventilators for the US national stockpile. In late March, the automaker said it was offering logistics, manufacturing, and purchasing support to help Ventec Life Systems ramp up its ventilator production.
In a similar vein, Ford said in March that was collaborating with GE Healthcare on a simplified version of its existing ventilator design while also working with 3M on powered air-purifying respirator designs — repurposing 3M's HEPA air filters and fans from the Ford F-150 truck's cooled seats.
In the Middle East, Israeli mobility startup Moovit, which helps users plan their routes across public and private transport options, began offering a new service that allowed companies to use the app to deploy their unused vehicles to transport essential workers.
Food & beverage
Food and beverage companies have looked for ways to improve food delivery options and bring restaurant dining experiences to homes.
Some B2B food supply companies switched their attention to consumers amid lockdowns. For example, restaurant wholesale supplier Cheetah made its platform available to consumers with an app-enabled order and pick-up service for groceries.
Some big restaurant chains have also begun targeting at-home consumers by offering DIY meal kits for delivery, including Baskin-Robbins' sundae kit, Taco Bell's taco bar kit, and Smashburger's take-and-make meal kits. Bakeries are doing the same, with Flour Power delivering pastry decorating kits and Mr. Holmes Bakehouse offering products like bread starter kits.
Taking another approach, UK-based Kitchen Theory, known for designing immersive food experiences, launched a "Multisensory Dining at Home" service, bringing the gastronomic experience — complete with a full-course menu, audio playlist, texture cubes, levitating plates, and a virtual chef — to some homes in London.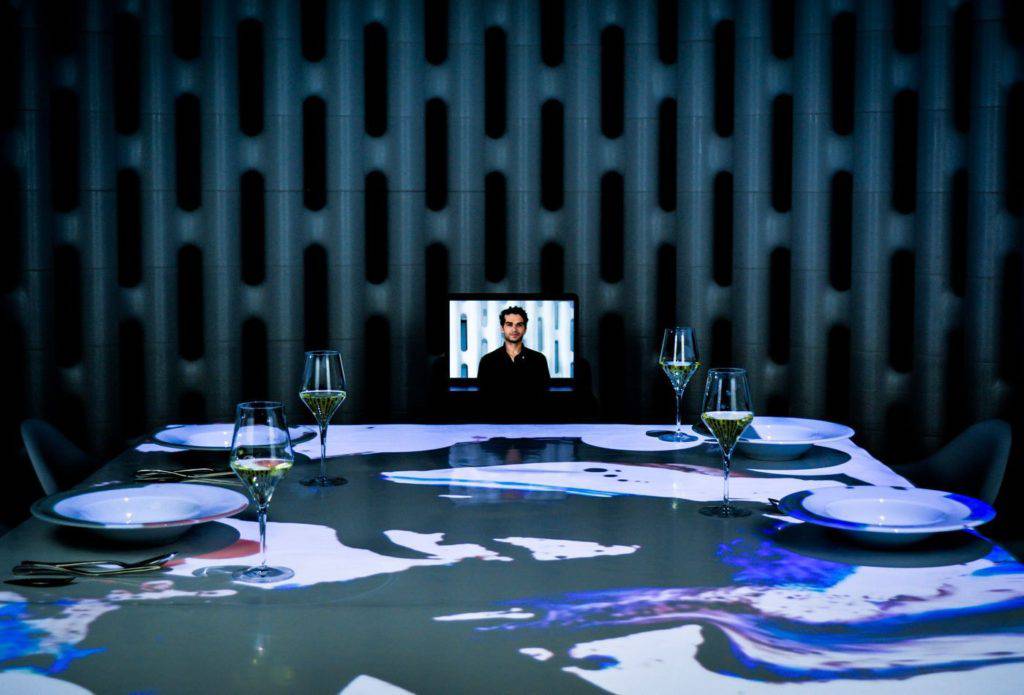 Source: Kitchen Theory
Meanwhile, breweries and distilleries — including the Absolut Company, AB InBev, Scotland-based craft beer unicorn Brewdog, and Pernod Ricard, among others — have diverted some of their capacity for brewing beers and distilling spirits to producing alcohol-based hand sanitizers, which faced severe shortages following a surge in demand as the coronavirus spread.
AB InBev's US breweries have already delivered more than 500,000 bottles of hand sanitizer, while Brewdog has donated over 100,000 units of its hand rub, even filling small beer bottles when no other containers were available.
Events
With many large gatherings and in-person meet-ups halted to prevent further spread of the virus, events companies have looked for ways to aid the effort against the pandemic.
For example, Choura Events, which works on festivals like Coachella, built temporary testing sites and hospital overflow spaces across Southern California using its event tents and portable structures.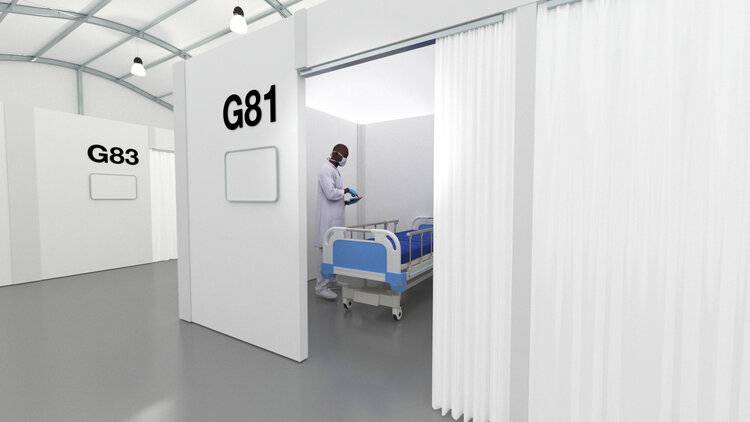 Source: Live for Life
More broadly, more than 200 companies across the live events industry banded together to form Live for Life, a coalition applying its experience in putting up makeshift structures for live events to rapidly develop and deliver temporary patient rooms and triage tents. These patient rooms were used to help build temporary hospitals at the Javits Center in New York and the ExCel London convention center.
25 Industries & Technologies That Will Shape The Post-Virus World
Get the free download to learn how industries are using tech to reimagine nearly every facet of their operations.
Furniture & home appliances
Some appliance manufacturers and furniture makers have turned their skills to creating life-saving devices like ventilators.
In collaboration with product development company TTP, UK-based vacuum manufacturer Dyson designed its CoVent ventilator in less than 2 weeks. Founder James Dyson said in March that it "can be manufactured quickly, efficiently, and at volume" and that the company planned to produce 15,000 units. However, the UK government later halted the contract after finding that the country's ventilator shortage was not as severe as feared.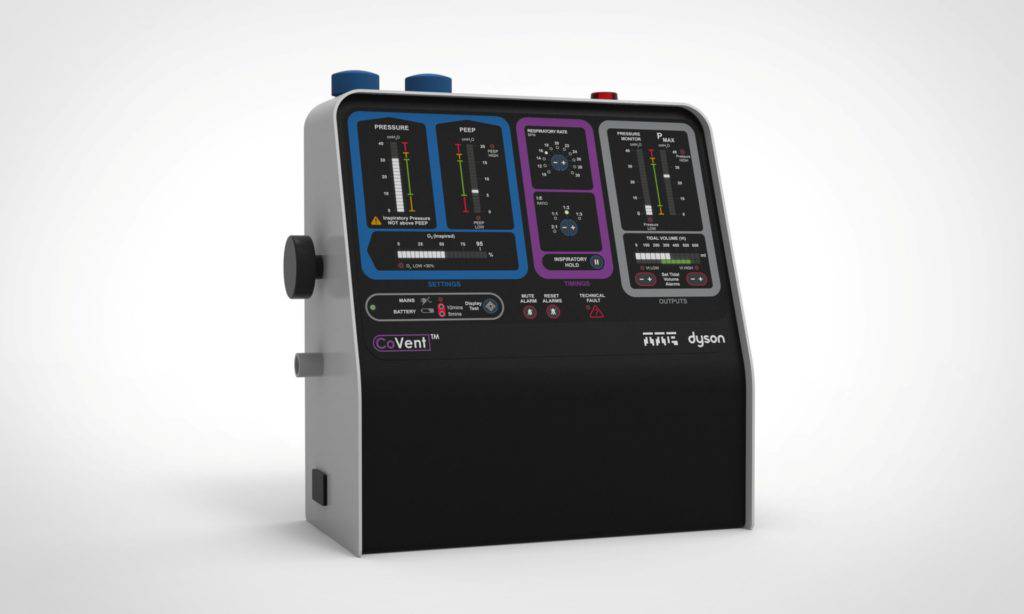 Source: Dyson
Meanwhile, furniture giant Ikea moved in March to start making hand sanitizers, face masks, and other protective gear for hospital workers.
Office furniture makers have changed their products too. With a declining customer base as people work from their homes instead of offices, ROOM is repurposing plexiglass intended for its soundproof, in-office phone booths to build Covid-19 testing booths. The first batches of these booths were delivered to hospitals in Europe, Mexico, and the US.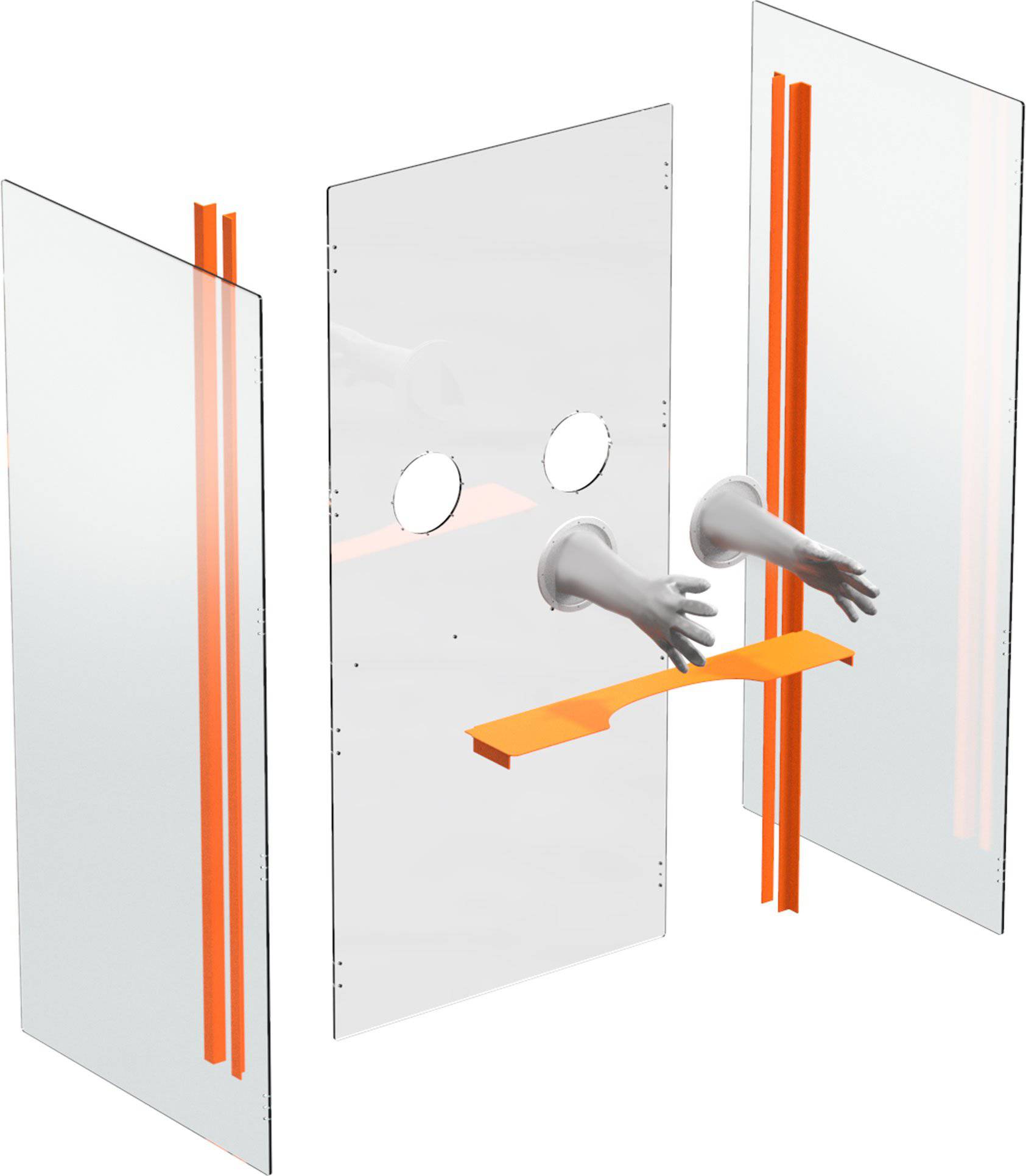 Source: ROOM
Retail & fashion
As the outbreak spread, a number of fashion brands quickly redirected their supply chains to provide protective gear.
Clothing retailers moved to help address equipment shortages. Zara began making thousands of masks, Gap produced scrubs, H&M allocated resources from its purchasing and logistics operations to deliver PPE, and Nordstrom's alterations teams were tasked with sewing more than 100,000 masks.
Luxury goods companies also began shifting their production efforts. Kering's Balenciaga and Yves Saint Laurent workshops in France made masks, while Prada and Ralph Lauren committed to producing 80,000 and 25,000 medical gowns, respectively. LVMH repurposed its perfume and cosmetics production facilities to manufacture hydroalcoholic gel (or hand sanitizers), donating the gel to health authorities in France. Louis Vuitton, a brand under LVMH, used a number of its leather goods production sites to make masks and medical gowns.
Apparel manufacturers kicked into gear as well. Hockey equipment producer Bauer went from manufacturing visors for hockey helmets to fabricating medical shields for frontline workers — the company said it had 100,000 units ready for distribution by the end of March. Meanwhile, Nike designed a face shield from shoe collar padding, clothing cords, and the thermoplastic polyurethane (TPU) component of its Nike Air soles.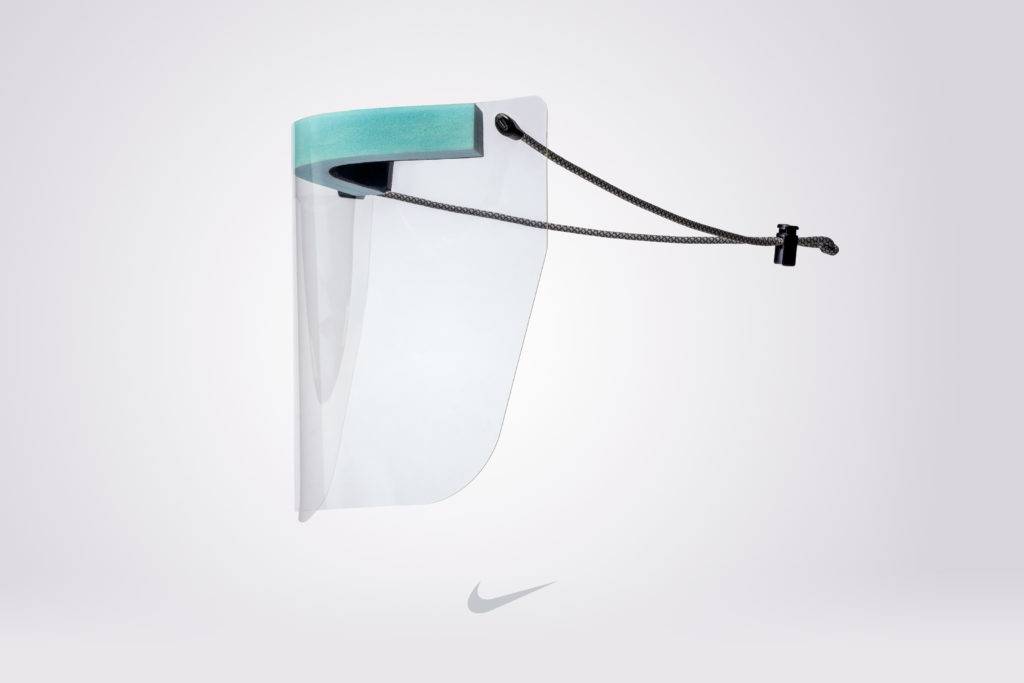 Source: Nike
An increasing number of brands are tapping into the surge in demand for non-medical face masks, creating variants that emphasize properties like reusability, comfort, and style. Companies like Old Navy, Everlane, Kenneth Cole, Nordstrom, Mack Weldon, Vera Bradley, and many more, have begun offering masks to consumers. Many of these companies are repurposing fabric from their typical products and mask purchases are often tied to donations to organizations working to combat the pandemic.
Tech
Many technology companies turned their attention to building future-forward solutions in response to the pandemic.
Some 3D printing companies worked to address shortages in nasal swabs used for Covid-19 tests. Origin, a startup that sells 3D printers to materials manufacturers, is using its 3D printers to make nasal swabs. Carbon, another 3D-printing company best known for its partnership with Adidas to create 3D-printed midsoles, is offering 3D-printed nasal swabs and face shields.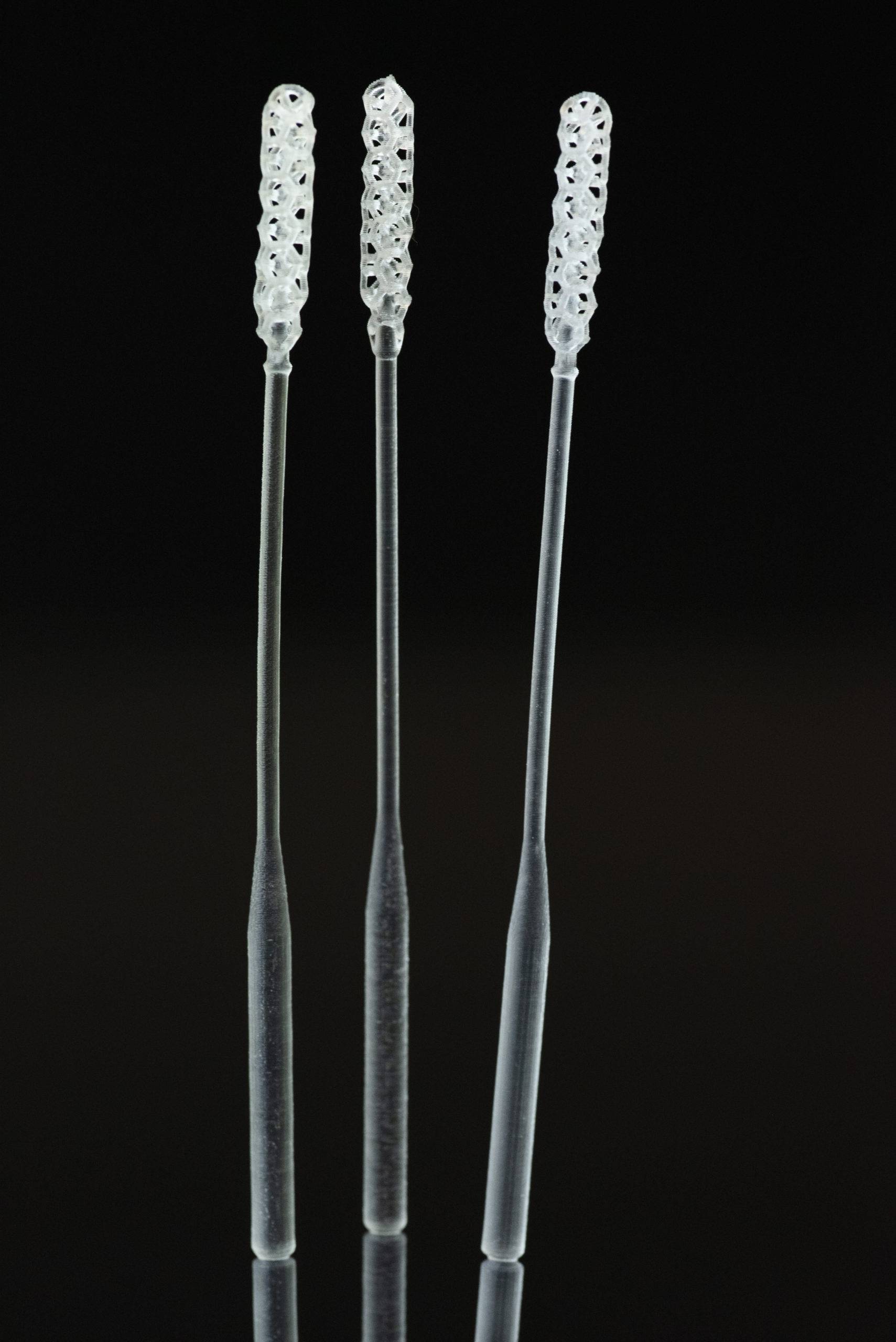 Source: Origin
Other tech companies are harnessing the power of artificial intelligence (AI) to bolster Covid-19 efforts. Athena Security, a startup developing a gun detection system for video surveillance images, built a body temperature detection system that uses its AI-enabled software coupled with temperature sensors to help detect fevers.
Akara Robotics, meanwhile, adapted its social robot Stevie into a disinfecting one named Violet, providing it with the ability to bathe health care environments and equipment in UV-C light — which has disinfection properties.
Big Tech also reallocated some of its resources to tackling Covid-19 challenges and shortages.
Apple, for example, brought together its design, engineering, operations, and packaging teams to develop a face shield — the design for which it released publicly in early April — for medical workers. It said at the time that it intended to donate 1M of these shields per week.

One of Amazon's initiatives also focused on making face shields. Engineers from its mechanical design and hardware teams worked to scale up a face shield design created by a local group of 3D printing enthusiasts. The e-commerce giant says that it's donated close to 10,000 of these face shields and plans to deliver 20,000 more.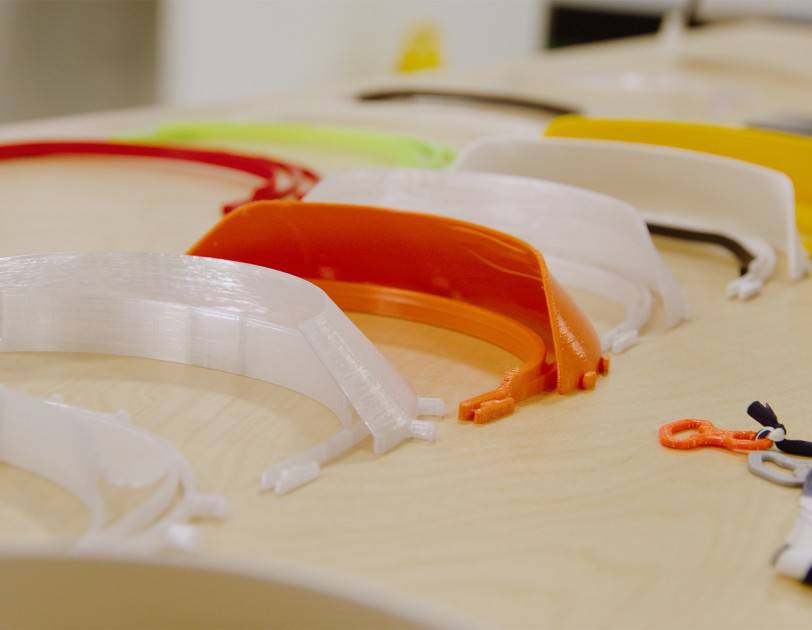 Source: Amazon
Microsoft repurposed its Healthcare Bot service to create a Covid-19 assessment tool for the US Centers for Disease Control and Prevention (CDC), Walgreens drugstores, and other organizations.
Meanwhile, some tech startups are adapting their services with the aim of making it easier to reopen economies.
For instance, Inokyo — a startup providing autonomous checkout to retail stores — built an automated contact tracing system for deployment in factories, office spaces, and warehouses. The system aims to help automate the contact tracing process, using cameras and computer vision technology to find possible paths of virus exposure and identify at-risk individuals.
25 Industries & Technologies That Will Shape The Post-Virus World
Get the free download to learn how industries are using tech to reimagine nearly every facet of their operations.
If you aren't already a client, sign up for a free trial to learn more about our platform.