The funding helps Commercetools reach a valuation of $1.9B. Here are the top-line bullets you need to know.
Commercetools, a provider of e-commerce APIs for large retailers, has raised $140M in a Series C. The round drew participation from Accel, REWE Group, and Insight Partners.
HOW'S THE COMPANY PERFORMING?
Germany-based Commercetools' cloud-native, headless commerce capabilities help retailers create customized digital commerce experiences.
The company caters to global brands and Fortune 500 companies across various areas, such as manufacturing, retail, fashion, and telecommunications. Some of its clients are AT&T, Burberry, BMW, The LEGO Group, Audi, and Vistaprint.
The company offers about 300 APIs around 9 suites of services, and it also maintains a wide network of integration partners.
Commercetools has driven $10B of sales annually for its customers.
The company has 300 employees across offices in Berlin, Jena, Amsterdam, London, Durham, Melbourne, and Singapore.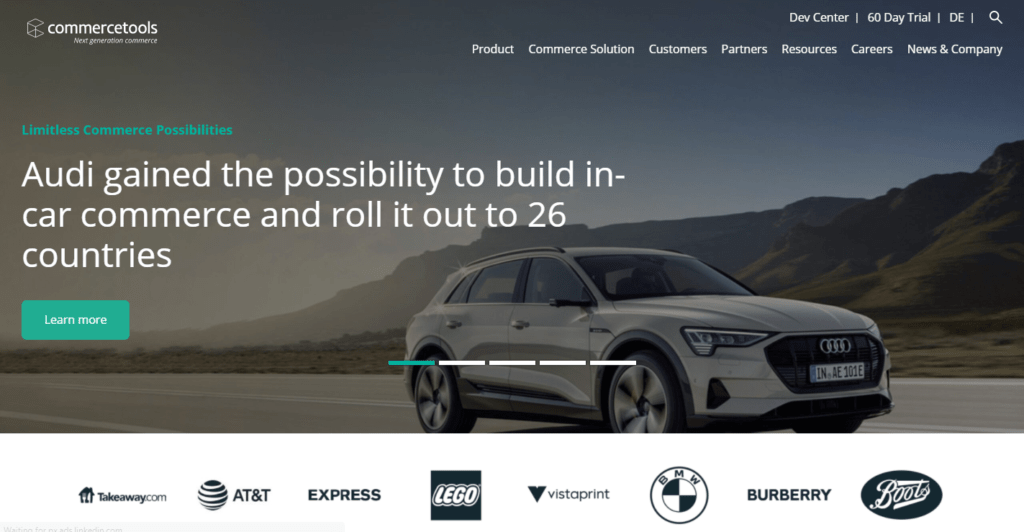 Source: Commercetools
WHY DOES THE MARKET MATTER?
The e-commerce market is projected to grow at a CAGR of 22.9% to reach a value of $16.2T by 2027, according to Meticulous Market Research.
The Covid-19 pandemic drove up demand for online shopping, which led to efforts to implement digital technologies to improve e-commerce website performance and experience.
Investment in e-commerce initiatives has increased by more than 50% since last year.
Given Amazon's stronghold over the online retail market, retailers are doubling down on unique strengths like niche assortment and distinctive convenience and consolidating through mergers, acquisitions, and partnerships.