Robots in factories have historically been unwieldy, dangerous, and confined to large industrial settings. But now, smaller collaborative robots are overcoming traditional challenges in the robotics industry.
When George C. Devol, inventor of the automatic garage door opener, pitched his programmable Unimate arm, he was initially met with skepticism.
However, "the robot had one advantage immediately," said Devol. "And that is that a robot can work three shifts, or 24 hours a day."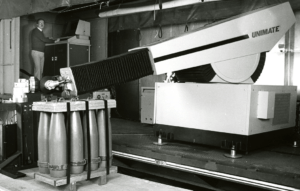 By the early 1960s, Devol's 2,000-pound Unimate arm, the first industrial robot, found a home on the floor of General Motors' plant, where it stacked hot die-cast metal. The unit (pictured right) could grip, weld, drill, and spray, and the hydraulic arm's path was programmed using a magnetic drum hard drive.
Fast-forward 50 years, and the landscape of modern robotics — which we define as a programmable cyber-physical machine, excluding auto and aerial drones — has changed significantly.
Robots in factories have typically been large, caged devices that perform repetitive, dangerous work in lieu of humans. As the smartphone revolution and development of autonomous vehicles have driven down costs of off-the-shelf hardware, smaller, more dexterous robots have come onto the factory floor.
These lighter weight, lower cost robots can be outfitted with sensors that allow them to work collaboratively alongside humans in industrial settings, creating "cobots" — robots that can perform tasks like gripping small objects, seeing, and even learning to tackle "edge cases."
While cobots are only a fraction of the $40B industrial robot market, estimates peg cobots to grow to more than $10B over the next decade.
Historically, the robotics sector at large has been plagued by a number of problems:
Vision issues:

 Vision technology allowing robots to identify and navigate around objects (including people) has been slow to improve, with firms relying on cages to protect humans from robots that can't maneuver around them.

Dexterity issues: Robot gripping a

n

d mechanical capabilities are still limited.

Low ROI:

 Low labor costs have prevented the need for widespread integration of robotics in fields like agriculture and manufacturing. 
Below, we explore how companies are using cobots to begin tackling these technological challenges and how the emergence of cobots is changing the economics of manufacturing, e-commerce, agriculture, and food service. 
Table of contents
How cobots are leveraging new vision technology
As robots proliferated into factories worldwide, vision systems allowing robots to identify and safely navigate around objects were largely an afterthought. 
Many robots perform repeatable tasks in highly structured environments, so safety measures have typically consisted of a cage to prevent humans from getting dangerously close to a bot. But now, the tide is turning.
In recent years, vision hardware (such as lidar) has become much cheaper, more effective, and subsequently more widespread. Many startups today are working with vision-enabled cobots that are sensor-laden and can operate cage-free alongside humans.
Invented around 1996, cobots come in many different shapes and sizes and are designed with human workplaces in mind. Easily reprogrammed and relatively autonomous, cobots lack the strength of low-tech industrial robots.
Cobots seem to have found a sweet spot within smaller factory operations where humans are still involved, tending to 3D printers, manufacturing medical devices, or completing more cognitive tasks like warehouse order picking.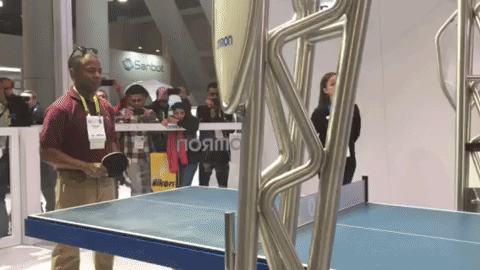 Of course, there is still room for robotic vision to improve.
As Masaru Takeuchi of Omron Robotics (known at CES 2018 for its ping-pong playing robot) told the FT: "Robots can pick something up and move it very quickly. But distinguishing what an object is and deciding how to move it is still a bottleneck." 
where are we now?
Teaching robots to map and manipulate objects is a difficult task. But a number of research developments out of Google's DeepMind and UC Berkeley have demonstrated success with one-shot learning, where the cobots can recognize new objects without a vast trove of training data.
Future robots may only need to watch a human once to learn a task, or could be programmed using VR gesture control (a method being pioneered by Covariant).
While this tech still has a long way to go, today's systems are already good enough for the robots to work alongside humans. Currently, cobot arms and their wheeled cousins AGVs (automated guided vehicles, which transport materials), have become standard in manufacturing and warehouse environments.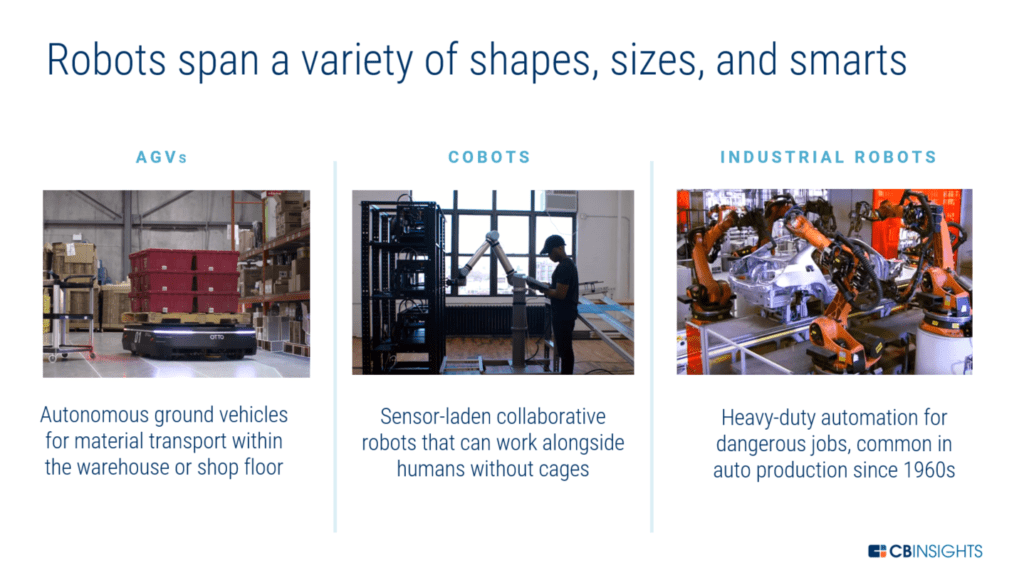 Robots can easily complete repetitive, predictable tasks. 
But for less structured tasks, such as picking out an item from a random assortment, there are far more unique scenarios where special handling must be calculated by an algorithm. To be truly collaborative, AGVs must autonomously "see" human obstacles and act accordingly.
Developing algorithms to handle these edge cases is the vanguard of research in AI, computer vision, and autonomous cars.
Across AI and machine learning, automating a path for 90% of scenarios is easy — it's that final 10% that's hard. Benedict Evans of a16z says machine learning "[addresses] a class of questions that were previously 'hard for computers and easy for people,' or, perhaps more usefully, 'hard for people to describe to computers.'"
With machine learning tools more broadly accessible, startups are developing computer vision to support a new wave of robotics. 
Below are demos from Veo Robotics (left) and Osaro (right) displaying the vision systems for industrial pick-and-sort functions. Founded by an ex-Rethink Robotics employee, Veo aims to retrofit "dumb" robot arms with human-sensing eyes. Osaro, which boasts backing from angels like Peter Thiel, Elad Gil, and Sean Parker, is working on vision software for industries like pharma and food service.

As cobot vision advances, so too will adoption. Increased safety and ability means the systems will be in greater demand, which will likely further attract startups to design more advanced computer vision, creating a positive feedback loop.
Overcoming mechanical issues 
While robots are becoming commonplace, they still haven't developed the smarts or dexterity we expect thanks to The Jetsons or Terminator 2. As famed roboticist Hans Moravec observed in what is sometimes called Moravec's paradox:
"It is comparatively easy to make computers exhibit adult-level performance on intelligence tests or playing checkers, and difficult or impossible to give them the skills of a one-year-old when it comes to perception and mobility."
In other words, high-level reasoning requires little computation, but low-level sensory or motor skills require enormous computational resources.
Dexterity presents a major challenge in robotics. However, hardware improvements are making cobots more effective. 
Cheaper and better cobot hardware is allowing startups to focus on computer vision and tailoring software for specialized tasks. The largest cobot manufacturer is Universal Robots (UR), which was acquired by Teradyne in 2015. The Danish company's cobot arms serve as the picks-and-shovels for a new wave of startups.
Venture-backed startups like Ready Robotics, Fetch Robotics, and Voodoo Manufacturing all build systems atop UR's cobot arms. Ready Robotics is offering Robotics-as-a-Service (RaaS) specifically for industrial automation tasks. Fetch's cobots perform e-commerce sorting, and Voodoo Manufacturing employs cobots to automate management of multiple 3D printers.
Some arms pay for themselves in an average of 195 days, according to Universal Robots.
Across the industry, cobots are priced at an average of $24,000, and estimates say cobots will be a $3B market by 2020.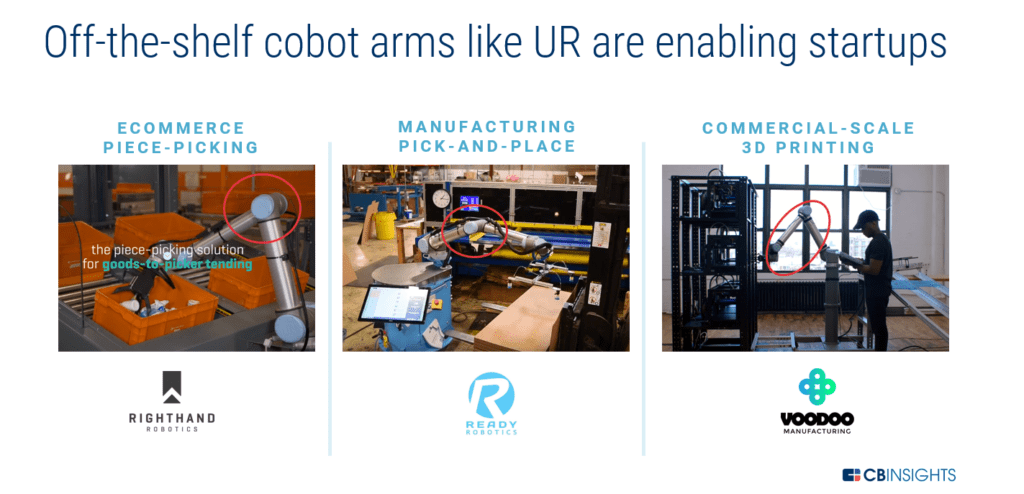 Robotic hands
Despite improvements in dexterity, a universal end effector — a robotic hand that can manipulate any object — remains elusive.
Right now, robotic "hands" aren't suited for multipurpose use. But startups are developing alternative end effectors using clever hacks to grab a variety of objects.
Empire Robotics and Soft Robotics, for example, specialize in soft robotics, which uses flexible materials and fluid or air pressure instead of mechanics. Because manipulation is still imperfect, soft robotics are a great workaround to avoid crushing objects with inappropriate force. Soft Robotics's gripper is FDA-approved to handle food and is currently used for food packaging.
For less sensitive materials, Grabit employs electroadhesion on traditional robot arms, and Optoforce makes sensors and tooling for specialized applications.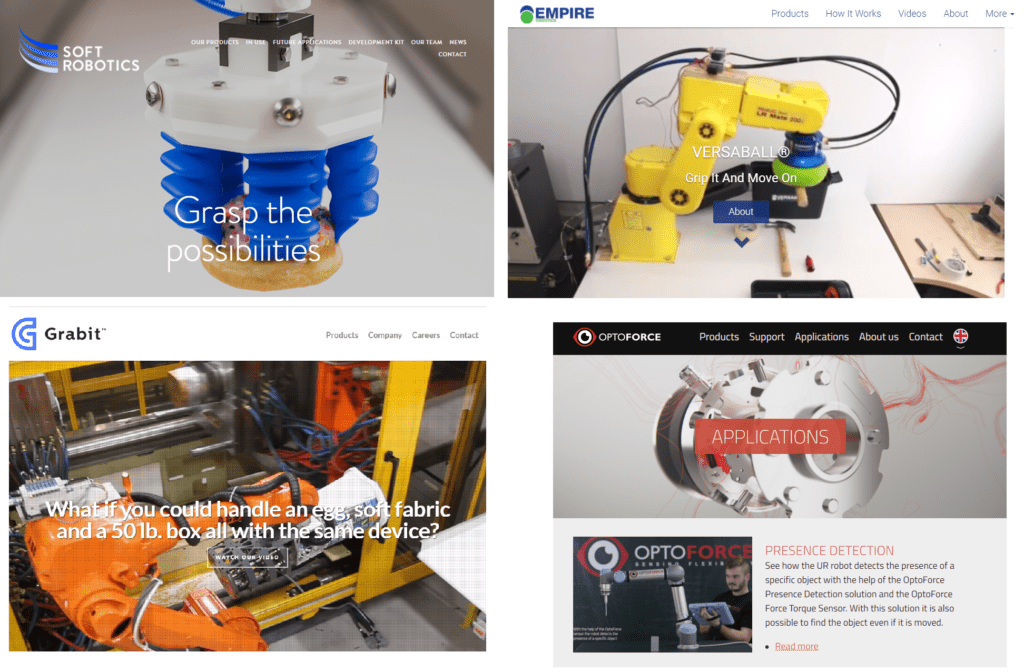 This quest for the universal end effector extends beyond just pure-play robotics companies. A recent Amazon patent titled "Robotic Gripper With Digits Controlled By Shared Fluid Volume" detailed a robotic manipulator that is multi-tooled to handle both heavy, durable items and light, soft goods.

Cobots were the sensor-laden answer to "dumb" robot arms, and robot hands should be no different. While we're far from reaching human-level dexterity, future cobots will have end effectors and clever tooling that can handle anything intelligently.
Cobot demand has exploded — leaving traditional robotics players caught flat-footed
Industrial robot giants were caught off-guard by the new wave of cobots starting in the 2010s.
According to a Fanuc executive director, "We didn't expect large manufacturers would want to use such robots, because those robots can lift only a light weight and have limited capabilities."
Now, incumbents are playing catch-up against Teradyne's cobot division Universal Robots (UR), which currently claims around 60% of the cobot marketshare.
Big names like ABB, Fanuc, Yaskawa, KUKA, and Robert Bosch, which are all better known for their low-tech robots, have followed UR into the cobot market. (It's estimated that Fanuc has between 6% and 10% of cobot market share, and Yaskawa's is even smaller.) And partnerships are springing up: Kawasaki is now working with its Swiss rival ABB to standardize robotic programming.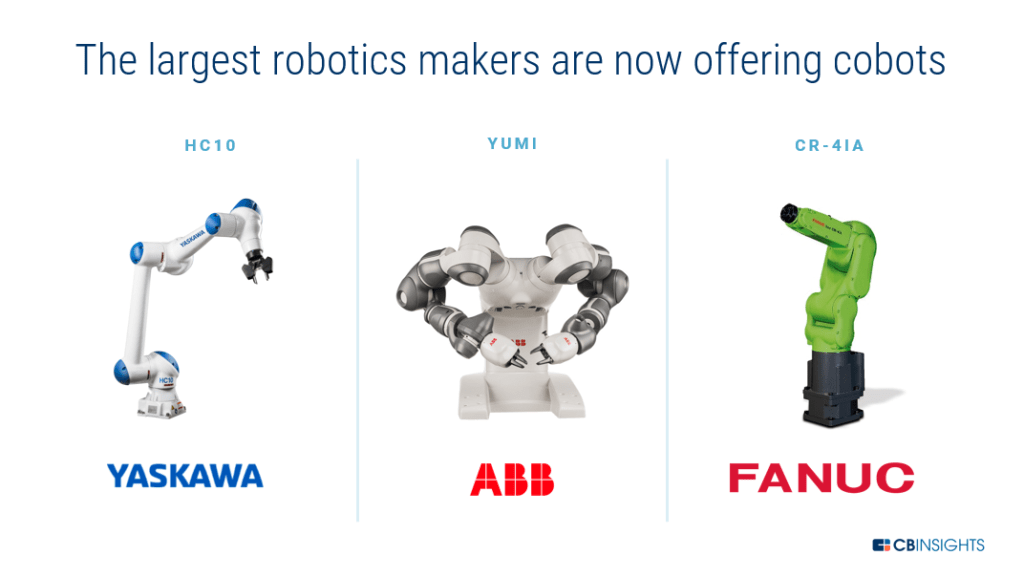 Why the sudden demand for cobots?
One big reason could be labor costs rising worldwide. Because of economic growth, wages in industrialized countries have soared. In China, for example, average wages have more than doubled since 2006, and the country is no longer considered a destination for low-cost outsourcing.
In fact, China is now so expensive that it's losing consumer electronics jobs to lower-cost neighbors like Vietnam, pushing its robot demand to grow more than 20% just last year.
Expensive labor is also tilting the scale for more localized manufacturing, and robotics are enabling a new wave of re-shoring (the return of manufacturing to the United States). In a 2015 survey by BCG, 20% of US-based manufacturers surveyed said they were actively shifting production back to the US from China, or were planning to do so over the next two years. The majority said lower automation costs have made the US more competitive.

Subsequently, firms are increasingly turning to cobots, which these days are easily programmable, cheaper than traditional labor, and even inexpensive compared to "dumb" robots. For all of these reasons, cobot makers are selling more units at lower prices than ever before. 
This isn't just corporate innovation theater by tech giants either — even smaller factories are buying into the cobot wave. On a January 2018 earnings call, Teradyne's CFO Gregory Beecher noted the high growth of its cobot business and revealed that about 50% of its customers are small- and medium-sized businesses (SMBs).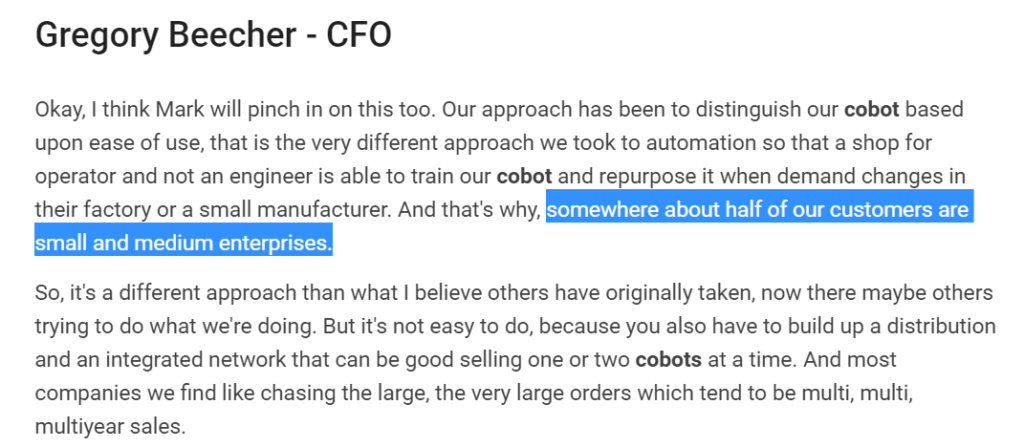 The cobot market is still going through a land-grab moment. Down the road, larger makers may be well equipped to supply the hardware for the cobot movement, even if the bulk of their models are still industrial variety.
One challenge going forward could be lack of awareness in the market. The president of Universal Robots, which has found success selling to European automakers, noted, "Probably only 10 percent of our target market really knows about collaborative robots, so there is 90 percent potential that [has] gone untapped."
Selling manufacturers on cobots' safety and ability to directly assist human workers will not be easy.
As noted above, rising labor costs worldwide are increasing demand for cobots. This demand is particularly acute in industries like agriculture, manufacturing, and construction.
As baby boomers worldwide near retirement age, there isn't a new crop of workers to take their places. Estimates say that roughly 22% of skilled manufacturing laborers in the US (or 2.7M workers) are set to retire in the next decade — and the industry will be about 2 million workers short if trends continue.
Shortages are a bottleneck in a number of other industries, too. Skilled workers such as electricians and plumbers are a limiting factor in the construction industry. And last year, producers worried crops would be dying on the vine due to agriculture labor shortages in California's wine country.
Compounding these difficulties is historically low unemployment (which means workers have better options elsewhere in the economy).
Firms are under pressure to make their workforces even more productive. With cobots, the means to do so have never been more affordable.Startups are responding, delivering industry-specific cobots where the need is most accute.
Here are a few areas where cobot startups are finding early success.
Warehouses & e-commerce
Even a giant like Amazon can have trouble finding labor for its booming fulfillment centers. During its much-publicized "Jobs Day" in August 2017, the company received only 20,000 job applications, falling drastically short of its goal of 50,000. However, Amazon has been on an internal push to augment its workforce.
Amazon's $775M acquisition of Kiva Systems, a warehouse robot maker, is said to have set off an arms race among robotics makers. When Amazon decided to sunset Kiva and only use it internally, other companies rushed to fill the void left by Kiva.
Meanwhile, demand for warehouse space has exploded with the e-commerce boom. Last year, the average warehouse ceiling height was up 21% compared to 2001, while spending for new warehouse construction hit a peak in October 2017, with $2.7B spent on construction in that month alone. Unsurprisingly, demand for collaborative robotics in the warehouse is growing.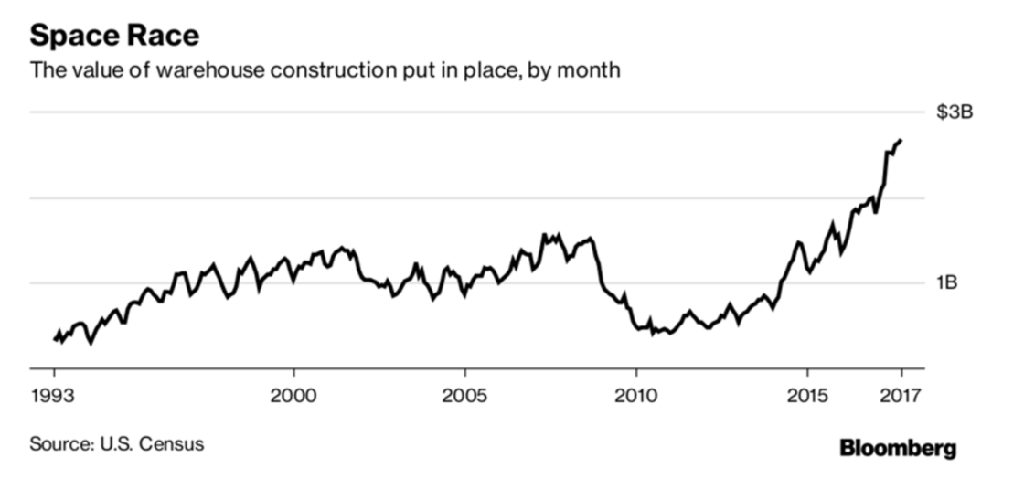 As the continued e-commerce wave drives industry-wide pressure to deliver orders on time, there has been an explosion of robotics startups focused on making fulfillment more efficient. Like Kiva, many are working with autonomous guided vehicles (or AGVs) for material transport and item picking.
AGV technology, which has been around for decades, is starting to get a facelift with the advent of better autonomy and vision systems. (Its more sophisticated cousins are sometimes called AMRs, or autonomous mobile robots.) Many well-funded startup players offer a Kiva-like freight bot for transporting materials for e-commerce and manufacturing operations.
Startups like Seegrid focus on palletizing and forklifting, while Clearpath's Otto division focuses on material transport. Fetch and 6 River Systems are both well-funded players that offer mobile picking robots in warehouse environments.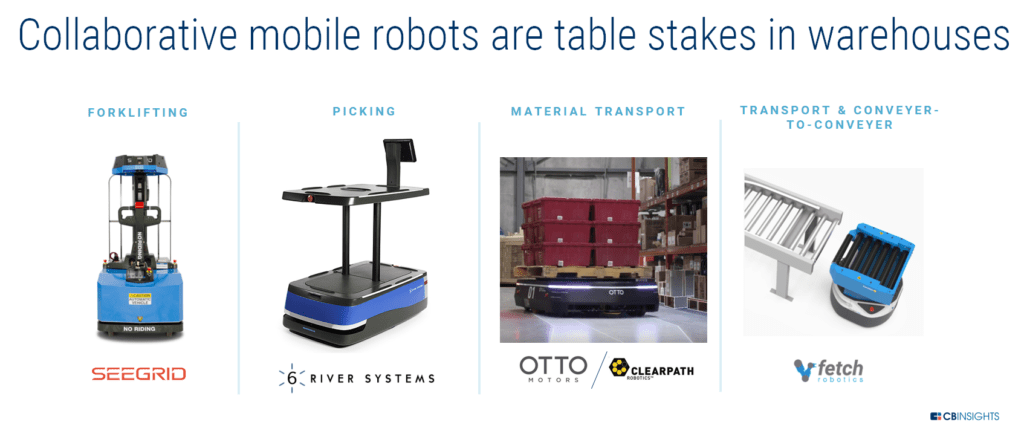 In addition to transport, another major cobot application segment within e-commerce is picking and sorting.
As consumers buy more, robotics are needed to pick and package boxes of mixed items. The Kindred Sort (below, left) is being piloted at Gap to sort items at distribution centers. Righthand Robotics (below, right) does more e-commerce picking. Notably, both sport Universal Robot arm hardware, although Kindred has used Fanuc arms in other demos.

Due to the high ROI in the warehouse, startups will likely continue to develop technologies for this booming vertical. Amazon, for example, recently revealed how it is investing in a variety of new robotics, while JD.com recently unveiled its 100,000 sq ft facility that processes up to 200,000 orders per day — with only 4 workers.
Agriculture
After the $305M acquisition of Blue River Technology by John Deere, interest in agriculture robotics spiked in 2017.
Most large farms use some degree of automation in guiding farm equipment, according to the USDA. Startups are automating farming equipment, from self-driving tractors to specialized robotic arm pickers.
Amidst a huge labor shortage and tighter immigration rules, agriculture is ripe for robotic augmentation since last year's crops in California nearly went unpicked. One company working here is Agrobot (pictured below), which is working on berry picking — a job that is difficult for robots to do without crushing berries.

A similar picker tailored to apple orchards is Abundant Robotics, which spun out of SRI International last year, and has raised $10M from investors like Google Ventures and Yamaha Motor Ventures.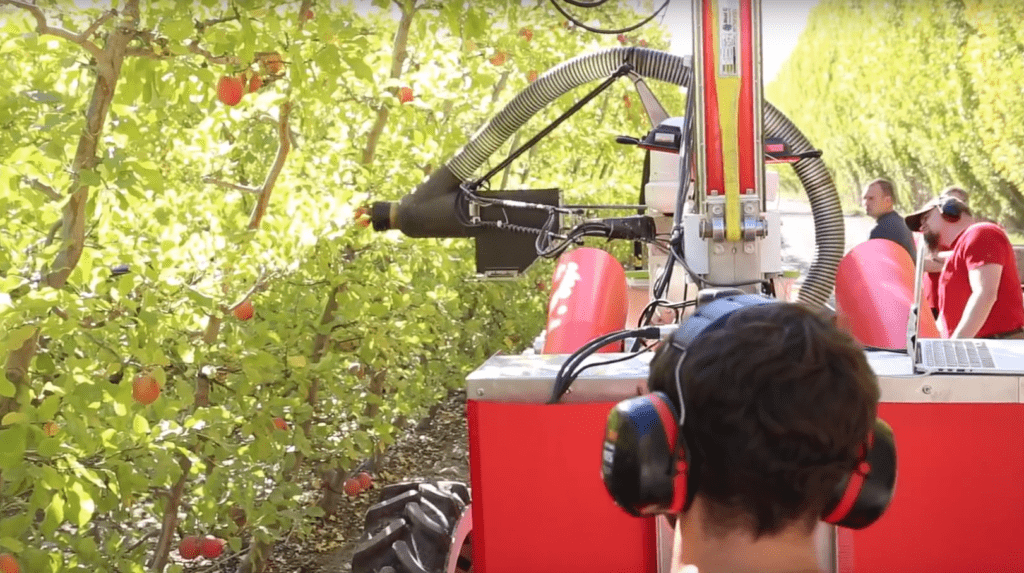 Other players, like Harvest Automation (material handling AGVs for agriculture) and Lely (autonomous cow milking), are reapplying the cobot playbook.
Clearpath Robotics is one of the largest and most well-funded startups in the service robot space, and develops cobots for a number of verticals. Notaby, the company makes robotic harvesting and seeding UGVs and can retrofit existing equipment with autonomous capabilities.
Restaurants & food service
Cobots startups are also targeting food service, which is presently seeing an all-time low unemployment rate of 6%. In an industry known for high turnover, restaurants are investing in robots not to get rid of workers, but because they can't find enough.
Panera Bread, for example, has added about 25,000 new jobs over the past 2 years to handle the extra volume coming from digital ordering. Elsewhere, food makers are differentiating by being open later or providing delivery.

Startups are employing tailored AI and cobot arms to automate the cooking process. In March 2018, Southern California restaurant chain CaliBurger tried out Miso Robotics' burger-flipping cobot arm (above left), dubbed "Flippy." NPR reports the burger bot currently retails at $60K. However, there is still work to do to make these cobots effective on the grill line. The robot initially couldn't keep up with customer demand.
Elsewhere, automatic burger restaurant Creator (above right) uses 20 computers, 350 sensors, and 50 actuator mechanisms to deliver a $6 burger in 5 minutes. While not employing a classic cobot arm or AGV, the system is collaborative in the sense that the robot-made burgers are delivered to customers by human workers.
On the drinks side of things, startup Hypergiant recently announced a partnership with TGI Fridays to create Flanagan, an AI-powered mixologist that provides personalized cocktails to diners.
There is already plenty of hand-wringing around how automation will transform factories and displace workers. While cobots has a nice rebranding appeal, suggesting robot-human synergy, there is no question that this technology is at the heart of the disruption of the factory. And with demand and technology growing side-by-side, cobots are poised for a watershed moment. 
Better automation will have powerful ripple effects that will change the manufacturing industry as we know it. Factories will relocate, less beholden to operating where there's cheap labor. Jobs related to managing robots in factories and other locations could surge. New investments in cobot technologies may even lead to a large-scale productivity boost. 
The ways companies integrate the tech — as well as the policies governments enact to regulate it in this next economic phase — will have profound implications on whether we see our current and future cobots more as collaborators that lower costs and improve opportunities for workers, or as the physical manifestation of worker automation and displacement.
If you aren't already a client, sign up for a free trial to learn more about our platform.