Coffee startups are on track to raise over $1B in 2018, buoyed by consumption growth in the US and China.
Global coffee consumption is on the rise, and startups are taking advantage of the trend.
In the US, roughly 64% of adults drink coffee daily, the highest proportion since 2012. Americans are spending more on coffee than ever as they shift toward premium options, according to the National Coffee Association.
Meanwhile, consumption is hitting double-digit growth rates across the globe, from China to Brazil.
Below, we use CB Insights data to take a look at the trends in coffee funding and examine why coffee is such a lucrative space at the moment.
Coffee deals & dollars
Investors have poured nearly $600M into coffee startups in 2018 to date, more than 4x all funding in 2017.
Deal count is on the rise — with 56 deals to date (as of 8/1/18), we're on track to cross 90 deals by the end of 2018, compared to 66 deals in 2017.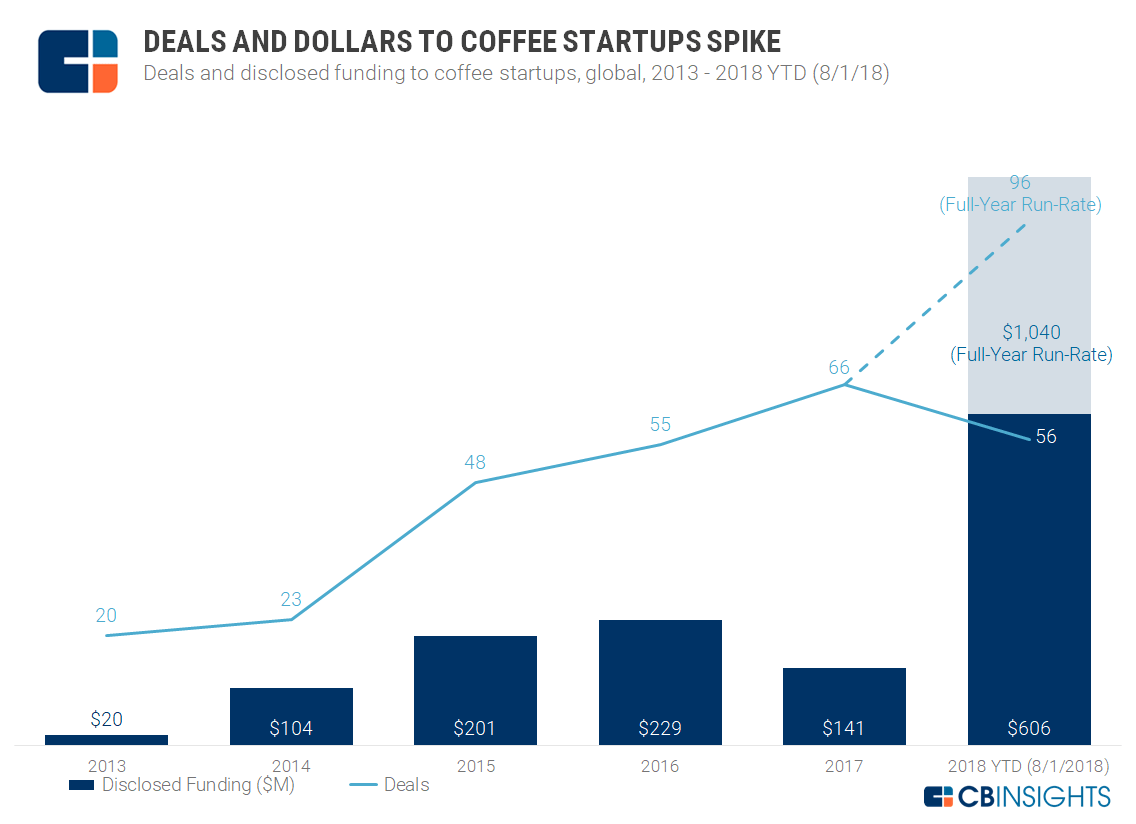 As deal count rises, the size of those deals is also growing significantly. The chart below shows that amidst the current spike in deal count, both average and median deal sizes hit record highs this year.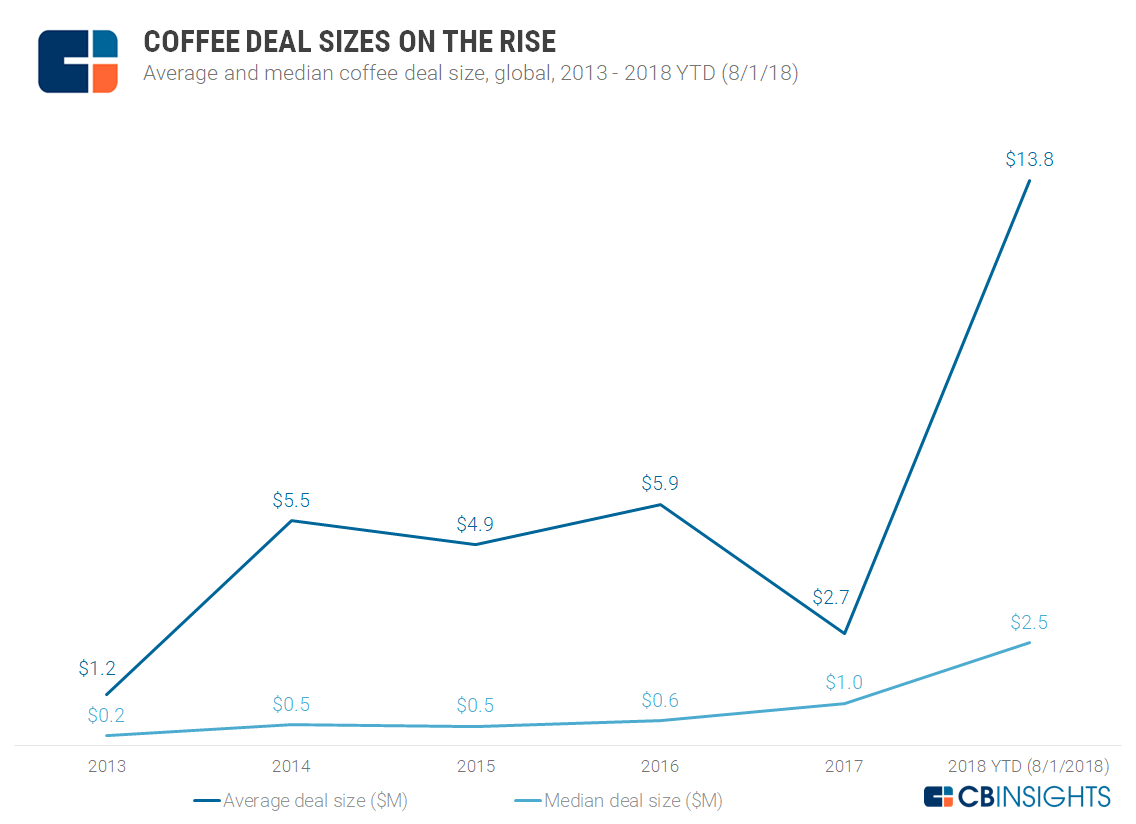 Food & Beverage Startups
Startups working on new foods and beverages have the potential to change how and what we eat. Look for Food & Beverage Startups in the Collections tab.
Track food & beverage startups
Several factors are driving this year's massive growth in coffee funding:
Asia's coffee market remains fragmented. This opens the door to major opportunity for new players. 2018's largest coffee deal to date, for example, went to Chinese coffee chain Luckin Coffee, which aims to compete with Starbucks in the region by offering mobile ordering and on-demand delivery. Luckin raised a $200M Series A in June.
Coffee fits into current dietary trends. It's naturally no-calorie, gluten-free, dairy-free, and carb-free. The decline of soda — consumption hit a 30-year low in 2016 — also opens up new opportunities for coffee.
Coffee is well positioned to take advantage of new sales channels. Businesses around the world are increasingly using coffee to drive loyalty among their own clients.
WeWork, for example, offers free coffee to all of its 175K+ tenants, while Uber recently partnered with startup Cargo to sell bottled coffee and other packaged goods to Uber riders. These initiatives by non-food companies can open new sales opportunities for coffee brands, and startups like Sunniva Super Coffee are taking advantage.
Acquisition sprees are driving momentum. As major corporations step up their coffee acquisition activity, investors looking for lucrative exits are driven to the space. Holding company JAB has been building a coffee empire over the past several years, while Nestle acquired Blue Bottle and Chameleon Cold Brew last year.
Going forward, coffee startups may become appealing acquisition targets for AB InBev (trying to diversify out of beer), PepsiCo (struggling to define its beverage strategy), and others.
New blends gain traction. Most coffee startups focus on ready-to-drink (i.e. bottled) coffee, and they're taking advantage of new ingredients and new brewing methods. Cold brew coffee has been trending for the past several years, and startups including High Brew, Wandering Bear, and Rise Brewing all raised funding in July 2018 alone by emphasizing cold brew.
Other high-momentum startups use plant milks (such as Califia Farms, which raised $50M in July 2018) or promise health benefits by blending coffee with butter or collagen (Bulletproof raised $40M in July 2018).
If you aren't already a client, sign up for a free trial to learn more about our platform.