With its Series C financing, Clubhouse is now worth $4B and has catapulted social audio into one of tech's hot new markets. Acquirers and investors are looking for ways to enter the social audio space. Here are the companies they should be looking at.
First, a little recap of how quickly the Clubhouse rocket ship has ascended:
May 2020 — Series A at $100M valuation (product in beta)

January 2021 — Series B at $1B valuation 

April 2021 — Series C at $4B valuation
Yup — from a $100M valuation at beta to $4B in 11 months.
When a company starts flying that quickly, it gets attention and also invites investors and companies, big and small, to join the fray.
For those of you looking to invest or acquire in the social audio space, we dug into the CB Insights platform to find 11 companies (mostly quite early-stage or even bootstrapped) that might be worth a look.
But first, let's set the stage a bit. We'll cover:
The birth of social audio as a technology market

Who is launching or has launched a Clubhouse clone?

11 Clubhouse alternatives investors and acquirers should look at
The birth of social audio as a technology market
Clubhouse has single-handedly birthed the "social audio" category. For 5 years, there was virtually no chatter about social audio, and then boom: as this news trend search on CB Insights reveals, social audio became a thing.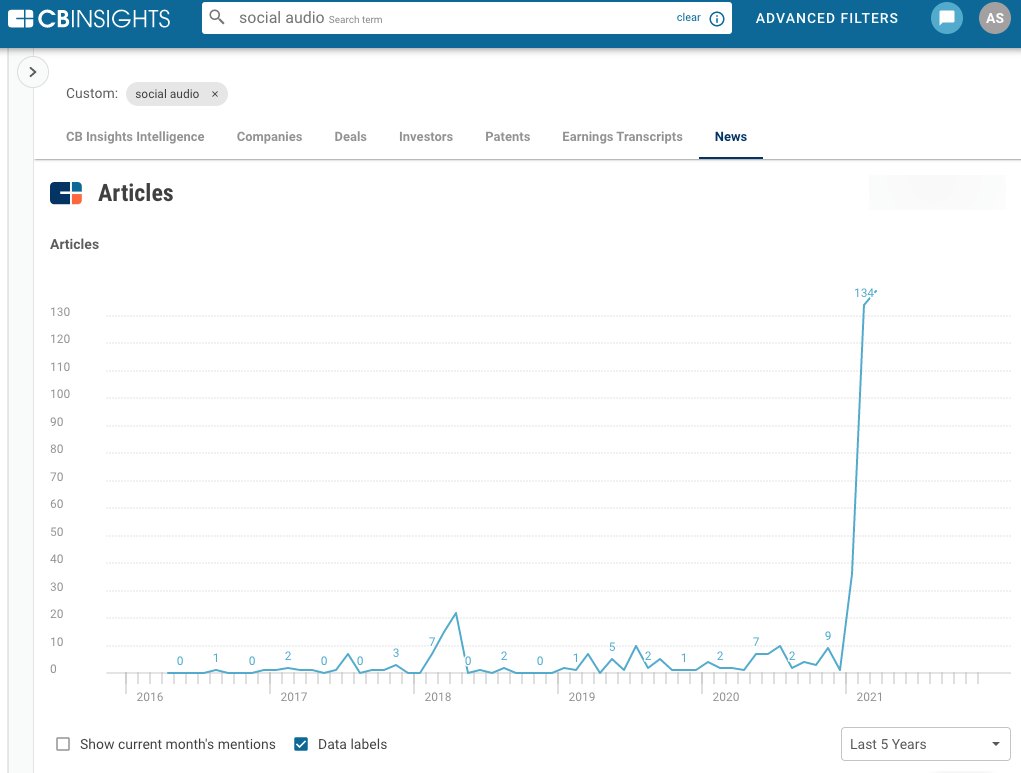 Why this crazy spike in news chatter?
Clubhouse has all the ingredients for a potent, buzz-generating cocktail.
Clubhouse financings & valuations are fast & furious — Clubhouse has top-tier backers in the likes of Andreessen Horowitz, Tiger Global, and DST. Just as buzzy has been its valuation climb and rapidity of financings, as you can see below from its profile on CB Insights.

Clubhouse user growth has soared — The platform had 2M users in January 2021 and grew to 10M by February 2021. And all this without an Android app.
It's not derivative or niche — A lot of the innovation (or attempted innovation) in social has been incremental or niche. Think a social network for your 50 closest friends, or a vertical social network for like-minded people who care about a single topic (e.g., dogs, sneakers, mindfulness, fitness, etc.). 
Clubhouse didn't do either of those things.
It's not verticalized or interest-specific

— sure, you could argue it started out for tech people and the celebs they knew, but it's quickly expanded so that pretty much anyone can get in (well, except you, Android users). Clubhouse is going big from the get-go vs. going niche and trying to unbundle the existing social networks.

It's not a spin on an existing social network paradigm (yes, we used that phrase) but a completely new way of doing social. As the news graph above illustrates, social audio wasn't a thing before Clubhouse.
Social needed a new entrant — It's been a while since there has been a new social app that has captured the zeitgeist. Of course, it's not all love, as the media often finds issues with Clubhouse. But at the end of the day, the media attention — good or bad — has helped Clubhouse get its name out there.
For years, enterprise, cloud, and SaaS companies have been the hot stuff, VCs have shied away from social, and seemingly nobody has been able to challenge the incumbent social networks of Facebook, Twitter, etc. Folks are interested to see a new kid on the block.
So with all that buzz and the threat of a new social network potentially putting incumbents at risk, various Clubhouse clones have been hinted at or launched.
Who is launching or has launched a Clubhouse clone?
There is a long list of tech companies that have either expressly indicated or hinted at their intentions to launch a Clubhouse-like product or feature.
They include:
Facebook — Interestingly, it's been toying with social audio since at least 2018, as you

can see here if you dig into Facebook's patents

. In mid-April 2021, it announced that its Live Audio Rooms feature will launch in summer 2021.

Twitter — It began beta-testing Twitter Spaces in late 2020. The feature has since enabled listening access to all users, although only a handful of users can currently create Spaces.

LinkedIn — Not much detail yet, but it will be in beta soon and will be connected to your professional identity.

Slack — In a Clubhouse conversation, Slack CEO Stewart Butterfield announced the company's intentions to build its own version into Slack.

Discord — In March 2021, it introduced Stage Channels, which allows users to organize and manage audio events.

Spotify — It

acquired a social audio company for $50M

in March 2021 and has expressed intentions to do more here.

Reddit — It's thinking about allowing moderators to run voice chats.
Sidebar: We discussed how copying startups, which was once looked down upon, has become more common in a recent newsletter entitled "Great artists steal."
11 Clubhouse alternatives investors and acquirers should look at
Buzz, big valuations, and a bunch of multi-billion dollar tech companies clamoring to get into social audio means the space will start to see a lot of investment and M&A in the coming months.
You can see all 11 companies on the Clubhouse profile here, each of which we break down below. As you can see, they are a global group, with headquarters in countries ranging from South Korea to the UAE to Switzerland, India and, of course, the US.

Below, we detail the following for each social audio company:
Focus area, if applicable (some are vertically focused, rather than being horizontal like Clubhouse)

Investors

Total disclosed funding

Stage
Fireside
Founded in 2021 by Mark Cuban and Falon Fatemi, Fireside describes itself as a next-gen podcast platform that facilitates live audio between creators and their fans while also giving them the ability to record their conversations.