As cybersecurity startup Cloudflare makes its public markets debut, we analyze the company's top stakeholders and how much their shares are worth.
One of the world's most valuable cybersecurity companies is going public.
San Francisco-based Cloudflare is making its public markets debut on NYSE at a stock price of $15, higher than the price range of $12-$14 that it released the day before its IPO (an increase from an earlier proposed price range of $10-$12).
The company was last valued at $1.8B in September 2015, when it reached unicorn status following a $110M Series D round.
Since 2009, Cloudflare has raised over $330M in disclosed funding from 10+ investors, which ranged from high-profile VCs (New Enterprise Associates, Union Square Ventures) to corporate investors (Microsoft, Qualcomm Ventures, Google's capitalG) to academic institutions (Harvard Business School). Now, an IPO presents a major milestone for some of the company's biggest investors.
Breakdown of top stakeholders
Using Cloudflare's S-1 filing, we calculated how much its top investors' shares were worth at the time of IPO, based on a $15 share price. Here's the breakdown.
Please click to enlarge.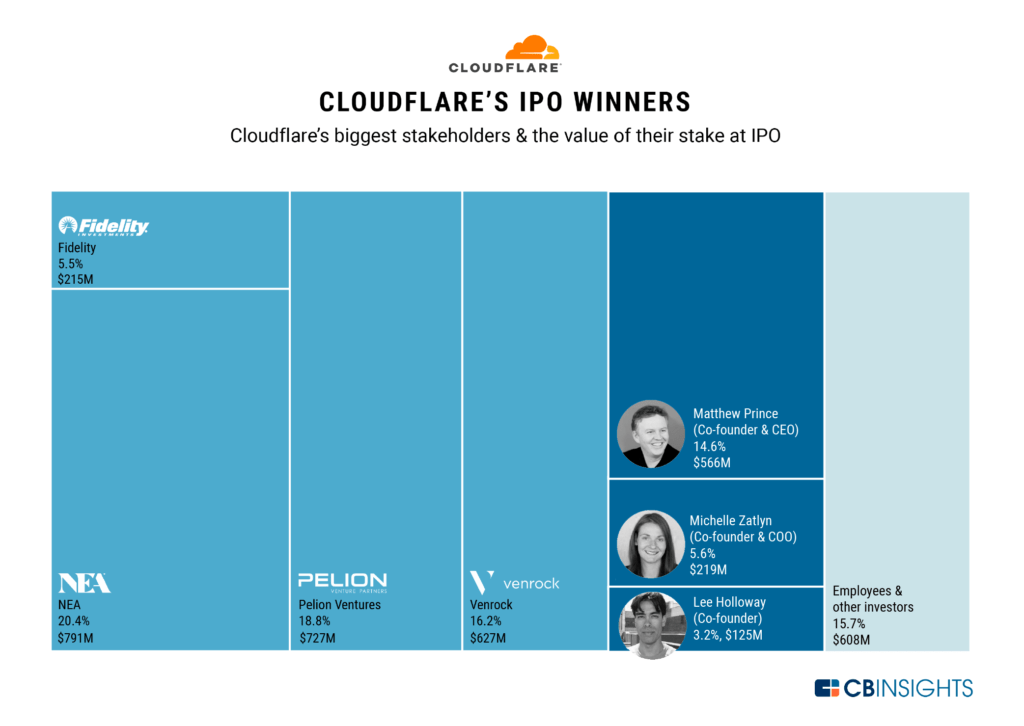 At 20.4%, smart money VC NEA has the largest share in the company, valued at $791M at the time of IPO. Fellow venture capital firms Pelion and Venrock have the next-largest shares of institutional investors, at 18.8% ($727M) and 16.2% ($627M), respectively. Fidelity has a much smaller share, at 5.5%.
CEO Matthew Prince has the largest co-founder share by a factor of 3, at 14.6%. He is followed by co-founders Michelle Zatlyn (COO, 5.6%) and Lee Holloway (3.2%). The co-founders' shares range from $125M to $566M at time of IPO (given a $15 share price).
top institutional investor timeline
Cloudflare's first capital injection came in the form of $20K from Harvard Business School's business plan competition in 2009. Since then, the company has gone on to raise much larger rounds from a bevy of other institutional investors.
Venrock and Pelion were the company's most frequent investors, co-investing in its Series A, B, C, and D rounds from 2010-2015.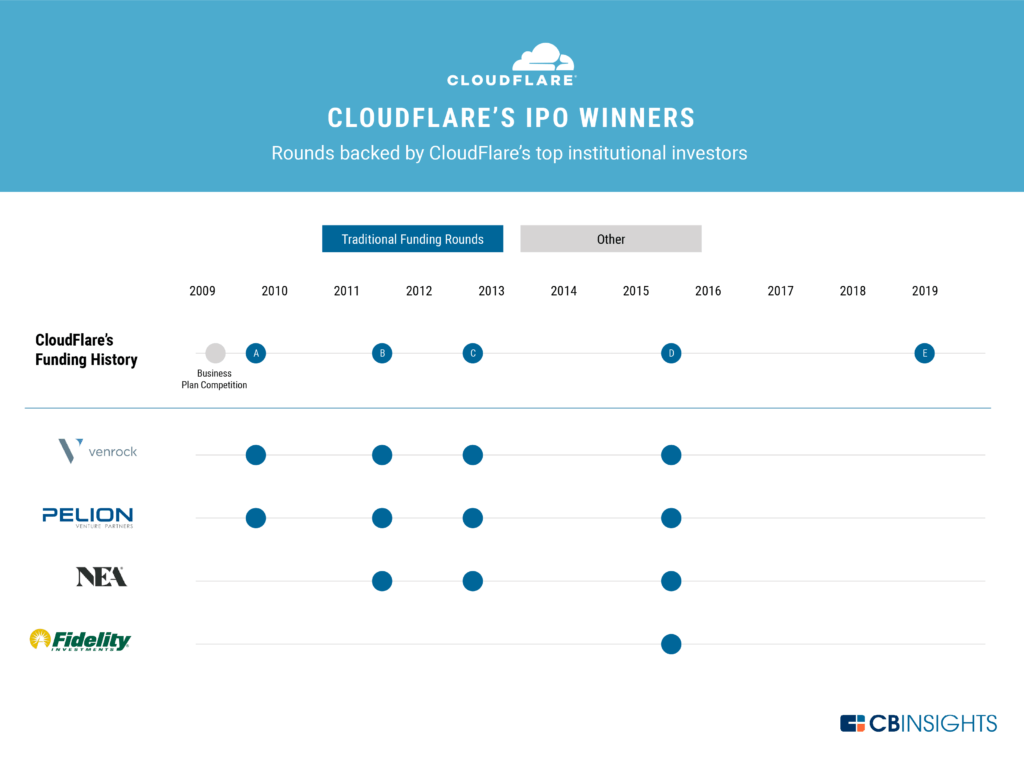 NEA backed one less deal than these investors, participating in Cloudflare's Series B, C, and D rounds — though it still secured a larger stake than Cloudflare's more frequent investors. Fidelity only invested in Cloudflare once to earn its 5.5% share, backing the company's $110M Series D alongside all the other top institutional investors in the above timeline.
None of Cloudflare's top institutional investors participated in its most recent round, a $150M Series E from asset manager Franklin Templeton Investments.
If you aren't already a client, sign up for a free trial to learn more about our platform.