Based on its closest comparable, getting back to its private market valuation looks impossible. It also appears investors are over the enterprise Hadoop market.
Cloudera recently joined a crop of tech companies including Okta, Carvana, and China Rapid Finance that filed for IPO. The software and services provider for open source software Apache Hadoop was last valued at $4.1B in a 2014 strategic investment by Intel.
But the data suggests Cloudera may have trouble achieving its last valuation in its public offering. This post is adapted from an earlier tweetstorm.
Cloudera was valued at $4.1B in its last private market financing round in March 31, 2014. Between Cloudera's Series E in December 2012 and its investment by Intel in March 2014, Cloudera saw a steep valuation step-up in which its private market valuation rose over $3.3B.
Cloudera's closet public market comparable is Hadoop distribution vendor Hortonworks (NASDAQ: HDP). Hortonworks was valued at $1.38B in its last private market valuation prior to IPO, but its market cap has since fallen below $615M. Its stock price performance has not been pretty, as can be seen below.
Track all of the 2017 Tech IPO Pipeline companies on our platform
369 of the most promising private venture and equity-backed tech companies. Sign up for a free trial and look for the 2017 Tech IPO Pipeline in the Collections tab.
Track 2017 Tech IPO Pipeline startups
The challenge for Cloudera becomes apparent when applying Hortonworks' price-to-revenue multiple to Cloudera. Hortonworks currently trades at just over 3.3x its full-year 2016 revenue of $184M. Such a multiple applied to Cloudera's 2016 revenue would imply a valuation of ~$866M.
To justify its last private market valuation, Cloudera would need a trailing price-to-revenue multiple of 15.7x.
Some have argued that Cloudera has a superior mix of subscription:services revenue and this is true. But as the image above details, it is not materially different (31% of Hortonworks revenue from services while Cloudera is 23%). The other argument is that Cloudera's revenue growth is superior, and again, while accurate, their year-over-year revenue is not appreciably more than Hortonworks (57% vs 51%).
It's also worth noting that another venture-backed enterprise Hadoop company waiting in the wings is MapR Technologies, which has reportedly hired underwriters for its own IPO. According to CB Insights data, MapR was last valued at $417M in a $50M Series E downround in August 2016, and may also face similar challenges if it looks to test the public markets soon.
The challenges faced by Hortonworks and the likely challenges faced by Cloudera and MapR have also made investors shy away from Hadoop. Below is a custom chart highlighting the financing activity drop to companies with Hadoop in the description.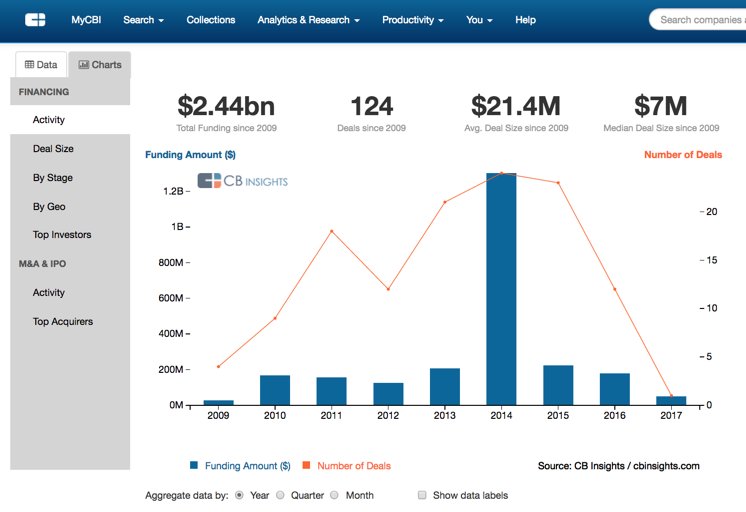 One other interesting note from Cloudera's S-1 relating to an acquisition the company had made. 91% of the options available to the target company's team went unexercised.

If you want to analyze private market valuations and/or the enterprise Hadoop space, sign up free for the CB Insights Tech Market Intelligence Platform.
If you aren't already a client, sign up for a free trial to learn more about our platform.