Cloud security startups gain traction following a year of accelerated cloud adoption and cybersecurity challenges. Here are the top-line bullets you need to know.
On January 7, the cloud security provider Lacework became the first cybersecurity unicorn of 2021 when it raised $525M in a Series D round at a valuation of $1B.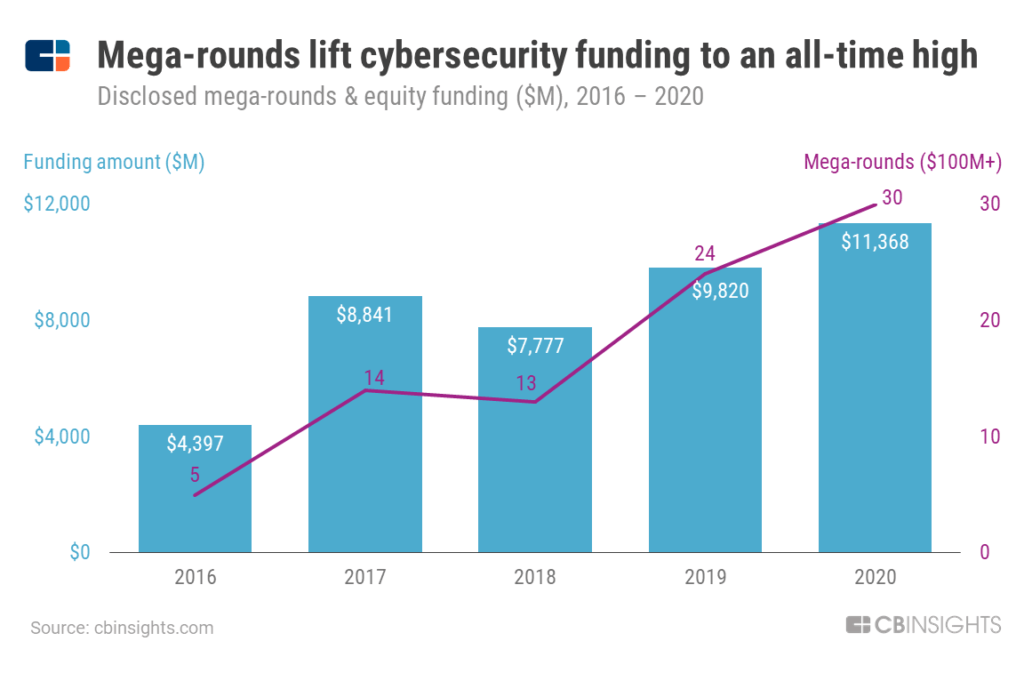 Lacework's mega-round underscores a period of heightened interest in cybersecurity. Funding to the sector reached an all-time high of $11.4B in 2020 — a nearly 50% increase from 2018. 
While numerous factors drove the record investment in 2020, from scattered workforces to an increase in cyber attacks, the accelerated adoption of cloud computing further boosted the fortunes of Lacework and companies like it.
Cloud computing — which companies use to support remote work, improve operational flexibility, and gain access to new technologies — requires protections for managing data access and securing workloads. 
As the cloud takes a more prominent role in companies' IT strategy, cybersecurity providers securing these environments will play a key role in mitigating associated risks.
WHAT YOU NEED TO KNOW:
Cloud adoption is accelerating into 2021.

A survey of senior IT executives found that more than half (53%) will increase spending on cloud services and solutions in 2021.

Security concerns with the cloud persist.

From misconfigurations of cloud infrastructure (i.e. improper settings) to container and code vulnerabilities to excess access privileges, the cloud requires specific protections from malicious actors. Between 2018 and 2020, cloud misconfigurations and accompanying data breaches cost companies an estimated

$5T

.

A new breed of security providers emerge. From Ermetic's management of cloud access to Snyk's code security checks to Orca Security's cloud infrastructure monitoring, a notable segment of cybersecurity companies has emerged over the past few years to meet rising threats in the cloud.