We mapped out 100+ notable companies and investors across 9 emerging areas of cloud computing, from cloud networking technologies to cloud security solutions.
While the cloud computing industry is one of the more mature sectors in tech, investors and entrepreneurs continue to find fresh opportunities in the space, with top smart money VCs pouring over $7B into the cloud computing industry since 2012.
Using CB Insights data, we created a periodic table highlighting the industry's most promising startups, noteworthy exits, and active investors. The companies and investors in this table were chosen based on metrics including Mosaic Score, CB Insights' predictive algorithm that uses financial and non-financial signals to measure company health.
We define cloud computing broadly to include technology companies developing solutions for remote (off-premise) servers that store, manage, and process data. These technologies range from infrastructure products like storage and networking hardware to software products like monitoring and security solutions.
The table is not meant to be exhaustive of companies in the space. Categories are not mutually exclusive.
Please click to enlarge.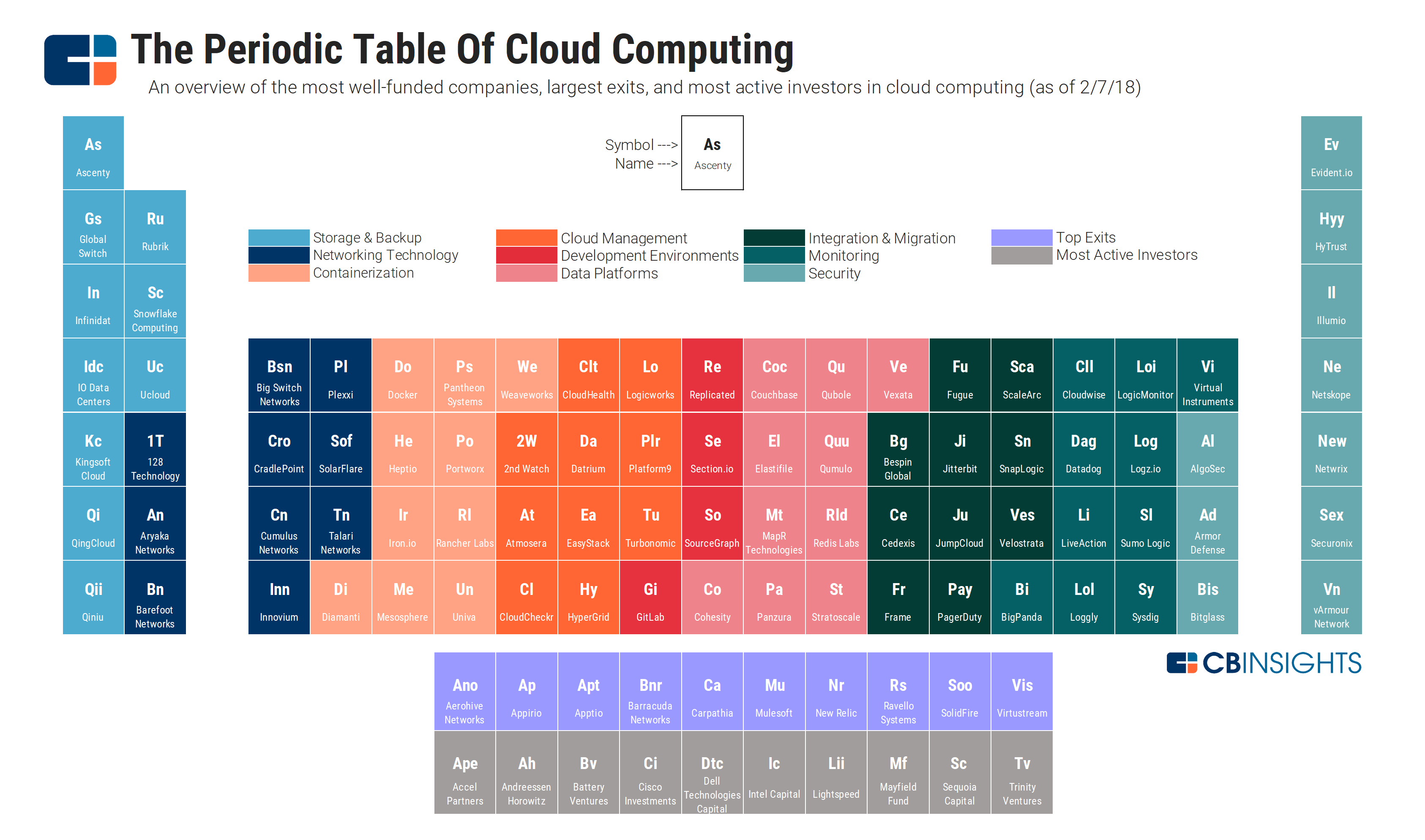 NAVIGATING THE PERIODIC TABLE
The top of the table lists active, private cloud computing startups that have raised equity financing in the last 24 months, while the bottom two rows show the top exits and most active investors in cloud computing since 2012.
Storage & Backup: Data centers are the foundation of cloud infrastructure and provide businesses with an increasing variety of storage solutions.
Startups in this category offer hardware and software solutions to store data on remote servers (data centers). Some companies provide services for primary storage, while others offer backup storage and/or recovery solutions.
Snowflake Computing offers enterprise storage solutions, while Rubrik specializes in data backup and recovery services. IO Data Centers, on the other hand, offers colocation services for organizations that prefer to own, but not manage, their private cloud infrastructure.
Networking Technology: Companies in this segment design software and hardware to increase the efficiency, flexibility, and reliability of cloud communications. These technologies provide the underlying systems used to move information between cloud environments and end users.
Barefoot Networks and Big Switch Networks offer solutions to increase the efficiency, security, and programmability of networks, while CradlePoint offers software-defined 4G LTE network solutions in addition to SD-WAN services.
Containerization: As cloud computing infrastructure continues to improve, so does application architecture. Containerization offers a lightweight alternative to traditional, resource-intensive virtualization. Startups in this category deploy and/or manage container solutions for cloud environments.
Docker provides a suite of container products, while Heptio improves preexisting container management tools (namely Kubernetes and Mesos).
Cloud Management: With an increasing variety of cloud solutions comes increased complexity. Cloud management startups provide tools to orchestrate and manage cloud infrastructure, platforms, and software, especially for businesses using multiple providers.
CloudHealth Technologies allows businesses to predict the performance and cost of their cloud services, while Datrium offers a variety of cloud solutions and products, including cloud management.
Development Environments: As cloud-based containerization becomes the norm, the entire development process is migrating to the cloud. The ongoing transition from local hosts to cloud-based integrated development environments (IDEs) has improved the entire development process.
Companies in this category offer platforms that aid in the development and deployment of software within the cloud.
Startups such as GitLab and Replicated offer platforms to increase efficiency in development and deployment. Sourcegraph, on the other hand, allows users to edit, search, and share code more collaboratively within cloud environments.
Track The Cloud Computing Space
Cloud computing startups develop technologies for remote (off-premises) servers used to store, manage, and process data.
Track Cloud Computing Startups
Data Platforms: Startups in this segment provide data management, accessibility, and analytics solutions to offer businesses new ways to leverage data for operational needs.
Panzura offers unstructured data management solutions, while Vexata increases application performance by improving data flow and management.
Integration & Migration: Transitioning to the cloud or between providers is a complicated process, especially for large organizations. Startups in this category manage the movement of data from on-premises storage to cloud storage or from one cloud provider to another.
Some companies specialize in the continuous integration, or unification, of data across cloud environments, platforms, and software services. SnapLogic integrates data and applications in the cloud, while PagerDuty offers cloud migration services and monitoring solutions.
Monitoring: The increasing complexity of cloud environments makes addressing cloud complications in a timely manner difficult. Monitoring solutions offer organizations the ability to monitor and analyze the performance of cloud infrastructure in real time. Some cloud monitoring startups offer push notification alerts, while others predict when problems will arise.
LogicMonitor monitors cloud and hybrid data centers, while Datadog monitors cloud infrastructure and application performance.
Security: In light of ongoing data breaches, organizations have prioritized security initiatives. Startups in this segment protect the contents of private, public, and hybrid cloud environments.
Armor Defense offers cybersecurity software for public and private clouds, while Illumio specializes in securing cloud-hosted applications with micro-segmentation.
Top Exits: This section highlights the most valuable cloud computing exits since 2012. (Note: only first exits are included.)
Switch, a colocation service provider, represents the largest exit, with a valuation of $4.2B at the time of its IPO in Q4'17. Meanwhile AppDynamics, which provides cloud migration and monitoring solutions, represents one of the largest acquisitions: the startup was purchased for $3.7B by Cisco Systems in Q1'17.
Most Active Investors: Firms in category represent the 10 most active investors who have backed the companies in the periodic table since 2012.
Venture capital firm Lightspeed Venture Partners is the most active investor overall, with 45 investments into 14 companies in the periodic table, while Cisco Investments, Dell Technology Capital, and Intel Capital are the three most active corporate venture capital firms.
If you aren't already a client, sign up for a free trial to learn more about our platform.