Healthcare executives' discussions of how their orgs can apply digital solutions in clinical trials have jumped since Q2'20. Here are the top-line bullets you need to know.
Digital solutions in clinical trials have gained a new level of attention from healthcare executives since Q2'20.
This includes virtual or decentralized clinical trials (DCTs), which provide a more patient-centric approach to clinical trials using telemedicine and remote patient monitoring rather than traditional on-site visits.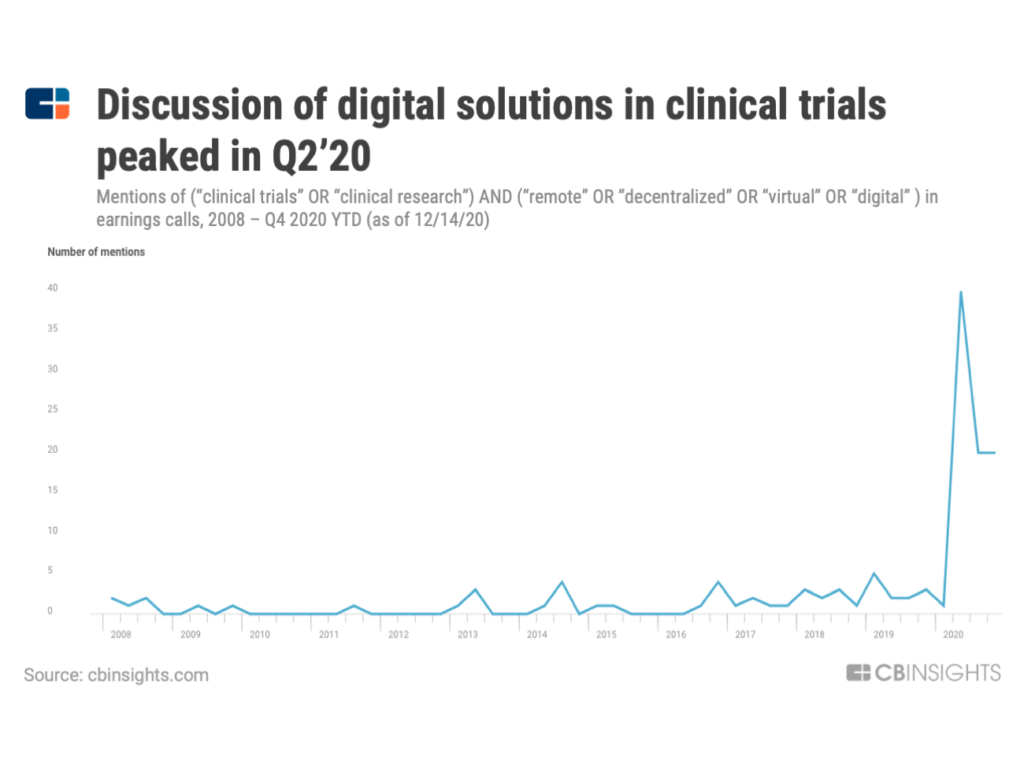 WHAT YOU NEED TO KNOW:
Digital technologies help streamline clinical trial operations: The pandemic put a strain on the continuity of many clinical trials in terms of trial sponsors, investigators, and patients. This prompted healthcare companies from Novartis to Dassault Systemes to discuss the role of digital technologies in conducting trials more efficiently in Q2'20, resulting in an all-time peak in earnings calls mentions.
Decentralized clinical trials (DCTs) gain more traction: Covid-19 underscored the bottlenecks involved in patient recruitment along with sustained engagement throughout a trial. Providing a more convenient way to participate through connected devices and telemedicine is becoming a bigger area of focus for industry players. Platforms such as Medable and Science 37 both raised additional funding this year and established key partnerships.
New strategic partnerships are forming across the industry: From big pharma players to prominent heath systems, several partnerships have emerged in the clinical trials space this year. They focus on streamlining various parts of a trial including study design, site setup, and study management. For more details, clients can check out this brief.