As the Covid-19 pandemic puts the supply chain resilience of industries like meat production under the spotlight, cultured protein companies are seeing traction with investors.
Clean meat — also known as cultured meat or lab-grown meat — refers to meat and seafood produced by cultivating animal cells (a form of cellular agriculture). Mosa Meat was an early mover in this space, debuting the world's first lab-grown burger in 2013 at the cost of $330K. This technology has steadily advanced toward mass commercialization since, attracting mounting attention from investors.
25 Industries & Technologies That Will Shape The Post-Virus World
Get the free download to learn how industries are using tech to reimagine nearly every facet of their operations.
Mosa Meat raised a $55M Series B in late September, with backers including Switzerland-based meat producer Bell Food Group, to build an "industrial-sized" production line. 
More broadly, funding to the space is up more than 7x year-to-date versus all of 2018, with nearly double the number of deals.
Check out our Agriculture Technology Expert Collection for more detail on funding trends and companies in the space.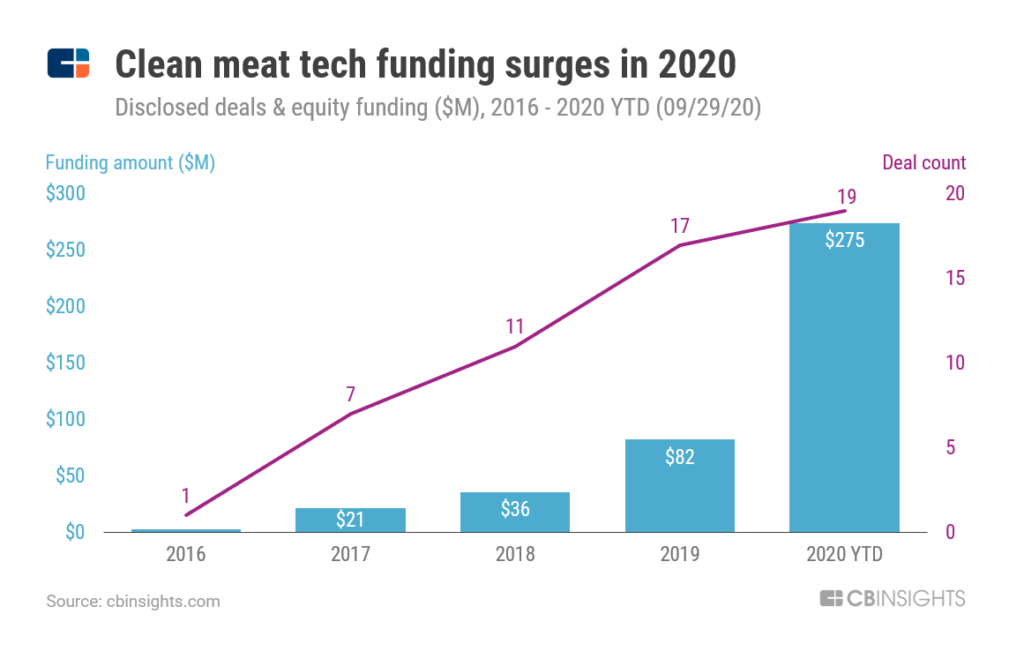 So far in 2020, there have been nearly 20 deals in this space, including Memphis Meats' $186M in Series B funding across multiple rounds. 
Below, we look at why lab-grown meat is gaining attention, why this matters for brands and retailers, and what's ahead for the space.  
WHY FOCUS ON clean meat NOW?
Covid-19 put supply chain reliability under the spotlight. Media mentions of meat processing factory closures and disruptions soared in the second quarter of this year. The pandemic highlighted many of the system's vulnerabilities and the conditions surrounding production.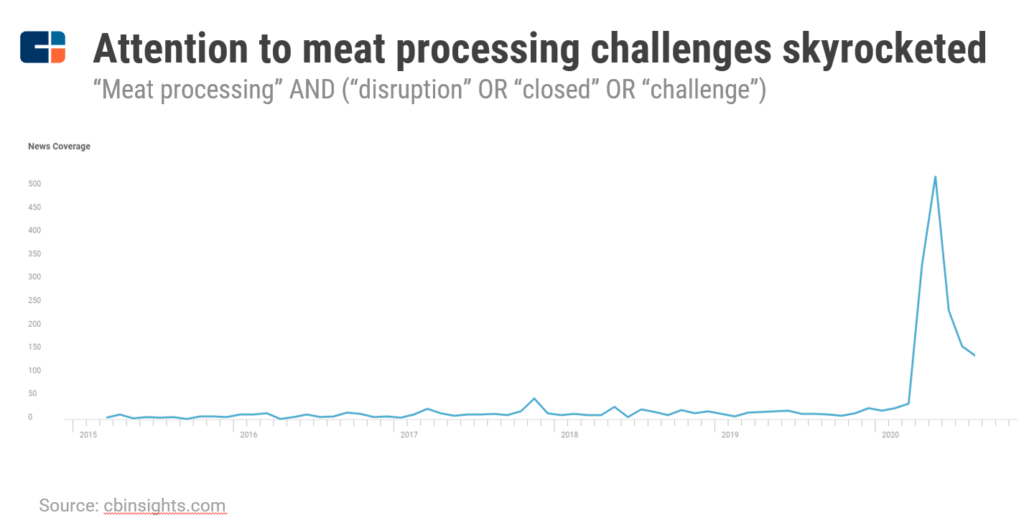 Concerns about the reliability of ingredient sourcing, alongside an ongoing shift in consumer demand for sustainable products, are helping to drive interest in more flexible and less resource-intensive approaches like clean meat. The need to improve production efficiency will also continue to rise as global meat consumption grows — it's projected to increase by 12% by the end of the decade, according to a report by the OECD and FAO.

Looking to respond to these trends, companies are eager to bring cultivated meats to the store shelf. Currently, bio-engineering and material science advances are bringing down the cost and improving the taste of clean meats, making them more commercially viable.