We dug into the private market bets made by major computer chip companies, including GPU makers. Our analysis encompasses the venture arms of NVIDIA, Intel, Samsung, AMD, and more.
Recent developments in the semiconductor industry have been sending mixed signals. Stories about Moore's Law slowing have grown common, but analysts affirm that the latest crop of chips (specifically Intel's newest 10-nanometer technology) prove Moore's Law is still alive and well.
Meanwhile, the vast application of graphics hardware in AI has propelled GPU (graphics processing unit) maker NVIDIA into tech juggernaut status: the company's shares were the best-performing stock over the past year.
To better understand chip makers' moves, we used CB Insights' Business Social Graph, which shows how top investors and target companies are related, in order to analyze where some of the top computer hardware makers are striking deals.
Specifically, we analyzed the investment and acquisition activity of the following 17 corporations and their corporate venture arms:
Intel & Intel Capital
Samsung & Samsung Ventures
Qualcomm & Qualcomm Ventures
NVIDIA & NVIDIA GPU Ventures
ARM
AMD Ventures
Taiwan Semiconductor
Broadcom (fka Avago Technologies)
SK Hynix
Micron Technology
Texas Instruments
Toshiba
NXP Semiconductors
MediaTek & MediaTek Ventures
Analog Devices
NEC Corporation
Microsemi
We included prominent integrated circuit makers (from GPUs and ASICs to SoCs and CPUs), including all of the 10 largest semiconductor companies by sales. Also included in the analysis are 7 chip companies we identified as active in private markets, including NVIDIA, AMD, and ARM.
(Logged in subscribers can see the search here.)
Please click to enlarge. Orange lines indicate M&A deals, and green lines are investments.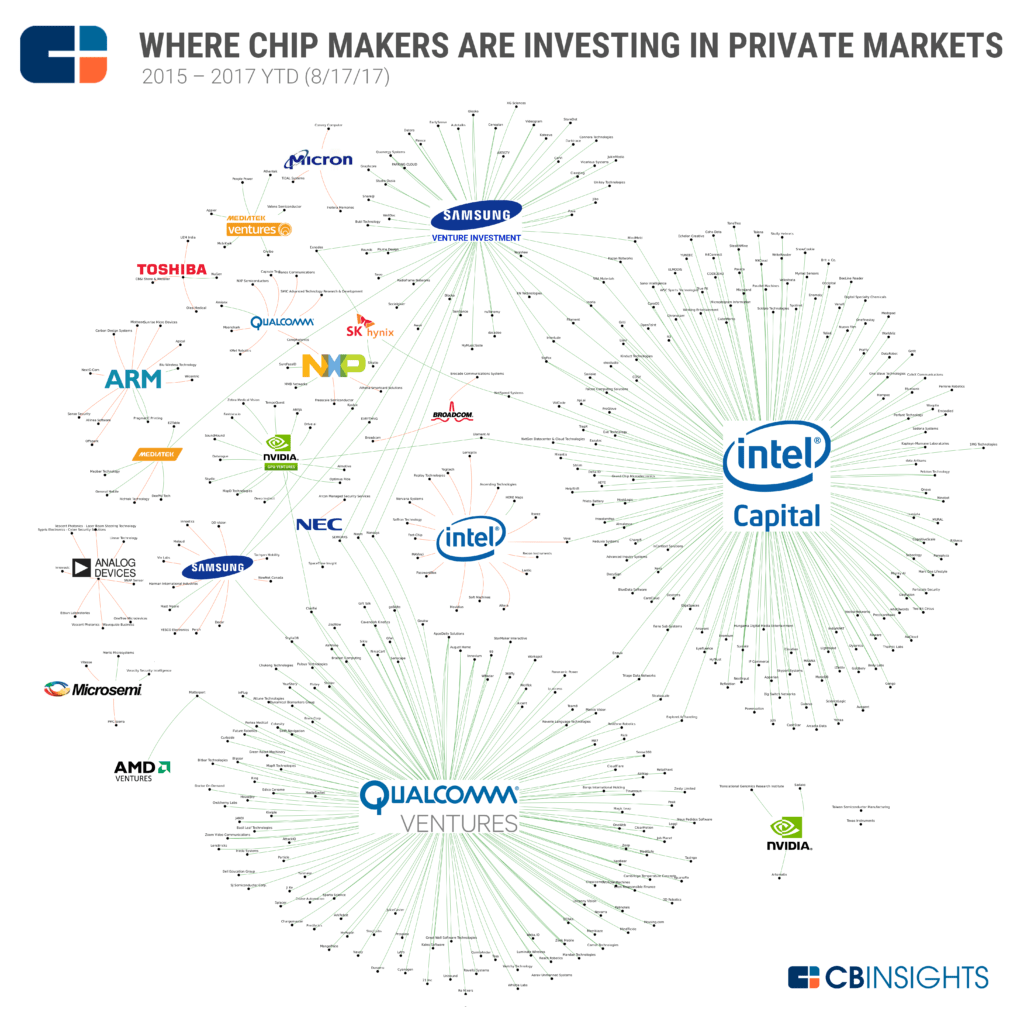 Key Takeaways
Intel Capital is by far the most active corporate entity, with 168 deals since 2015 (that's not including the 15 M&A deals from Intel proper). Close behind is Qualcomm Ventures, with 147 deals, followed by Samsung Ventures with 56.
Over 79 deals went to IoT companies — which is to be expected, given their relevance to embedded computing with small chips. Some well-funded startups that received chip-maker backing include 3D Robotics, Airware, and Ring. Interestingly, 15 of these deals went to drone-specific companies, such as YUNEEC, Swift Navigation, and Skydio.
AR/VR companies also attracted a decent amount of chipmaker interest: 25 deals to companies like Magic Leap, Lytro, and Eyefluence had at least one of these select chip corporates involved.
A total of 50 deals went to AI companies, many of which were cutting edge computer vision and auto tech plays. Some interesting investments went to well funded autonomous car companies like Drive.ai (backed by NVIDIA GPU Ventures), along with Xevo and AEYE (both backed by Intel Capital).
Additionally, chip makers invested in horizontal AI platforms like CognitiveScale and ElementAI (Intel Capital), as well as visual recognition API maker Clarifai (Qualcomm and NVIDIA's venture arms).
A number of corporate entities tend to go it alone in their investments: Analogy Devices, Broadcom, Toshiba, NEC, Microsemi, and Micron all have no overlapping investments with other chip companies. These corporates were mostly active in M&A deals.
Intel Capital first invested in live-event VR platform Voke's Series A, before its corporate parent acquired Voke in late 2016. Other M&A deals include Intel buying FPGA chip maker Altera for $16.7B in Q2'15, as well as Qualcomm's pending deal to acquire NXP Semiconductors for $47B.
AMD Ventures' sole bet since 2015 was a follow-on to virtual real estate showing platform Matterport, which it had previously backed in 2014 (coinvesting with Qualcomm Ventures).
Not all top semiconductor companies are active in private markets: Texas Instruments and Taiwan Semiconductor Manufacturing had no M&A or private investments over the period.
Overlapping investments
Companies that attracted multiple chip companies represent a wide array of industries: chip hardware (Inpria), digital media (Interlude), data center servers (Kazan Networks ), electronics materials (SBA Materials), IoT telecom (SigFox), and IIoT mesh networking (Filament), to name a few. Most of these have some feasible application for high-performance processors.
NVIDIA GPU Ventures and Intel Capital both participated in Element AI's $102M Series A mega-round in Q2'17.
Qualcomm and Intel's venture arms have coinvested in Stratoscale, Triage Data Networks, Enovix, and roomsharing marketplace ExploreLifeTraveling.
Samsung and Qualcomm Ventures both invested in NoSQL database company ScyllaDB.
South Korean chip makers Samsung Ventures and SK Hynix both invested in Exnodes, which makes technology to identify root-cause analysis in semiconductor fabrication.
The song ID app maker Soundhound, which has also built conversational speech AI software, received backing from Samsung and NVIDIA in its $75M Series D in Q1'17.
Corephotonics, an Israeli phone camera startup, raised from both MediaTek and Samsung Ventures.
If you aren't already a client, sign up for a free trial to learn more about our platform.