In part 3 of China in AI, we look at the low-cost, high-volume smart speaker market and how new business models are blurring competitive lines.
Amazon released the Echo, its smart speaker powered by AI assistant Alexa, in 2014, marking a new era of home automation. For nearly four years, Echo dominated the smart speakers market.
Now, smart speakers are becoming commonplace, highly commoditized, and a global phenomenon.
Early entrant Amazon is losing its market share — not only to its rival Google, but to newer players emerging in China.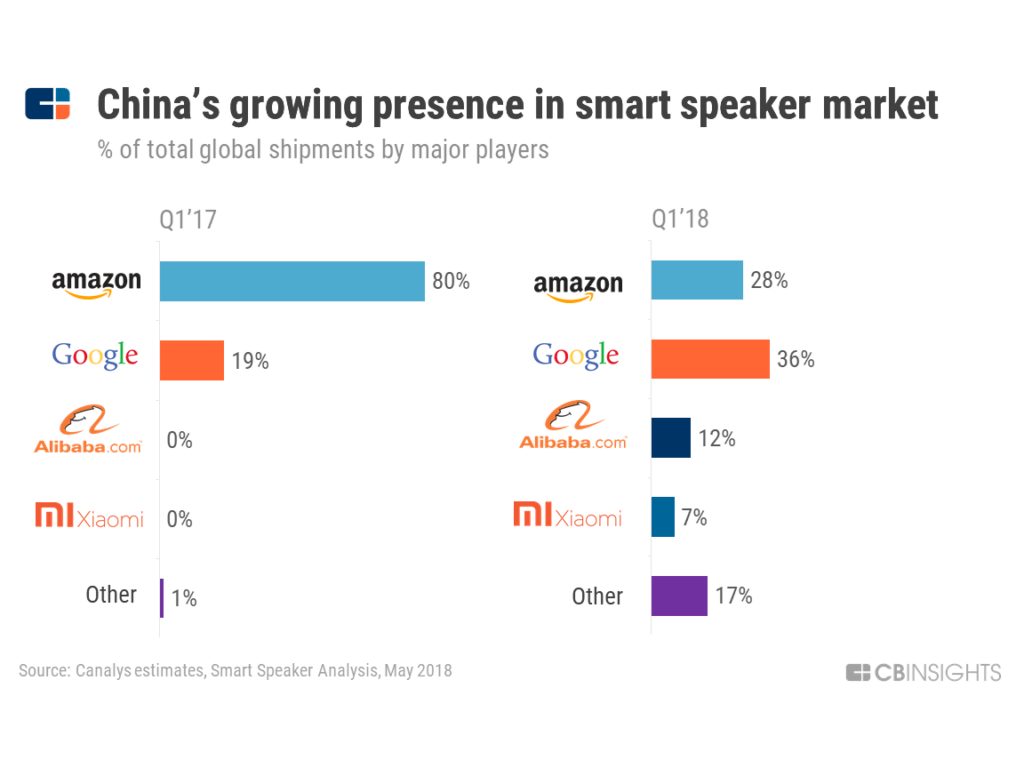 China is the second-largest consumer market in the world, hitting $4.3T in consumer expenditure in 2016 alone (for reference, the US ranked first with $12.5T, and Japan third with $2.7T).
The Chinese smart home market will reach nearly $23B in 2018, according to Juniper Research. Smart speakers and AI voice assistants are becoming an integral part of that.
An aggregation of analyst estimates of smart home market sizings on the CB Insights platform is shown below.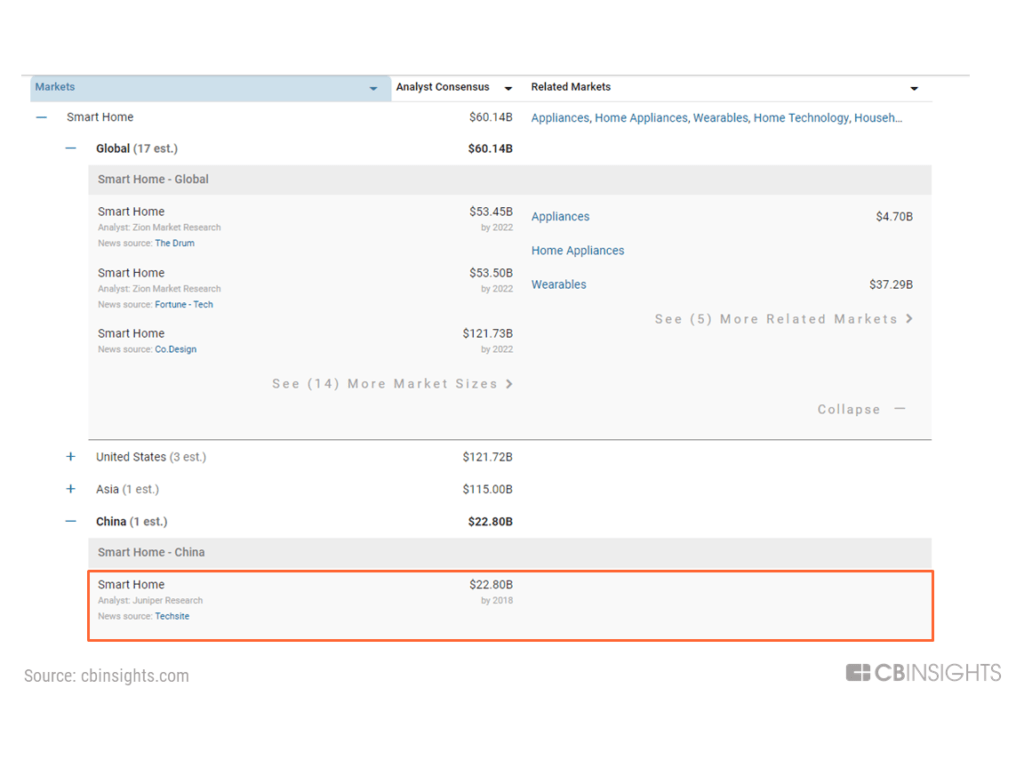 As China's smart home market heats up, incumbents like Google and Amazon are facing new competition.
Using CB Insights data, we dive into emerging players, partnerships, business models, and China's role in driving a low-cost, high-volume smart speaker market.
A market underserved by US companies
Neither Amazon Echo nor Google Home have penetrated China.
Apart from the tight regulations US tech companies face there, Chinese natural language processing is complex (with 130 spoken dialects and 30 written languages), making speech recognition a huge challenge.
Among US big tech, only Apple's Siri supports Mandarin on the iPhone. The company's Homepod smart speaker only supports English, and is not available in China.
This leaves a huge market underserved by US companies, and local players are capitalizing on it.
Smart voice is one of the Chinese government's four main focus areas in its first wave of AI applications throughout the country. (Read about its focus on healthcare, smart cities, and autonomous vehicles here.)
China's big tech has stepped up here in a big way. Alibaba sold its Tmall Genie smart speakers for $15 in China on Single's Day, the country's annual shopping extravaganza on November 11. Baidu recently slashed the price of one its smart speakers in China from $39 to $14.
These low prices are making it nearly impossible for smaller companies to compete.
Emerging business models blur competitive lines
Chinese companies entering the smart home market are deploying a twofold business model to capture a global market share and expand in China:
First, they are partnering with US tech companies, pairing their hardware with AI assistants like Cortana and Alexa to sell smart speakers outside China.
Second, they're partnering with Chinese voice AI startups, or developing conversational AI software in-house to sell within China, where US tech companies face strict restrictions.
Below are a few examples of companies taking these approaches.
Lenovo
To enter the AI smart speaker market, Lenovo partnered with Amazon to launch smart speakers with built-in Alexa software in the United States. The speaker was $50 less than a similar-sized Amazon Echo at the time of launch, and reportedly had better sound output.
This is in line with Amazon's recent trend of partnering with third party hardware manufacturers to sell its Alexa voice software as a service, expanding Alexa's market penetration and user base.
To further improve its hardware capabilities, Lenovo partnered with leading audio equipment manufacturer Harman Kardon to produce speakers with better audio quality. Harman Karson, a Samsung subsidiary, also has an existing partnership with Amazon to sell its own line of Alexa-enabled speakers, further blurring competitive lines globally.
But for sales within China, Lenovo built a separate speaker model using speech recognition software developed by AISpeech, a Chinese conversational AI startup.
Mobvoi
Google made its first direct China investment by backing Mobvoi with $60M in 2015. The startup makes voice-enabled watches, speakers, and smart mirrors.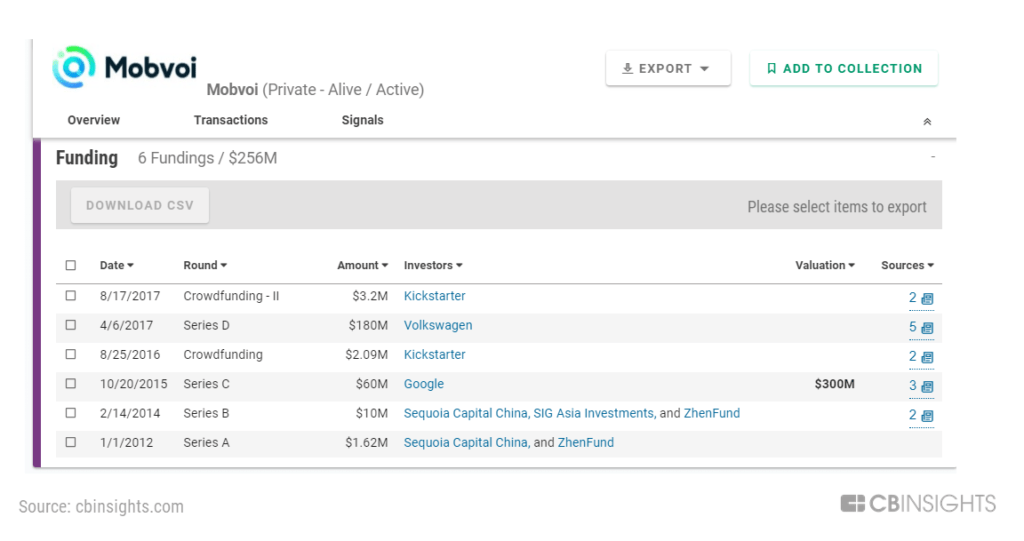 Mobvoi's smart speaker TicHome ships globally with Google Assistant built in. But in China, where Google still faces strict restrictions, Mobvoi sells its smart speakers with its own voice conversational AI software built in.
Note: Google took a minority stake in Chinese e-commerce giant JD.com this month. The companies reportedly discussed selling Google Home on JD shopping sites, although Google's business model for such an expansion in China in lieu of current restrictions remains unclear.
JD.com was also one of the earliest Chinese players to release a smart speaker called DingDong, powered by AI software from leading voice recognition company iFlytek.
xiaOmi
Late-stage unicorn startup Xiaomi is one of the leading mobile phone companies in China.
It is developing its own AI assistant, partnering with Amazon's Alexa, and could potentially integrate Microsoft's Cortana for a new smart speaker line.
The partnership could give Microsoft — which is far behind US  tech companies like Google, Amazon, and Apple in the smart speaker race — a foot in the door.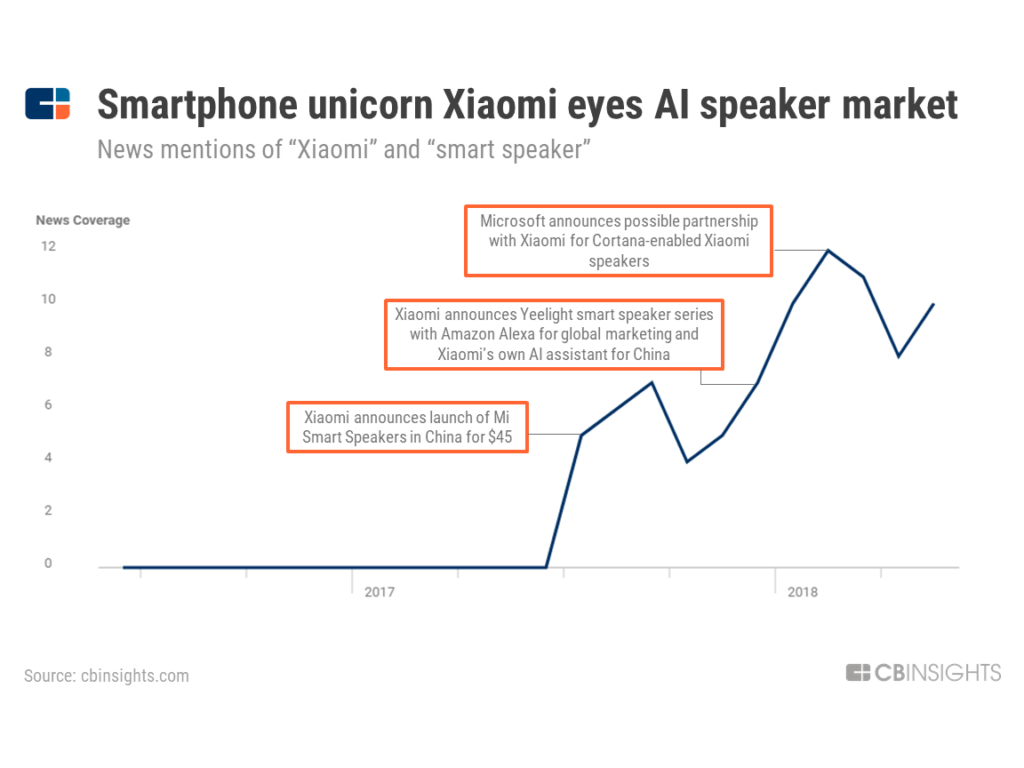 In addition to smart phones and speakers, Xiaomi sells a wide range of consumer electronics in China, including smart TVs, vacuuming robots, smart lamps, and even rice cookers.
Given its focus on AI (it recently formed a 500-person AI team), we may soon see its assistant integrated into a range of other hardware products.
Baidu, Alibaba, and Tencent in voice
The biggest tech companies in China — Baidu, Alibaba, and Tencent — are positioning themselves to become global leaders in AI across a range of industries, from healthcare to autonomous vehicles. Smart voice is a common area of focus for all three companies.
Baidu
Baidu wants its DeurOS platform to be the dominant conversational AI software across the globe, competing directly with Amazon Alexa.
In Q4'17, Baidu launched a smart speaker called Raven H, which gets its name from AI assistant startup Raven Tech that Baidu acquired last year.
While Baidu speakers run on its conversational AI platform DuerOS, the company has relied on outside partnerships for hardware design. Raven H partnered with a Swedish company called Teenage Engineering to create a speaker that looks unlike any other in the market.
The Raven H is pictured below, along with a wireless speaker patent by Teenage Engineering.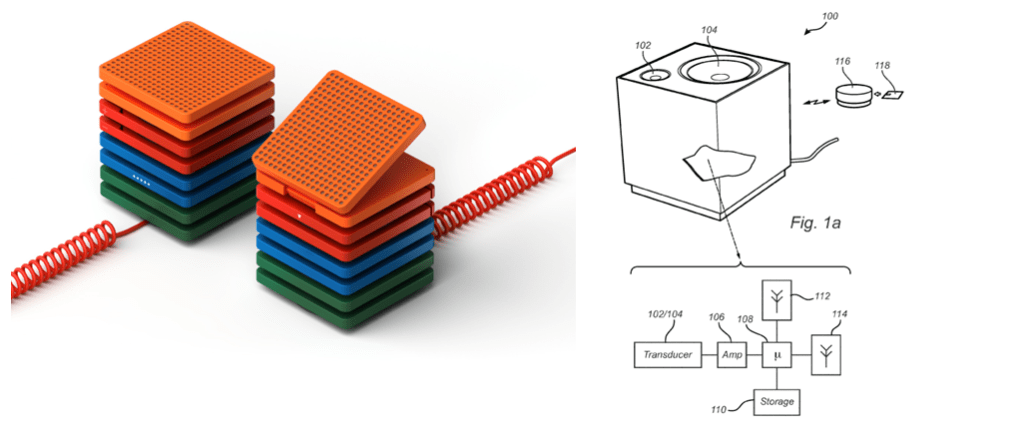 Baidu also acquired US-based natural language processing startup Kitt.ai last year, which was previously funded by the Amazon Alexa Fund.
In Q1'18, the company launched its first commercial DuerOS-based hardware product outside of China: a three-in-one smart speaker, smart lamp, and projector in Japan.
DuerOS is trained on Chinese data, but Baidu gained access to Japanese users' conversations and syntax with its 2011 acquisition of Japan-based input method editor Simeji.
Baidu is also applying for patents in Korea, where it already has a presence, indicating a future plan for expansion into other Southeast Asian countries.
For example, a patent titled "human-computer interactive method based on artificial intelligence and terminal device" (pictured below) appears to combine voice recognition and facial recognition — similar to Amazon's Echo Look — into a consumer robot-like device.
The patent was filed in Japan and Korea, apart from major consumer markets like the United States and China.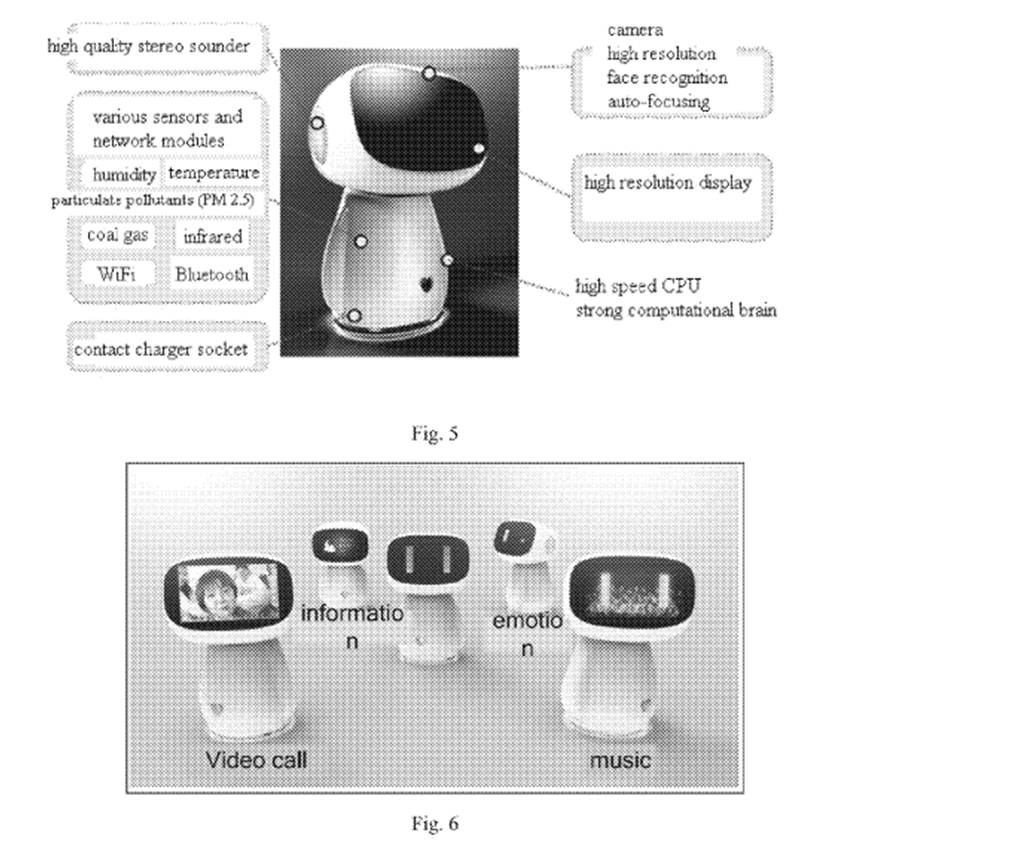 Alibaba
Alibaba announced that it has sold over 1M units of its Tmall Genie smart speaker since its official launch in July 2017.
The Tmall Genie uses AI voice assistant AliGenie, which rivals Amazon's Alexa. Similar to Alexa, users can add over 100 skills to AliGenie and shop with their voice on Alibaba's e-commerce sites. Many of these commands can be activated by saying "Tmall Genie" in Mandarin, according to the Verge.
AliGenie can identify objects it "sees" through a phone's camera, including 40,000 medical packages, children's book covers, and more. The medical feature, in particular, is targeted at China's aging population and people with visual impairments.
Taking its speakers beyond smart homes, Alibaba is equipping 100,000 Marriott International hotel rooms with its smart speakers to provide concierge services.
Tencent
Tecent joined the smart speaker race fairly recently, but a lot of strength lies in its WeChat user base of nearly 1B.
Its speaker TingTing will make access to WeChat applications and services, such as sending voice messages, hands-free.
A search on the CB Insights platform for Tencent's voice patents in the US surfaces over 50 results, including voice processing and authentication methods.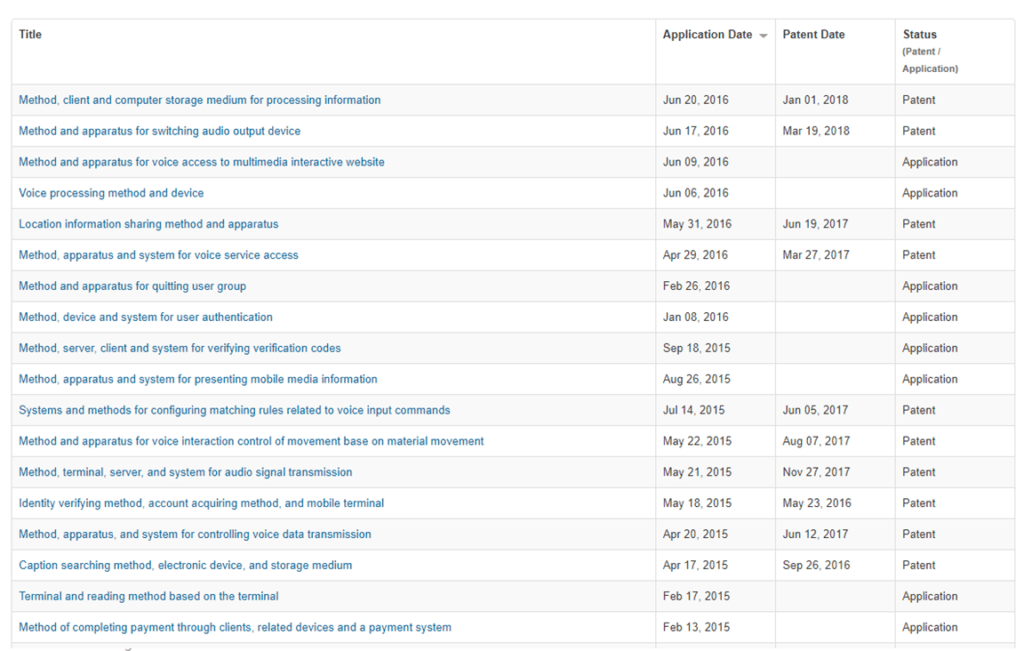 Competing with the US for market share
The race for smart speaker dominance isn't slowing down.
Cheaper speakers from Chinese companies could increasingly threaten big tech companies in the US that are working on hardware, forcing them to focus on AI software development.
But even in the AI software business, tech giants from both countries are targeting the same markets and partners.
For instance, Amazon partnered with previously mentioned Harman Kardon to sell Harman smart speakers equipped with Amazon Alexa. Baidu has separately partnered with Harman to integrate its conversational AI platform, DeurOS, into Harman's vehicles.
Sonos recently debuted smart speakers integrated with Alexa, with plans to support Apple's Siri and Google Assistant by the end of 2018. Sonos is also partnering with startup Rokid in China for Mandarin assistance.
Chinese companies undoubtedly have an advantage on the home turf when it comes to smart speakers; but globally — and like their US tech counterparts — their biggest challenge today is the lack of foreign language user data compared to what Facebook, Amazon, Microsoft, Google, and Apple (FAMGA) have access to.
Their international expansion in smart home speakers will likely depend on partnerships or acquisitions of big data companies in specific markets, similar to what Baidu did when it launched its AI assistant Aladdin in Japan.
To meet these goals, more international partnerships, investments, and acquisitions are likely in the works.
If you aren't already a client, sign up for a free trial to learn more about our platform.