After hitting a peak in 2015, the number of Chinese investor-backed deals to private US-based tech companies fell for the second-straight year.
Earlier this year, US regulators blocked what would have been a massive $1.2B acquisition of Minneapolis-based global remittance provider MoneyGram by Ant Financial.
The thwarted acquisition is just one recent example of the building tension between the US government and China. 
This regulatory pressure, paired with tighter capital controls in China, has led to a tapering off of private tech investment from Chinese investors in the US. While not a drastic drop, the number of US tech investments by China-headquartered investors fell 12% in 2017 from its 2015 peak, according to CB Insights data.
Last year, China issued regulations on outbound investments that accelerated the decline in US investment. These regulations marked an attempt by the Chinese government to tighten controls on money and stabilize the yuan. Since the introduction of the new regulations, the Chinese yuan has strengthened against the US dollar.
Meanwhile, the Committee on Foreign Investment in the United States (CFIUS), an agency that vets deals for potential national security threats, has been responsible for rejecting multiple large Chinese purchases of American companies.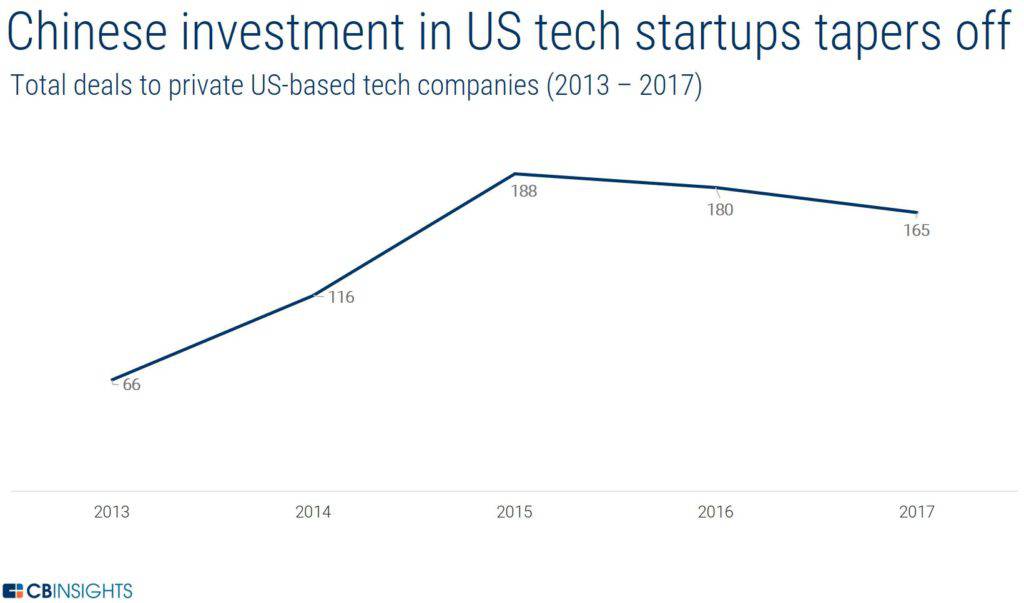 Prior to 2015, Chinese companies showed interest in investing in US tech in order to expand their global footprint and participate in global innovation: from 2013 — 2015, Chinese investor-backed deals to US tech startups experienced a 185% uptick. 
However, this investment has slowed as regulation has picked up and technology has advanced around the world. In particular, there have been a declining number of US investments by China's largest internet giants, Alibaba and Tencent. 
Of top internet giants, Tencent participated in the highest number of US deals in 2017, though the company's US deals still clocked in at a four-year low.
Last year, Tencent participated in a $914M Series B to GRAIL, which is developing early-stage cancer detection technology. This was one of five medical startups Tencent funded in 2017. Tencent also backed two US fintech startups last year: Cover, an app that provides price quotes for insurance coverage, and Nav, a personal finance app for business owners.
In 2017, Alibaba invested in three US startups — a five-year low for the company. This included participation in a $502M Series D round to AR/VR unicorn Magic Leap, as well as investments in NVXL Technology and MariaDB.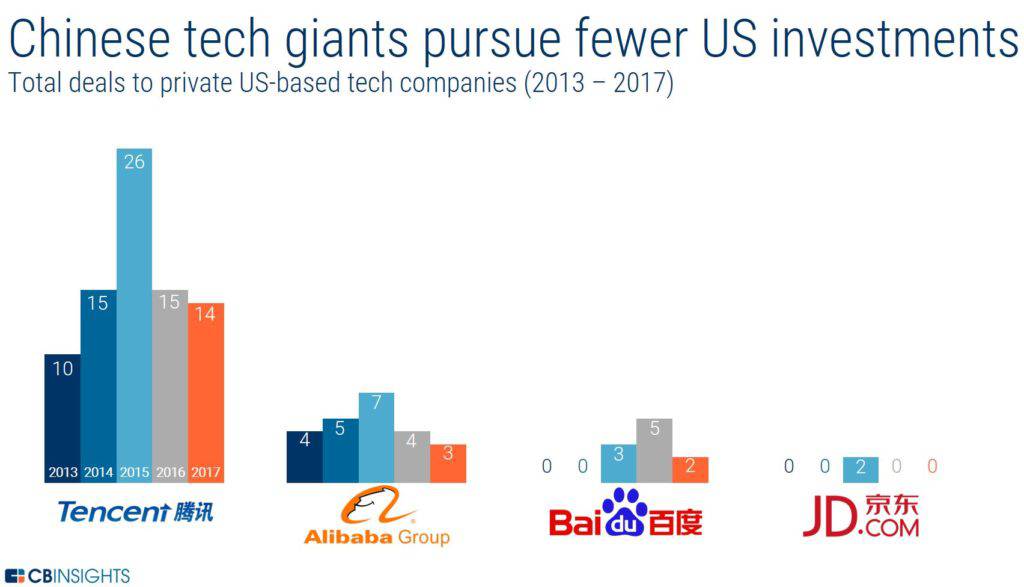 As a nation, China appears to be shifting its focus to investing and acquiring companies in Asia, Europe, the Middle East, and Africa, as described in its published government policy called "The Belt and Road Initiative." The goal of this initiative is to connect the eastern hemisphere with vast logistics and transport networks.
As the yuan begins to strengthen, we may see more outbound investment by China, but with rising government tensions and new regulatory policies in the US, the money may flow into Asia, Europe, the Middle East, and Africa — not the United States.
If you aren't already a client, sign up for a free trial to learn more about our platform.