We analyzed 10 years of earnings transcripts from Facebook, Apple, Microsoft, Google, and Amazon (FAMGA), and judging by mentions found that Apple is far more focused on the Greater China region than its peers. Meanwhile, cracking the code in India is proving challenging.
Apple first introduced the iPhone to China in October 2009, two years after its initial debut in the US.
Since that time, "Greater China" has become an increasingly important market for the company.
In fiscal year 2017, Greater China generated approximately $44.8B of Apple's $229.2B in total net sales. In addition, the Chinese App Store now earns more revenue for the company than its US counterpart.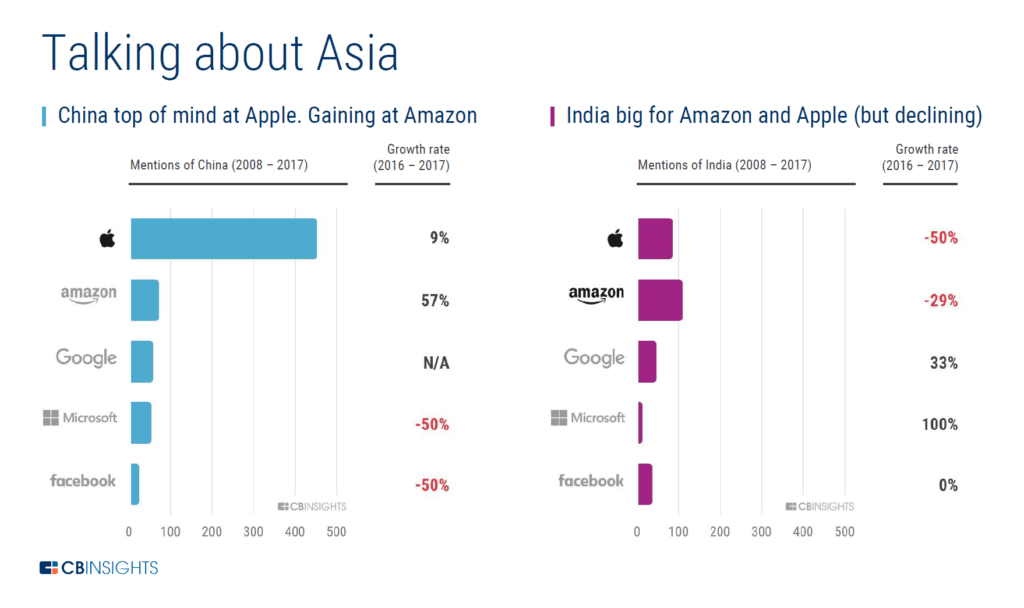 The importance of China, and the Greater China region, is apparent in Apple's emphasis on the region during quarterly earnings calls, as seen above. Using CB Insights Earning Transcripts tool, we see that Apple mentioned China far more often than its FAMGA peers between 2008-2017.
And its emphasis keeps growing. After a challenging couple years due to increased competition from local hardware giants including Xiaomi and Huawei, Tim Cook promised to grow revenue again in China, and made good on this in Q4'17. In keeping with this, we also see that mentions of China in Apple calls continued to rise in 2017.
Amazon has also increased its mentions of China. Amazon owns and operates an e-commerce site in China, Joyo.com.
India gets mentioned less often on earnings calls recently
India is another country where the FAMGA companies are focused on increasing their footprints, although the country has proven more challenging.
It's notable that mentions of the country went down significantly for both Amazon and Apple over the last year. Apple's iPhone remains too expensive for most Indian consumers, while Amazon faces tough local competition in the country.
Despite these challenges, however, the region is still a focus.
In an August 1st, 2017 earnings call, Apple CEO Tim Cook explained he was still optimistic about India, drawing comparisons to growth in China in years past:
"We are investing in India. As you mentioned in your second point, we've already launched an app accelerator center. That's on top of working with the channel and looking at expanding our go-to-market in general. And we began to produce the iPhone SE there during the quarter, and we're really happy with how that's going. And so we're bringing all of our energies to bear there. I see a lot of similarities to where China was several years ago. And so I'm very, very bullish and very, very optimistic about India."
And while Apple looks to China as a model for growth in India, Amazon is taking a more tailored approach in the region. As it looks to expand its e-commerce marketplace in the country it must navigate challenges such as logistics, payment methods, and local competitors — issues that are not as significant when selling high-end hardware products.
In an April 27th, 2017 earnings call, Amazon CFO Brian Olsavsky explained how the company's strategies differ by region:
"So our approach varies by country, and if you look, historically we've taken multiple approaches. So in China, we bought an existing business Joyo.com and built off that base. In India, we started from scratch and have built a lot of things ourselves. And it's always going to depend on the country that the dynamics in that country both for retail, for online, and for foreign investment."
If you aren't already a client, sign up for a free trial to learn more about our platform.