Our timeline visualizes the 15 China-based fintech companies that have had exits valued at $1B or more, from the record-setting $4B acquisition of Du Xiaoman Financial to OneConnect's recent $3.7B IPO.
From payments to insurtech to lending, fintech companies are attracting investor attention. In 2018, startups in the space raised more than $45B, a record amount, while Q3'19 fintech funding recently clocked in with a quarterly record of nearly $9B.
China and Hong Kong have been no exception to the trend: fintech companies in the region raised a record $26B in 2018, and exits in the sector have been elevated over the past few years.
Since 2017, 15 fintech companies based in China or Hong Kong have exited via an IPO or M&A deal valued at $1B+. Using CB Insights' market intelligence platform, we visualized these exits together in one timeline.
See billion-dollar fintech exits by US companies here.
Our analysis included first exits by China- and Hong Kong-based fintech companies only. No billion-dollar fintech exits in the region occurred prior to 2017, as shown below. Data is as of 12/19/2019.
Please click to enlarge.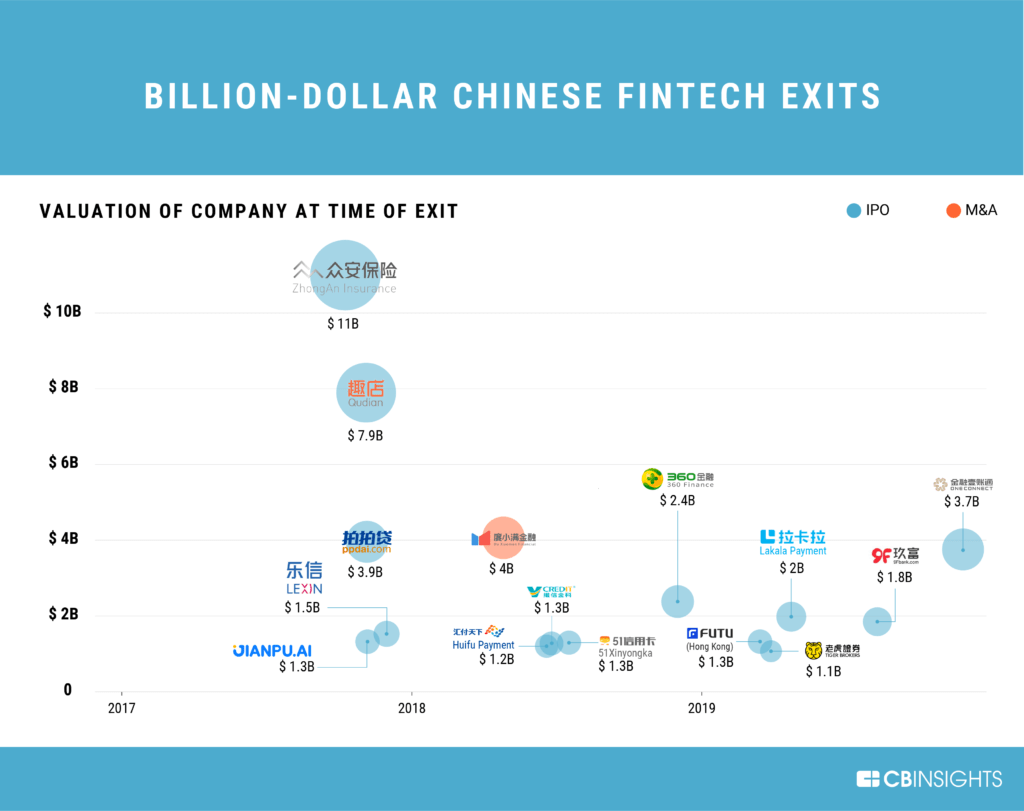 Key takeaways
ZhongAn Insurance is the highest-valued exit on our list, going public at a valuation of $11B in late 2017. The online insurtech company was launched in 2013 in a joint effort by China-based tech giants Alibaba, Tencent, and Ping An. ZhongAn became China's first online-only insurer to break the $1.49B premium mark and has pursued technological innovations like blockchain; however, its stock has fallen by more than 50% since its IPO.
Qudian and Du Xiaoman Financial round out the top 3 highest-valued exits on our graphic.
Beijing-based electronics retailer Qudian raised nearly $955M in funding before going public at a valuation of $7.9B in 2017 (though its market cap has since fallen to $1.1B amid a difficult climate for China's online lenders). Du Xiaoman Financial, which is the only M&A deal featured in our graphic, was acquired by a consortium of investors led by TPG Capital and Carlyle for $4B in 2018.
Financial account management platform OneConnect is the most recent exit to appear on our graphic: the Ping An spinoff went public at a valuation of $3.7B in December 2019 — a significant downround since its $8B valuation in January 2018.
Futu Securities is the only Hong Kong-based company to exit with a $1B+ valuation. The online stock trading company went public at a valuation of $1.3B in March 2019.
Seven companies on our list reached $1B+ private unicorn valuations prior to exiting: ZhongAn ($8B private valuation), OneConnect ($8B), Lakala Payment ($1.6B), Qudian ($1.2B), Tiger Brokers ($1.1B), 9f Group ($1B), and 51Xinyongka ($1B).
If you aren't already a client, sign up for a free trial to learn more about our platform.