We dig into China's blockchain ecosystem and look at investment trends, top companies, and most active investors across the space.
China is a key player in the development of blockchain technology, and home to some of the world's largest and most influential companies in the space.
But the startup scene is increasingly facing regulatory uncertainty.
Earlier this month, news broke that Chinese regulators were considering a ban on cryptocurrency mining (China is currently the world's largest region for bitcoin mining). However, nothing has been formalized yet, and major mining companies Bitmain and Canaan have said the proposed ban won't even affect operations.
Despite the negative sentiment coming from top brass, the country still remains a hub for broader blockchain activity. One estimate pegs China as home to 25% of new blockchain projects worldwide. Additionally, tech giants including Alibaba, Baidu, and Tencent have all experimented with enterprise blockchain technology.
Using CB Insights data, we examined investment activity, top investors, and companies operating across China's blockchain ecosystem.
Blockchain's big uptick and leveling off
Since 2016, blockchain interest in China has skyrocketed — reaching peak news mentions at the end of 2017. However, publicity has cooled off significantly ever since.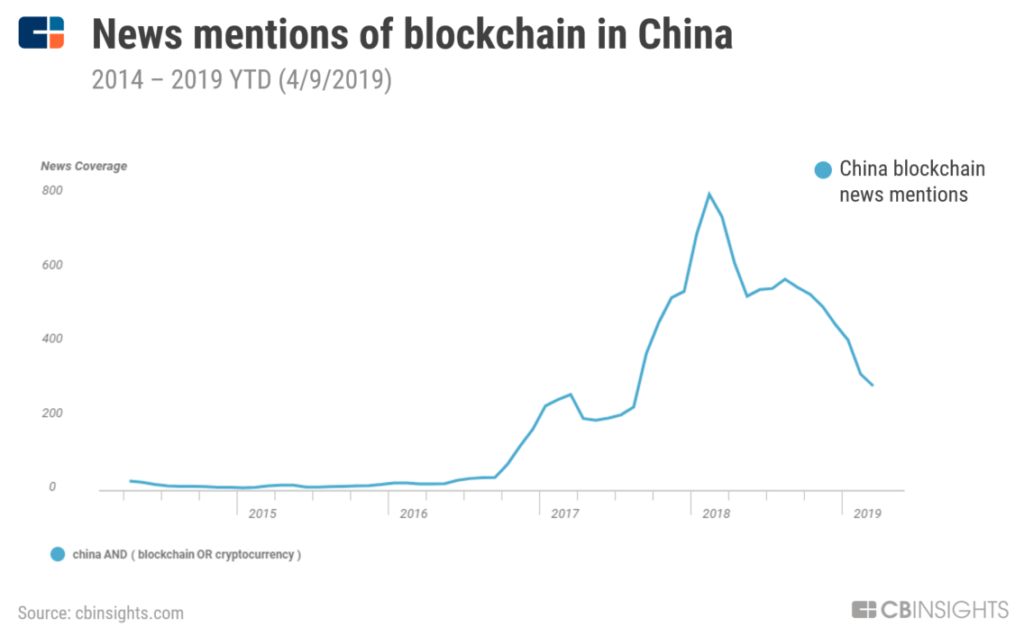 (CB Insights clients can run the same search here.)
Mirroring the trend in general interest, traditional VC investment follows a similar arc, hitting a sharp peak in Q2'18 with 82 deals. After that, however, deal volume fell for 3 consecutive quarters. Comparing the 24 deals in Q1'19 to the 82 seen in Q2'18, deals fell by over 70% over just 4 quarters.
That said, even 24 deals per quarter (the recent low point) is still high by global standards. Amidst the general global slowdown, the US saw only 71 deals in the quarter of Q1'19. This is why China remains such an important blockchain sector, despite the slump.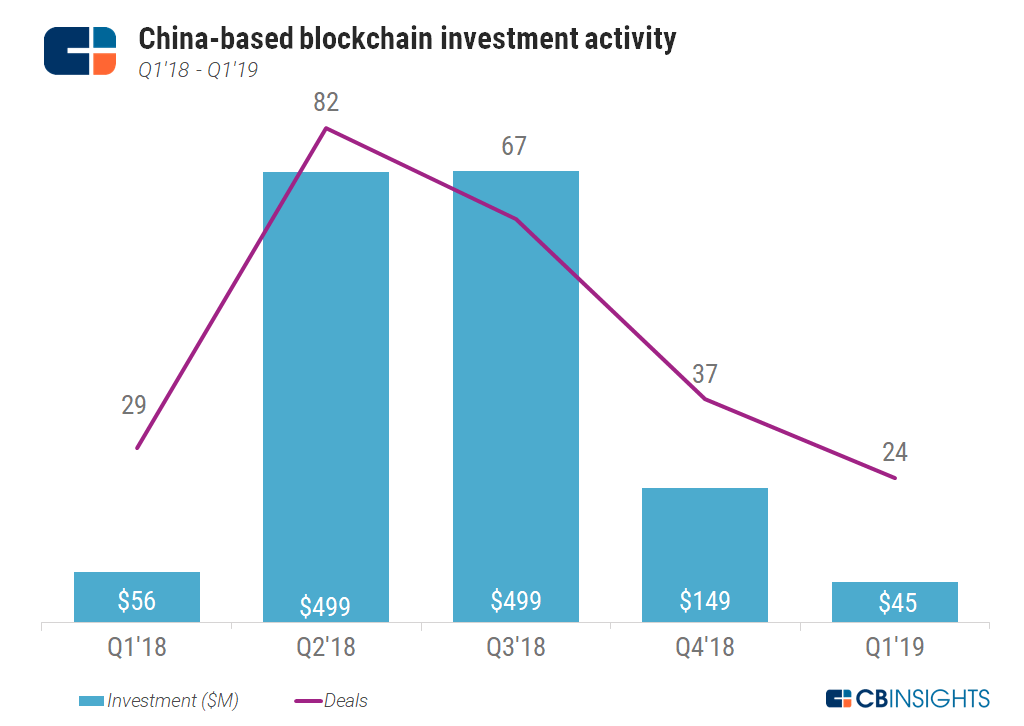 Note: blockchain deals included here are traditional VC, and may omit purchased stakes in token sales.
Large rounds in mid-2018 included Bitmain's mega-round ($400M Series B), Hyperchain's $234M Series B, and Jixin Blockchain's $100M early-stage deal.
Top China-based blockchain companies
The most well-funded companies span a number of verticals within the blockchain space.
Mining hardware giant Bitmain is the most well-funded, with $450M of capital raised. Bitmain had been eyeing a 2019 IPO on the Hong Kong Stock Exchange, but reports of difficulties and losses from decreased demand resulted in the expiration of its IPO application.
The second most well-funded company is Hyperchain ($249M), which develops a host of enterprise blockchain products and distributed ledger technologies (DLTs).
Wallet developer Jixin Blockchain rounds out the top 3 most well-funded blockchain companies in China, with $100M of funding secured.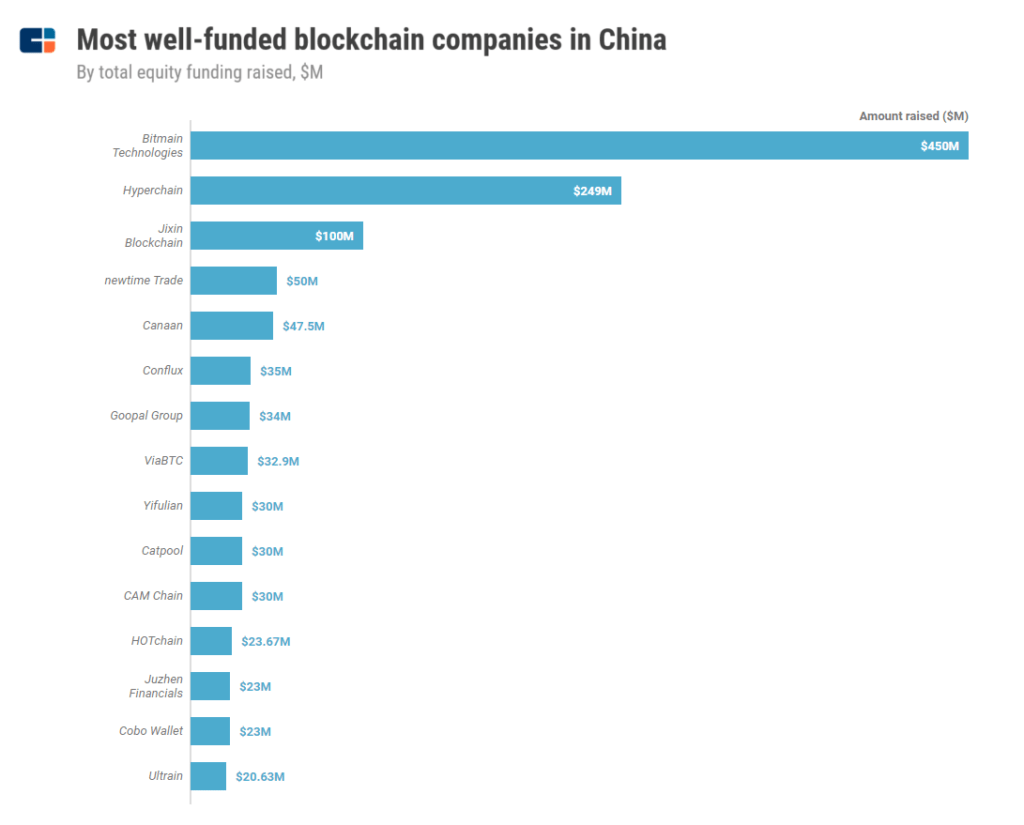 Most active investors
Since 2014, the 5 most active investors in blockchain in China are Fenbushi Capital, LD Capital, JRR Crypto, Node Capital, and Danhua Capital.
In that top 5 most active, all — except Danhua Capital — are focused solely on blockchain investments.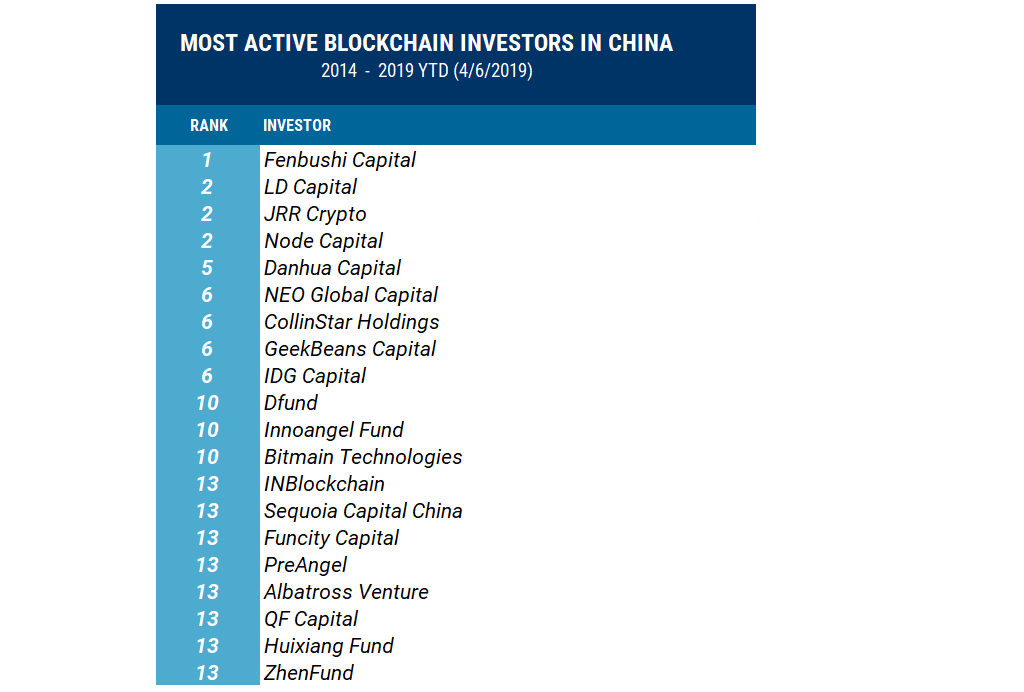 Using the CB Insights Business Social Graph, we visualized where the top 9 most active investors have placed their bets.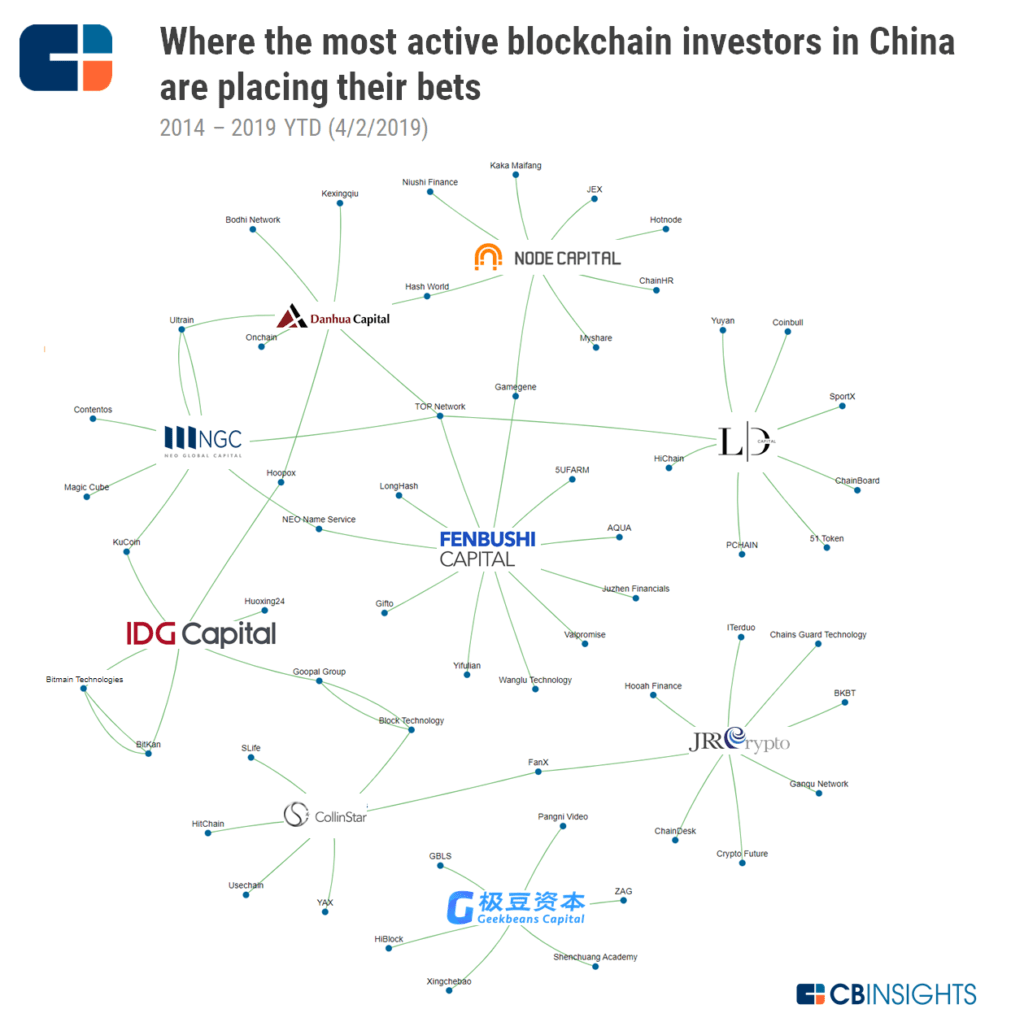 Among these most active investors, there was notable co-investment in companies developing blockchain-based games, including Gamegene and Hash World. (Node Capital participated in financing rounds to both companies.) Also in the gaming ecosystem is Fanx, which rewards live streamers via its own token, and raised from JRR Crypto and CollinStar Holdings among others.
Decentralized cloud computing system TOP Network saw investment from 4 top investors — more than any other company listed. The company raised a $6M Series A round in Q3'18 from investors including Fenbushi Capital, LD Capital, Neo Globaland, and Danhua Capital.
Other companies with notable co-investment included crypto exchange KuCoin, decentralized DNS service NEO Name Service, BaaS provider Hoopox, and decentralized computing platform Ultrain.
If you aren't already a client, sign up for a free trial to learn more about our platform.