In part 2 of China in AI, we look at how the biggest companies in China are positioning themselves to become global leaders in smart city solutions, autonomous driving, conversational AI, and predictive healthcare.
China's internet may be sandboxed from the rest of the world, but China's big tech companies are bringing their AI capabilities to the global market.
Tencent, Baidu, and Alibaba (collectively called BAT) are positioning themselves to become the AI platforms of the future.
Tencent, which runs WeChat, has access to over 1B users on its platform, while Baidu is the country's largest search provider, and Alibaba is its biggest e-commerce platform. In addition, all 3 offer services well beyond their core products, and like the biggest tech giants in the US have far-reaching global ambitions.
BAT is expanding into other countries in Asia, recruiting US talent and investing in US AI startups, and forming global partnerships to advance smart city solutions, autonomous driving, conversational AI, and predictive healthcare, among other initiatives.
Baidu, Tencent, and Alibaba have the money and the resources to compete with US tech giants for global AI talent.
This is particularly significant as the demand for AI talent is driving a big run-up in salaries.
For instance, Baidu USA was offering a base salary of $130K to $175K per annum for a machine learning engineer last year, according to a petition filed with the US labor department for nonimmigrant workers. (For comparison, Google was offering around $110K for an ML engineer, although experience levels and job requirements likely vary.)
Furthermore, many of BAT's AI products — like smart speakers, AI in retail, and autonomous vehicles — are similar to what FAMGA (Facebook, Amazon, Microsoft, Google, Apple) is working on.
But what sets BAT apart from its US counterparts is its vocal support of, and backing from, the Chinese government.
China wants to be a world leader in AI in the next decade, and BAT is crucial to helping it get there.
The Chinese science ministry announced last quarter that the nation's first wave of open AI platforms will rely heavily on Baidu for autonomous driving, Tencent for AI in healthcare, and Alibaba for smart cities.
Government support for and intervention in AI development will likely have an immediate impact on the fast-growing Chinese tech market (where an entire city is being built from scratch around AI-centric solutions).
Now international players — including big tech companies, smaller startups, and foreign governments — have started thinking hard about how their AI strategies will intersect with, or potentially compete against, BAT.
We used the CB Insights platform to dig into BAT patents, investments, and earnings transcripts, and used these to map the companies' AI strategies.
This report explores the following:
This is the second post in our China in AI series. You can read part 1 on the growth of surveillance tech in China here.
Baidu's head start in AI
In 2012, when researchers at the Google Brain project in the US announced that a cluster of computers had trained themselves to recognize images of cats from YouTube videos, it was heralded as a breakthrough in artificial intelligence. But some researchers walked away from the project — which ran on 1,000 computers and cost roughly $1M — skeptical of its feasibility.
But Andrew Ng, who was part of the group that led the research at Google, published a paper in 2013 alongside other Stanford scientists, achieving the same results using a cluster of Nvidia's graphic processing units (GPUs) running on just 3 machines. This marked the beginning of a new era in artificial intelligence.
A year later, in 2014, Baidu recruited Ng to lead its AI group as chief scientist. (He has since left Baidu.)
By that time, Baidu had already started investing in AI, including setting up the Baidu Institute of Deep Learning. But Ng is credited with ramping up Baidu's AI research over the next 3 years. Under his leadership, the company's AI research group launched several projects, including its autonomous driving and conversational AI platforms.
Although Google had dedicated AI-related research work and had made a few AI-focused startup acquisitions even before it started discussing the tech in earnings calls, Baidu's head start on earnings calls is indicative of its eagerness to rebrand itself as an AI company, and not just an internet service provider.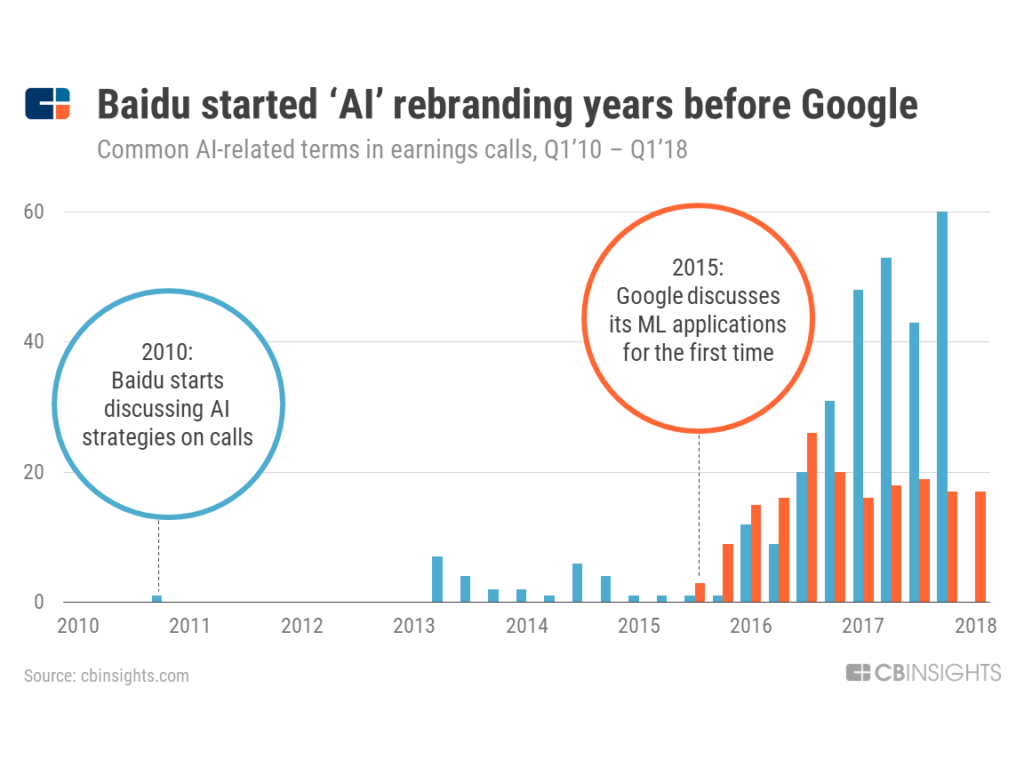 Even among the Chinese tech giants, Baidu started detailing its AI strategies much earlier than Alibaba and Tencent.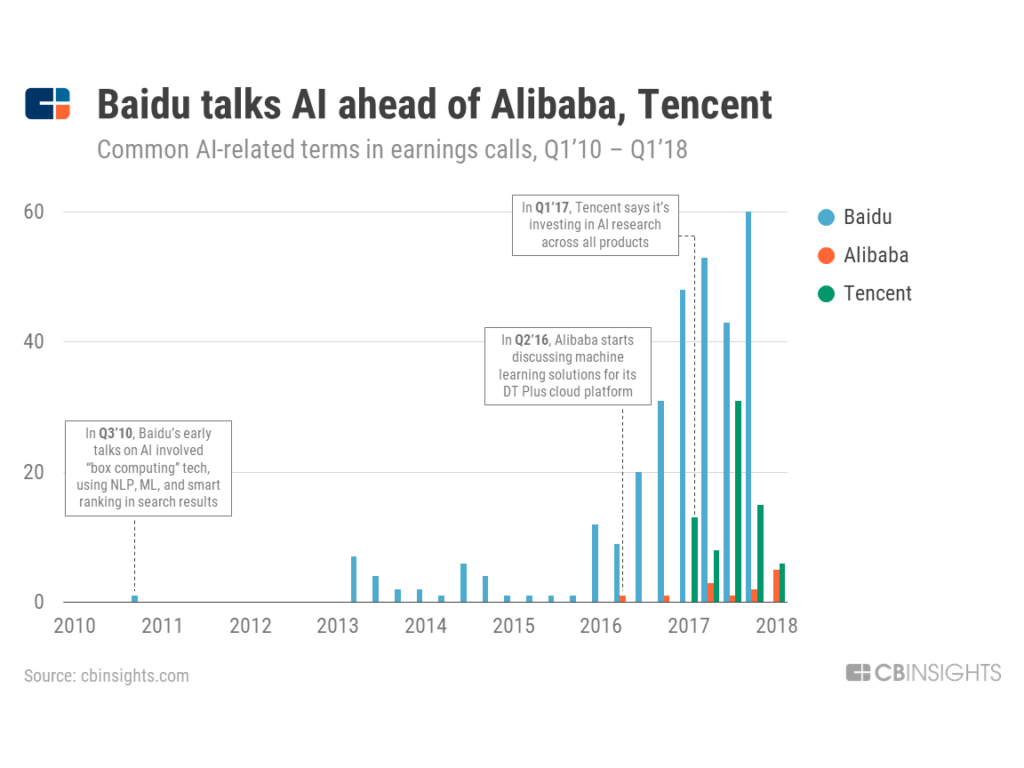 In line with its earnings call mentions of AI, Baidu's R&D expenses increased from RMB10B ($1.6B USD) in 2016 to RMB12.9B ($2B USD) in 2017, going mostly towards salaries across its research institutes in China and California, which are primarily focused on AI.
As Baidu mentioned in its 2017 financial report, "We compete aggressively for engineering talent to help us address challenges such as Chinese language processing, artificial intelligence, deep learning and autonomous driving."
Tencent and Alibaba have been vocal about their AI initiatives in earnings calls only recently.
In 2016, Alibaba spoke about its smart city project, in collaboration with the government in Hangzhou province, China. The Hangzhou project is primarily focused on reducing traffic congestion and providing real-time traffic updates. Since then it has continued working with other local governments like Macau to build smart cities and smart tourism initiatives, and recently struck its first international partnership with the Malaysian government.
In addition, Alibaba recently conducted test drives of its autonomous vehicle. But interestingly, just a year ago, Alibaba was skeptical about the long-term commercial opportunity of autonomous vehicles, noting in an earnings call that "nobody has figured out the long-term economic model for this, but people are doing it because there are some very interesting artificial intelligence-related technology" involved in building autonomous vehicles.
Tencent took an "AI in all we do" approach when it announced its Q4'16 results. As Tencent President Martin Lau said, "We actually view AI as a core technology across all our different products." (more on Tencent's initiatives in the sections below).
BAT's private market AI bets and global expansion
Baidu, Alibaba, and Tencent have participated in 39 equity deals into startups building AI software and AI chips since 2014.
Although Tencent participated in the greatest number of AI deals out of the 3 tech giants, Baidu has the most diverse AI investment portfolio.
Baidu backed AI companies in 11 different categories, including news & media, healthcare, AI chips, and advertising.
It is no surprise that auto tech is a common area of interest for all 3 investors. Each of them has announced their own autonomous driving initiatives.
Tencent participated in multiple rounds to autonomous driving startup NIO, which recently received a government license to test drive its autonomous vehicles on public roads. Alibaba invested in Israeli vehicle-to-vehicle networking tech startup Nexar. Both Alibaba and Baidu backed China-based iDriver+ Technology.
The chart below breaks down BAT's AI investments by industry focus. (Note: The chart excludes AR/VR investments like MagicLeap and WayRay, as well as hardware-focused robotics/drone investments like Airlook, UBTECH and Kindred Systems.)
A major portion of the deals – around 44% – went to startups in the US. This is in stark contrast to FAGMA's (Facebook, Apple, Google, Microsoft, and Amazon) negligible private market footprint in China. There has been only 1 AI deal among this group to a China startup: Google's investment in voice startup Mobvoi.
Tencent leads in US deals
Tencent made the most AI investments in the US. It participated in 12 deals, including a joint investment into deep learning-based drug discovery startup Atomwise with Baidu Ventures. In addition, Baidu made 5 other US deals, including 2 deals this year to Lightelligence (hardware chip for AI) and Engine Bioscience (healthcare AI).
In 2017, Tencent made its first AI investment in Canada by backing Element AI. The startup is co-founded by Yoshua Bengio, one of the pioneering researchers in deep learning.
In addition to its equity investments, the Tencent AI Accelerator selected its first batch of AI startups last year. But unlike its equity deals, all of them, with the exception of Tvision Insights, are headquartered in China. (Some of the selected companies are mentioned below. Clients can track all 25 investments here)
Alibaba's grounDwork in IsraEl
Alibaba made no direct AI startup investments in the US, but has been active in Israel.
It backed AI-based vehicle-to-vehicle network technology developer Nexar in 2018, e-commerce search engine Twiggle in 2016, and, according to reports, backed cybersecurity startup ThetaRay in 2015.
Alibaba announced in Q4'17 that it is launching a global $15B R&D initiative focused on artificial intelligence, quantum computing, and other emerging tech areas.
Tel Aviv is one of the 7 cities around the world where the R&D center, called DAMO Academy, will launch. Alibaba laid the groundwork for DAMO in Israel by acquiring startup Visualead for its computer vision tech and core engineering talent.
BAT patents reveal AI roadmap
We used the CB Insights platform to analyze common themes in BAT's US AI patent applications, and studied how they tie into their ongoing AI research and future plans.
We also dug into other countries where BAT US patents were simultaneously published to gain some insight into their international expansion plans.
battle of voice assistants
In Q4'17 Baidu launched a smart speaker called Raven H which looks unlike any other in the market.
While Baidu speakers run on its conversational AI platform DuerOS, it has relied on outside partnerships for hardware design.
Raven H gets its name from AI assistant startup Raven Tech, which Baidu acquired last year. The hardware was designed through a partnership with a Swedish company called Teenage Engineering. (Below is an image of the Raven H, along with a wireless speaker patent by Teenage Engineering.)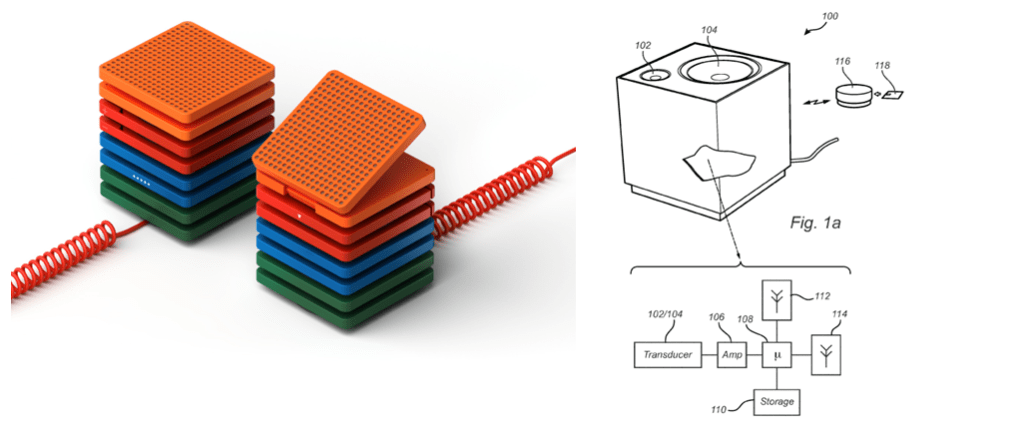 Interestingly, Baidu has also been applying for voice patents in Japan, giving us early insight into its expansion plans.
(It is common for big corporations to simultaneously file patents in major markets like the US, China, and the EU. But taking a closer look at other countries where they're protecting their intellectual property beyond these regions gives us some insights into their current or future expansion plans.)
The company applied for patents for a voiceprint login method using artificial intelligence, speech recognition using deep learning, and human-AI chatting methods, among others, simultaneously in Japan and Korea.
In line with its intellectual property in Japan, Baidu launched "Aladdin" — a 3-in-1 smart speaker, smart lamp, and projector – at CES 2018 for the Japanese market.
Baidu's conversational AI platform, DuerOS, is trained on Chinese data. However, Baidu's 2011 acquisition of Japanese input method editor company Simeji gave Baidu access to Japanese users' conversations and syntax over the years. This allowed the company to launch Aladdin as Baidu's first commercial DuerOS-based hardware product launched outside of China.
Its success in Japan could put Baidu up against Amazon's Alexa and Google Assistant, both of which provide Japanese language support.
Another Baidu patent titled "human-computer interactive method based on artificial intelligence and terminal device" (below) appears to combine both voice recognition and facial recognition into a consumer-robot like device.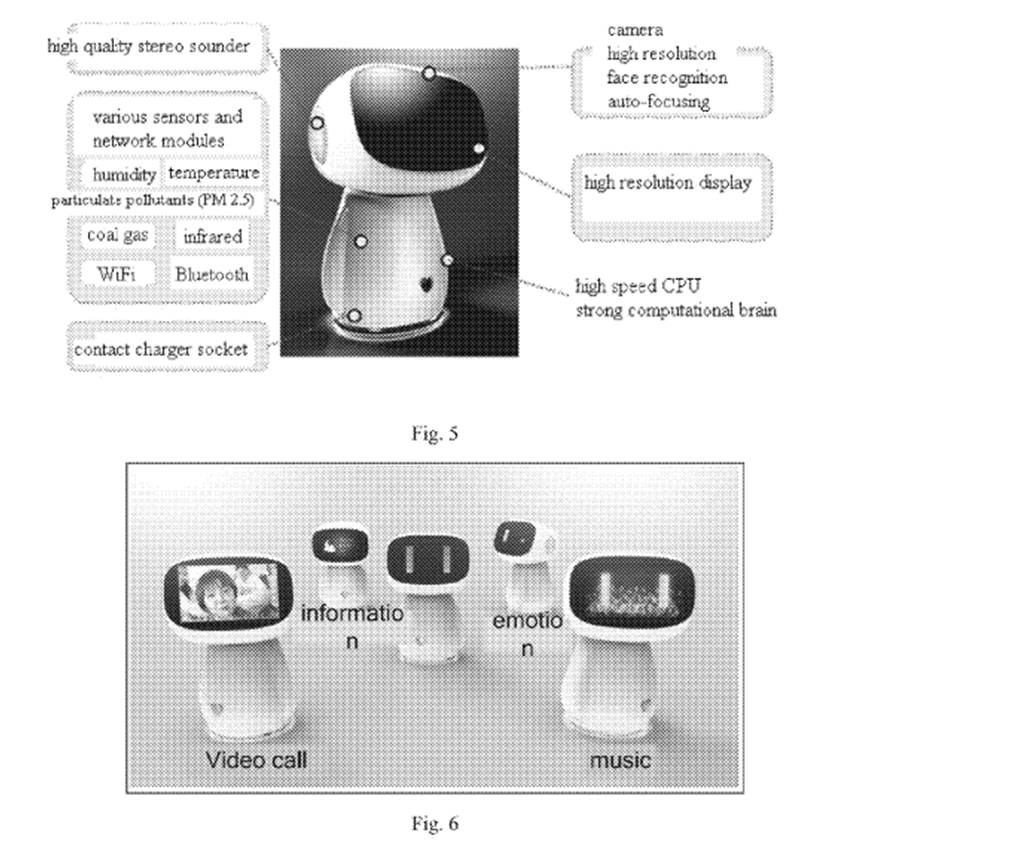 This patent was published in China in 2015, with the United States and European Patent Organization in 2016, followed by Japan and Korea in 2017. It may indicate a future plan for DuerOS-based consumer robots in Japan, as well as an interest in South Korea, where Baidu already has a presence.
Alibaba too has developed a smart speaker, Tmall Genie, which looks similar to Amazon Echo. It announced that it has sold over 1 million Genie units since officially launching in July 2017.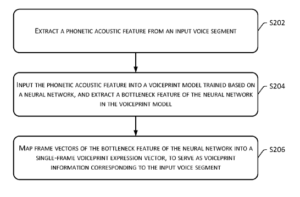 Taking its speakers beyond smart homes, Alibaba is equipping 100,000 Marriott International hotel rooms with its smart speakers to provide concierge services.
Its voice-related patents include neural network-based voiceprint recognition (left). Users can use Tmall Genie to shop and pay through voice, and unique voice signatures are used as a form of identity authentication.
Tecent joined the race fairly recently. But its biggest strength is its WeChat user base of nearly 1B.
Its speaker, TingTing, will make access to WeChat applications and services, like sending voice messages, hands-free.
A quick search on the CB Insights platform for Tencent's voice patents in the United States surfaces over 50 results, including voice processing and authentication methods.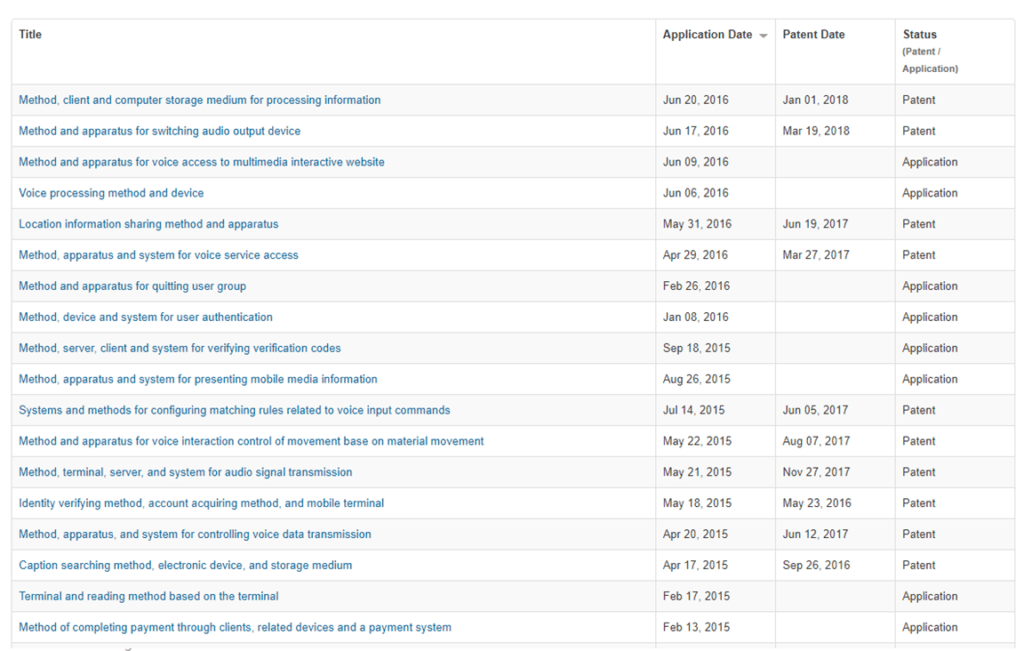 Tencent leads in facial recognition patents
Tecent is one of the top applicants of facial recognition patents in China.
Below is a Tencent patent on a 3-dimensional human facial recognition method and system.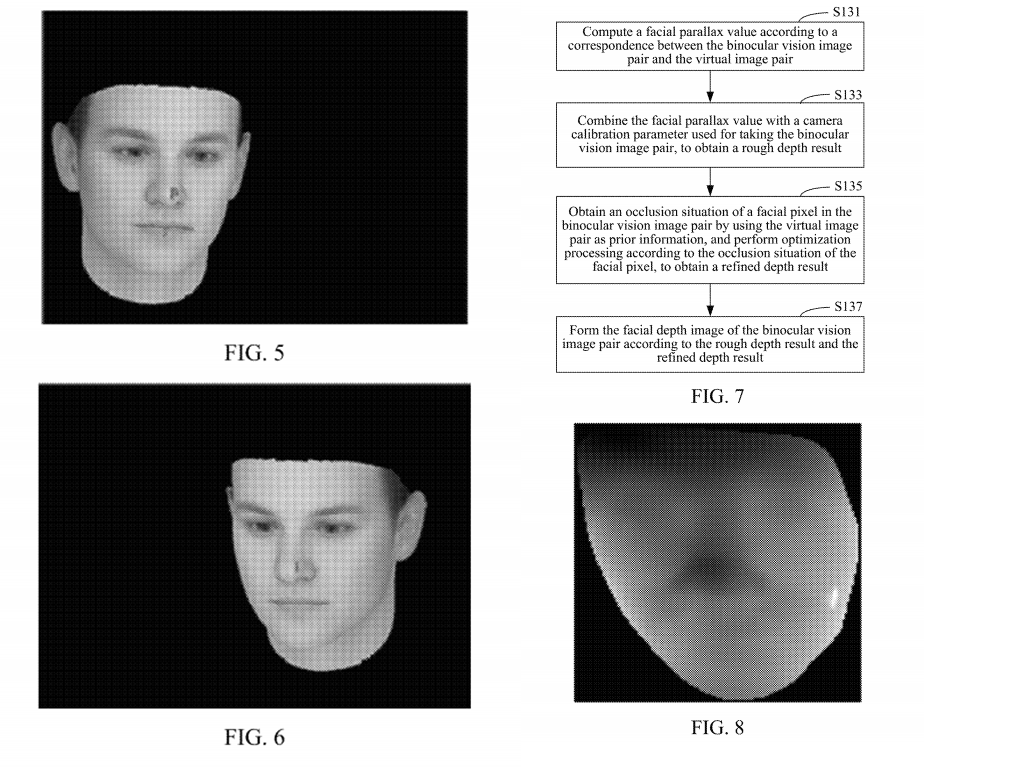 This is in line with the efforts of Tencent's YouTu Lab, which provides image and facial recognition tech support to over 50 Tencent initiatives, like its social networking platform Qzone and image processing utility software Pitu.
Tencent recently open sourced YouTu to other developers. YouTu technology is also accessible to users via WeChat apps, spurring concerns that this could kill smaller image recognition startups.
It is already working with clients like China Unicom and WeBank for facial id authentication. (Note: Tencent is also a major shareholder in WeBank.)
In addition to the above applications, at least three provinces in China have announced they're issuing electronic identification cards for their citizens using WeChat or Alipay's facial recognition technology.
The mobile IDs can be used for authentication instead of carrying physical ID cards – mandatory for citizens at all times in China – for travel booking, real name registration at internet cafés, and other security checks.
The image below shows a facial-recognition identity authentication system. (Read more about China's surveillance tech here.)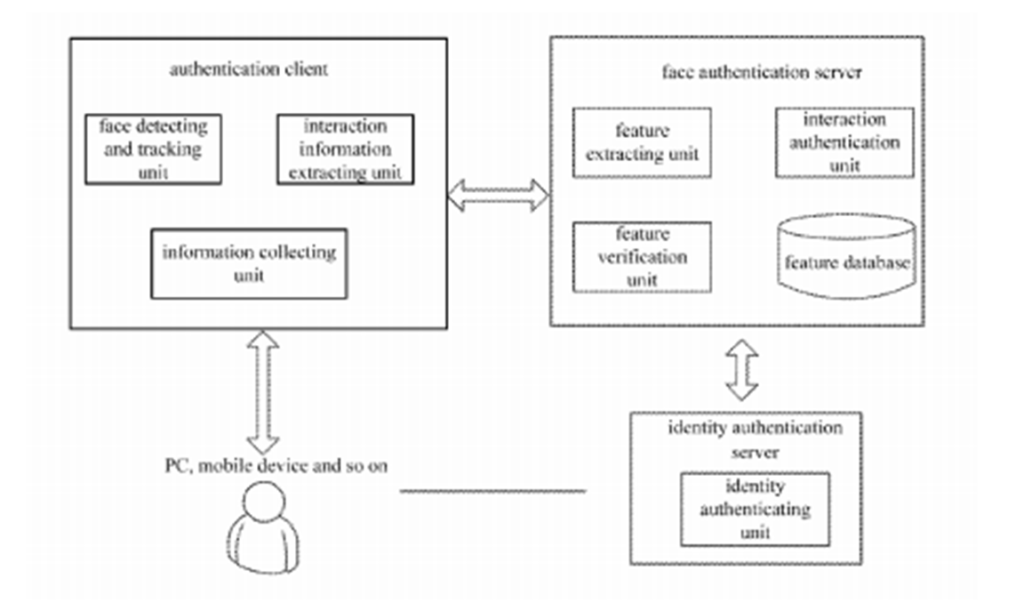 Alibaba applied for a similar patent in 2017.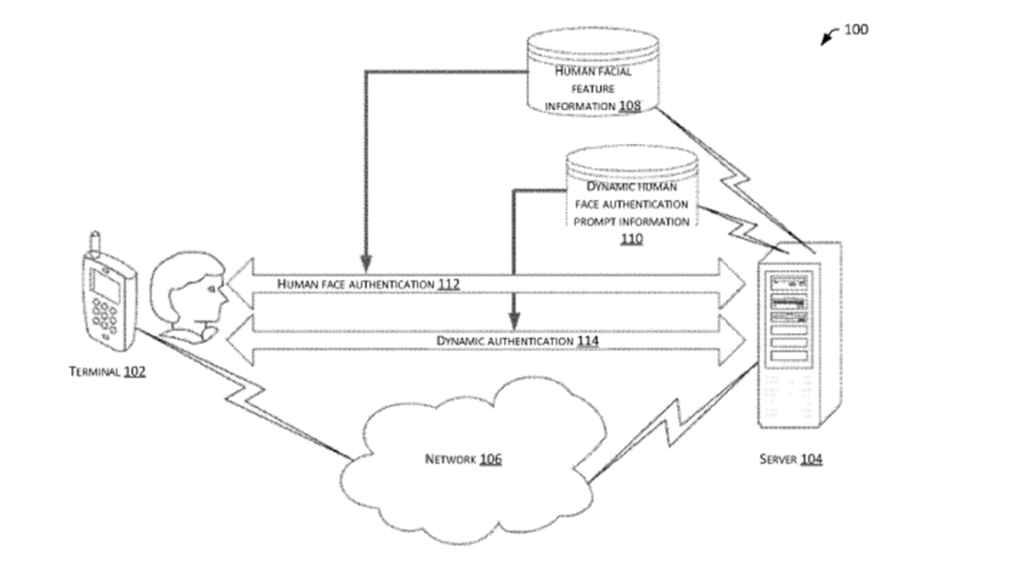 Baidu patents reflect driverless car push
Although all 3 tech giants are working on driverless cars, only Baidu has a number of published patents in the space so far.
(Note: There is usually a significant delay between patent application and publication dates. This could explain the lack of published autonomous vehicle patents from Tencent and Alibaba.)
A quick search for "autonomous vehicle" and "Baidu" on the CB Insights platform shows 15 patents published in the US alone.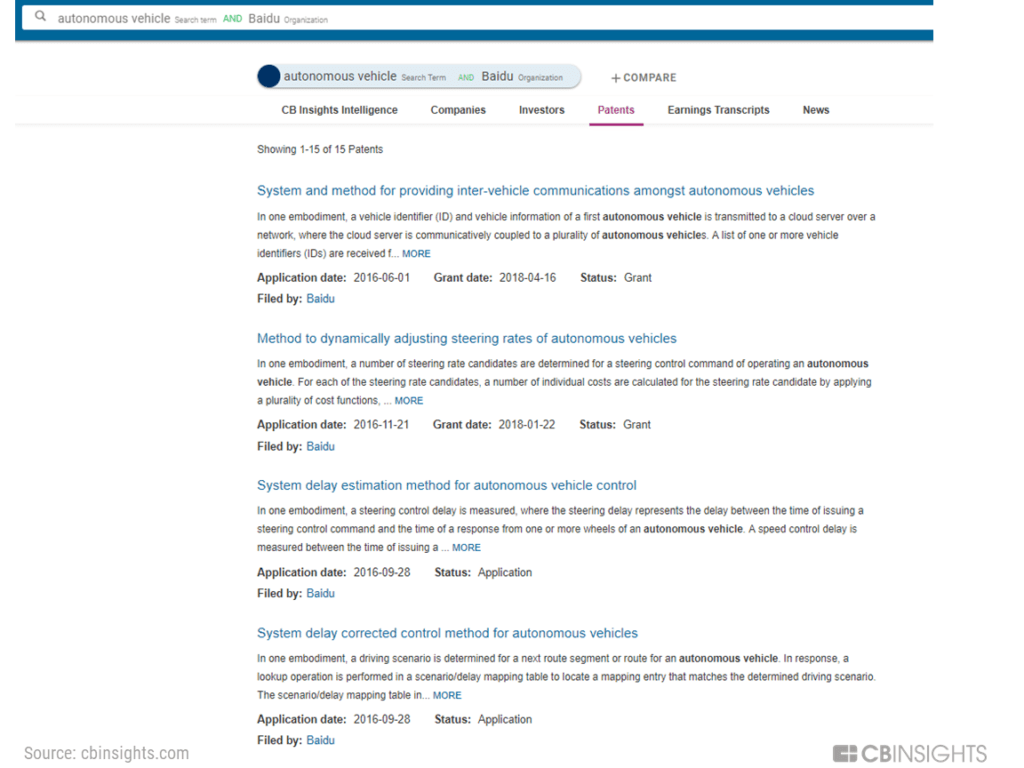 Below are images from a Baidu patent for machine-learning-based autonomous vehicle movement. (More on Baidu's autonomous vehicle project in the next section.)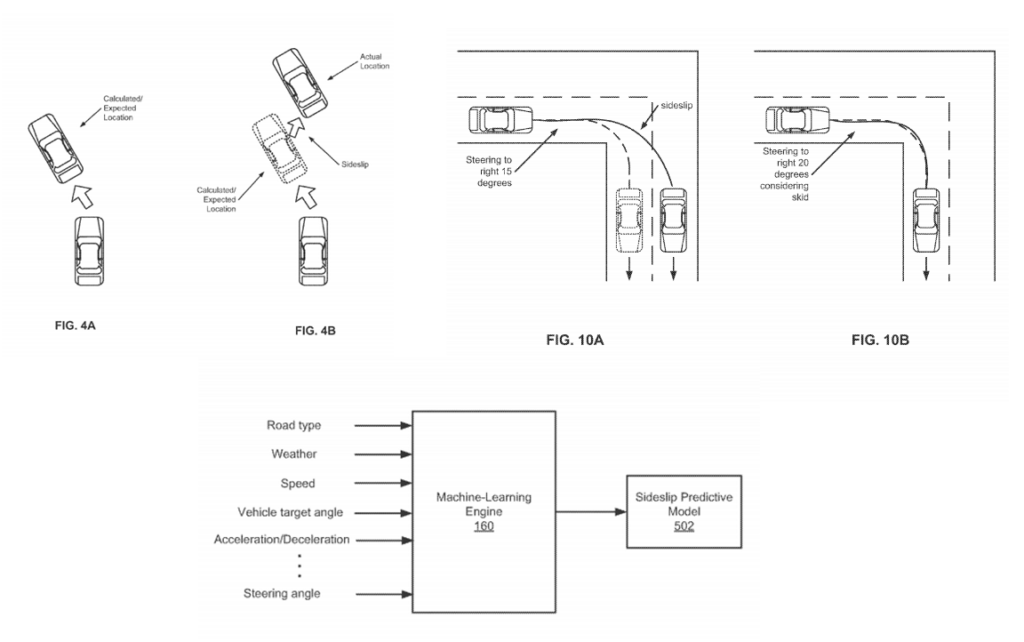 BAT moves into health, auto, & smart cities
In November 2017, the Chinese Ministry of Science and Technology announced that the nation's first wave of open AI platforms will rely on Baidu for autonomous vehicles, Alibaba Cloud for Smart Cities, and Tencent for medical imaging & diagnostics.
In each of these areas, BAT is starting with a local focus on China and going global through international deals and partnerships.
We used the CB Insights platform to dig into BAT's activity across these spaces.
Baidu Apollo: 'Android of auto industry'
In April 2017, Baidu announced a one-of-a-kind open platform — Apollo — for autonomous driving solutions, roping in partners from across the globe.
As with other open-source platforms, the idea is to accelerate AI and autonomous driving research by opening it up to contributions from other players in the ecosystem. Making the source code available to everyone allows companies to build off of existing research instead of starting from scratch.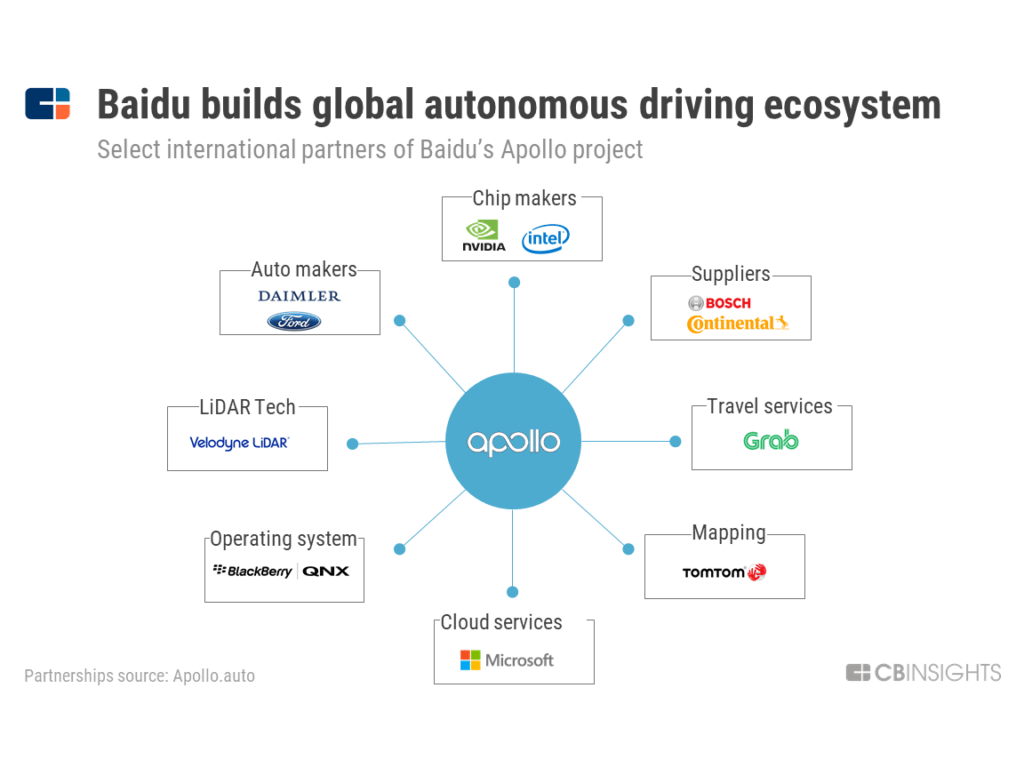 The Apollo ecosystem currently has over 95 partners. For comparison, Lyft — which announced its own open platform initiative for autonomous driving last year — has fewer than 10 partners.
To give a sense of the scope of Baidu's ambitions:
Baidu USA and California-based Access Services – which operates paratransit services for people with mobility issues and disabilities – have partnered to roll out self-driving vehicles across select routes by the end of 2018.
Baidu and auto maker Chery will jointly roll out L3 self-driving cars in China by 2020.
Baidu's partnership with Microsoft will allow Apollo's partners outside China to tap into Microsoft's Azure Cloud solutions with AI capabilities to process huge amounts of vehicle data.
Announced in Jan'18, the Apollo Southeast Asia fund is a $200M joint venture fund between Baidu and Asia Mobility Industries to invest in autonomous driving tech in Singapore. This is Baidu's first overseas expansion with the prospect of commercially releasing driverless cars outside China.
Some of Baidu's US partners recently spoke about the details of the partnerships in earnings calls. (Clients can dig into earnings transcripts on the CB Insights platform here):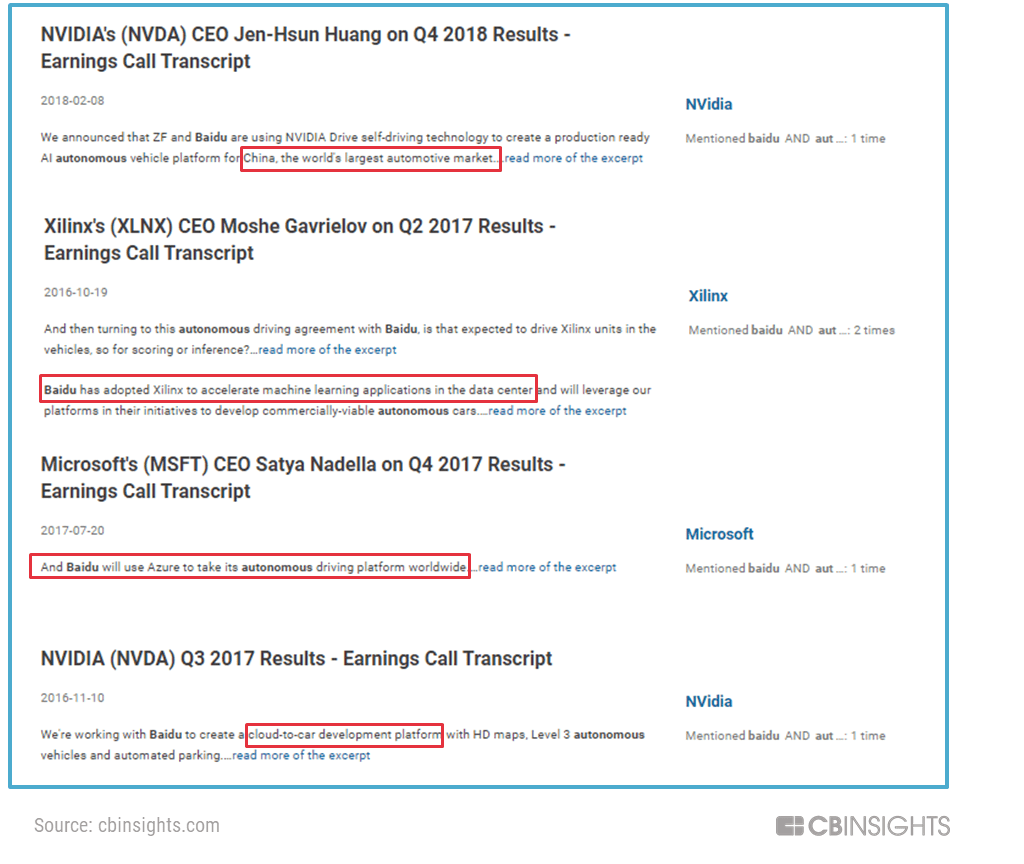 Although the project is "open-source" and relies on contributions from partners, Baidu discussed long-term monetization plans in earnings calls.
Alibaba's 'City Brain'
Unlike industry-specific solutions like healthcare and autonomous driving, Alibaba's "City Brain" or smart city projects are boarder in scope.
At the core is Alibaba's AI cloud platform called, "ET City Brain."
"City Brain can connect with various urban management systems including emergency dispatch, ambulance call, traffic command, and traffic light control… [it] can optimize urban traffic flow such as by identifying the quickest route for emergency vehicles to arrive at the scene within the shortest time frame. – Alibaba
City Brain crunches data from cameras, sensors, social media feeds, and government data, among other things. It uses artificial intelligence algorithms to predict outcomes across healthcare, urban planning, traffic management, and more.
Expanding beyond provinces like Hangzhou and Macau in China, Alibaba made its first international smart city deal with the Malaysian government this year known as the Malaysia City Brain initiative.
The first phases of the project appear to be primarily focused on traffic management.
To this end, Alibaba has partnered with Nvidia for its deep-learning-based video platform for smart city services.
It also participated in the largest round to a computer vision startup, a $600M Series C round to unicorn SenseTime.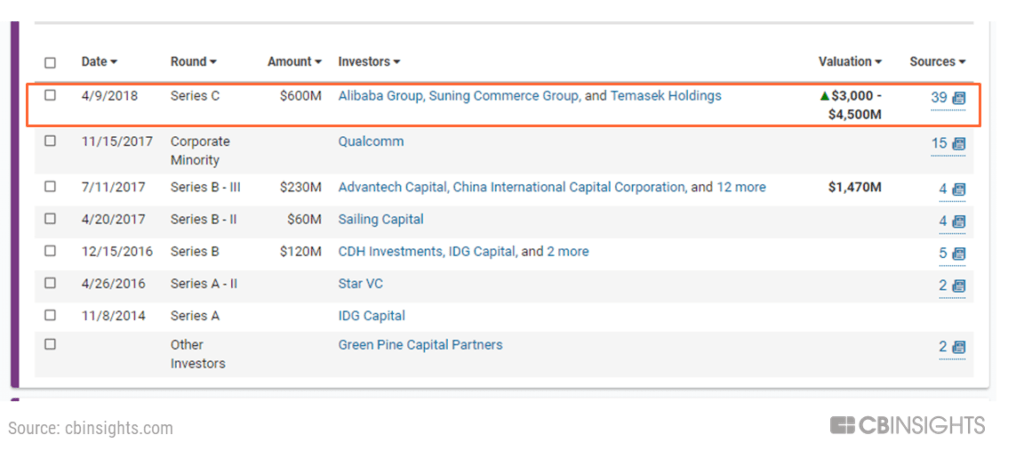 SenseTime also announced that it is partnering with Alibaba on smart transportation, ubran management, and intelligent surveillance.
Tencent's push into healthcare AI
Through its investments and partnerships, Tencent is bringing healthcare AI tech from around the world into Mainland China. These efforts underpin China's huge push to be a world leader in genomics and personalized medicine using artificial intelligence.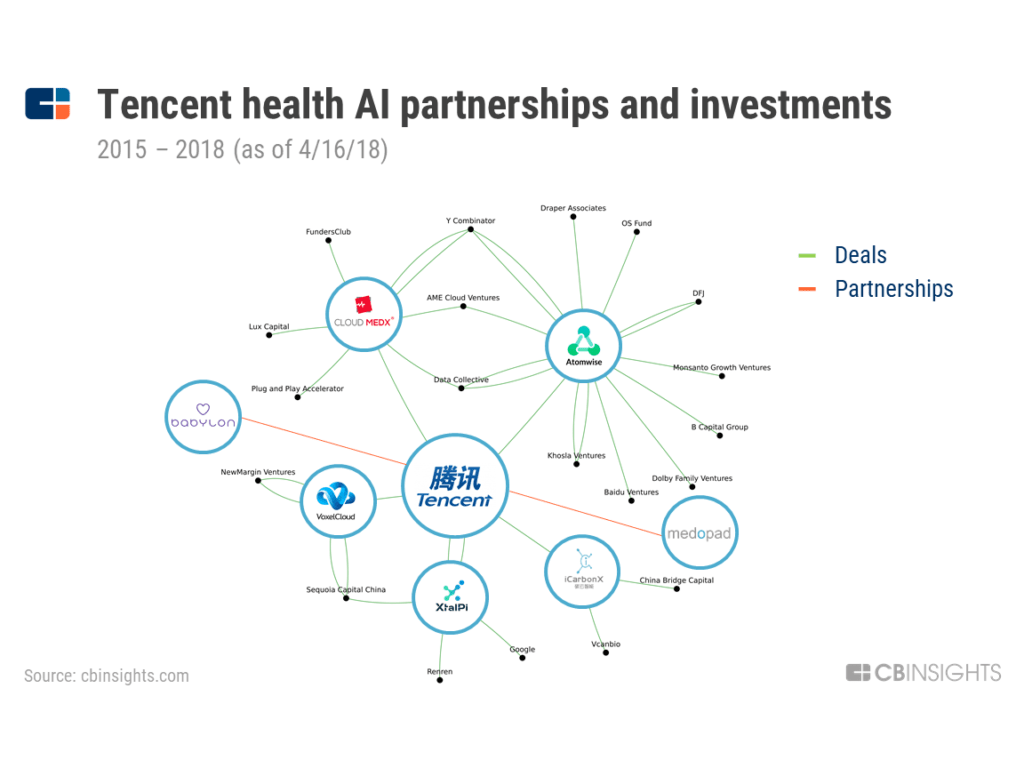 Tencent's biggest strength is that it owns WeChat.
Called the "app for everything," it is the most popular social media application in China with 1B users. It offers its users everything from messaging and photo sharing to money transfer and ride-hailing.
Around 38,000 medical institutions reportedly had WeChat accounts last year, of which 60% allowed users to register for appointments online, and more than 2,000 hospitals accept WeChat payment.
WeChat makes it easy for the tech giant to collect huge amounts of consumer data to train AI algorithms.
This month, Tencent partnered with Babylon Health, a UK-based startup which develops a virtual healthcare assistant. WeChat users will have access to Babylon's app, allowing them to message their symptoms and receive feedback and advise.
It also partnered with UK-based Medopad, which brings AI to remote patient monitoring. Medopad has signed over $120M USD in China trade deals.
Tencent's most notable investment was its participation in a $154M mega-round into healthcare AI unicorn iCarbonX, whose ambitious plans involve developing a complete digital representation of your biological self.
China-based iCarbonX has specifically focused on investing in and acquiring a number of US-based health data and personalized medicine startups, which is likely necessary due to the lack of organized, digitized patient health records in China, as well as the company's ultimate plans for expansion in countries including the United States.
Apart from these direct-to-consumer incentives, Tencent focused its internal R&D into developing the Miying healthcare AI platform.
Launched in 2017, Miying provides healthcare institutions with AI assistance in the diagnosis of various types of cancers. It also uses AI to assist hospitals in analyzing and managing health records. It appears to be focused on "research" at this stage, with no immediate plans to charge hospitals for its AI-assisted imaging services.
Deviating from its focus on imaging & diagnostics, Tencent participated in two AI in drug discovery deals this year: a $45M Series A round to California-based Atomwise (along with Baidu Ventures), and a $15M Series B round to Massachusetts-based Xtalpi (along with Google and Sequoia Capital China).
This could be indicative of Tencent's plans to expand into pharmaceutical applications of AI.
Conclusion
China is the world's largest consumer market and the world's most populated country with nearly 1.4B people. Its years of work becoming a digital-first economy has resulted in a treasure trove of consumer data at the disposal of the government and big tech companies.
With their AI-first approach, Baidu, Alibaba, and Tencent are a force to be reckoned with in China — a market that US tech companies like Google and Apple are keen to break into. (For instance, Google recently opened an AI research lab in China and entered into a patent licensing agreement with Tencent.)
BAT undoubtedly has an advantage on its home turf, with government restrictions on FAMGA favoring it. But these companies also have aggressive global ambitions. They're hiring talent, setting up foreign research institutes, and bringing AI tech from other countries to Mainland China through partnerships.
BAT's biggest challenge today is lack of foreign language user data (and hence data to train its algorithms) compared to what FAMGA has access to. These Chinese companies' international expansion in areas like smart home speakers will likely depend on partnerships or acquisitions of big data companies in specific markets. Baidu already did this when it launched its AI assistant Aladdin in Japan. To meet these goals, more international partnerships, investments, and acquisitions are likely in the works.
But across auto, health, or retail, BAT is emerging as a formidable name in AI globally.
If you aren't already a client, sign up for a free trial to learn more about our platform.