As President Trump signs an executive order to prioritize AI research in the US, China may already be ahead of the game, with government bodies and tech companies working to advance AI.
China is aggressively executing a thorough vision for AI — and in some areas, has clearly pulled ahead of the United States.
The Chinese government is promoting a futuristic artificial intelligence plan that encompasses everything from smart agriculture and intelligent logistics to military applications and new employment opportunities growing out of AI.
Resources are also going to innovative China-based startups developing AI in industries ranging from healthcare to media.
AI investment trends
The US still dominates globally in terms of the number of AI startups and total equity deals. But it is gradually losing its global deal share to new hubs emerging outside the US.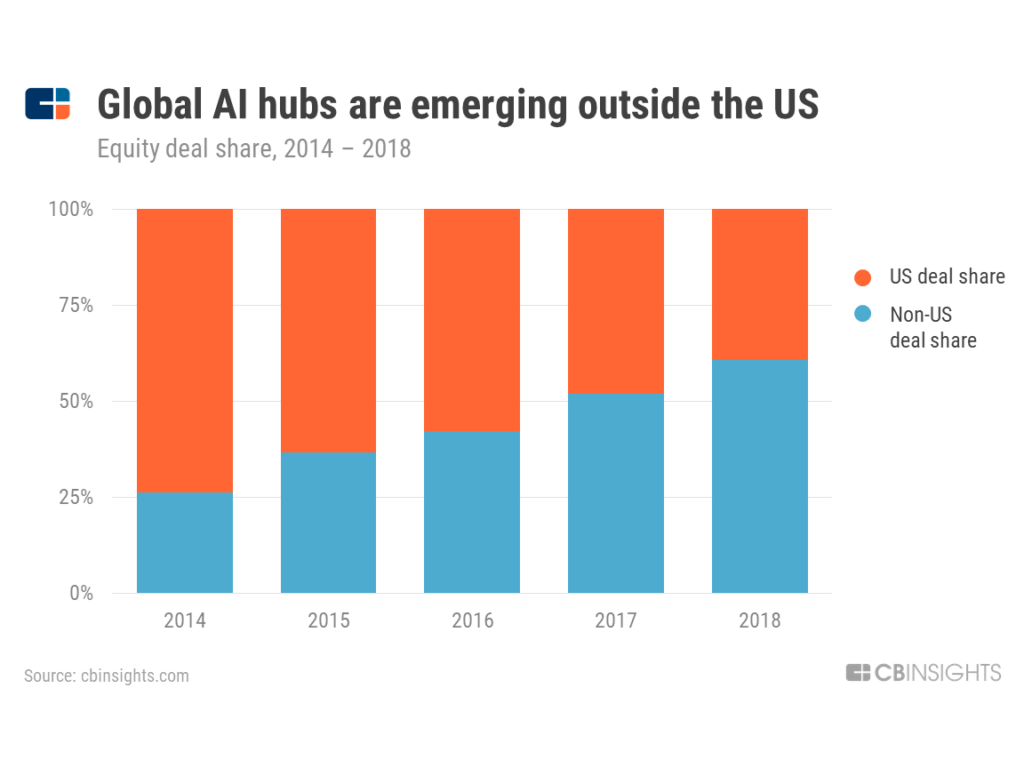 The Chinese startup scene in particular is gaining momentum.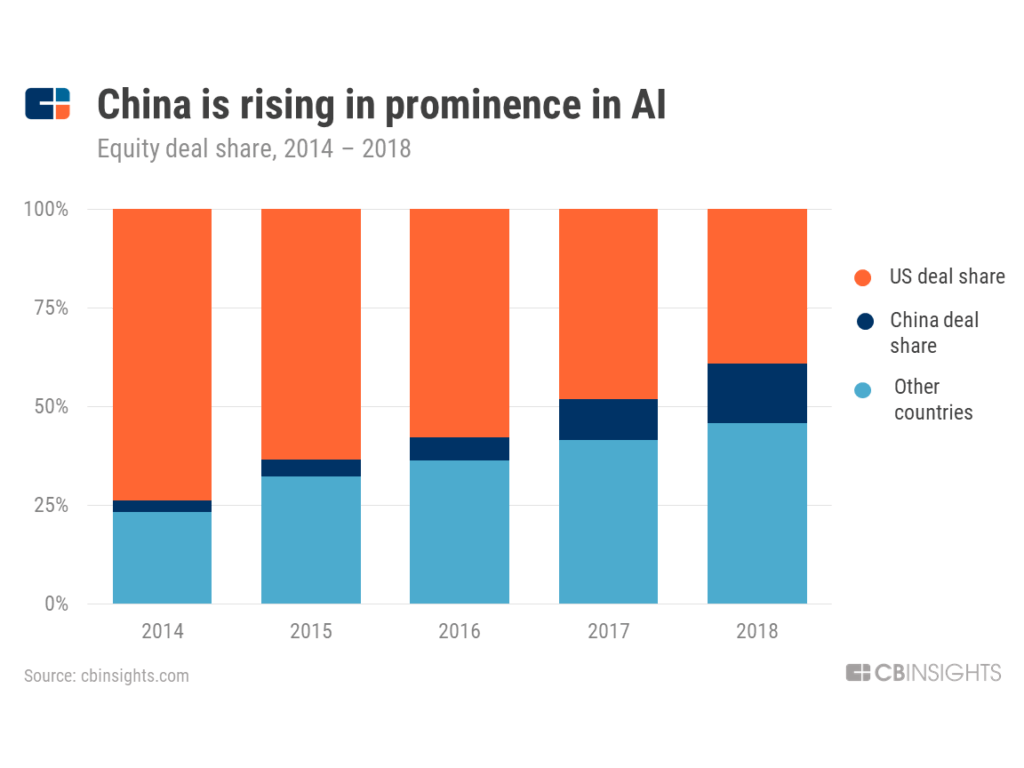 While China accounted for only 10% of global AI deals in 2017, Chinese AI startups took 48% of all AI funding dollars that year, surpassing the US in AI funding for the first time.
This was largely due to a number of $100M+ mega-rounds going to a handful of startups (a trend that slowed drastically in 2018).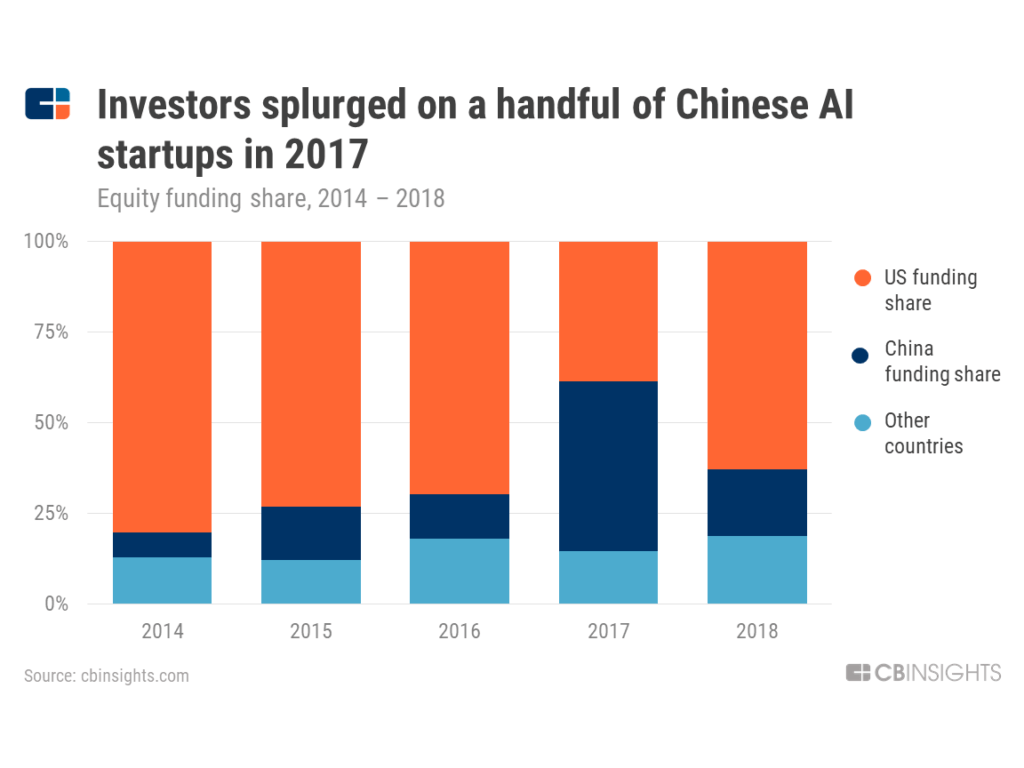 Despite scrutiny of Chinese companies seeking partnerships or investments in the US, there are more Chinese investments in AI startups in the US than vice-versa.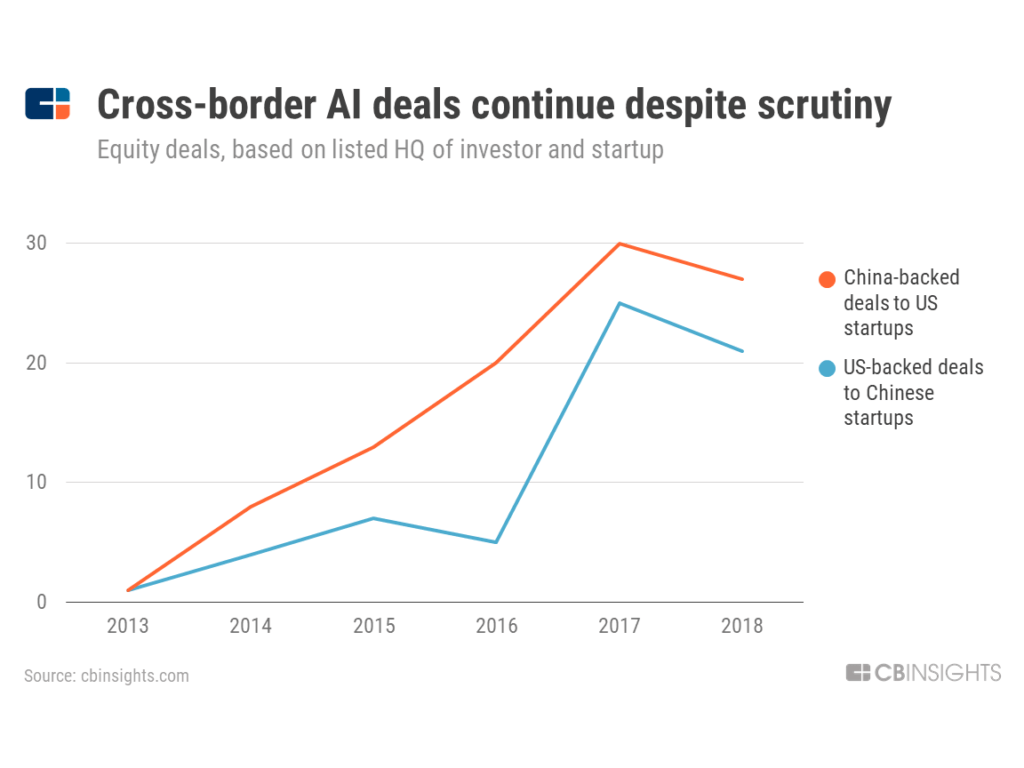 Key Chinese tech giants like Baidu and JD are investing in AI companies abroad, including in the US. Recently, Baidu and JD.com backed ZestFinance, and Tencent backed ObEN (both startups are based in California). Meanwhile startups like WuXi NextCODE and Pony.ai are operating in both countries, further blurring competitive lines.
Technology trends
Two prominent technologies fueling China's AI growth are facial recognition and AI chips. The former advances the government's ambitious country-wide surveillance plans, while the latter is a direct challenge to US-made chips.
Facial recognition
Key players in these spaces include China-based unicorns Megvii (dba Face++) and SenseTime, as well as US-based startup CloudWalk (a recipient of a $301M grant from the Guangzhou Municipal Government).
In 2017, around 55 cities in China were part of a plan called Xue Liang, or "sharp eyes," which involves processing footage from surveillance cameras in public and private properties to monitor people and events. Media reports suggest that the system may eventually power China's Social Credit System, a metric to gauge the "trustworthiness" of its citizens.
Startup Megvii already has access to 1.3B face data records for Chinese citizens. It is backed by Chinese insurance companies (Sunshine Insurance Group), government entities (Russia-China investment group), and corporate giants (Foxconn, Ant Financial).
In 2016, Alibaba Group (through Ant Financial) and Foxconn partnered with the city of Hangzhou for the "City Brain" project, which uses AI to analyze data from surveillance cameras and social feeds. Ant Financial separately uses facial recognition for payments at Alibaba-owned retail stores.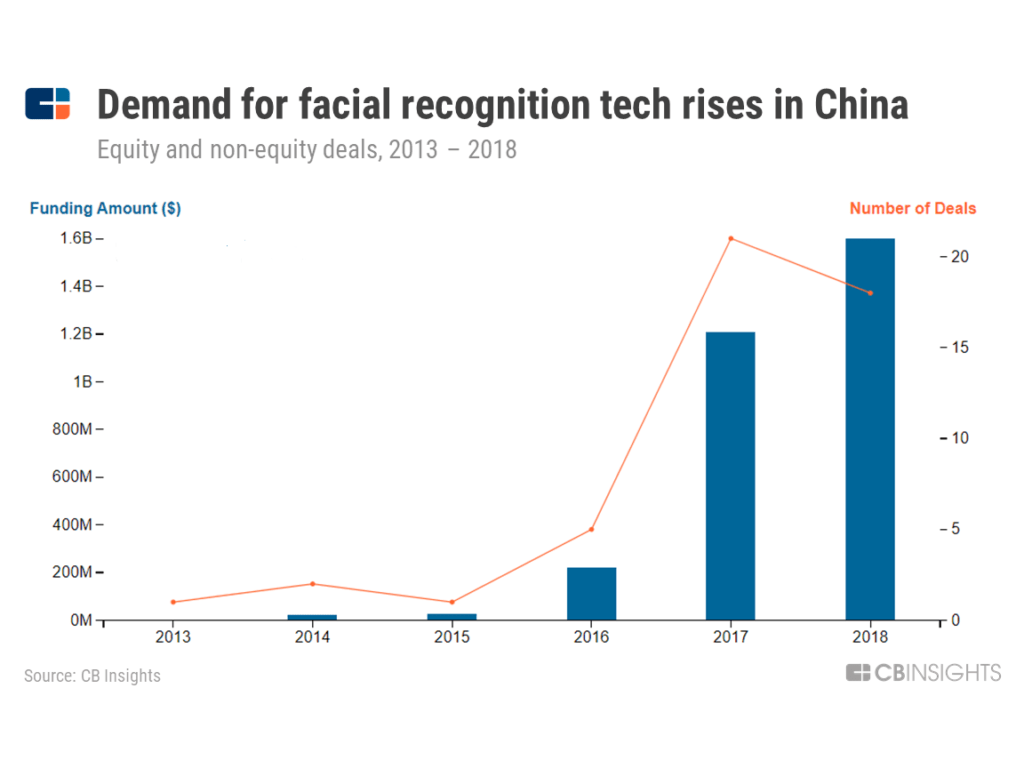 AI chips
The United States and China are also competing for dominance in AI chip technology. In July 2017, the Chinese government said it planned to reach parity with the US on artificial intelligence by 2020 — and to become the world leader in AI by 2030.
One government-backed project aims to create a chip that has 20x the performance and energy efficiency of NVIDIA's GPUs. Chinese company Cambricon, which pledged to make one billion processing units in the next three years and is developing chips specifically for deep learning, reached a $1B valuation in 2017.
Additional research on AI in China
Rise Of China's Big Tech In AI: What Baidu, Alibaba, And Tencent Are Working On
China's Surveillance State: AI Startups, Tech Giants Are At The Center Of The Government's Plans
The Rise Of Chinese Voice Assistants And The Race To Commoditize Smart Speakers
If you aren't already a client, sign up for a free trial to learn more about our platform.