Resilience will become a more prominent corporate function as anxious companies steel themselves against unprecedented external disruptions.
Persistent threats like climate change, cyber warfare, and much more could turn the world upside down — again. Companies shaken by the pandemic will start prioritizing resilience and turn to emerging tech as they look to onshore operations, build robust supply chains, and ready themselves for the next big crisis.
download the 12 Tech Trends To Watch Closely In 2022 report
Download our full report to find out the top trends poised to reshape industries in 2022.
Industry leaders like Bill Gates warned for years that a severe pandemic was coming, but nobody knew when it would happen and, as such, many businesses were caught off guard and had to scramble to flesh out remote work strategies, diversify suppliers, and build e-commerce alternatives to brick-and-mortar stores.
But pandemics are far from the only large-scale threat the world will have to contend with.
The prospects include:
Extreme weather increasing in severity and frequency due to climate change.
Cyberattacks crippling electricity grids or other infrastructure.
Major volcanic eruptions blocking out the sky and grounding flights.
Depending on the scale, any one of these events, and many more, could jolt the global economy overnight.
Given this deluge of risks, and shaken by the colossal ongoing ramifications of Covid-19, more corporations are becoming preppers. The term "resilience" was mentioned a record number of times on earnings calls last year as execs discussed responses to the pandemic, and trends like "digital transformation" and "onshoring" — often seen as ways to help counter volatility — have taken on new urgency.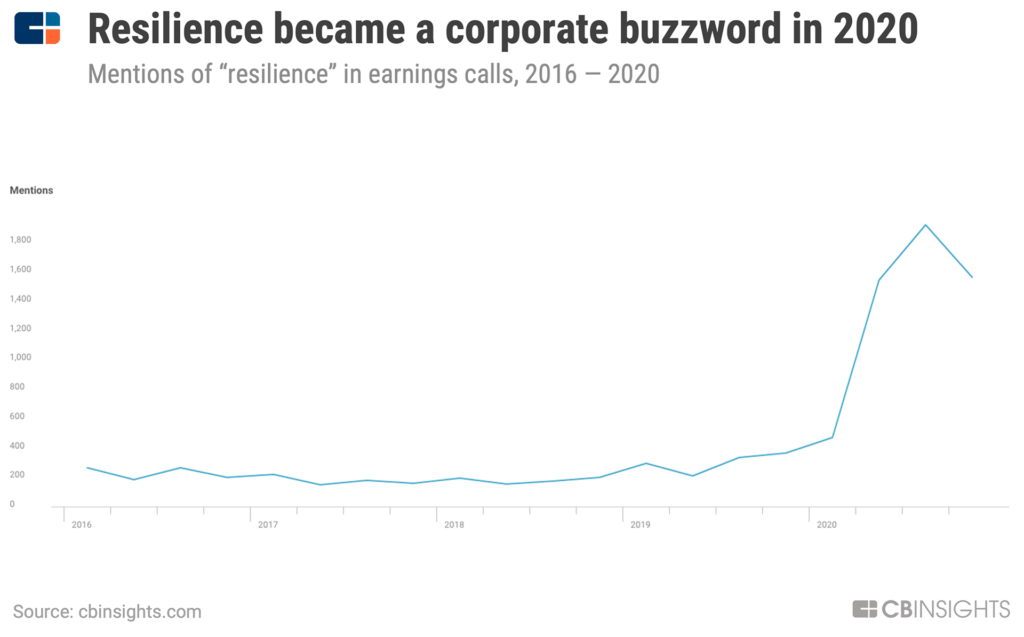 One approach companies are taking is rethinking supply chains, either through bringing operations closer to home or broadening geographic distribution to limit reliance on a single country. Apple has made moves to make more of its devices in Vietnam, while Foxconn, one of its biggest suppliers, announced last year it would invest $1B to expand in India to help it diversify away from its China-based factories affected by trade sanctions and coronavirus lockdowns.
Many businesses are also turning to tech like AI to gain a better understanding of their operations, predict demand fluctuations, and respond more quickly to changing circumstances.
Startups in the space are gaining traction. Supply chain visibility company project44, for instance, raised a $100M mega-round at the end of 2020. Meanwhile, RELEX Solutions, a CB Insights Retail Tech 100 winner, has raised $224M in total disclosed funding for its AI-driven platform for demand forecasting and inventory management.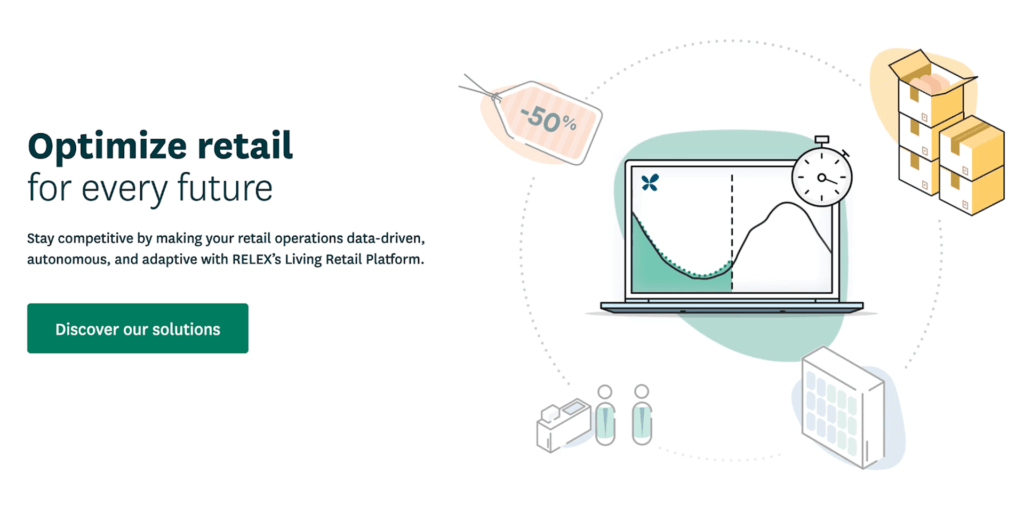 Source: RELEX
Some food companies are thinking about supply chain resilience from a different angle by turning to alternative proteins after being bruised when Covid-19 upended livestock value chains. Compared to rearing animals, alternative protein supply chains can be shorter and established closer to densely populated cities where a lot of food is consumed.
Energy production is another area where some corporates are looking to protect factories and value chains from uncertainty. Manufacturing sites that run off locally installed renewables, like Tesla's solar-powered "gigafactories," needn't worry quite as much about a cyber attack or hurricane bringing down an electrical grid — though a persistent ash cloud from a volcano could cause a few problems.
Source: Tesla
Diversity of options, with a splash of redundancy, will be essential to riding out the worst storms. Aspiring chief prepper officers might want to keep that old landline installed.
If you aren't already a client, sign up for a free trial to learn more about our platform.