At CES 2019, we attended dozens of demos, dug through the data on the attending companies, and identified the trends shaping the future of everything from smart cities to consumer hardware to AI, in 2019 and beyond.
This year's Consumer Electronics Show — better known as CES — often serves as a bellwether for what's to come for the tech industry. This year's show displayed everything ranging from facial recognition AI, to connected beehives, and more.
To be sure, CES generates its share of "vaporware," or products that will never see the light of day. But the event also displays true tech innovation and portends what's to come in categories like AI, the Internet of Things, and beyond.
From our spot at the world's largest tech convention, we rounded up a few takeaways and trends we're looking out for in 2019:
---
1. The coming Year will be about AI

CES 2019 felt like a big leap forward for AI — and surveillance — both in terms of floor space and the quality of presented demos. Horizon Robotics, for example, had a powerful facial recognition engine for analyzing CCTV feeds. In real-time, the software listed ID numbers, evaluated body language, and listed this analyst's gender and age (seen above).
Several other tech giants, such as IBM and Qualcomm, had similar video analytics offerings on the convention floor.
---
2. Amazon made a big splash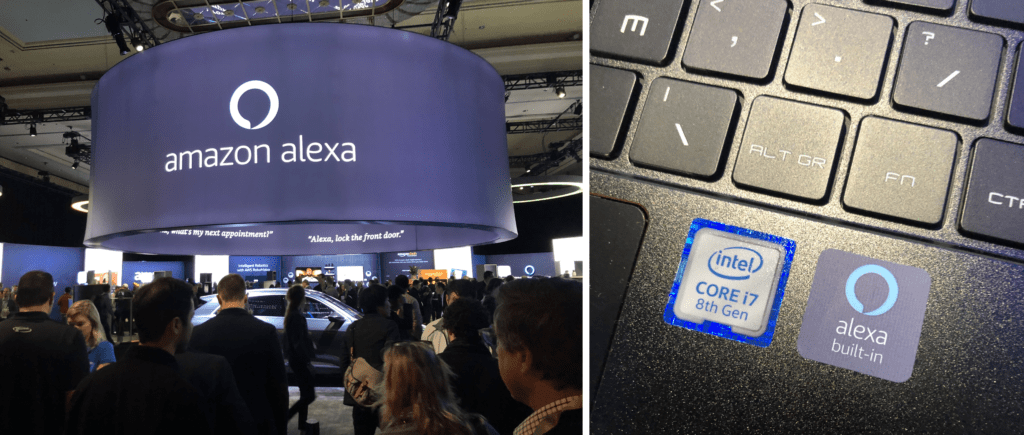 At last year's CES, we noted Google's large presence, which made its Home voice platform seem omnipresent. Fast forward to 2019, and Amazon took center stage with its own large ballroom filled with partner products.
Amazon's Voice Service is now embedded into devices including an Audi SUV, dozens of smart speakers, and projection glasses from North (which has pivoted from its gesture control band). There was even an Alexa-enabled laptop (pictured right) with a sticker mimicking the famous "Intel Inside" marketing. Compared to other years, when the Seattle giant's presence was minimal, Amazon seemed to be asserting itself as the major hardware and software player it is.
---
3. Every Company is a Tech Company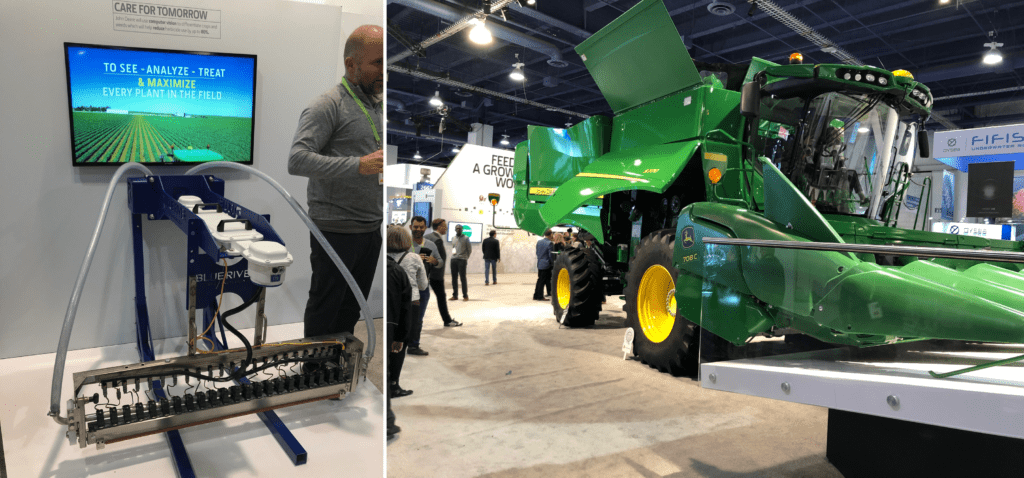 John Deere made its CES debut this year, trucking in a humongous combine harvester. The company also showed its new technology from the acquired computer vision ag tech company Blue River Technologies, which it boasted could reduce herbicide usage by 80%
A large industrials company like John Deere making its first CES pilgrimage serves as a simple reminder: every company is now a tech company.
---
4. Healthcare and Wellness iS now Tech-enabled
Among all the gadgets and gizmos, health and wellness felt like one of the fastest-growing areas of product development.
The company DFree showed off a wearable device that predicts the timing of bowel movements. Another startup out of Eureka Park called Addison Care (right) claimed to be a "virtual caregiver" for managing home care, chronic disease management, and other health outcomes. Brain-reading headsets that claim to alleviate stress were a dime a dozen.
All in all, health and wellness are booming categories among tech cos.
---
5. The IoT matures
While CES is increasingly about cars, AI, and other tech, consumer electronics still takes up the majority of floor space.
This year, Innovation Award winners and nominees included Owlet's new womb device, Beelife's connected beehive, and Petronics' robotic cat toy. While it may sound silly or unnecessary to some, simple IoT connectivity can give an expectant mother, cat owner, or beekeeper some convenience or extra peace of mind. And this year's range of IoT devices felt more inspired than usual.
Additionally, tech giants seemed to take IoT devices more seriously. Bosch, for example, started an IoT app store to kickstart a developer ecosystem. Meanwhile, Intel, Qualcomm, and many others were touting their IoT platform solutions.
---
6. AR Was lackluster, But going industrial

It felt like a weaker showing than last year for startups in augmented and virtual reality (AR/VR). Little seemed to have changed, in spite of Magic Leap's headset release and continued boosterism from Apple CEO Tim Cook. Projection display glasses from Vuzix and North were readily available but the space seemed far from a mainstream hit.
This may be a function of the AR field shifting focus to the industrial sector. The Sequoia-backed mobile AR company Mira (center) pivoted this year to enterprise and industrial environments, complete with a hard hat.
Industrials may still be a startup opportunity, especially because enterprise buyers aren't in love with headsets like Magic Leap. Apprentice.io, which makes headset-agnostic industrial software, found that customers preferred industrial maker RealWear's low-tech displays because they have room for dust-protective goggles (above right).
We mentioned last year that the first AR "killer app" might not be magical. This year, CES showed that the first AR headset hit might not be for consumers at all.
---
7. The Gang's All Here

It's common knowledge that Apple never participates at CES, opting instead to control the narrative with their own Apple Park events. However, this year Apple broke this long-standing tradition with a clever full-building advertisement (above left) that read "What happens on your iPhone, stays on your iPhone." Taking aim at its leak-plagued FAMGA competitors and startups working in the notoriously hackable IoT space, Apple's ad loomed large over the convention.
---
8. Air taxis are coming sooner than we think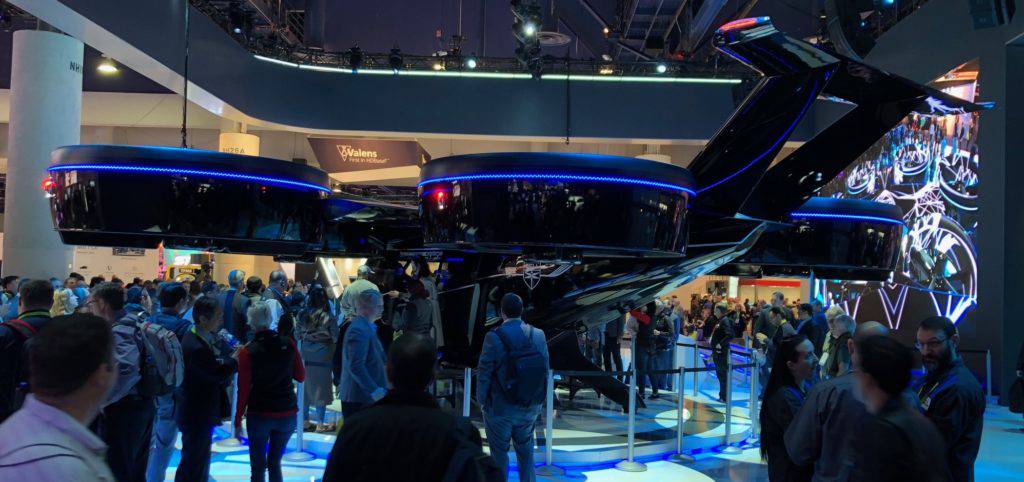 In past years, Bell Helicopter used VR goggles to demo what future air taxi rides might feel like. This year, Bell unveiled its full-scale Nexus Air Taxi, a 6,000 pound hybrid-electric aircraft that boasts 150-mile range. In 2018 Bell partnered up with Uber for an air-taxi project that's aiming for a first ride by 2025.
---
9. Cybersecurity Is Going consumer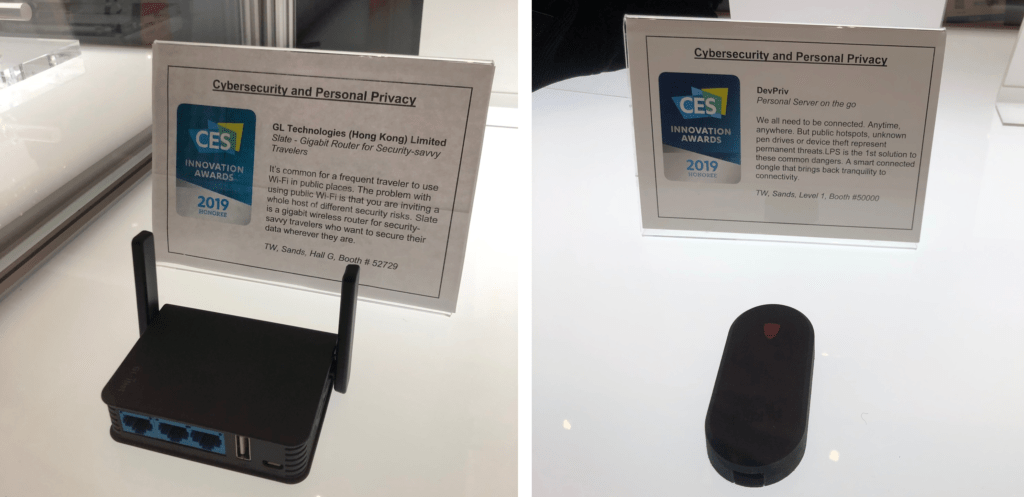 More than in years past, cybersecurity was increasingly top of mind. Two honorees for cybersecurity innovation awards included consumer-focused Wi-Fi devices for public places, with GL technologies (left) and Dev Priv (right).
Elsewhere in the auto world, the anti-malware startup Argus Cybersecurity demonstrated alongside Nvidia's autonomous car platform. Gentex, an electronics maker, displayed biometrics ID systems for connected cars that use fingerprint and iris scanners.
2018 was a year of major leaks and exposed improprieties in the tech world, and the CES floor hinted that consumers are beginning to pay more attention to security and the treatment of their data.
---
10. Smart Cities will measure and manage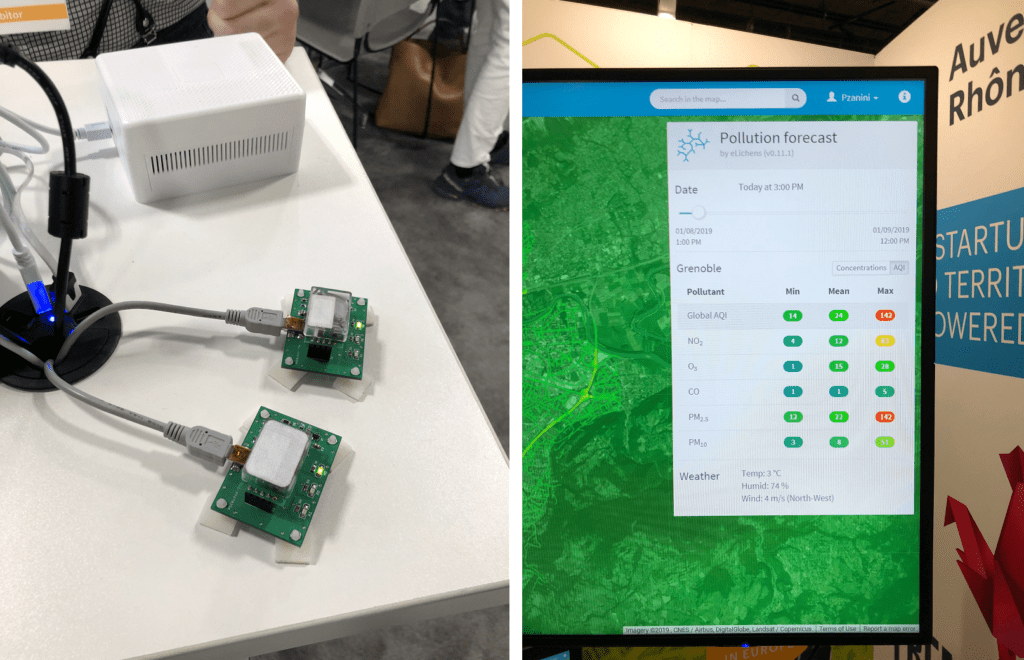 At this year's CES, smart cities were bigger than ever. A number of IoT systems, such as eLichens (pictured above) focused on measuring pollution and environmental metrics. Elsewhere, startups measured foot traffic, street data, and much more. Overall, smart cities had finally "arrived" at CES, suggesting that startups are increasingly targeting municipalities as potential customers.
---
11. ELECTRIFICATION is hot, full autonomy IS not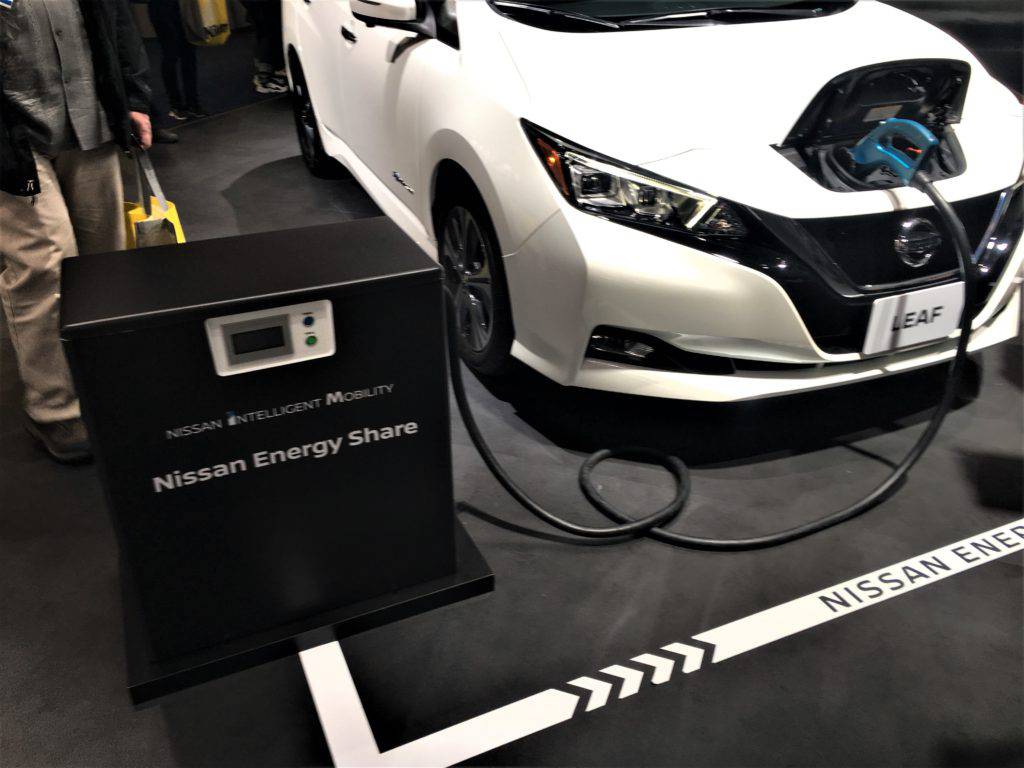 Nissan's Leaf Plus vehicle and accompanying charger 
There's a perennial joke that CES should be called the Car Electronics Show. And at this year's show, almost every production vehicle on display utilized some form of electrification. Daimler even announced an entire sub-brand of Mercedes vehicles featuring 10 new electric models, expected to arrive by 2025.
Another electric vehicle launch was Nissan's Leaf Plus, its long-range EV that can reach up to 226 miles on a single charge, up notably from the prior generation's range of 150 miles and more than triple the range of the original version. Automakers and parts suppliers also highlighted new technology designed to increase a vehicle's energy efficiency as range length becomes a top priority.
Meanwhile, little was on display in the way of autonomy. Nvidia in the past had promised Level 4 autonomy by 2020, but at this year's show announced a Level 2 platform.
You can read our separate round-up of CES auto and mobility trends here.
If you aren't already a client, sign up for a free trial to learn more about our platform.