Recent FDA approvals have spurred interest in cell-free DNA tech, which are seeing increased attention and funding. Here's how the tech could improve and accelerate disease diagnostics.
Innovations in isolating, sequencing, and analyzing cell-free DNA (cfDNA) — short fragments of DNA released from tissues into the blood — are accelerating diagnostics, from infectious disease identification to prenatal genetic screening.
Detecting disease earlier can improve patient outcomes and lower disease management costs. For example, Covid-19 cfDNA could help physicians monitor the severity of the infection for hospitalized patients.
Startups leveraging cfDNA are often publicized as "liquid biopsy" companies. (Note, however, that a liquid biopsy is a method of sampling non-solid biological tissue, such as a blood draw.) Most these companies sequence and analyze cfDNA from a biopsy to detect diseases and recommend treatments.
Investors have shown strong interest in cfDNA-enabled technologies, investing over $1.6B into 66 liquid biopsy deals in 2019. Funding nearly doubled from 2018 to 2019 and jumped significantly again in 2020, with $2.8B invested across 56 deals.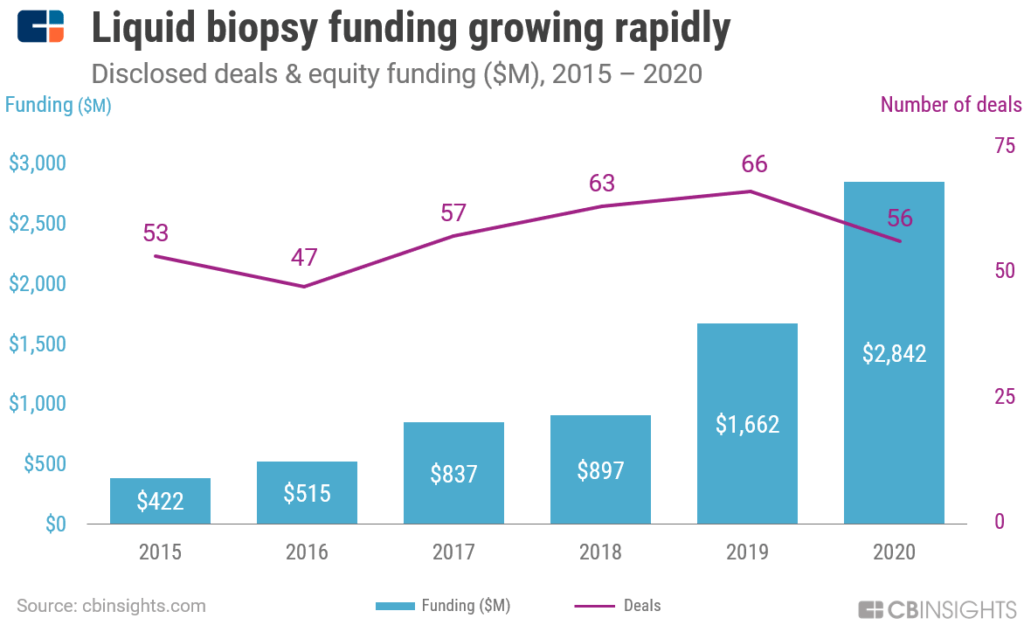 Below, we explore cfDNA-related patent activity and initiatives, along with active players across the market.