The biotech world lost one of its most active investors and acquirers when Bristol-Myers Squibb (BMS) announced its acquisition of Celgene. Small biotech companies will now have a harder time finding M&A opportunities.
Bristol-Myers Squibb shocked the biotech world when it announced its acquisition of Celgene. The combined company will be a behemoth, offering nine products which each generated over $1B in 2018.
As a standalone company, Celgene has been one of the most active investors and acquirers in the biotech space, as the below Business Social Graph shows. If other players don't fill its M&A void, the acquisition could have strong ripple effects across the biotech R&D landscape.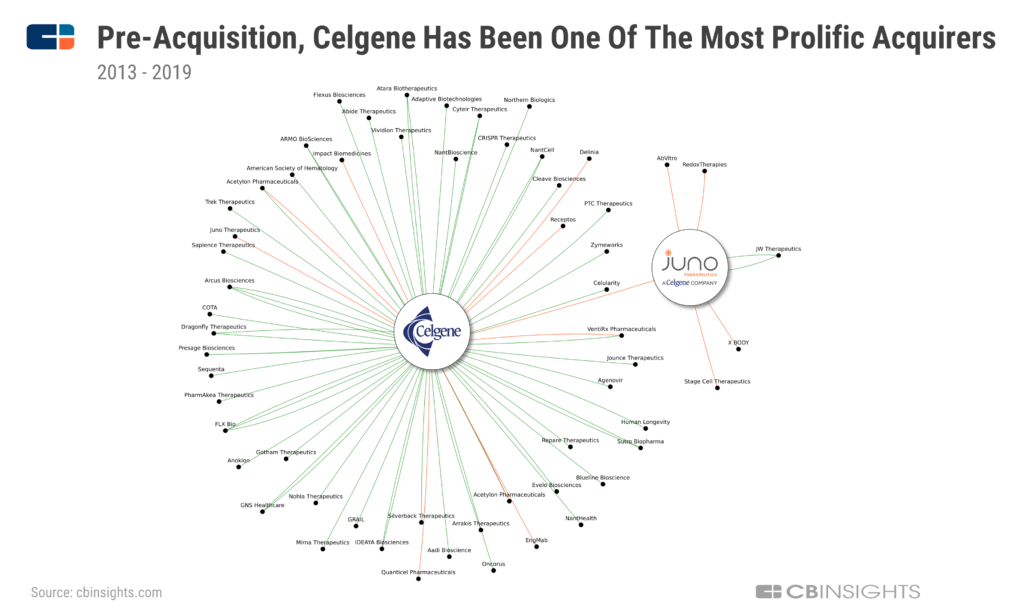 Note: Green lines indicate investments. Orange lines indicate acquisitions. Click to enlarge.
Acquisitions
Since 2013, Celgene has made eight acquisitions, with a combined value of over $27B. Its biggest was Juno Therapeutics, developer of CAR-T cancer therapies, for $9B in 2018. Other billion-dollar acquisitions include blood cancer developer Impact Biomedicines, and multiple sclerosis player Receptos.
Celgene's three acquisitions of more than $1B since 2015 position it as one of the most active within the pharma space. The only other pharma companies with more billion-dollar deals in that span are Allergan and Celgene's acquirer, BMS, each with four. Shire, Pfizer, and Eli Lilly have also each made three $1B+ deals since 2015.
Further, the raw M&A figures mentioned above don't account for deals in which Celgene was a bidder. Celgene's presence in these processes, making bids that were topped by the eventual acquirer, drove prices up. The loss of an active bidder could decrease the competitiveness of these deals — bad news for smaller biotech companies looking to be acquired.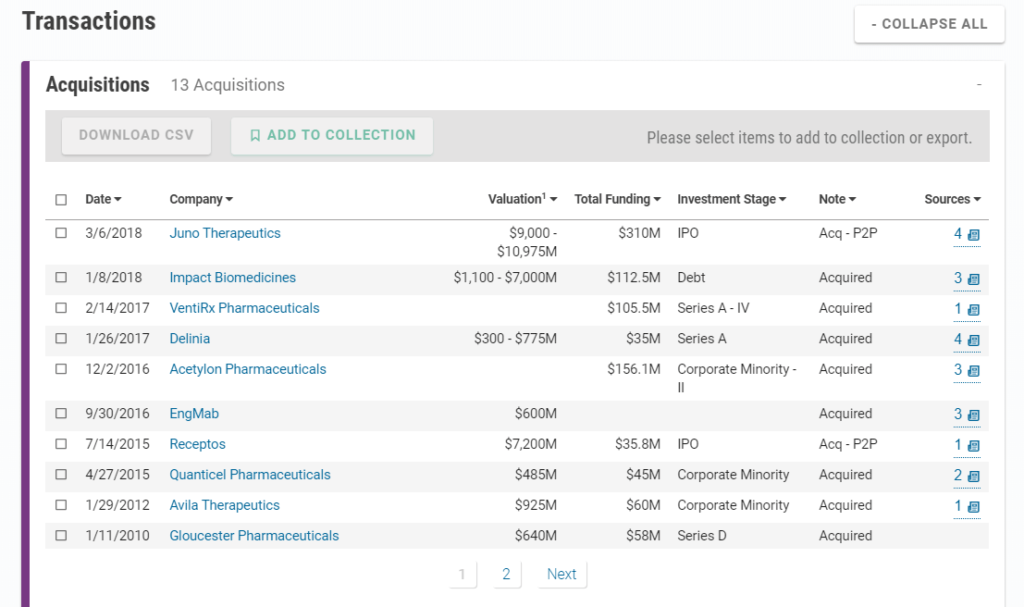 investments
Celgene has been one of biotech's most prolific investors. It has made more than 60 investments since 2013, with success across the healthcare landscape.
What will happen next?
The Celgene acquisition will have a transformative impact on the pharmaceutical industry for years to come.
On the commercial side, the combined company would report at least $33B of annual sales, according to Bristol-Myers Squibb and Celgene's investor presentation on the acquisition.
But the most drastic changes won't be felt right away. The two companies have six products expected to be approved in the coming years, potentially worth a combined $15B in annual revenues. Several of these come as a result of Celgene's recent acquisition spree — such as Juno Therapeutic's JCAR017, a CAR-T therapy for aggressive non-Hodgkin's Lymphoma, and Impact's fedratinib for myelofibrosis.
Further, most of the company's investments went to pre-commercial companies. Those, along with some of its investments in companies like GRAIL and Human Longevity, Inc, will play out through the 2020s.
Though significant, these effects only represent the aftershocks of losing Celgene as an acquirer and investor. The real impact will be felt if companies don't fill the M&A gap that Celgene is leaving behind.
If you aren't already a client, sign up for a free trial to learn more about our platform.