As D2C mattress company Casper makes its public markets debut, we analyze the company's top stakeholders and how much their shares are worth.
Direct-to-consumer mattress unicorn Casper is going public.
The startup priced its IPO at $12 per share — the bottom of the $12 to $13 pricing range it had shared in an earlier regulatory filing, which was already reduced from an initial $17 to $19 range.
The company was last valued at $1.1B, when it reached unicorn status following a $100M Series D in March 2019. At a $12 share price, Casper would have a market value of less than half that.
Since 2014, Casper has raised $340M in disclosed funding from investors ranging from top VC firms like New Enterprise Associates and Lerer Hippeau Ventures to celebrity angel investors like Adam Levine, Shaun White, and Leonardo DiCaprio.
Clients can see all the new retail unicorns birthed in 2019 here. 
Breakdown of top stakeholders
Using Casper's S-1 filing, we calculated how much its top stakeholders' shares were worth at the time of IPO, based on a $12 share price. Here's the breakdown.
Please click to enlarge.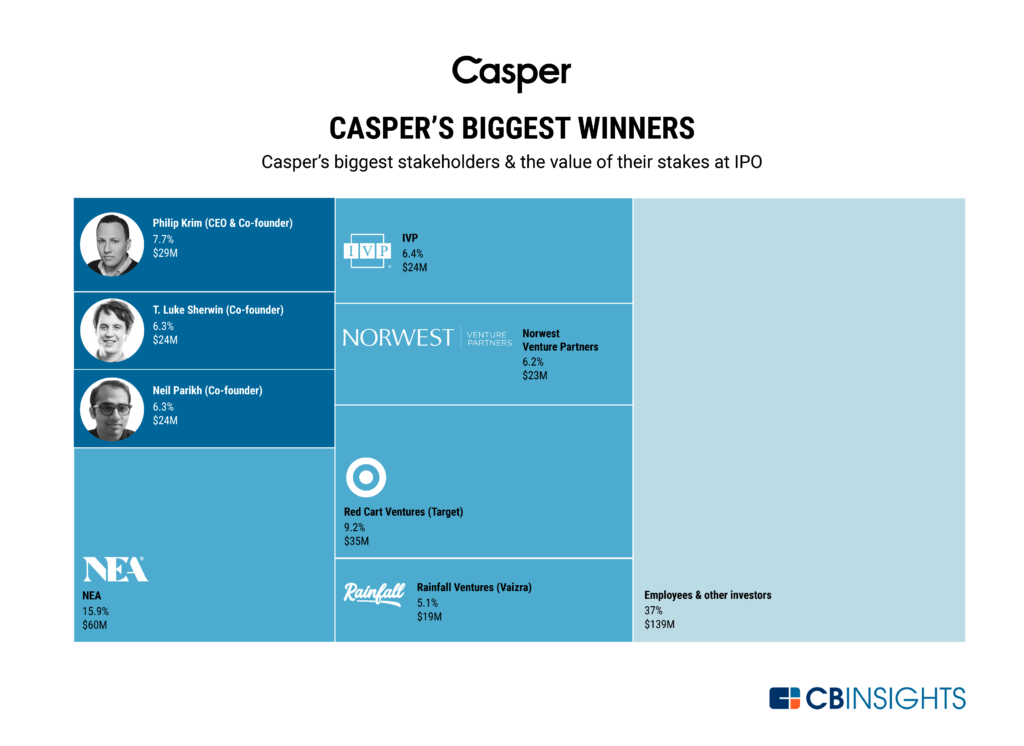 With 15.9%, venture capital firm New Enterprise Associates (NEA) has the largest share in the company, valued at $60M at the time of IPO. It is followed by Red Cart Ventures (the corporate venture arm of retail giant Target), with a 9.2% stake valued at $35M.
VCs IVP, Norwest Venture Partners, and Rainfall Ventures (fka Vaizra) round out the firm's top institutional investors, with stakes in the 5% to 7% range.
Three of Casper's co-founders also have sizable stakes in the company. CEO Philip Krim has the largest share, with 7.7% worth $29M, while Neil Parikh and T. Luke Sherwin each own about 6.3%, valued at $24M.
Top institutional investors timeline
With the exception of Rainfall Ventures, all of Casper's top institutional investors participated in its most recent 2 rounds: a $170M Series C in 2017 and a $100M Series D in March 2019 (when Casper earned its unicorn valuation).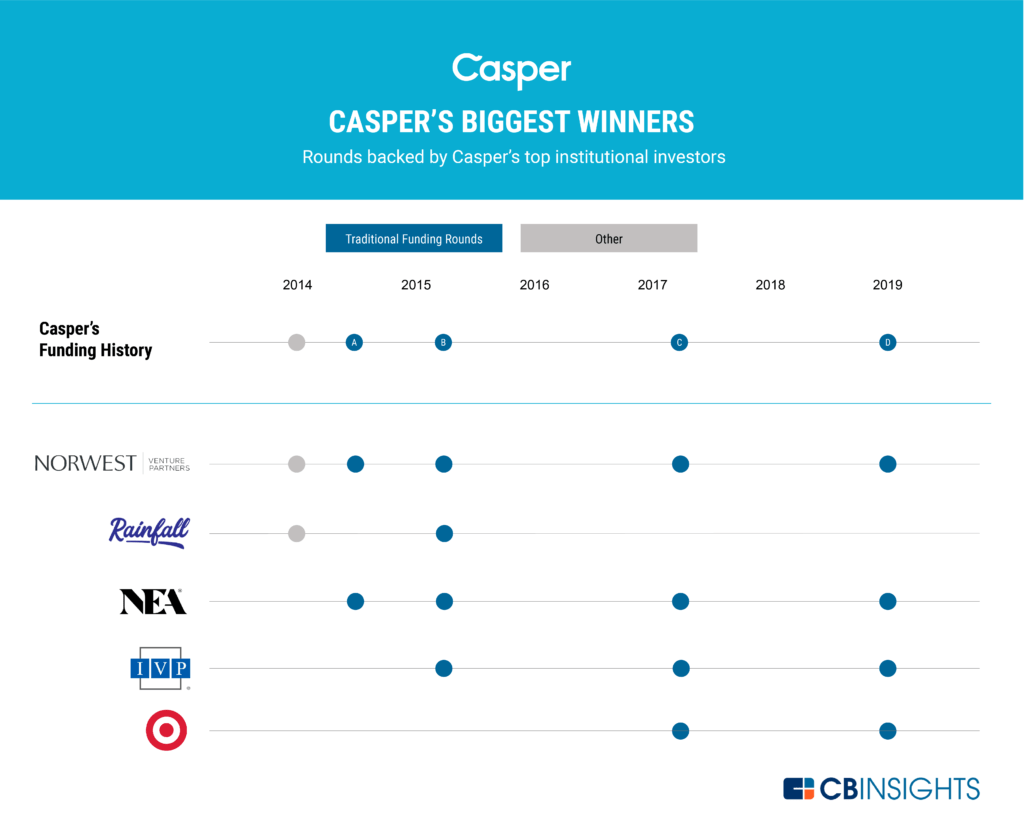 Norwest Venture Partners has participated most frequently of the top investors, backing all 5 of Casper's equity funding events. The VC firm first invested alongside Rainfall Ventures in a $1.6M Seed VC round in early 2014.
NEA — Casper's top stakeholder by share size at IPO — also backed the startup early on, investing in its 2014 $13.1M Series A alongside Crosslink Capital, Lerer Hippeau Ventures, Slow Ventures, and SV Angel, among others.
If you aren't already a client, sign up for a free trial to learn more about our platform.