Over 150 companies are working on automated, human-free, brick-and-mortar retail, using machine vision, IoT, RFID, and more.
Traditional retail is getting an upgrade.
Despite the rise of e-commerce and mobile, the physical channel still plays an important role in consumer experience — and retailers are increasingly leveraging technologies to stay afloat.
Cashier-less technology is one of the latest trends to dominate conversation.
Amazon recently opened its fourth Amazon Go store, which uses a mix of cameras, machine vision, and IoT to track shoppers throughout the store. It then charges them automatically for the items they pick up, eliminating the need for cashiers.
While Amazon Go has grabbed headlines, dozens of other companies are also working on ways to take cashiers out of retail.
These companies use a range of technologies, but share two common purposes: to make brick-and-mortar retail more convenient and to gather shopper data.
In this analysis, we dive into some of the key ideas and technologies used in cashier-free retail, highlight companies leveraging this level of automation, and talk about what's next.
Clients can view the full list of 150+ cashier-free retail operators here.
Table of contents:
Why Are retailers are pivoting towards cashier-less retail?
Human-free retail is not a new concept.
Some historians date its existence to over 2,000 years ago: texts from ancient Greece describe a coin-operated machine for dispensing holy water in temples.
Since then, the first modern vending machine was invented, and many retailers — from restaurants to grocers to suppliers of general goods — have experimented with various human-free and self-service concepts — including self-checkout.
In 2013, for example, Walmart began experimenting with self-checkout technology. Using a mobile app, shoppers could scan barcodes on items they wanted to buy. Then, a QR a code would be generated, which shoppers would then scan at a self-checkout till to pay.
Later in 2016, fashion retailer Rebecca Minkoff partnered with startup QueueHop to debut an RFID-powered self-checkout system. Shoppers would use a mobile app to scan products themselves and pay, at which point anti-theft tags on the products would unlock automatically.
Neither of these experiments, however, have seen long-term success or widespread adoption. Walmart has since revisited with iterations, and QueueHop — failing to catch on — is now defunct.
But the concept of streamlining checkout and removing layers in the process is still largely top of mind for retailers, and can provide many benefits.
Unmanned retail can:
Set up points of sale in new places: As shopping malls struggle and brick-and-mortar foot traffic declines, brands don't want to wait for shoppers to come to stores. They need to go to shoppers, and cashless retail kiosks can help them do so. Small in size and with no need for staffers, these kiosks can sit in office lobbies, university campuses, transit hubs, and other public spaces. It's the next generation of vending machines, which were the original unmanned retail setup.
Reduce overhead costs: Of course, automated checkout reduces the need for human cashiers. Retailers could simply cut staff, or reassign their staff to more hands-on roles helping shoppers. However, the upfront costs may be high for retailers that choose to retrofit existing stores with checkout automation technology.
Gather shopper data: By pushing offline shoppers to check out via mobile (i.e. using their online account to check out in store), cashless retailers hope to merge shoppers' online and offline identities. Retailers can then form fuller pictures of shopper interests and habits. Since many human-free retail systems track shoppers continuously in stores, retailers can also better understand how shoppers react to various shelf displays, store layouts, and more.
Improve the efficiency of inventory management – Once retailers can view the full picture of shoppers' online and offline activities, they can better localize their inventory. They can see what shoppers in one area tend to buy online, and use that to inform local store merchandising; they can also re-target shoppers online based on in-store purchases. Many retailers focus on these strategies already, and unmanned retail systems further support them.
The technologies Supporting a cashier-less environment
Retailers and startups are using a range of technologies to support cashier-free and human-free retail, including:
Machine vision: Machine vision, a subset of AI, allows computers to understand images. Cashier-free retailers use machine vision to track shoppers through stores, though the technology can't identify the shoppers without facial recognition (below). Shoppers still have to scan a code on their phones as they enter the store in order to link their physical presence with their identity. Machine vision also tracks the movement of products through the store.
Facial recognition: Facial recognition algorithms tie visual data on shoppers to specific shopper identities. With fully functioning facial recognition tools, cameras can match in-store shopper visuals to digital shopper profiles, determining the name and identity of each visitor. Most US players don't (yet) use facial recognition, but the technology is more developed in China. (For more about China's facial recognition tech, check out our deep dive here.)
Shelf sensors: Some unmanned (and traditional) retailers use weight sensors or light sensors on shelves to detect when products are added or removed. These shelves can confirm activity recorded by cameras, adding another point of proof that a shopper picked up or put back a product. These sensors can also automatically alert store staff when products are sold out.
Barcodes: Mobile apps, that let shoppers scan product barcodes themselves and pay, can support unmanned checkout.
Quick Response (QR) codes: Many unmanned retail mobile apps make use of QR codes. In some models, particularly in China, a mobile app generates a personalized QR code for the shopper, which the shopper can then scan to enter the store, pay, and exit. In other models, products have QR codes that shoppers can scan to get more information on the product.
RFID tags: RFID (radio frequency ID) tags can be attached to products to track them through the store. Sensors at store exits can read RFID information to confirm which products a shopper is carrying out. Attaching RFID tags to each product often doesn't make much sense for low-cost items, which is why Amazon Go and others say that AI observation systems can track products without tags. However, RFID tags could provide extra security for unmanned retailers of higher-priced goods.
Key players to watch
A number of companies are working on cashier-free projects and initiatives. Below, we dive into a few across the public and private space.
Public companies
THE BIG NAME: Amazon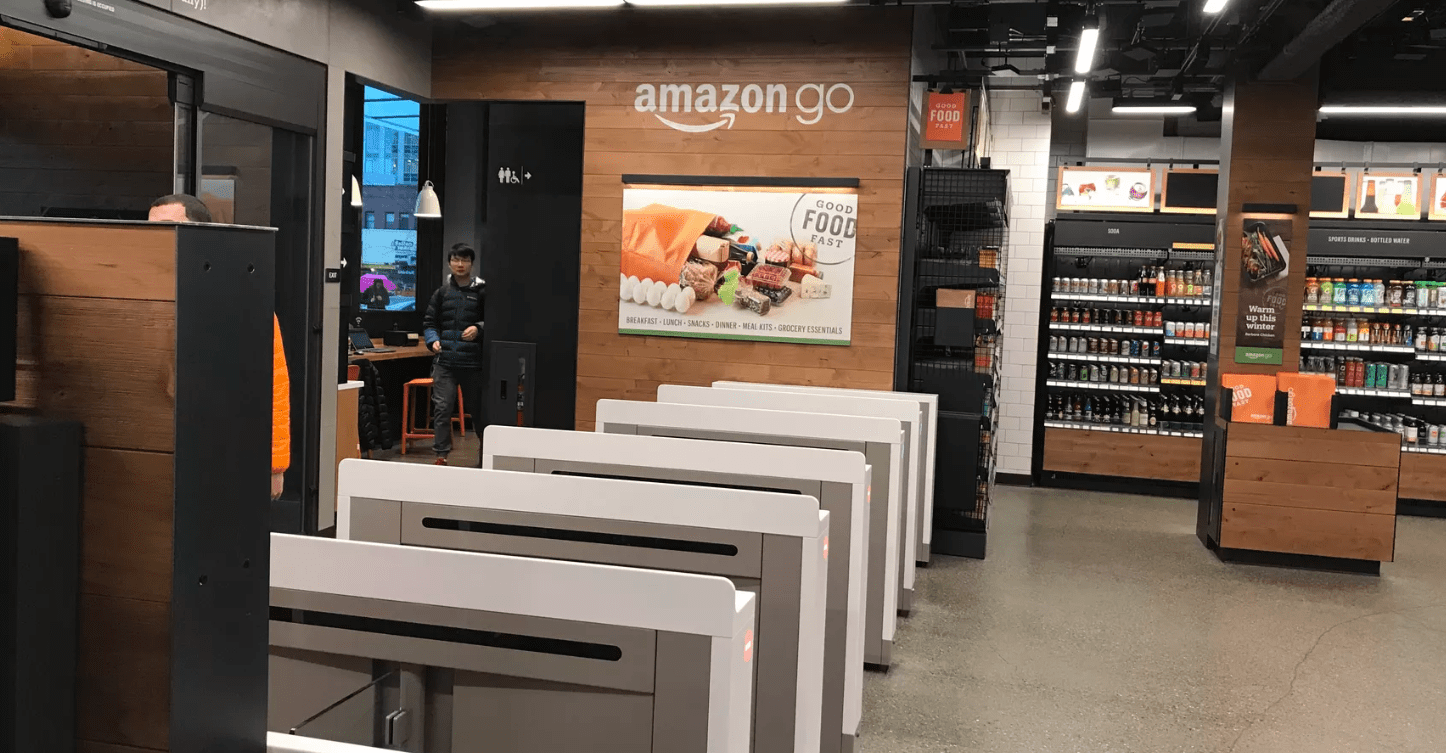 After a period of beta testing that lasted months longer than expected, Amazon opened its first unmanned Amazon Go store to the public in Jan'18 in Seattle. The 1,800 square foot store stocks foods, drinks, and personal care products.
Shoppers scan their Amazon Go app to enter the store, and get charged automatically as they pick up items and exit. Amazon uses shelf sensors and cameras to track people and the products they interact with. Its cameras use machine vision, but not facial recognition, according to the sources.
Amazon Go isn't fully human-free; it employs human staffers to help shoppers find products, prepare fresh foods, and check IDs in the alcohol section. Theoretically, (i.e., if retailers don't just cut jobs) the cashier-free model frees up employees for deeper interactions with shoppers, supporting more concierge services and personalized offerings.
Today, Amazon operates four Amazon Go stores: 3 in Seattle and 1 in Chicago.
---
THE POWER PLAYER: Alibaba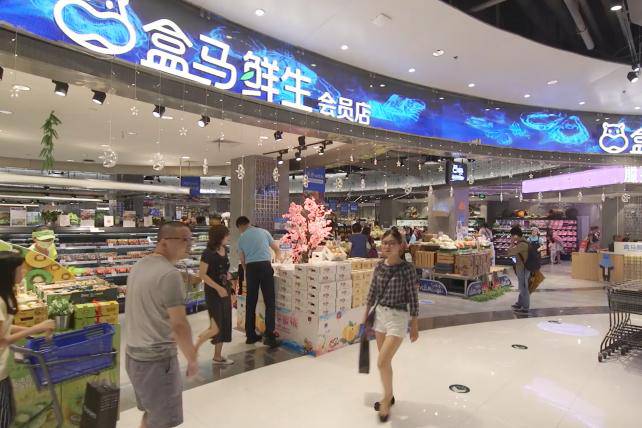 Hema: Chinese retail giant Alibaba has been growing its chain of cashless Hema grocery stores. It currently operates 65 locations in Shanghai, Beijing, and other cities in China.
Once shoppers have downloaded the Hema app (which is integrated with Alipay) they can:
Scan any product in the store to see its origins
Order food at the in-store restaurant and have it delivered by robots at select locations
Receive personalized product and recipe suggestions
Order products for 30-minute delivery, while at home or in store
Check out and pay for products
At certain locations, shoppers can also scan their faces to pay.
Like Amazon Go, Hema is cashier-free but not human-free. The stores are filled with staff who help shoppers, offer free samples, and prepare food; they also gather products to fulfill online orders, and put the bags onto a store-wide system of conveyor belts that transport them to the delivery center.
Between Alipay, the Hema app, and its facial recognition technology, Alibaba highlights a model for integrated online/offline cashless retail, all while gathering detailed customer data.
Tao Cafe: Alibaba also debuted a cashier-free cafe called Tao Cafe in Hangzhou in July 2017.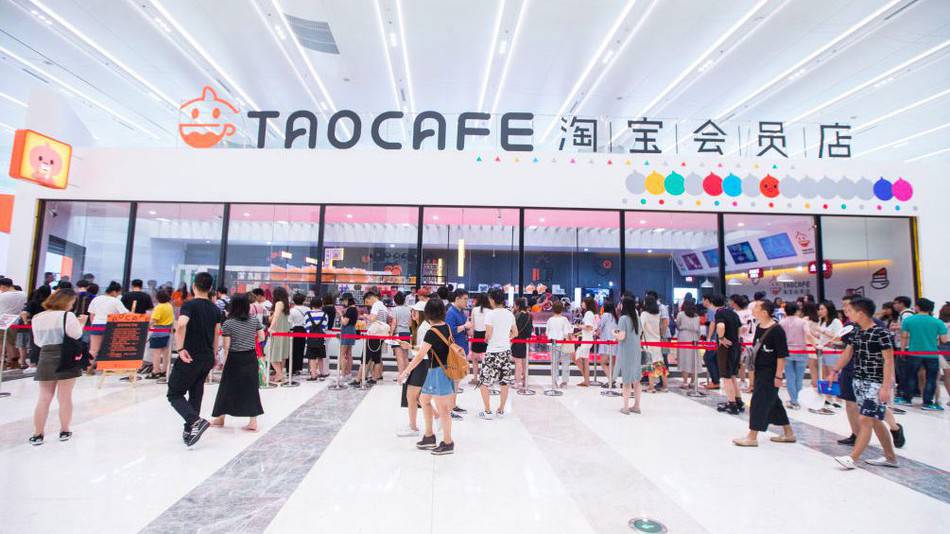 Visitors could open the Taobao app and scan their phones to enter the cafe, where human staffers prepared and served the food. Shoppers could pay through the app or by scanning their face, and a combination of shelf sensors and AI-powered cameras tracked shoppers and products continuously.
---
FIRST INTERNATIONAL CHAIN: JD.com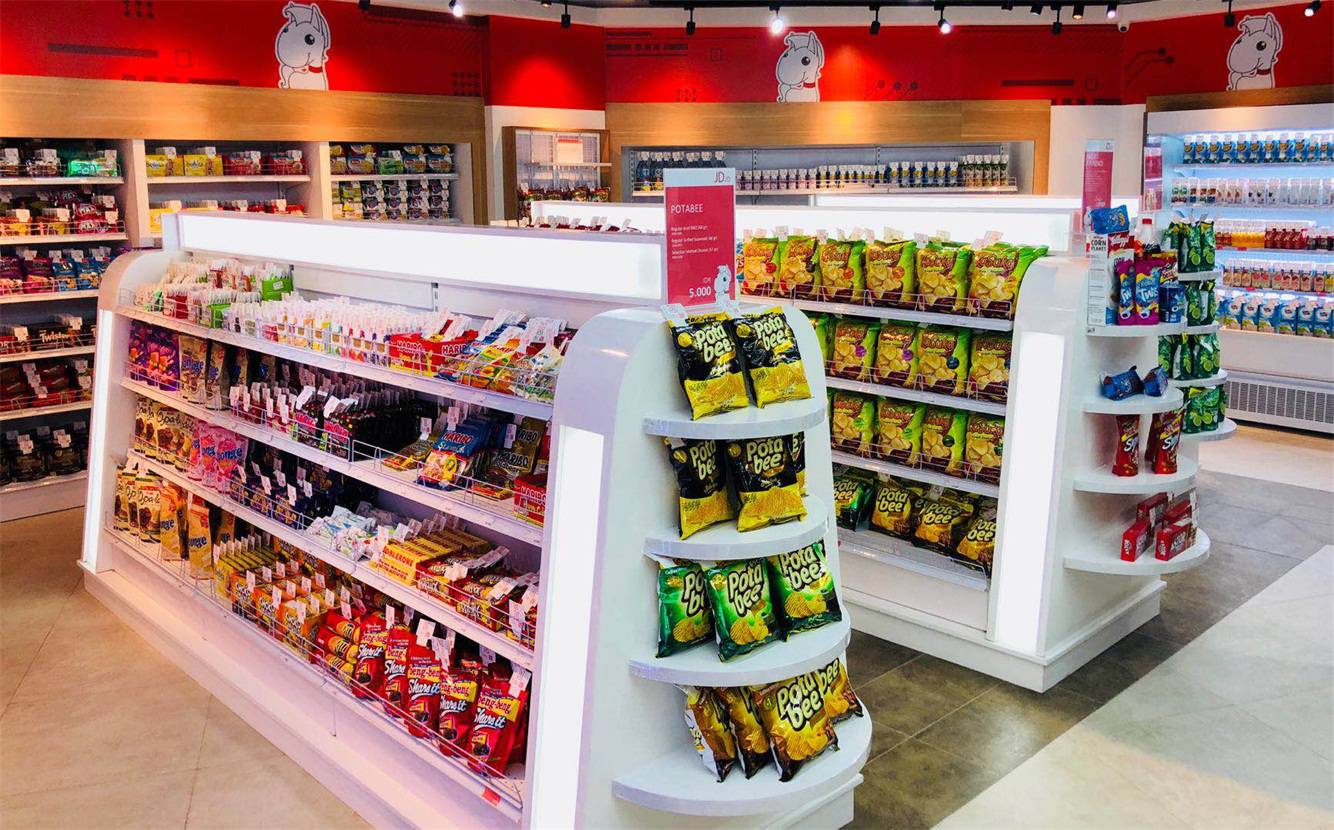 JD.com, China's second largest e-commerce platform, opened its first human-free convenience store in Shandong, China in Jan'18. It claimed the title of first unmanned convenience store to fully open to the public, beating Amazon and Alibaba.
Similar to other models, visitors scan their phones to enter the store and again to pay and exit. The stores use shelf sensors, cameras and facial recognition tools, and RFID tags to track people and products.
Today, JD.com operates 20+ unmanned stores in China, and in Aug'18 it opened one store in Jakarta, Indonesia, its largest at ~2,900 square feet. Its Jakarta location sells apparel and accessories along with packaged goods.
---
THE EARLY TESTER: 7-Eleven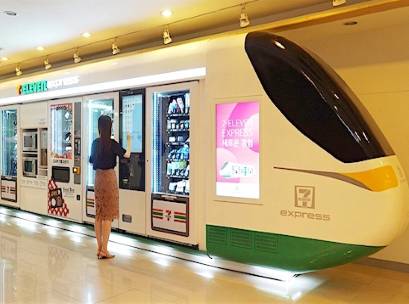 In August, convenience chain 7-Eleven opened four automated pilot stores in South Korea. The stores are shaped like trains, and contain five digital vending machines holding roughly 40 products each.
The company plans to offer the model to its current franchise owners, letting them operate automated stores along with traditional stores.
In 2017, 7-Eleven also tested out HandPay, a biometric identification platform enabling people to pay with their hands.
---
private companies

Standard Cognition uses cameras to track people and products throughout the store. It doesn't use shelf sensors (just cameras), and claims to require fewer cameras than Amazon Go — about 25 cameras for an 1,800 square foot store, versus Amazon's hundreds.
In July, Standard Cognition announced a partnership with Paltac, Japan's leading drugstore supplier. Using Standard Cognition's technology, Paltac plans to open over 3,000 automated stores by the Tokyo Olympics in July 2020.
The company plans to open its first store in the town of Sendai in early 2019.
Disclosed funding: $10.6M
Select investors: CRV, Initialized Capital, Y Combinator
---
CAMERAS + SHELF SENSORS: Zippin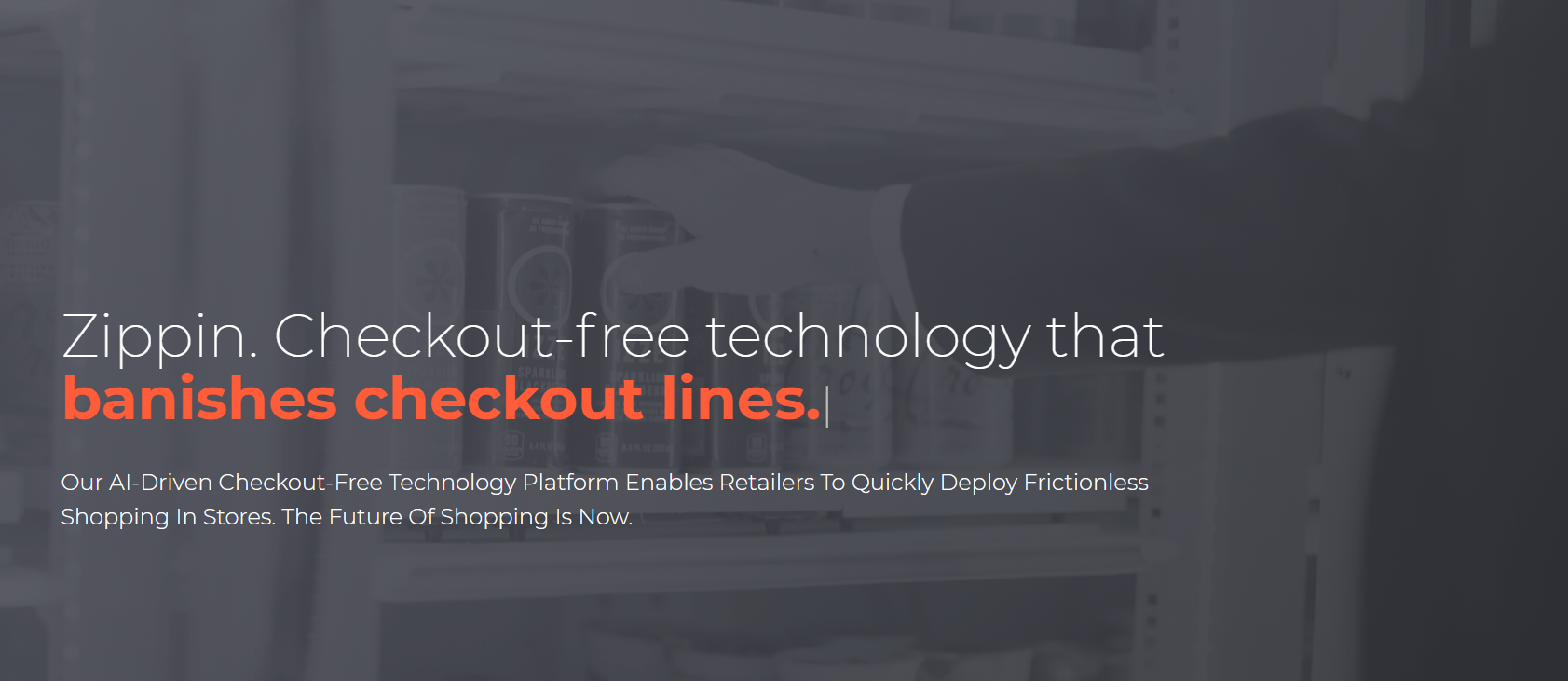 In August 2018, Zippin opened its first store in San Francisco. The human-free convenience store, which mainly sells snacks and drinks, showcases Zippin's technology; but, the startup ultimately aims to follow a B2B model and license its technology to existing retailers.
First, users download Zippin's mobile app, which generates a customized QR code. Shoppers scan the code to enter the store, from which point ceiling-mounted cameras track them as they shop.
To preempt some of the privacy concerns that cashier-free checkout can create, Zippin promises its cameras don't use facial recognition. The cameras monitor shoppers continuously as they move throughout the store, tracking each individual without record facial imagery.
Meanwhile, smart shelves sense when products are picked up and put down, corroborating the cameras' data.
Shoppers scan the custom QR code again to leave the store, and Zippin automatically takes payment through the app.
Disclosed funding: $3M
Select investors: Core Ventures Group, Pear, Montage Ventures
---
SMART CARTS:

Caper Labs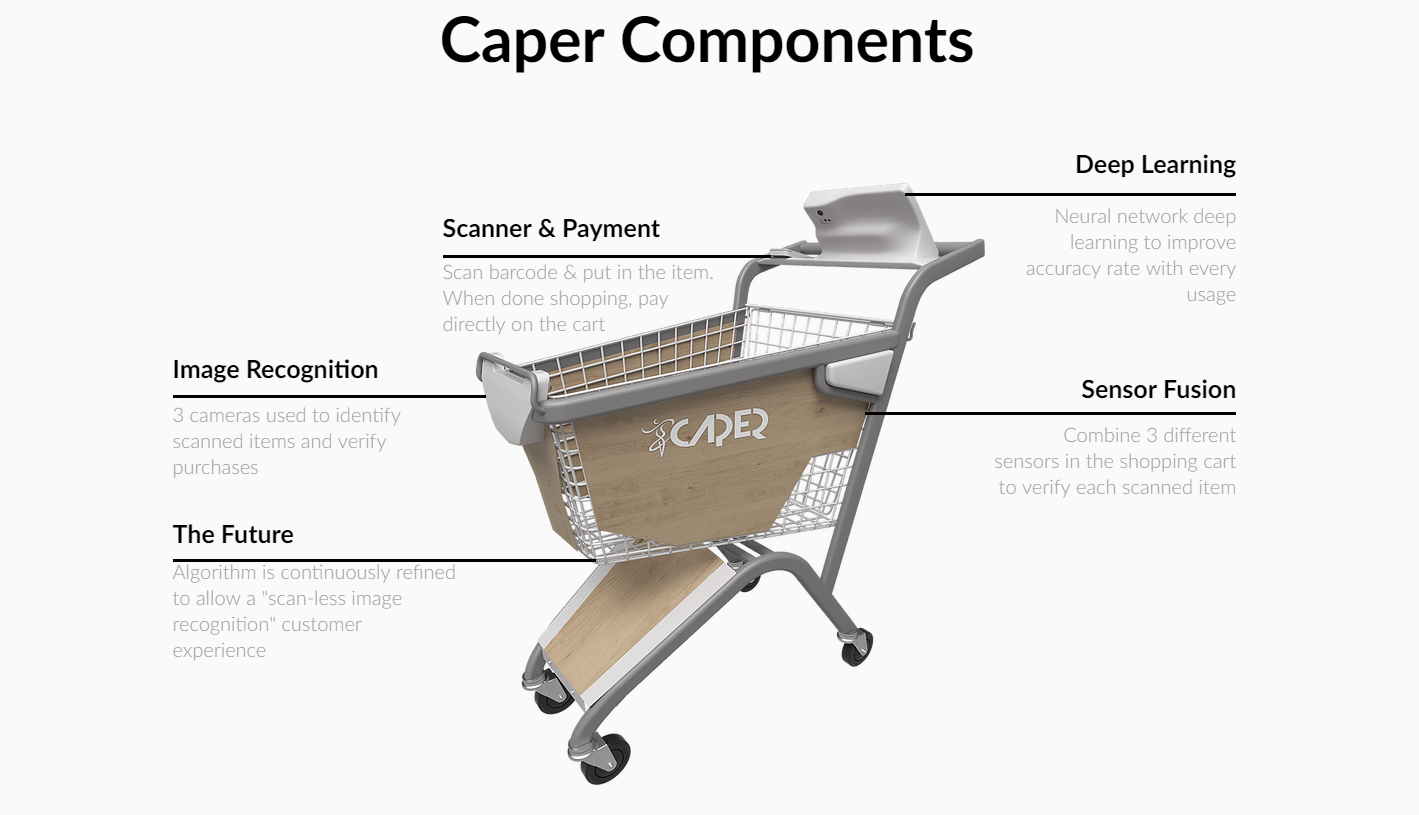 Caper Labs aims to turn the shopping cart into a checkout mechanism.
In its current form, Caper attaches bar code scanners and credit card readers to shopping carts. It hopes shoppers will scan each item as they drop it into the cart, then swipe a credit card to checkout without needing to wait in line or interact with a cashier.
Ultimately, Caper plans to add 3 cameras, 3 sensors, and neural network platforms to each cart to verify product scans and ensure that shoppers pay. Shoppers won't have to download a specific mobile app.
The startup says it will "soon" be available in 30+ locations. It has partnered with NY-area grocery chains including KeyFood and C-Town.
Disclosed funding: N/A
Select investors: N/A
---
THE NEXT-GEN FRANCHISE: Bingobox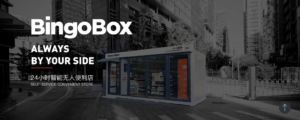 Bingobox operates over 300 automated convenience stores in 30 cities throughout China. It recently revealed contracts with seven city governments in China to continue growing its footprint.
Bingobox's mobile app generates custom QR codes for shoppers, which shoppers scan to enter the store, pay, and exit. Cameras track shoppers through the store, potentially identifying shoplifting as well as inappropriate behavior. Remote employees can also use video livestreams to check in on the stores or chat with shoppers who need help.
Initially, Bingobox tagged all products with RFID tags, and required shoppers to scan each item at a self-checkout station before paying. Now, the startup is building out its image recognition platform, called Fan AI, to automatically identify products and to identify shoppers by face. (And unlike in the US, Chinese shoppers are already used to constant facial monitoring).
Besides shopper convenience, Bingobox emphasizes low costs for franchise owners. The stores are small, with 400-800 items, easy to construct, and can stay open 24/7 with no workforce. By answering customer queries through video feed, and with only 20-40 minutes needed to restock each store, Bingobox promises franchisees they can run 40 stores with 4 employees.
Disclosed funding: $94M
Select investors: GGV Capital, Ventech China, Fosun International
---
BARCODE SCANNING: Xiaomai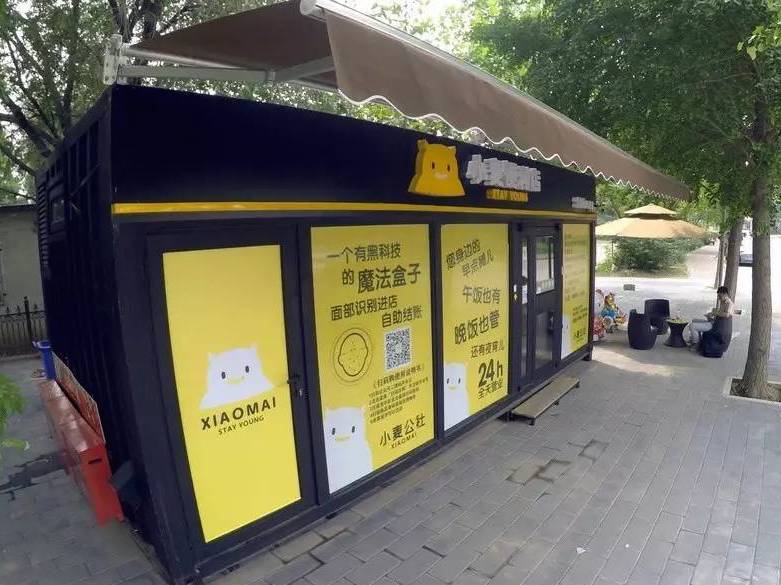 Xiaomai operates fully unmanned convenience stores that require shoppers to scan their phones to enter the store, and scan barcodes on each product to pay. Cameras with facial recognition tools track shoppers through the store.
It operates on the franchise model, and promises franchise owners that low overhead costs and the ability to stay open 24/7 will help them turn a profit more quickly than with a traditional store. Xiaomai also says owners can also offer on-demand delivery from their stores (using human employees). Each store stocks roughly 600 products.
In April 2018, Xiaomai partnered with leading global food service equipment company Welbilt. Welbilt will use Xiaomai to launch, test, and refine new high-speed kitchen equipment.
Disclosed funding: $36.8M
Select investors: Sequoia Capital China, Junzi Capital
---
THE AUTOMATED OFFICE LUNCHROOM: Xingbianli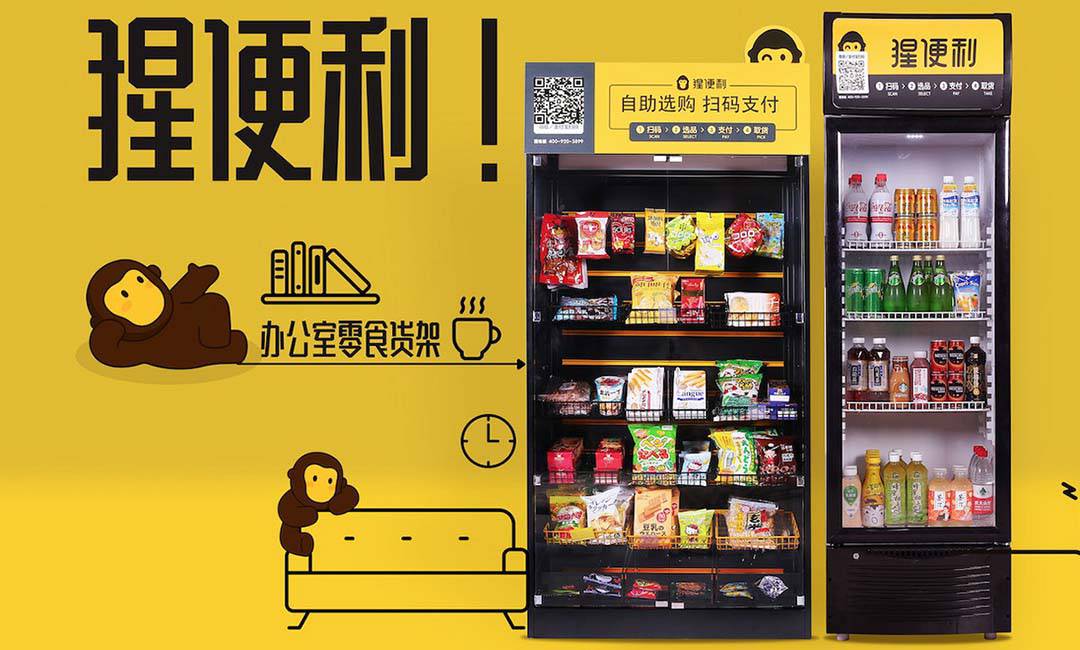 Xingbianli sets up cashier-free snack bars in office buildings as well as fully automated convenience stores.
In its 10K+ office kiosks throughout China, users can pick up and scan products and pay by mobile app.
Xiangbianli has also launched 8 human-free convenience stores in Shanghai. These stores also promise free home delivery in under 25 minutes.
In Oct'17, Xingbianli acquired smaller rival 51 Snackbar, which had previously raised $3M in funding.
Alibaba's Ant Financial joined Xingbianli as an investor in June 2018, and will provide biometric payment technology, among other support, to the company.
Disclosed funding: $72M
Select investors: Ant Financial, Lightspeed China Partners, China Renaissance
---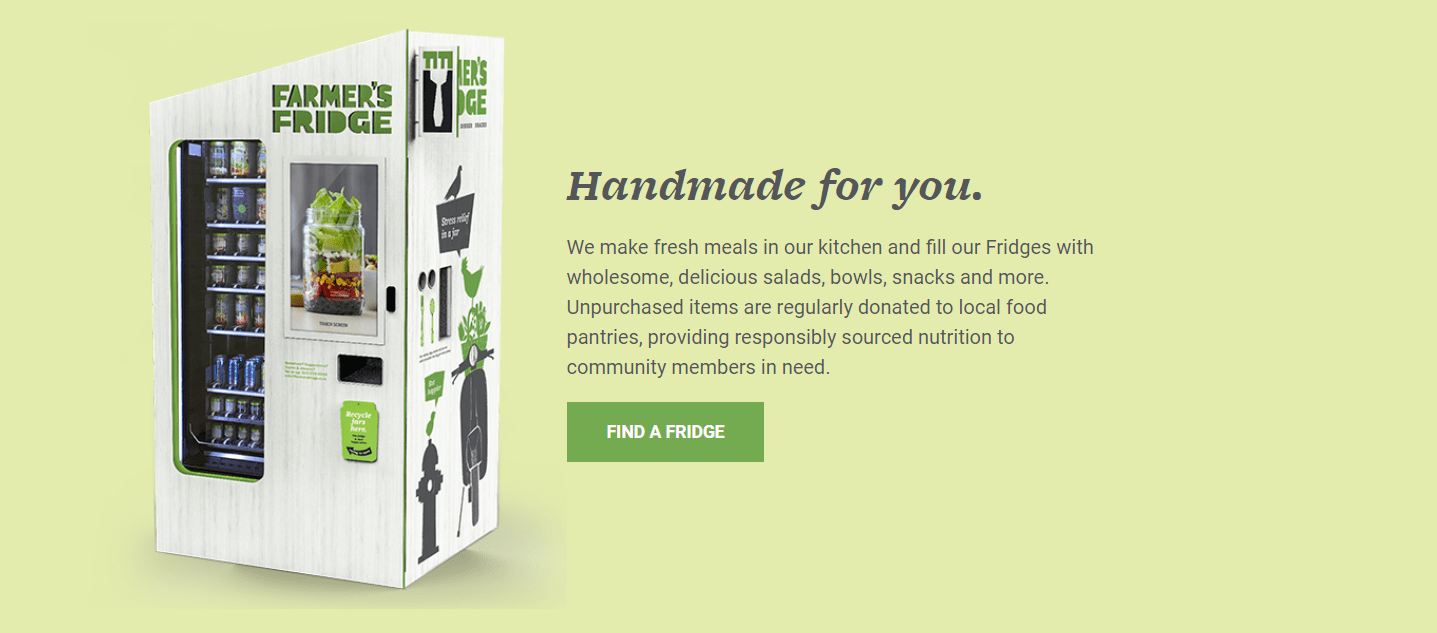 Chicago-based Farmer's Fridge sets up digital salad vending machines in office lobbies, convenience stores, and other high-traffic areas.
Shoppers can pay by credit card or download the Farmer's Fridge app to check inventory, pay, and get discounts.
Its focus on fresh foods puts more logistical pressure on the company than other players on this list. Today, Farmer's Fridge prepares all its food in a centralized kitchen in Chicago, and donates unsold items to food pantries.
Disclosed funding: $49M
Select investors: Cleveland Avenue, Danone Manifesto Ventures
---
AUTOMATED FOOD PREP: CafeX

CafeX sets up standalone kiosks with robotic baristas, offering a cashier-free cafe experience in high foot traffic areas. Shoppers order via mobile app or using a tablet at the kiosk, and a robotic arm prepares and serves the coffee.
Today, CafeX puts a human staffer by each kiosk to make sure everything runs smoothly, but the technology supports cashier-free retail. It currently operates 3 locations in San Francisco.
Disclosed funding: $14.5M
Select investors: Craft Ventures, Felicis Ventures, The Thiel Foundation
---
THE CAR-BASED STORE: Cargo
Cargo puts unmanned points of sale inside ride-sharing vehicles, establishing cars as a sales channel.
It gives drivers boxes to put on their car consoles, which stock snacks, drinks, personal care products, and other items. Riders can download the Cargo app, scan the QR code on the box, and pay through the app to open the box and take items. (The actual item-taking is technically on the honor system).
Cargo gathers user data through its app, which it then passes on to the brands it stocks. Partners include Kellogg's, Burt's Bees, and Advil, among other brands. Certain companies offer free samples through Cargo, prioritizing data-gathering over sales.
Cargo currently works with 12k+ drivers in 10 US cities, and has officially partnered with Uber in the US and Grab in Singapore.
Disclosed funding: $32M
Select investors: Rosecliff Ventures, Fontinalis Partners, Detroit Venture Partners
---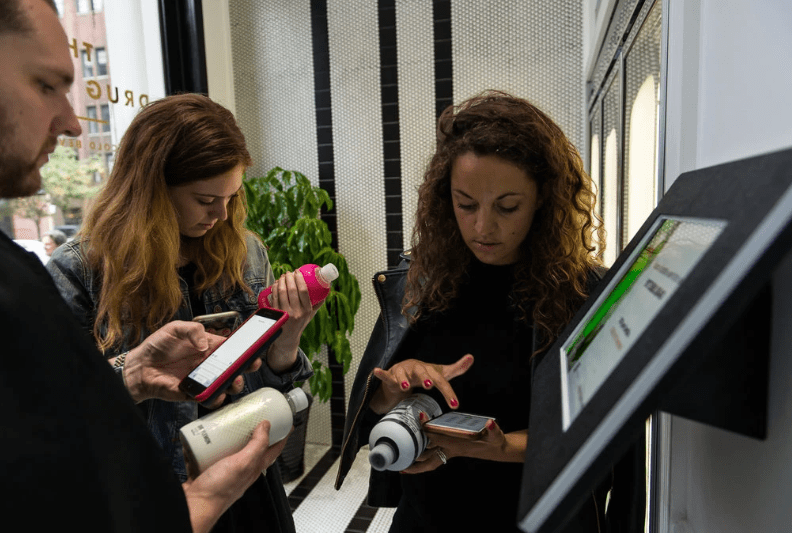 In Sept'18 Dirty Lemon, a direct-to-consumer startup selling herbal beverages, opened a cashier-free pop-up store in NYC.
The store uses the honor system (though there are human staffers watching); visitors can pick up whatever products they like, and send a text message to a special number to pay. Once they send a text message, they receive a link to enter credit card information.
Dirty Lemon told the New York Times it would accept any product losses as sampling costs.
While the store is Dirty Lemon's first brick-and-mortar initiative, the startup has always used text-based shopping. Shoppers use Dirty Lemon's website to register their phone numbers and enter payment information upfront, but must use texting for all orders and re-orders. In May'18, it acquired weather chatbot startup Poncho to take advantage of Poncho's text messaging infrastructure.
The company says it plans to shift nearly all of its $4M annual digital advertising budget toward opening more brick-and-mortar stores. It plans to open at least one more store in New York and two elsewhere, selling products and hosting live events.
Disclosed funding: $0.25M
Select investors: Imaginary Ventures, Burch Creative Capital, Simon Ventures
---
What's next?
While the cashier-less movement continues to attract a lot of attention, models have to prove they can operate consistently at scale in order for adoption to become widespread.
Currently, Amazon Go and other AI-powered unmanned retailers tend to limit the number of shoppers in the store at once. Further testing and refinement will be needed before many retailers feel comfortable adopting these platforms for anything more than pilot programs.
But will shoppers be willing to adjust? Despite the fear of being watched, consumers have generally shown again and again their willingness to accept trade-offs in privacy for convenience. However, some people may be wary visiting unmanned stores. (We note that this ship may have sailed in China, where facial recognition-equipped cameras are already widespread).
Retailers may also fear political backlash from reducing their reliance on human employees; retail salesperson is the most common job in the US today. (We dive into the widespread impact of AI on US jobs here.)
Additionally, the upfront cost of retrofitting existing stores with cashier-free checkout technology may be high. But, just as McDonalds is replacing cashiers with self-service kiosks, retailers may find themselves pushed toward the investment by rising labor costs.
Finally, as we've seen in some of the startups above, the story of unmanned retail is also the story of retail dispersal. As shoppers adjust to various forms of self-checkout, brands can more easily sell products in unexpected places.
If you aren't already a client, sign up for a free trial to learn more about our platform.