Amazon just announced it wants to add 3,000 Amazon Go locations across the US. We take a look at the companies working to bring cashier-less tech to casual convenience stores and other retailers to help them stay relevant.
While cashier-less automation has caught on in China, it has yet to gain as much traction in the US.
But that might be changing.
Amazon has opened four Amazon Go locations this year — three in Seattle, and one in Chicago — after coming out of its testing phase. The e-commerce giant recently announced its goal to open 3,000 more locations across the US by 2021.
The cashier-less stores use cameras, computer vision technology, and smart shelf sensors to track shoppers as they pick up items and walk out without having to go through a checkout line.
Amazon's announcement poses a direct threat to "ordinary" retailers — especially casual convenience stores. But a new crop of startups aiming to democratize cashier-less technology might be able to help them compete.
cashier-less tech startups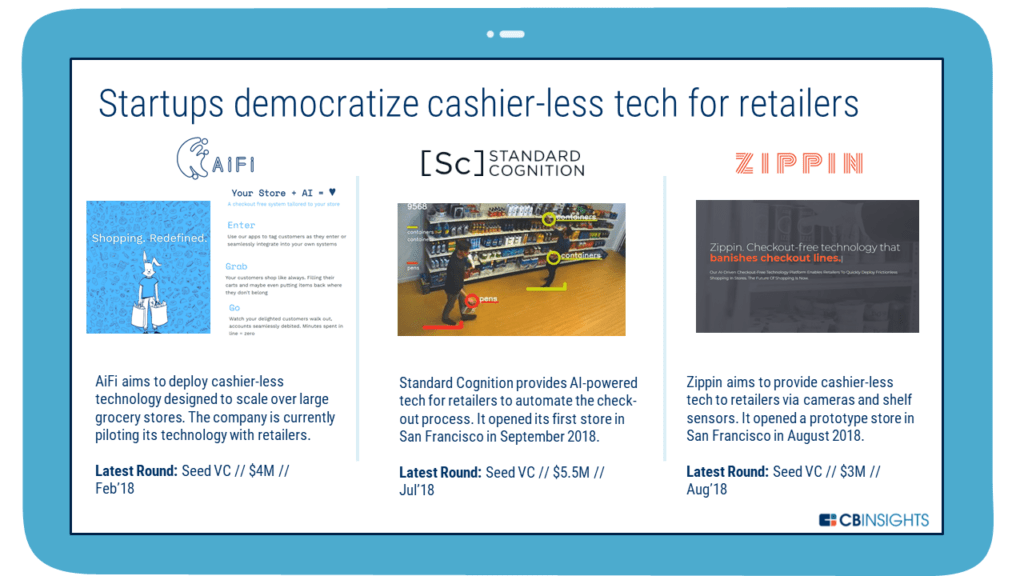 California-based startup AiFi uses similar technology to that of Amazon Go (computer vision, sensors, and AI), but it plans to scale its services to larger retail spaces like grocery stores. The company has reportedly been piloting its technology with various retailers throughout 2018.
AiFi's technology can track up to 500 people at once. Amazon Go's system is optimized for smaller stores of around 18,000 square feet, and tracks far fewer shoppers.
Standard Cognition offers autonomous checkout technology primarily based on cameras and computer vision rather than sensors. The San Francisco-based startup announced a partnership with Paltac Corporation, Japan's largest supplier of fast-moving consumer goods, to outfit 3,000 Japanese stores ahead of the Tokyo Olympics in 2020.
Additionally, the startup opened a brick-and-mortar location called Standard Market in San Francisco to showcase its technology to the public and potential clients.
Zippin also opened a prototype store in San Francisco in August 2017. Unlike Standard Cognition, Zippin relies more heavily on shelf-based sensors to detect when customers have picked up items in a store.
what's next?
Retailers are concerned about the rise of cashier-less technology.
After abandoning a scan-and-go cashier-less experiment, Walmart is now rumored to be in talks with Microsoft to leverage its cashier-less technology.
If existing partnerships like the one between Standard Cognition and Paltac prove beneficial, we may see more retailers seek out cashier-less startups to directly compete against Amazon Go.
If you aren't already a client, sign up for a free trial to learn more about our platform.