Carbon Robotics plans to use the Series B funding to scale product production. Here are the top-line bullets you need to know.
Carbon Robotics, an autonomous agricultural robot firm, has raised $27M in a Series B. The round drew participation from Anthos Capital, Ignition Partners, and Voyager Capital, among others.
How's the company performing?
Washington-based Carbon Robotics' autonomous agricultural robot destroys weeds, with the help of AI and laser technology, to reduce pesticide use.
The company has seen over $20M in bookings.
Farms using Carbon Robotics' laser-weeding technology include Mercer Ranches, Taylor Farms, Triangle Farms, Grimmway Farms, and Carzalia Valley Produce, among others.
The company states that its 2021-22 models are sold out, and it has started to accept orders for 2023.
Carbon Robotics recently launched its Autonomous Weeder, which it claims can eradicate 100,000 weeds in an hour.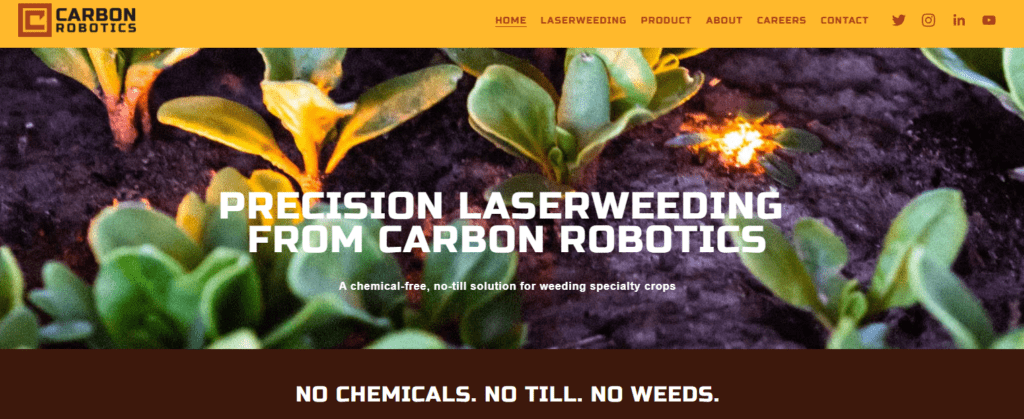 Source: Carbon Robotics
Why does the market matter?
The global agritech market is projected to grow at a CAGR of 11.3% and reach a value of $41.17B by 2027, according to The Insight Partners.
Increasing population count, technological advancements, and climate change are some of the factors fueling the growth of the agritech industry. The pandemic has emphasized the need to adopt technology across agricultural sectors to ensure food security and increase yield.