Funding to CCUS startups is expected to more than triple in 2021 as industrial companies move to reduce emissions. We take a look at what's driving the boom and where investors are placing their bets. 
Emissions saw the largest-ever historical decline in 2020 as the pandemic halted global economic activity. But as the world reopens, emissions are expected to rebound to 2019 levels and hit 400 Mt CO2.
Companies — particularly those in the energy, transportation, and chemicals sectors — are facing new government policies that require higher levels of emission cuts on shorter timelines. For example, in June, EU countries approved a law to reduce net EU emissions by 55% from 1990 levels by 2030 — previous laws only aimed to cut 40% within the same timeframe. 
To achieve these ambitious goals, corporates, VCs, and other investors are funding and collaborating with companies in the carbon capture, utilization, and storage (CCUS) space. CCUS funding is currently on track to reach nearly $1.1B in 2021, more than 3x the total funding raised in 2020.  
download the 12 Tech Trends To Watch Closely In 2022 report
Download our full report to find out the top trends poised to reshape industries in 2022.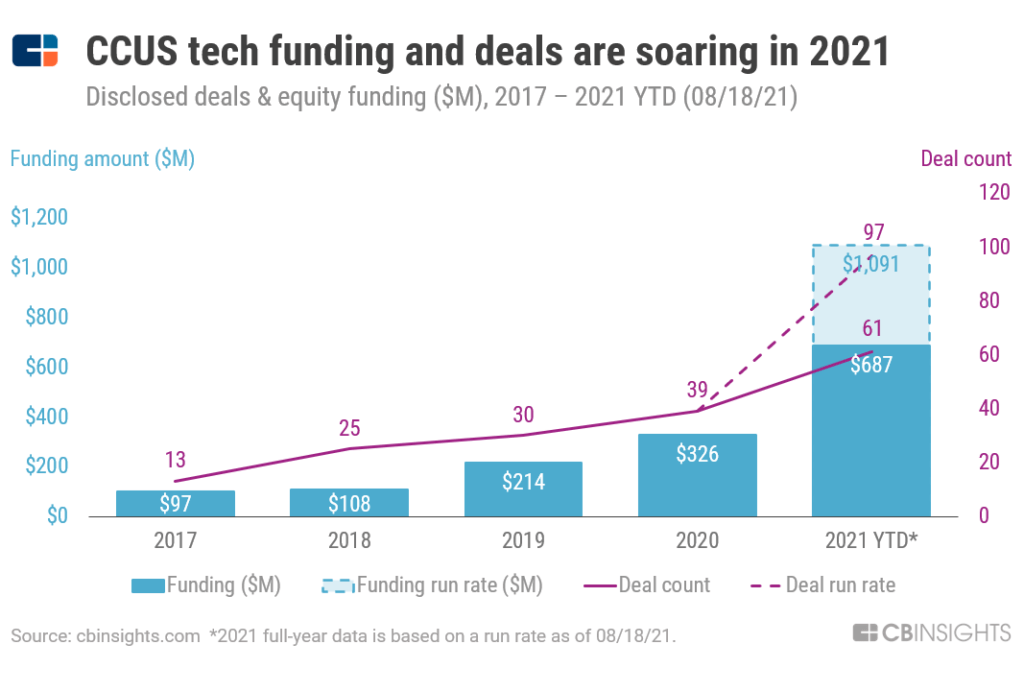 In this brief, we'll look at:
The topline findings & implications for this growth

The market drivers underlying this boom

And the categories receiving the most attention
For more, click here to learn how to get access to CB Insights.
Track all of the carbon capture, utilization, and storage (CCUS) companies in this report and more on our platform
Companies innovating in the carbon capture, utilization, and storage (CCUS) space. Also includes emissions tracking tools, carbon offset marketplaces, and startups reinventing manufacturing processes to eliminate emissions.
Track Carbon Capture, Utilization, and Storage Companies
Topline findings & implications
The CCUS sector stands to grow rapidly in the coming years. Here are the topline findings and implications related to the recent surge in CCUS tech funding:
Continue to monitor developments in policies regarding emissions, carbon pricing, and alternative energy, as they could provide financial and institutional support for the adoption of CCUS tech. One example of a supportive policy is the 45Q tax credit, which subsidizes the cost of carbon capture.
Expect the demand for fuels, construction materials, and other materials made from emissions to increase as larger players in the space, like LanzaTech and Solidia, are rapidly establishing partnerships and raising bigger funding rounds to commercialize and implement their tech.
Look out for improvements in emissions tracking, management, and offset software, particularly in regard to more granular scope 3 emissions (indirect emissions from, for instance, business travel). Greater adoption of this software could reveal which companies have created better toolsets for tracking and handling emissions. Implementing top-tier software solutions could give corporates a competitive advantage over peers, particularly as new emissions-limiting policies are passed and reporting requirements are raised.