With climate imperatives intensifying, corporates across industries are turning to these platforms to manage their emissions. Here are the top-line bullets you need to know.
Today, 80% of the top-earning companies globally report on sustainability, an issue that many previously considered optional. Now, as many major corporations work to achieve carbon neutrality goals, they are seeking out platforms that can help monitor, manage, and offset their carbon emissions.
So far this year, carbon accounting and offset marketplaces have raised almost $100M in equity funding across 15 deals — both record highs — to meet the rising demand from corporates looking to manage their emissions.
Persefoni, for one, raised a $9.7M Series A in April 2021 to scale its AI-powered carbon accounting and reporting platform. Also in April, carbon offset marketplace Pachama raised a $15M Series C round from investors including Amazon, Breakthrough Energy Ventures, and Lowercarbon Capital. The company was highlighted in Jeff Bezos' recent letter to shareholders as a part of Amazon's Climate Pledge Fund.
Below, we examine why the space is heating up and what to expect next.
Our analysis includes companies in the Emissions Tracking & Management and Carbon Offset Tech & Marketplaces categories in the Carbon Capture, Utilization, and Storage (CCUS) Expert Collection.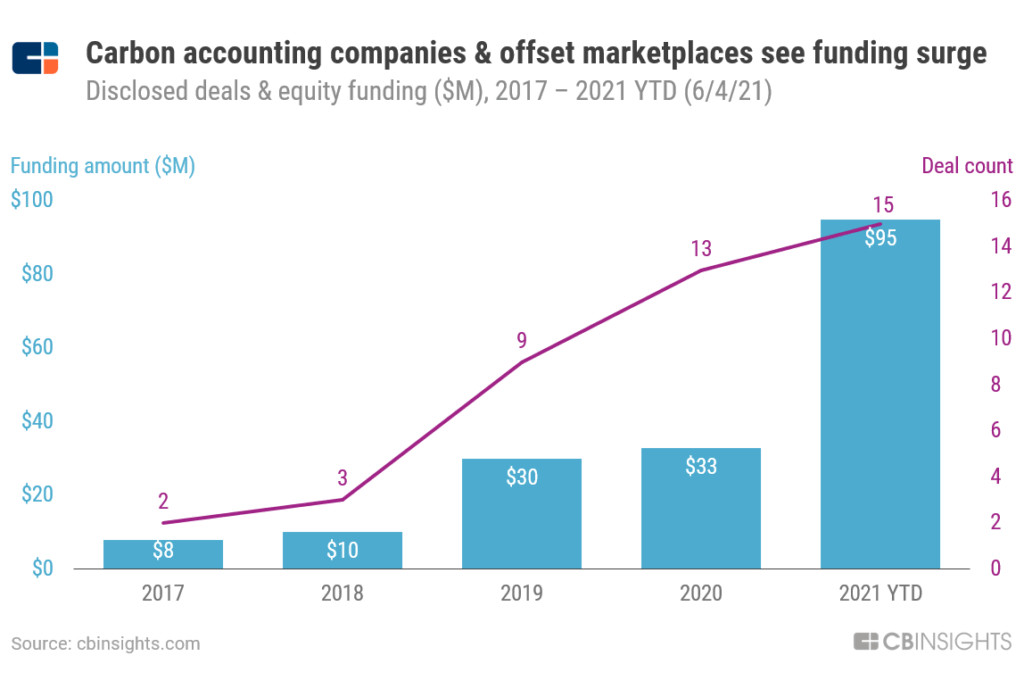 What you need to know: