We map out the key connected vehicle components that will help cars communicate with the outside world, seeing beyond their own sensors and enabling true autonomous driving.
As driver assistance and autonomous driving technology grows more advanced, cars are relying on a growing number of sensors, from commonplace radar and cameras, to slightly more costly technology such as lidar.
But these sensors all face an unavoidable problem: they're limited to the vehicle's own line of sight.
Vehicle-to-everything (V2X) technology could potentially change that within the next several years.
Utilizing wireless signals from nearby connected devices, including other cars as well as sensors on infrastructure and even smartphones, V2X systems allow cars to see beyond their line of vision, enabling them to more quickly and accurately identify, detect, and predict the actions of oncoming vehicles.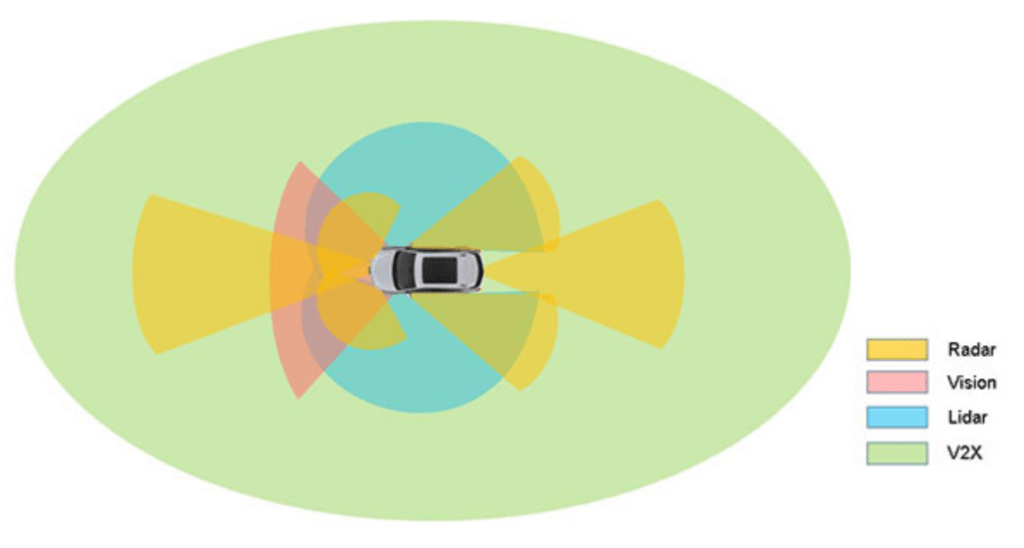 This provides an added layer of safety, a critical feature for driver assistance and fully autonomous driving technology.
In addition to safety, V2X communication has the potential to drive efficiencies across the entire transportation ecosystem. Better vehicle communication and navigation could help re-route drivers around detours and traffic jams, and even help decrease traffic overall, which would ultimately lower fuel consumption.
While V2X systems are still in very early stages of testing, chatter about the technology has picked up over the past year, as automakers, Tier-1 suppliers, and tech firms believe that the technology holds substantial promise.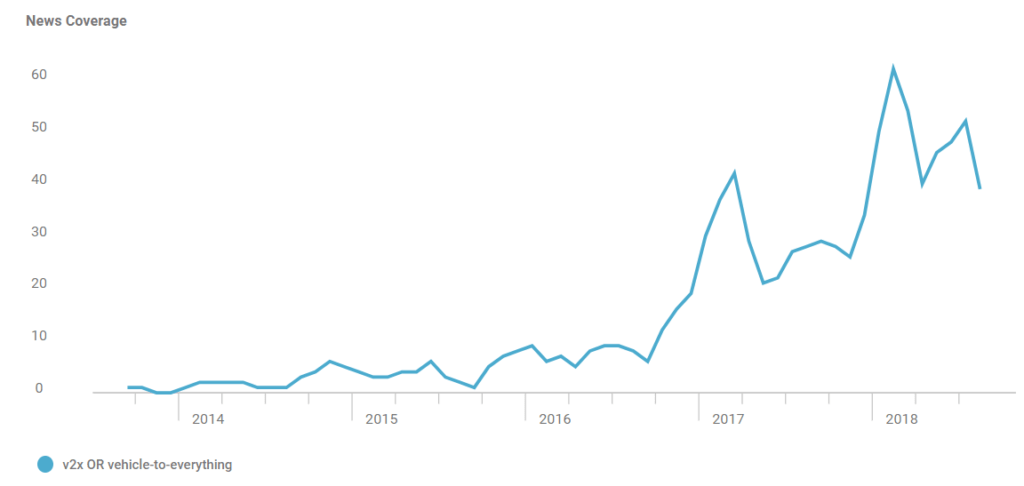 In this brief, we break out the major in-vehicle components that form the building blocks for V2X systems. 
TABLE OF CONTENTS
What is V2X technology?

The wireless networks that will support V2X
The in-vehicle components of a V2X system

Detecting and transmitting data to the car

New antenna mounting hardware
"Smart" antennas
Improving signal accuracy and reliability via digital beamforming (DBF) and beam steering

Processing signal information

Silicon alternatives for improved chips

Connectivity network infrastructure
Securing V2X communications
Winning technologies will prioritize compatibility
What is V2X technology?
V2X technology enables the wireless exchange of data between a car and its surroundings, providing connected devices across the transportation ecosystem with a live feed of what's going on around them.
In the cars themselves, V2X systems complement traditional automotive line-of-sight sensors. The technology also equips the car with information about road hazards, traffic jams, and oncoming blind spots outside the vehicle's field of vision.
V2X communication also sets the stage for true smart cities, as connected points of infrastructure equipped with real-time traffic data can collect valuable information for city management, and in some cases, connected infrastructure can dynamically adjust to optimize flow of traffic (e.g. traffic lights adjusting timing based on congestion). 
The V2X umbrella includes a number of different types of communication:
Vehicle-to-vehicle (V2V) technology allows vehicles to communicate with one another, providing safety warnings such as upcoming road hazards or oncoming cars in a blind spot.
Vehicle-to-infrastructure (V2I) communication occurs between cars and roadway infrastructure such as traffic lights and road signs. A car's in-vehicle V2X system connects to sensors on an infrastructure's roadside unit (RSU), or a device that contains connectivity technology such as antennas, receivers, and processors. This allows for more efficient traffic management and also provides drivers with additional safety information.
Vehicle-to-pedestrian (V2P) technology allows a vehicle's V2X system to detect pedestrians via smartphones or other connected personal devices. This technology helps prevent accidents and fatalities involving pedestrians on the road.
Vehicle-to-device (V2D) technology involves the exchange of data between vehicles and other devices connected to the internet, such as fobs used for keyless cars.
Combined, these signals allow a vehicle to more comprehensively assess its surroundings and enhance the efficiency of a city's transportation system.