The funding will help Capchase launch new products and expand geographically. Here are the top-line bullets you need to know.
Capchase, a provider of non-dilutive financing, has raised $80M in a Series B. The round drew participation from 01 Advisors, Invesco, QED Investors, SciFi VC, Thomvest Ventures, and Tusk Ventures, among others.
HOW'S THE COMPANY PERFORMING?
New York-based Capchase helps firms transform recurring revenue into growth financing. This enables companies to borrow capital without depleting cash reserves, acquiring debt, or giving up company equity.
The company has provided over $2B in financing to nearly 3K customers across the US and Europe. The company's business reportedly grew by 2,300% in 2021.
The company recently launched 2 new products — Capchase Extend, a buy now, pay later (BNPL) solution for businesses, and Capchase Earn, a high-yield account for depositing idle funds.
The startup is supported by a team of 106 employees located across 12 global cities.
Capchase currently operates in 11 international markets across North America and Europe, including the US, the UK, Spain, the Netherlands, Finland, Belgium, Sweden, and Denmark. About 25% of its business is based in Europe.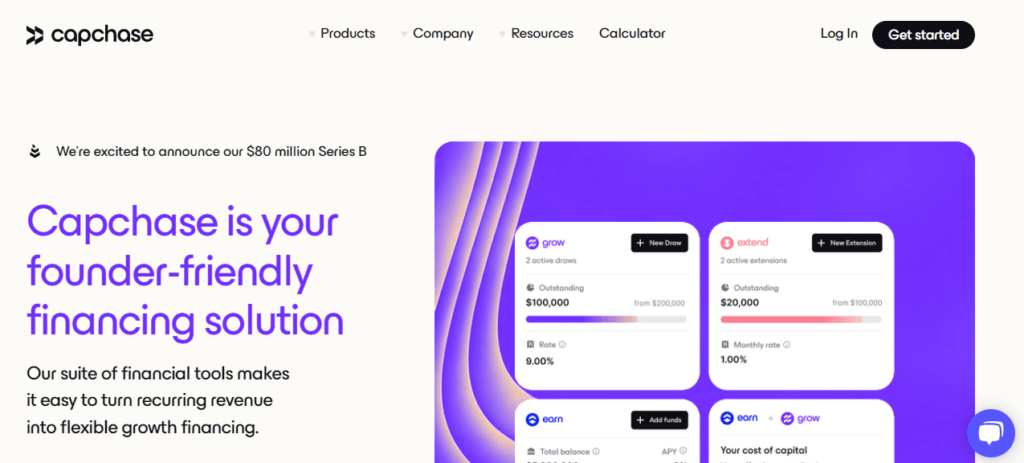 Source: Capchase
WHY DOES THE MARKET MATTER?
The global revenue-based financing market is expected to reach a value of $42.4B by 2027, growing at a CAGR of 61.8%, according to Allied Market Research.
Startups are looking to obtain growth capital more quickly, which has contributed to growth in this market.
Companies increasingly turned to alternative financing options amid pandemic-induced financial downturn.