Market Map
These 200+ companies are shaping the future of the legal cannabis industry, from e-commerce platforms to new food & beverage offerings.
After a revolutionary year of legislative change and record-level equity investment, cannabis and hemp-CBD continue to be in vogue for the media, the public, and investors.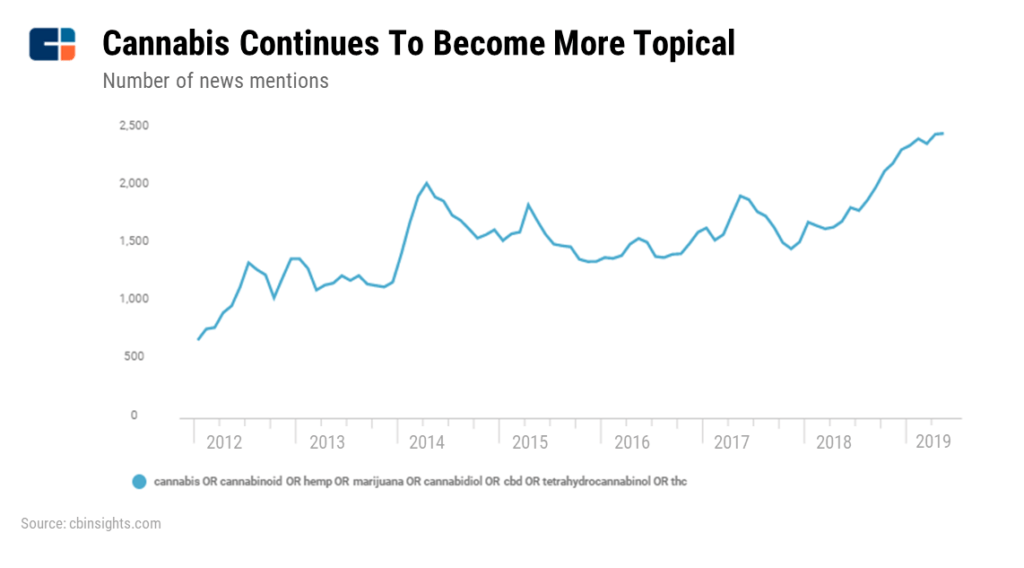 In the first five months of 2019, cannabis-related startups raised more than $1.3B across 160 equity deals, compared to $590M over 127 deals during the same time frame last year.
Below, we highlight 200+ startups to watch in the growing space.
Market map
We used CB Insights data to identify over 200 companies operating in or servicing businesses in the legal cannabis industry. We categorized them into a market map spanning 12 tech categories (including payments & personal electronics) and 7 non-tech categories (such as food & beverage).
Included in the map below are the industry's most well-funded and most highly-valued companies, such as unicorns PAX ($1.7B valuation) and Ginkgo BioWorks ($1.3B), as well as other newsworthy companies like dosist, Seed Technology, Ceria Brewing Co., and more.
The map is not meant to be exhaustive of companies in the space and categories are not mutually exclusive. More companies can be found in our comprehensive Cannabis Collection.
Please click to enlarge.