Impact Biomedicines' exit this week for a whopping $7B is the largest since AbbVie's $10B+ acquisition of Stemcentrx in 2016. In all, 14 cancer therapy companies have exited for over $1B since 2014.
Celgene's acquisition of Impact Biomedicines for up to $7B marks another big cancer therapy exit as pharma acquirers jump into the space.
After a $22.5M Series A financing in October 2017, the company exited merely 3 months later.
After acquiring full rights for a key drug (fedratinib) from French pharma giant Sanofi, Impact has been trying to prove the drug's clinical efficiency in blood cancers. Pending its approval by the FDA and sales performance, Impact could help improve Celgene's sales growth. Celgene has had to lower sales estimates due to slower-than-expected revenue growth.
We used the CB Insights platform to analyze the top exits in cancer therapeutics in the last 5 years. Only first exits were included. Valuations at exit are dependent on companies achieving certain milestones before the full amount is received.
We define the cancer drug startup space to include pharmaceutical and biotech companies in the drug discovery and/or development phase with a stated focus on cancer therapeutics. We exclude areas such as medical devices & diagnostics (e.g. instrumentation, delivery systems), genetic testing platforms, and digital health.
Track all the Cancer Therapeutics Startups in this brief and many more on our platform
Startups working on the discovery and development of cancer therapeutics could transform the landscape of future treatments. Look for Cancer Therapeutics in the Collections tab.
Track Cancer Therapeutics Startups
TOP cancer therapy exits
Stemcentrx, which developed drug therapeutics to target cancer stem cells, remains the leading cancer therapy exit. It was bought by Abbvie for $10.2M in 2016.
This acquisition followed $200M+ Series F and Series G mega-rounds to the company between 2014-2015. It also made Stemcentrx the most well-funded company to have exited in this space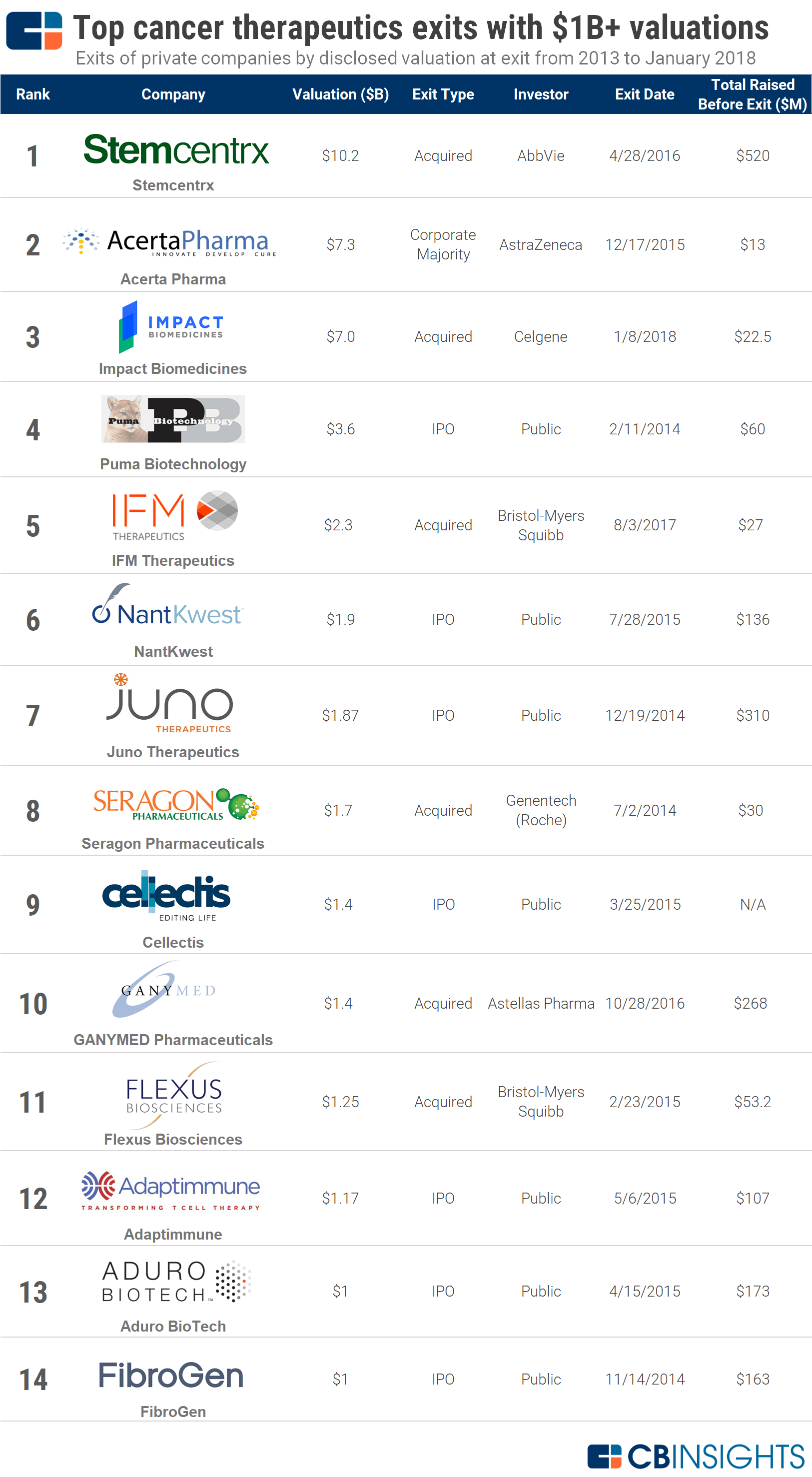 The top 4 exits in this space based on exit valuations went to non-immunotherapy companies. However, 8 of the top exits from our table were of immunotherapy-based drug companies, including Juno Therapeutics, Cellectis, and NantKwest. These 3 specifically focus on using CAR-T (Chimeric Antigen Receptor T-cell) technology to attack cancer.
Also notable are the early exits. Along with Impact Biomedicines, 3 other companies exited early after raising Series A financing: Seragon Pharmaceuticals, Adaptimmune, and IFM Therapeutics.
IFM, which develops small molecules to activate natural immune responses, was acquired by Bristol-Myers-Squibb (BMS) for $2.3B.
BMS also ended up acquiring the immuno-oncology pipeline of Flexus Biosciences for $1.25B. The acquisition came only 2 months after raising $38M Series B from Kleiner Perkins Caufield & Byers, Celgene, and The Column Group.
If you aren't already a client, sign up for a free trial to learn more about our platform.