Microscopic "molecular drills" could deliver drugs to, or destroy, diseased cells – potentially forging a new path to targeted cancer treatment.
For cancer patients, aggressive treatment options like chemotherapy and radiation can come with severe side effects, including extreme nausea, compromised immune systems, and long-term organ damage. This is largely because some of the most common and effective cancer treatment regimens attack cancerous and non-cancerous cells indiscriminately.
Researchers have long sought alternative treatments capable of killing cancer cells while leaving healthy cells alone. Now, a team of scientists from Rice, Durham, and North Carolina State Universities may have uncovered one: A new innovation uses light to activate microscopic "nanomachines" that can drill into individual cancer cells. Once these nanomachines pierce a cell, they can release cancer-killing drugs or attack the cell membranes, inducing the cell to die by a process known as necrosis.
The research could represent a huge step forward for non-invasive cancer treatment, delivered in an extremely small package: The nanomachines are so tiny, you could park 50,000 of them end-to-end across the diameter of a human hair.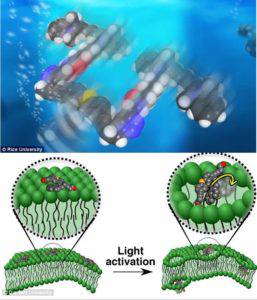 Nanomachines themselves are a fairly new development. Just last year, the Nobel Prize in Chemistry was awarded to the researchers who created the first nanomachines – essentially tiny electric drills a few thousand times thinner than the strand of a single hair and made out of molecules.
Drs. James Tour of Rice, Robert Pal of Durham, and Gufeng Wang of North Carolina State  – who collectively led the new nanomachines research – all hail from the chemistry field as well. Their team based its work on the Nobel-winning designs, but at an even more microscopic scale.
The cancer-killing technology leverages nanomachines (or "motorized molecules") and engineers them to selectively target cancerous cells based on a sensitivity to certain proteins of the compromised cells. Even before UV light is applied, the motorized molecules can adhere themselves to diseased cells through "adsorption."
The nanomachines remain affixed to the surface of the diseased cells until the light activation makes the cell permeable. Once activated by ultraviolet light, the nanomachines burrow through cell linings using a system of rotors and stators.
The nanomachines can then drill through the cell membranes at a speed of up to 3 million times per second. (This high a speed is required to outpace "Brownian motion," which is the erratic movement that takes place among microscopic particles suspended in fluid.)
From there, the cancer cells can be killed in one of two ways: The nanomachines can inject chemical agents to destroy it, or they can repeatedly pierce the cell to blast open tumorous membranes until the cell dies by necrosis.

In one test, it took just 60 seconds for a nanomachine to pierce the outer shell of a prostate cancer cell with dozens of tiny holes; overall, it took 1-3 minutes to destroy the cell by necrosis. 
"Once developed, this approach could provide a potential step change in non-invasive cancer treatment and greatly improve survival rates and patient welfare globally," says Dr. Robert Pal of Durham University.
The cancer-killing nanomachine research remains far from clinical application, but has so far been successful in lab tests on human and animal cells. (Further testing on microbes, small fish, mice, and rats would precede any human trials.)
The researchers' ambition is to ultimately use light-activated nanomachines to target common cancer cells – such as those in breast tumors and skin melanomas – as well as cells that are more resistant to chemotherapy.
Much further down the road, nanomachines could potentially be utilized in other areas of healthcare and treatment; for example, some scientists say the technology could be used to heal or repair cells that don't naturally heal or are difficult to repair (such as nerve cells or heart cells).
Nanomachines will also have applications well beyond medicine. For example, molecular machines could be used to create "smart materials" that can store energy or expand and contract like muscles: In first-generation tests, 3D printing and nanomachines created smart materials capable of lifting a dime weighing 2.268g. The coin, which was 15 times the weight of the smart material that lifted it, was raised 1.6 millimeters; that scale is equivalent to a human being lifting a car. This futuristic scenario could have potentially broad implications for heavy industry and manufacturing.
To learn more about the molecular motor research discussed in this piece, check out the video below.
---
The original research 'Molecular machines open cell membranes' was published in the scientific journal Nature. Full information is available here.
If you aren't already a client, sign up for a free trial to learn more about our platform.