As deals to the cancer therapeutics space hold steady, immunotherapies are increasingly shaping the future of cancer treatment.
In the cancer and biotech space, immunotherapies — which engineer the body's own immune system to fight cancer — have been gaining traction.
And as regulators begin to open the gates for these kinds of therapies to be applied more widely, new treatments are moving beyond experimental trials. For example, in August, the US Food and Drug Administration approved a new CAR T-cell immunotherapy for the treatment of children with a certain type of leukemia.
Immunotherapies have drawn investment from a range of healthcare investors, helping to drive up deal activity to cancer startups overall.
For example, in the first quarter of 2017, among 62 companies drawing funding rounds for cancer therapeutics, 31 of them or 50% were working in immuno-oncology.
Using CB Insights data, we analyzed funding trends for cancer therapeutics startups from 2013 through 2017 YTD.
We define the cancer drug startup space to include pharmaceutical and biotech companies in the drug discovery and/or development phase with a stated focus on cancer therapeutics. We exclude areas such as medical devices & diagnostics (e.g. instrumentation, delivery systems), genetic testing platforms, and digital health.
annual financing WITH IMMUNO-ONCOLOGY IN THE SPOTLIGHT
This year, immuno-oncology startups have raised a significant portion of funding to the cancer therapeutics sector, with rounds including a $75M Series B by Forty Seven and a $93M Series B by Gritstone Oncology.
Overall at the current run rate, deals to broad cancer therapeutics startups are on track to reach over 200 by year end, on par with deal count over the past three years. That uptick would represent 1.5% growth in deal activity year-over-year.
In contrast, disclosed equity funding is on track to drop 9% from the 2016 high of $4.5B, the first time annual dollars have dropped since 2013.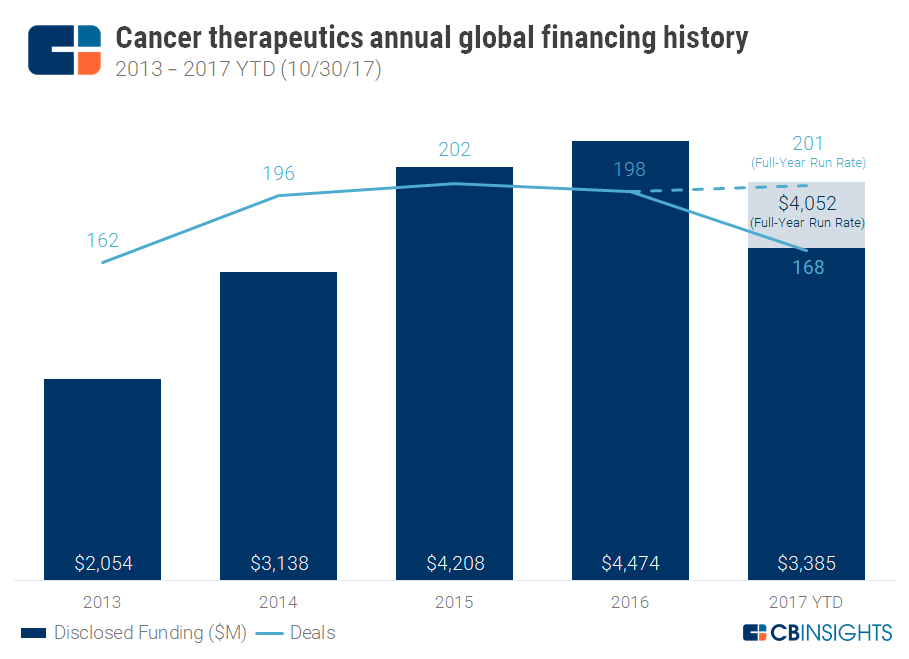 A few $100M+ mega-deals contributed to last year's funding high.
Moderna Therapeutics, which creates vaccines for cancer treatment, raised a $474M Series F in Q3'16. Additionally, ADC Therapeutics, which makes Antibody Drug Conjugates (ADCs) that track down cancer cells and deliver toxic drugs to them without harming healthy cells, raised a $105M private equity round in Q4'16.
This year has also seen notable deals to stem cell research companies like Gamida Cell (which has raised an aggregate of $74M in disclosed funding in 2017), as well as to cancer-focused biotech startups like Rubius Therapeutics, which develops Red-Cell Therapeutics (RCTs), and Orbis Health Solutions, which is developing therapeutic vaccines that aggressively target cancer cells.
Track all the digital health startups in this brief and many more on our platform
Startups working on digital health have the potential to change how medical care is practiced and delivered. Look for Digital Health in the Collections tab.
Track digital health startups
deal stage trends 
Early-stage deals (seed / angel and Series A) to cancer startups reached a peak in 2015, accounting for 46% of all deals globally. Since then, early-stage deals have fallen, making up only 35% of the deals in 2017 YTD.
Over the same period, mid-stage deals (Series B & C) grew from 19% to 30% — a trend that likely signals a decline in early-stage companies crowding the space as investor interest turns increasingly toward more established cancer therapeutics companies.
Recent mid-stage deals in the cancer therapeutics space include an $80M Series C round raised by Autolus in September. The London-based company is currently conducting clinical trials for its CAR-T therapy, which alters a patient's own immune cells to better attack cancer cells.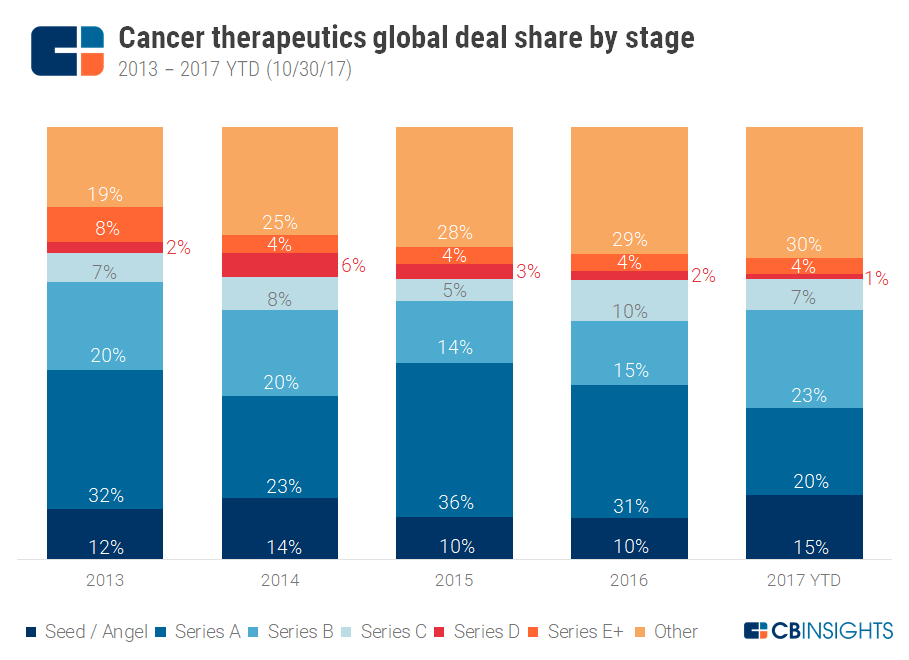 Global deal share trends
The United States has accounted for the bulk of deals to cancer therapeutic startups, claiming 70% of global deal share since 2013.
Within the US, California leads with 31% of deal share by state, with the largest US cancer therapeutics deal of 2017 YTD going to Palo Alto-based BridgeBio Pharma in a $135M Series C. Massachusetts follows at 18%, while Texas comes in third place with 6% of deal share.
After the US, the UK accounts for 7% of cancer therapeutics deals, including rounds to to UK-based companies Immunocore (with $364M in total disclosed funding) and Kymab ($199M).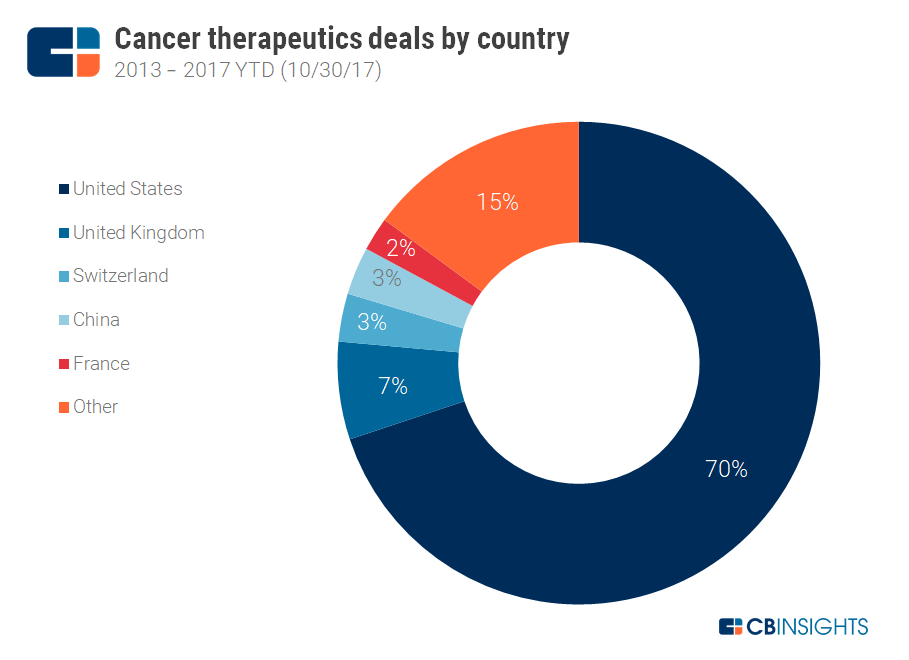 Switzerland and China tie with 3% of deal share apiece. Swiss company NovImmune raised a $31M Series C in Q2'16, while China's CStone Pharma raised a hefty $150M Series A in Q3'16 to support its development of drug therapies targeting cancer, arthritis, and blood, heart, and autoimmune diseases.
Outside of the top-3 cohort of countries, German biopharmaceutical startup CureVac has raised $434M in total disclosed funding to reach a unicorn valuation of $1.7B.
If you aren't already a client, sign up for a free trial to learn more about our platform.