The head of computing at Google's anti-aging research firm envisions data as a key tool to expand personalized medicine — and maybe eventually extend human life.
Calico Labs — a Google R&D spin-out studying the "trajectory of aging" — is doing some of the most interesting cancer and biotech research of any organization out there, and has many people wondering whether Calico may be Google's first foray into the healthcare delivery business.
But Daphne Koller, Calico's Chief Computing Officer, doesn't see it that way.
Speaking at the A-ha! Conference on December 12th in San Francisco, Koller told moderator Lizza Dwoskin of The Washington Post that she envisions a future in which care and treatment will still be delivered by physicians and pharmacies — not by Google.
The difference will be that patients will receive more uniquely tailored care, thanks to the power of digital information.
"The hope is that data will inspire what care is delivered, so that it's no longer one-size-fits-all," said Koller.
Because "our genomes are different, and our lifestyles are different, and our diets are different," Koller envisions that treatment plans in the future will be more targeted — and effective.
And as she puts it, "it will take big data to figure that out."
That said, Calico Labs isn't in the business of big data for human-specific healthcare just yet. For now, Koller and colleagues are focused on understanding mammalian aging processes.
With a current study on mice, for example, her team is seeking to better understand the ways that the "aging trajectory" is affected by genetic, environmental, and behavioral factors, with diet being a key area of current research.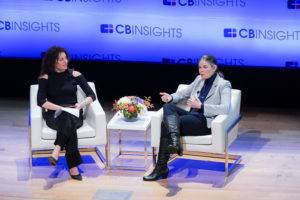 According to Koller, the mice study is one of the largest aging experiments ever done: the Calico team has grouped 750 mice into 5 different "caloric bands" of dietary restriction, and is studying them all from life to death.
By studying every element of the mice's biological response to caloric restriction over time, the team is seeking to understand if and how dietary changes alter the biological aging process.
Another project in the works examines aging at the cellular level, investigating the mechanisms that cause yeast to become less effective at metabolizing proteins and when these mechanisms emerge.
The projects both fit into Calico Labs' broader vision to understand if aging is a set "path" for everyone, or if it's possible to reroute the GPS by making certain changes along the way. Koller asks,
"What is the aging trajectory? Is it that beings that die early simply complete it sooner? Or are there interventions that can alter the course? Are there bifurcation points? How many forks in the road are there? What are the triggers?"
As Calico works to answer those questions, the startup is staying fairly quiet about its findings. That's not a "stealth startup" tactic, according to Koller, so much as a preference to "talk about work once it's complete." It's also a reflection of how long it takes to conduct aging-related research.
Nonetheless, the perceived secrecy is only heightening the questions around Calico's research mission. Some view its anti-aging aims as problematic: aging may be universal affliction, but not everyone views it as a global health problem.
However, because Calico is focusing on developing better therapeutics to enhance — and possibly extend — human life, Koller says she views the company's work as a worthwhile endeavor toward solving a societal problem.
Ultimately, she says, it's "going to help everybody."
If you aren't already a client, sign up for a free trial to learn more about our platform.