Market Map
With competition mounting, these companies are expanding the alternative financing model across different regions and commerce categories.
Buy now, pay later (BNPL) companies — which offer online and in-store financing options at the point of sale — are emerging across the globe and gaining momentum with investors. So far in 2021, BNPL players have already set an annual funding record with over $2.1B in equity funding across 20 deals.
The BNPL market is growing beyond typical e-commerce categories like apparel & beauty into sectors including healthcare, travel, entertainment, and home improvement. Read about the BNPL market landscape and outlook here.
The US leads in total number of buy now, pay later companies, followed by Europe. Companies are also emerging across Australia, New Zealand, Africa, Southeast Asia, the Middle East, and Latin America.
Below, our market map identifies 50+ companies building out buy now, pay later services in each region. And at the bottom of this post, our world map shows the top-funded providers in each of the regions.
The market map below consists of private & public, active, pure-play BNPL companies only and is not intended to be exhaustive of the space. Companies are mapped according to where they are headquartered. 
Please click to enlarge.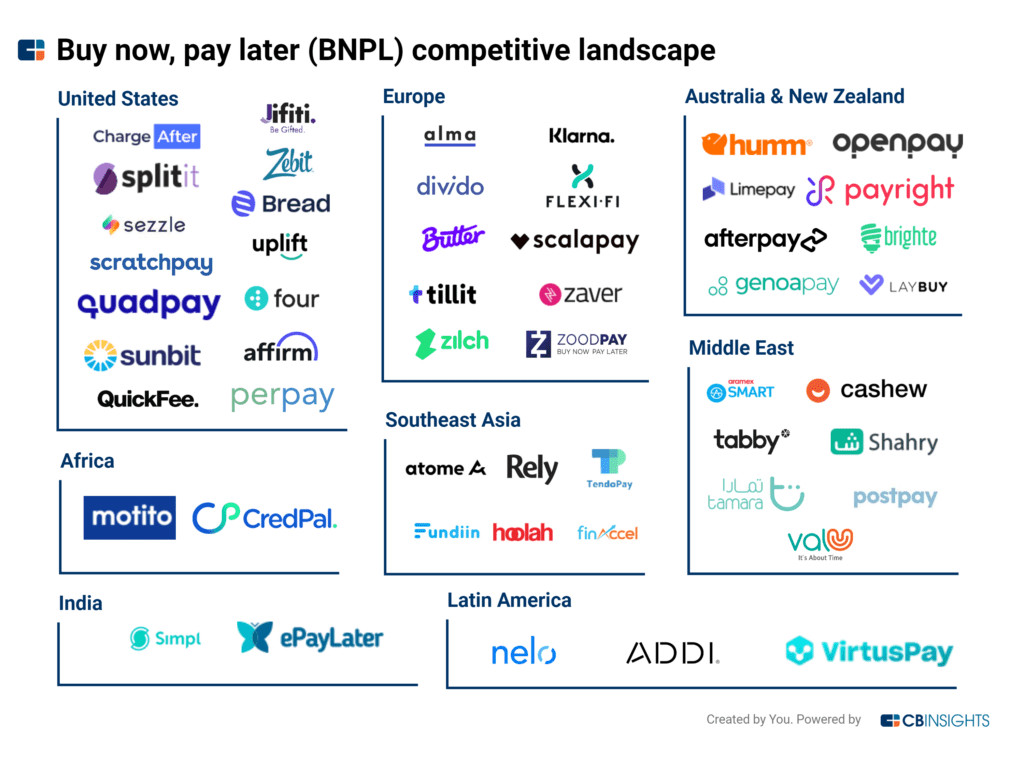 Region BREAKDOWN
United States: BNPL companies in this region are providing increasingly verticalized solutions beyond e-commerce & retail. With the broader market being dominated by leaders like Affirm, which went public last year, newer entrants have a better chance of success by targeting niche markets.
For example, Sunbit offers in-store and online financing solutions for over 7,300 merchants, ranging from auto dealership service centers to optical practices and dentist offices. The company raised a $130M Series D at a $1.1B valuation in May 2021.
Scratchpay focuses exclusively on healthcare services, including catering to pet owners who need financing for veterinary bills. Meanwhile, Uplift offers flexible installment payments for travel, partnering with major domestic and international airlines like Southwest and Lufthansa.
Europe: Most companies in this region are located in the UK and offer financing options for retail and e-commerce.
For example, Zilch, which raised an $80M Series B tranche in April 2021, offers a virtual card that allows users to pay in 4 installments over 6 weeks at online retail stores and rewards users when they shop responsibly. Butter offers a travel financing platform that enables users to finance and book flights by spreading the cost over 10 equal monthly installments.
Elsewhere in Europe, Sweden-based Klarna leads in total disclosed funding in the global BNPL space, having raised nearly $3.5B since being founded in 2005. It claims to have 250K merchants and 90M active customers.
Australia & New Zealand: Companies in this region offer buy now, pay later solutions for in-store & online merchants.
Australia-based PayRight offers retail customers a range of financing options, covering everything from smaller ticket items like bill payments to $20K plans for home improvement. Merchants are paid up front on the same day of purchase.
Meanwhile, New Zealand-based GenoaPay offers a payment solution for smaller-scaled payments up to $1,000. GenoaPay pays the merchant up front and the consumer pays GenoaPay over 10 weekly installments, including 10% upfront.
Africa: Companies in this region focus on interest-free buy now, pay later options.
Ghana-based Motito provides interest-free credit at the point of sale. Its partner merchants provide a variety of products such as household electronics, furniture, fashion, and beauty.
Meanwhile, Nigeria-based CredPal offers point-of-sale lending options for merchants. CredPal enables customers to make purchases on credit and pay back in fixed monthly installments. The company pays merchants in full on the same day and takes on all the risks associated with the credit.
Southeast Asia: Companies in this region mainly offer buy now, pay later platforms for online purchases.
For example, Singapore-based Rely offers customers 2 financing options: the first option splits purchases into 4 payments that are paid every 2 weeks; the second allows customers to pay for purchases in 3 interest-free monthly installments.
Philippines-based TendoPay offers installment payment plans for purchases up to 30,000 Philippine pesos ($616) in 3 installments with a variable monthly interest rate.
Middle East: Companies in this region offer buy now, pay later solutions for both offline and online purchases.
For example, Saudi Arabia-based Tamara offers customers the option to either pay in 30 days or divide the purchase into 3 installments without interest. The company offers both online and in-store purchases through the Tamara app.
UAE-based Tabby offers a pay-in-4 installment option with interest-free payments that are billed monthly. Customers can earn cashback and rewards at select retailers.
India: Although there are relatively few buy now, pay later companies in India, they typically focus on enabling online purchases.
Mumbai-based ePayLater gives customers the option to pay for travel, food, or other online products and services interest-free within 14 days.
Bangalore-based Simpl has a platform where customers can select from 4,500+ online stores, check out with one tap, and pay later.
Latin America: Latin America-based buy now, pay later providers cover a range of merchant options.
For example, Mexico-based Nelo offers BNPL at merchants from ride-hailing services like Uber to streaming platforms like Netflix to telephone providers like AT&T.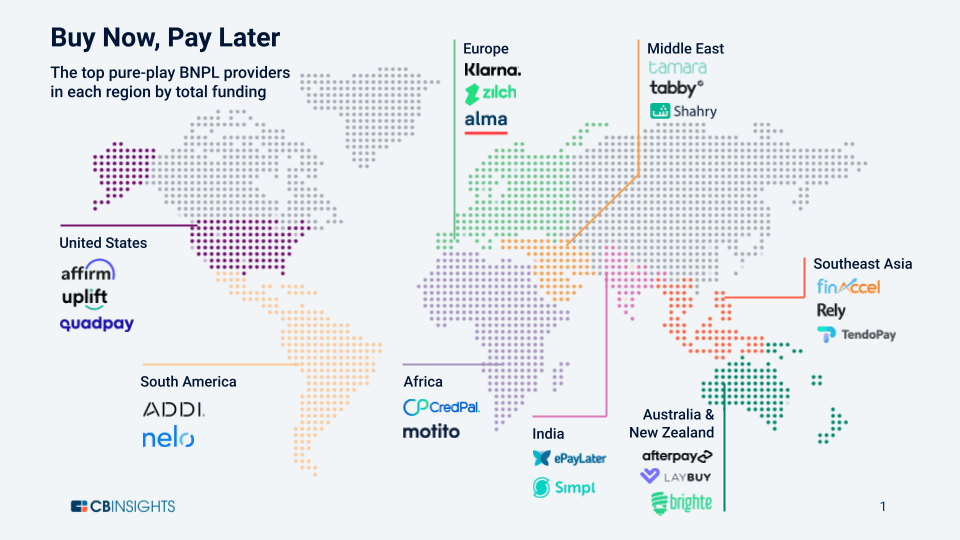 If you aren't already a client, sign up for a free trial to learn more about our platform.