Look, at the moment: fintech is it. $1 out of every $5 of funding is headed its way.
The total fintech unicorn count is up 108% from 2020 (157 this past year alone).
How do we know this? It was in the latest State of Fintech report.
Along with:
An all-time high mark for funding in the US.
An explosion in digital lending funding.
The number of global mega-rounds in 2021.
Most M&A exits ever.
A whopping growth in median IPO exit valuation.
And a lot more. Like a lot more. It's 184 pages of wall-to-wall data + analysis.
Watch it all being broken down by the very expert who wrote it – in this webinar.
Your Speaker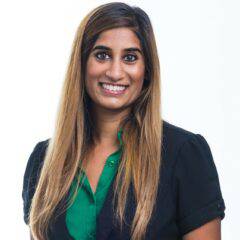 Anisha is a Senior Intelligence Analyst at CB Insights covering trends in fintech, specifically payments, digital lending, and wealth tech.
Prior to joining CB Insights, she worked at U.S. Bancorp as a corporate banking analyst focusing on credit research and business development for a portfolio of large corporate clients. She also worked at a fintech startup in London called Code Investing as a credit analyst specializing in SME lending.
Anisha received her Bachelor's in Environmental Economics from the University of California, Berkeley, and a Master's degree in Finance from London Business School.