What will it mean to "go shopping" in 2022 – and beyond?
The startups on this list are largely going to define it – because it's their tech that's going to enable it in ways that have never existed before.
In-store tech?
Find out who's transforming the store and what's the latest.
Online commerce tools
New startups = new tech = new advancements.
Automation and robotics
🤖.
Last-mile speed
See the players.
Want to dive deeper into all of this?
Join the discussion and watch now.
Your speaker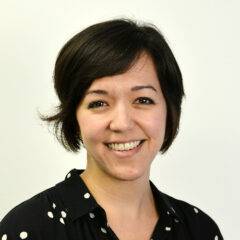 Laura Kennedy is a Senior Lead Analyst in the Consumer and Retail practice at CB Insights. She covers how technology is transforming retail in stores, online, and beyond, building on a foundation of knowledge about retail's biggest players to help clients understand where to place their innovation bets.

Prior to joining CB Insights, Laura was a Vice President of Retail Insights at Kantar, where she led research on retail and shopper trends in the US market, with a specialty in big-box retail. She worked with major CPG clients to shape their retailer strategies and was a frequently-requested speaker across the industry. In addition, business press including NPR, Reuters, Bloomberg, and the Wall Street Journal regularly cited her insights.

Before Kantar, Laura was a reporter and editor for the Kiplinger Letter, a weekly business forecasting publication in Washington, DC, where she covered retail and business law. Laura graduated from the University of Maryland, College Park, summa cum laude with a degree in economics.