Led by Intelligence Analyst Arieh Levi
In just two quarters, the hype machine for bitcoin and blockchain technology has largely ground to a halt. Prices of major cryptoassets have dropped well below their all-time highs, media interest has waned, and – according to search engine trends – public interest in the technology has dropped off a cliff.
However, under the surface blockchain technology is developing at a rapid rate. 2017 brought money into the sector, but perhaps more importantly, it brought engineers, academics, and enterprises back to the drawing board. Where 2016 saw 5,660 academic papers mentioning "blockchain technology" 2017 saw over 9,000, with that number already off to a running start in 2018.
In this briefing, we dive into the data to understand who's building what, and why. We'll look at financing trends, corporate earnings transcripts, new projects and players, partnerships and more to get a better sense of how this technology is poised to shake up industries.
More specifically, we explore:
The rise (and fall) of initial coin offerings
Where regulators are laying down the law – and where they're not
Why VCs are betting on the picks and shovels, and collectibles
Which corporates are finding success with blockchain
The lines between financing methods, and where they're blurring
How some startups are turning VC, and even investing in their investors
Your Panelist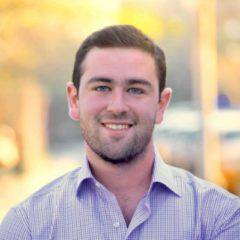 Arieh Levi is an intelligence analyst at CB Insights, where he produces data-driven research on private company financing, and exit and performance trends across emerging industries, geographies and investors.
Prior to joining CB Insights, Arieh held roles in healthcare and investment banking, and graduated summa cum laude from Yeshiva University. His work has been cited in The Wall Street Journal, Reuters, Fortune, CNBC, and Bloomberg, among others.