Led by Senior Intelligence Analyst William Altman
The future of enterprise cybersecurity is offensive. Firms are adopting radical approaches to cybersecurity that go beyond network defenses and take the fight to the enemy.
Financial firms in particular are among the hardest hit by cyber crime. These firms saw the highest volume of cybersecurity incidents in 2017, over any other industry. In fact, roughly 30% of all cyber incidents reported occurred in the financial industry last year. Financial firms are among the first enterprises taking strategies out of military and intelligence agencies' playbooks to fight back against cyber criminals.
This briefing unpacks the recent rise in offensive cybersecurity tactics and highlights some of the enterprises pursuing these strategies.
We also illuminate the debate surrounding "hacking back" and its potentially devastating consequences for peace and global security.
We look at:
The rise of active enterprise cyber defense strategies
The financial firms that are adopting active cyber defense strategies
The debate around "hacking back" and potential consequences
The future of active cyber defense in finance
Your Speaker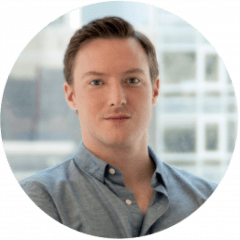 William is a senior intelligence analyst at CB Insights, where he produces data-driven research on emerging technologies, industries, and geographies with a focus on cybersecurity and digital identity. William's published industry research has been featured in the The Wall Street Journal, Forbes, CNN, and The New York Times.
Before CB Insights, William worked in the Middle East and North Africa where he conducted research on entrepreneurship in the Wamda Research Lab. William has a degree from Denison University, and a Master's Degree from the Middlebury Institute of International Studies at Monterrey.